How To Make Homemade Sour Gummy Worms
Trade in your usual candies for a sour treat in a sugary-coated blanket. Have a taste of the best of both flavors in one gummy treat.
Advertisement
Continue Reading Below
Ingredients
1

cup

juice,

any flavor

¼

cup

granulated sugar

¼

cup

warm water

3

tbsp.

powdered gelatin

1

tsp.

food coloring,

optional

½

cup

superfine sugar

5

tsp.

citric acid
Instructions
Pour juice and water into a small pot and bring to a medium heat.

Gradually add the sugar and mix until dissolved.

Add the gelatin and whisk until fully dissolved.

Add some food coloring, and mix until you get a nice bright and colorful consistency.

Pour the liquid into a container with an easy-pour spout.

Lastly, run the mixture over into a gummy worm mold and place in the fridge to set for about 1 hour.

Remove the worms from mold and toss in sour citric acid and superfine sugar.
Recipe Notes
Why stick to a single-colored sour gummy worm when you can experiment with other colors. Make your bowl of gummies as colorful as the rainbow for an interesting and exciting bite every snack time.
You can even add a bit more flavoring to your sour gummies by replacing food coloring with Kool-Aid. You get a refreshing sweetness with a tangy feel. But if you'd rather stick to plain sour gummy worms, you can always replace your gelatin with an unflavored pack. 
Advertisement
Continue Reading Below
Advertisement
Continue Reading Below
Commonly Asked Questions
How do you make sour gummy candy soft again?
In instances you want your sour gummy candy to soften again, all you need to do is toss them into a bowl of hot water. The heat breaks into the gelatin component and makes it soft. You would need to wait for 20 minutes or until the gelatin turns to your desired softness.
How long do Sour Gummy Worms last?
If you still have some leftover sour gummy worms, place them in an airtight container and store in room temperature for up to 5 days.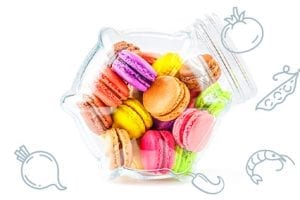 Conclusion
Once you've got your homemade sour gummy worms ready for Halloween, every kid on the block will come treatin' on your doorstep for your delicious homemade treats. Who could even resist a burst of sour and sweet all together in one bite? If there's a certain level of sweetness you'd want to achieve with this dish, then you just need a few tweaks to the amount of sugar you put in.
Satisfied with our recipe of this classic store-bought treat? Well, you can check out our other recipes for more sugary goodness for your everyday sweet tooth.
Advertisement
Continue Reading Below
Topics:
Advertisement
Continue Reading Below
Advertisement
Continue Reading Below