It's trick-or-treating time! Haunted by the sugary Halloween desserts? You're in for a spooky and healthy treat with this easy healthy low-carb and sugar free gummies recipe. Oh, yes, you read that right. You can chomp on this carb free candy with zero guilt. Serve it alongside our sugar free chocolate walnut fudge for a truly guilt-free holiday celebration.
Tips on Making Sugar Free Gummies
Not only is this sugar free gummy recipe easy to prepare. It's also more flavorful and has a better texture than off-the-rack gummy worms. So, skip the store-bought version and we'll teach you how to make them at home with these helpful tips:
Customize your gummy candies by picking your own flavors of Kool-Aid.

As long as they're sugar-free, you're good to go. You can try different colors and flavors, but red and orange will make realistic gummy worms. 

Want sugar free sour gummy worms?

Add citric acid into the mix. You will need to add only one teaspoon to this recipe.

Aside from Kool-Aid, you can also

use fruit tea for flavoring for your

low carb candy

. Brew three or four bags in 1 cup of water. Just add stevia, erythritol, Splenda, or the sweetener of your choice.

Use gummy worms and gummy bear molds

if you have them. You can also use silicone molds, mini muffin tins, and ice cube trays or cut out fun shapes of

homemade gummies

using cookie cutters.

Spritz the molds with light cooking spray.

This will help your

gummy candy

to come out easier later on.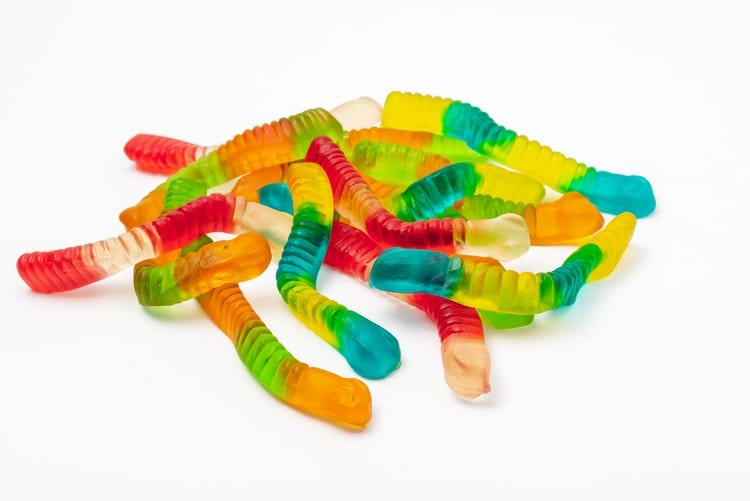 Sugar Free Gummies Recipe
How To Make Sugar Free Gummies
If you're on a low-carb diet you won't have to hold back in enjoying sweet candies with our sugar-free gummies recipe. You'll enjoy these deliciously chewy treats — without the sugar.
Ingredients
1

pkg

Jell-O® ,

sugar-free, large, or 2 small pkg

1

pkg

Kool-Aid® powder ,

unsweetened, any flavor

3

envelopes

gelatin powder,

unflavored

1

cup

boiling hot water
Instructions
Stir together all ingredients until they dissolve. This may require a bit of time to do.

Pour the mixture onto a dinner plate and allow it to set for at least 20 minutes.

Chill the mixture for around 2 hours in the refrigerator until it is completely set.

Peel the gelatin disk from the plate and roll it up like a jelly roll and slice it into thin shears.

Lastly, serve your healthy gummy worms. Enjoy!
Nutrition
Sugar:

9g

:

Calcium:

3mg

Calories:

57kcal

Carbohydrates:

12g

Fat:

1g

Iron:

1mg

Potassium:

1mg

Protein:

3g

Saturated Fat:

1g

Sodium:

56mg
Nutrition Disclaimer
Frequently Asked Questions
Can sugar-free gummies cause diarrhea?
One of the ingredients in making gummies is sugar alcohols, primarily maltitol. While these sugar alcohols do not affect blood sugar levels like actual sugar, depending on each individual's tolerance, maltitol can cause one to have stomach bloating and loose bowel movement. So the best practice will always be to consume these sugar gummies in moderation.
How do you dye gummy worms?
Most Jell-O and Kool-Aid already have artificial food coloring in them. But if you are using a fruit tea base and it needs a boost in color, you can always add a few drops of food coloring.
Can I freeze gummies?
Yes, you can freeze gummies. Make sure to keep them in a tightly sealed container or heavy-duty freezer bag. If properly stored, your gummy worms will be good for about 12 months.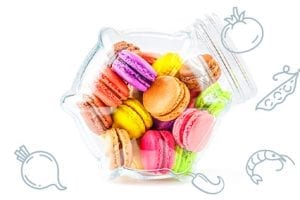 Conclusion
What's Halloween without crawly worms to freak your guests out? You no longer have to go out of the house during a hectic Halloween night to buy these wiggly treats. This sugar-free gummies recipe is easy and inexpensive, and you don't have to worry about the carbs.