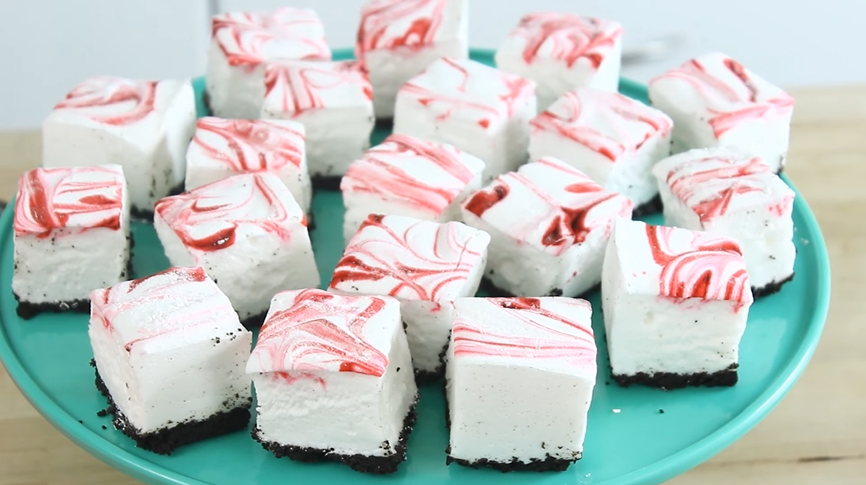 Homemade Peppermint Marshmallows Recipe
How To Make Homemade Peppermint Marshmallows
Top your next mug of hot cocoa with these homemade peppermint marshmallows! These perfect cocoa stirrers will bring just the right hint of mint to your cup!
Total:
1 day 1 hour 45 minutes
Ingredients
3

pkg

gelatin,

unflavored

1

cup

ice-cold water,

divided

1½

cups

sugar,

granulated

1

cup

light corn syrup

¼

tsp

salt

1

tsp

peppermint extract,

to taste

¼

cup

powdered sugar

¼

cup

cornstarch

butter,

to coat baking dish
For Peppermint Bark Marshmallows:
12

oz

chocolate,

chopped, semi-sweet chocolate chips or almond bark

¾

cup

candy canes,

crushed
Equipments
lollipop sticks or straws
Instructions
Place gelatin in the bowl of an electric stand mixer fitted with the whisk attachment. Pour in ½ cup of ice-cold water without mixing, then let rest while you prepare the sugar syrup.

In a small saucepan, combine the remaining ½ cup of water, granulated sugar, corn syrup and, salt. Cover saucepan with the lid and heat mixture for 3 to 4 minutes over medium heat.

Uncover the saucepan and cook the mixture without stirring, until the mixture reaches exactly 240 degrees F on a candy thermometer. Once the mixture reaches 240 degrees F, immediately remove from heat.

Turn the electric stand mixer on low speed. With the mixer running, slowly and carefully pour the hot sugar syrup down the side of the mixing bowl, into the gelatin mixture.

Once all the syrup has been added, increase the mixer to high speed—you can set it on 8 if using KitchenAid stand mixer—and whip the mixture for about 12 to 15 minutes until it is lukewarm, very fluffy and thick

Add the peppermint extract during the last minute of mixing.

While the mixture is blending, in a small bowl, whisk together the powdered sugar and cornstarch. Run a stick of butter along the bottom and edges of an 11×7-inch baking dish, making sure you coat all areas, including corners, to prevent from sticking.

Sprinkle a few tablespoons of the powdered sugar or cornstarch mixture over the buttered baking dish and move the dish back and forth to evenly coat, then shake off excess.

Coat a rubber spatula with butter, then pour the whipped mixture into the prepared baking dish using the coated spatula to scrape the mixture out. Spread mixture into an even layer in the baking dish using the butter-coated spatula.

Sprinkle top lightly and evenly with powdered sugar mixture, reserving remaining sugar mixture.

Allow marshmallows to rest uncovered for at least 4 hours or up to overnight.

Turn the set marshmallows out onto a cutting board and cut marshmallows into squares using a pizza wheel dusted with powdered sugar mixture.

Place the cut marshmallows in powdered sugar mixture and turn to coat all sticky sides, dusting off the excess. Dust them off well if dipping or spreading with chocolate, otherwise, it won't stick well.

Store in an airtight container for up to 3 weeks.
Peppermint Bark Marshmallows:
Spread a sheet of wax or parchment paper on the counter, where the dipped marshmallows will set. Melt the chocolate in the microwave on 50% power in 30-second intervals, stirring after each interval until melted and smooth.

Spread a layer of melted chocolate over the bottom half of the marshmallow, or simply dip the bottom half in chocolate.

Dip the chocolate-coated portion in crushed peppermint, then place coated marshmallow chocolate coated side down on wax paper.

Insert a lollipop stick through the top and center of each marshmallow, then let rest at room temperature for about 1 hour until the chocolate has set. Store in an airtight container.
Recipe Notes
If you are making them to dip in hot cocoa, it is recommended to add a full 1 teaspoon of peppermint extract. But if you are making them just to eat on their own, you may add 1/2 tsp. You can add

½

teaspoon first. If you want a stronger peppermint flavor, you may add another

½

teaspoon.

If you want the marshmallows to be tall for dipping, you can cut it into 8 rows, then each row into 4. You could cut more than that if you prefer.
Nutrition
Calories: 

157.75kcal

Fat: 

4.95g

Saturated Fat: 

2.94g

Trans Fat: 

0.02g

Monounsaturated Fat: 

1.60g

Polyunsaturated Fat: 

0.16g

Carbohydrates: 

28.79g

Fiber: 

0.88g

Sugar: 

26.46g

Protein: 

2.87g

Cholesterol: 

1.37mg

Sodium: 

32.11mg

Calcium: 

8.08mg

Potassium: 

54.62mg

Iron: 

0.50mg

Vitamin A: 

4.38µg

Vitamin C: 

0.01mg