It's important to use imported chocolate, such as Lindt or Callebaut, for this recipe. The high cocoa-butter content of the imported type produces chocolate eggs that are more flexible and easier to remove from the molds. It's possible to make all the eggs out of white chocolate, bitter-sweet chocolate or a few from each.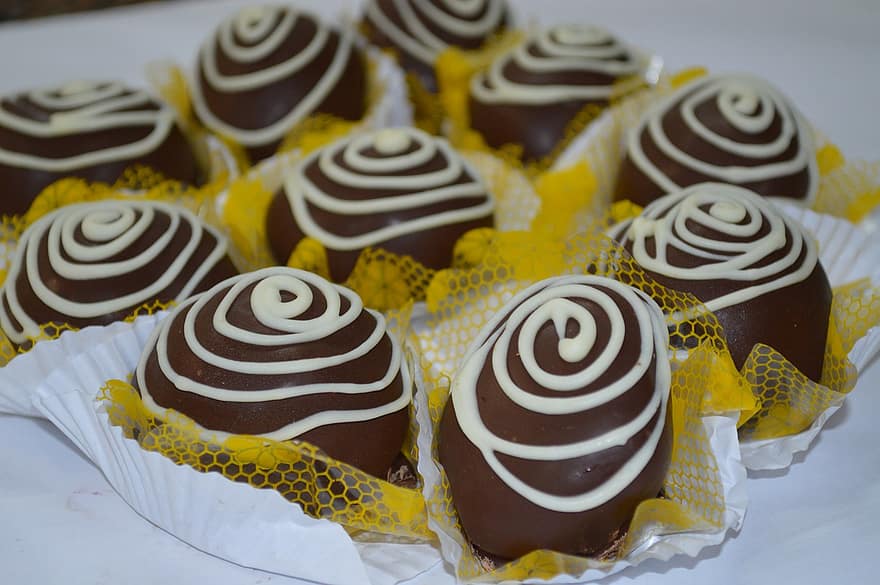 Chocolate Caramel Easter Eggs Recipe
How To Make Chocolate Caramel Easter Eggs
The Easter bunny will love this chocolate caramel Easter eggs recipe. Rich chocolate eggs filled with caramel or more chocolate. Have fun making and eating these sweet treats!
Ingredients
Egg Shells:
2½

lbs

bittersweet chocolate,

not unsweetened or white chocolate (such as Lindt or Callebaut) or a mix of both, chopped
Caramel Filling:
3

cups

sugar

¾

cup

water

½

cup

whipping cream

½

cup

unsalted butter,

or 1 stick

⅓

cup

sour cream
Chocolate Filling:
¾

cup

whipping cream

6

tbsp

unsalted butter,

or ¾ stick, cut into pieces

1

lb

bittersweet chocolate,

imported, not unsweetened, chopped

6

tbsp

sour cream
Instructions
To make egg shells:
Line cookie sheet with aluminum foil.

Melt chocolate in top of a double boiler over simmering water, stirring frequently until smooth and candy thermometer registers 115 degrees F for bittersweet and 105 degrees F for white chocolate. Remove chocolate from over water.

Spoon chocolate into 1 set of large egg molds, filling molds completely (do not fill the decorative base section of mold).

Turn mold over the above-prepared cookie sheet, allowing excess chocolate to spill out. Shake mold to produce a uniformly thick shell. Turn mold right side up.

Run fingertip gently around the edge of eggs to remove excess chocolate. Refrigerate.

Tilt foil-lined sheet with melted chocolate over the top of a double boiler, scraping chocolate into the double boiler.

Reheat to 115 degrees F for bittersweet and 105 degrees F for white chocolate, stirring frequently.

Repeat coating process with remaining 2 large egg mold sets and 2 small egg mold sets, removing chocolate from over water while working and reheating chocolate after each set of egg molds is coated.

Refrigerate molds.

Return remaining chocolate on foil to top of the double boiler and set aside.
To make caramel filling:
Stir sugar and water in a heavy large saucepan over low heat until sugar dissolves.

Increase heat and boil without stirring until syrup turns deep amber, washing downsides of the pan with a pastry brush dipped into water and swirling pan occasionally.

Remove from heat. Add whipping cream and butter (mixture will bubble vigorously) and whisk until smooth. Whisk in sour cream.

Let caramel filling stand just until barely cool, stirring occasionally, about 50 minutes.

Spoon 2 scant tablespoons of caramel into each small half egg. Spoon ¼ cup caramel into each large half egg.

Refrigerate while making chocolate filling.
To make chocolate filling:
Bring whipping cream and butter to simmer in heavy medium saucepan, stirring until butter melts.

Add chocolate and whisk until smooth and melted. Remove chocolate filling from heat.

Whisk in sour cream. Let stand until cool but still pourable, stirring occasionally for about 30 minutes.

Spoon filling over caramel in all egg halves, filling to ⅛ inch below the top edge.

Chill until set, about 40 minutes.
To assemble:
Re-warm reserved melted chocolate in top of a double boiler to 115 degrees F for bittersweet and 105 degrees F for white chocolate. Remove chocolate from over water.

Working quickly, spread enough melted chocolate atop 1 set of filled eggs just to cover. Use an icing spatula to scrape excess chocolate from eggs and clean sides.

Chill mold in fridge. Repeat with remaining egg molds. Refrigerate all molds until chocolate is firm, about 1 hour.

Line cookie sheets with aluminum foil. Remove 1 egg mold from the refrigerator. Then turn the mold over onto foil. Gently bend and twist the mold several times to release halves of eggs. Repeat process for all the eggs.

Rewarm remaining melted chocolate in top of double boiler until warm to touch.

Turn the bottom half of 1 egg over so the flat sides face up. Spread a small amount of melted chocolate over the flat side of the egg, leaving a ¼-inch border.

Working quickly, cover the bottom half of the egg with the corresponding top half of the egg and press together gently.

Refrigerate the whole egg and repeat with remaining egg halves and melted chocolate.
To decorate:
Wrap ribbons around the seam of each egg and tie bow at top.

Refrigerate until ready to eat.

Serve eggs chilled.

Makes 3 large eggs and 4 small eggs.
Recipe Notes
-If making both bittersweet chocolate and white chocolate eggs, melt chocolates separately in two double boilers. -If using white chocolate, the molds will need a double coating. Refrigerate molds after the first coating is cold. Refill with barely lukewarm chocolate, shake out excess and wipe edges clean, creating a double-thick shell.
Nutrition
Sugar:

170g

:

Calcium:

201mg

Calories:

2044kcal

Carbohydrates:

206g

Cholesterol:

146mg

Fat:

131g

Fiber:

18g

Iron:

14mg

Potassium:

1351mg

Protein:

15g

Saturated Fat:

77g

Sodium:

63mg

Vitamin A:

1607IU

Vitamin C:

1mg
Nutrition Disclaimer