A Halloween dinner idea is not complete without the classic fall homemade candy apples! These dipped apples come with a sugary hard shell that's crunchy and flavorful. It's become a popular dessert in many spooky parties, and we have a recipe for candy apples that's a treat for any crowd.
There are various ways one can make these delectable candied apples. They are not to be mistaken for caramel apples, but they do have some similar concepts. For one, they're both incredibly delicious sweets to enjoy. And another, they're both skewered onto sticks for people to enjoy on the go.
But we're here to convince you to make Halloween candy apples, so let's dip right into it.
Halloween Candy Apples
Candy apples were originally a festive dessert served during Christmas. This was thanks to the red color of the apples to perfectly match the Christmas aesthetic. It mainly consisted of apples dipped in a sugar, water, vinegar, and food color mixture. Candy maker William Kolb decided to sell these during Christmas, and it became an instant sweet hit! The candy apples trend followed through, even before Christmas.
Apples are always in season during the fall in the west. So it came as no surprise when people started making Halloween candy apples as well. Some choose to design them with Halloween candies while others simply leave it as is. Either way, they've become such a popular candy that's often found during the fall season. But they're made most popular now during Halloween where kids and adults enjoy munching on them.
Now that you know how this delightful apple dessert came to be, let us show you how to make colored candy apples our way.
How To Make Candy Apples
Making candied apples is so easy, so much that you can even have fun making these with the kids! Just make sure to keep a watchful eye on them, as hot sugar must be handled with care. But if you're confident the kids can get into it, gather them around to help dip some apples.
Compared to other versions, our candy apples recipe doesn't use food coloring. In fact, we leveled it up to something even more tasteful by using a packet of cherry Kool-aid. Not only will you get the best fruity flavor from the big apple, but you get some added tartness from the cherry mix. That's double the fruit in one bite!
When making candy apples, it's important to have a candy thermometer with you. The best temperature you're looking for is around 300 degrees F to reach the hard crack stage. But we all know not everyone has a candy thermometer hidden somewhere in their pantry. So a great tip to check if your sugar mixture has reached that stage is to dip a spoonful of it onto a glass of cold water. You'll know it's ready when the mixture immediately hardens and then cracks when you tap it with a spoon. After that, it's all down to the fun of dipping those apples.
There are so many ways you can enjoy our recipe for candied apples! Try to add your own pizzazz to it with a sprinkling of nuts or draw in a scary ghost design. The sky's the limit with your homemade candy apples, so make it your own. Don't forget to make your party extra special by serving more Halloween flavors like our Butterfinger Eyeballs and Crispy Marshmallow Ghosts for a spooky evening!
If you're craving for another apple dessert just like this, try our Baked Apples in Maple Syrup. Or to start getting ready for Thanksgiving a month later, give our unique Apple Bourbon Pie a try.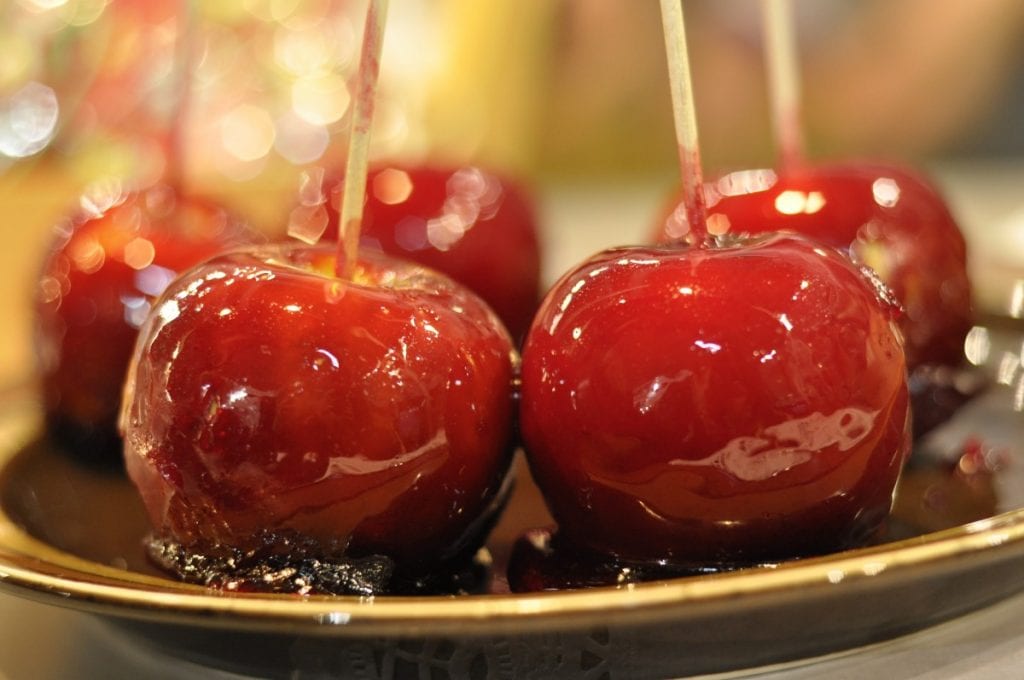 Candy Apples For Halloween Recipe
How To Make Candy Apples For Halloween
These candy apples coated in a crunchy and cherry-flavored hardshell is perfect for your next Halloween gathering. Your sweet-tooth friends are bound to enjoy each bite of this flavorful fruit dessert!
Ingredients
1½

cups

sugar

2

tsp

vinegar

⅔

cup

water

0.13

oz

cherry Kool-aid,

(1 packet)

10

apples
Instructions
Mix the sugar, vinegar and water into a pot.

Boil the mixture until it reaches 300 degrees F using a candy thermometer.

Take them off the heat and let them cool slightly.

Stir in the cherry Kool-Aid onto the cooled mixture.

Skewer apples onto sticks then quickly dip them into the mixture, coating the apples completely.

Transfer to a prepared baking sheet for apples to harden and cool for about 10 minutes.

Plate the apples, serve, and enjoy!
Recipe Notes
To make them more presentable, place your candied apples onto some large cupcake liners.

For extra crunch, add a sprinkling of your favorite nuts before the candy shell hardens.
Nutrition
Sugar:

49g

:

Calcium:

11mg

Calories:

217kcal

Carbohydrates:

57g

Fat:

1g

Fiber:

4g

Iron:

1mg

Potassium:

195mg

Protein:

1g

Saturated Fat:

1g

Sodium:

3mg

Vitamin A:

98IU

Vitamin C:

8mg
Nutrition Disclaimer
Frequently Asked Questions
What is the best apple to use for this recipe?
Using a sweet-tart, crisp apple balances out the sweetness of the hard shell for this dessert. We recommend going for some Jonagold apples for that perfect crunch and scrumptious sweetness. Others just like it are Pink Lady, Cameo, and Lady Alice apples. For a sweeter alternative with a similar crisp, Fuji, Honey Crisp, Red Delicious, and Golden Delicious are the way to go.
How long do candy apples last?
Apples don't last very long in the fridge. So if you're only storing the apples with the stick on and without the candy coating, they're good for up to 3 days. But if it's coated in your candy mix, these should last you for up to two weeks given that they are properly covered.
How do I store candy apples?
To store these in the fridge, make sure they're covered in wax paper and plastic wrap. To do this, simply place each apple on 12×12 inch wax papers. Wrap the wax paper around the apples by lifting all four corners to the top. Then wrap another layer of plastic wrap afterwards and seal with a string or ribbon. If you're planning to give these as gifts, you can even make them presentable by using cellophane instead of plastic wrap.
Conclusion
Our candy apples are one of the best Halloween delights to enjoy this fall! It's got all the right crunch from the candy hardshell, a tasteful undertone of cherry, and a juicy sweet-tart crispiness from the apples. Remake these for your next Halloween gathering or if you're simply craving a good candied apple.