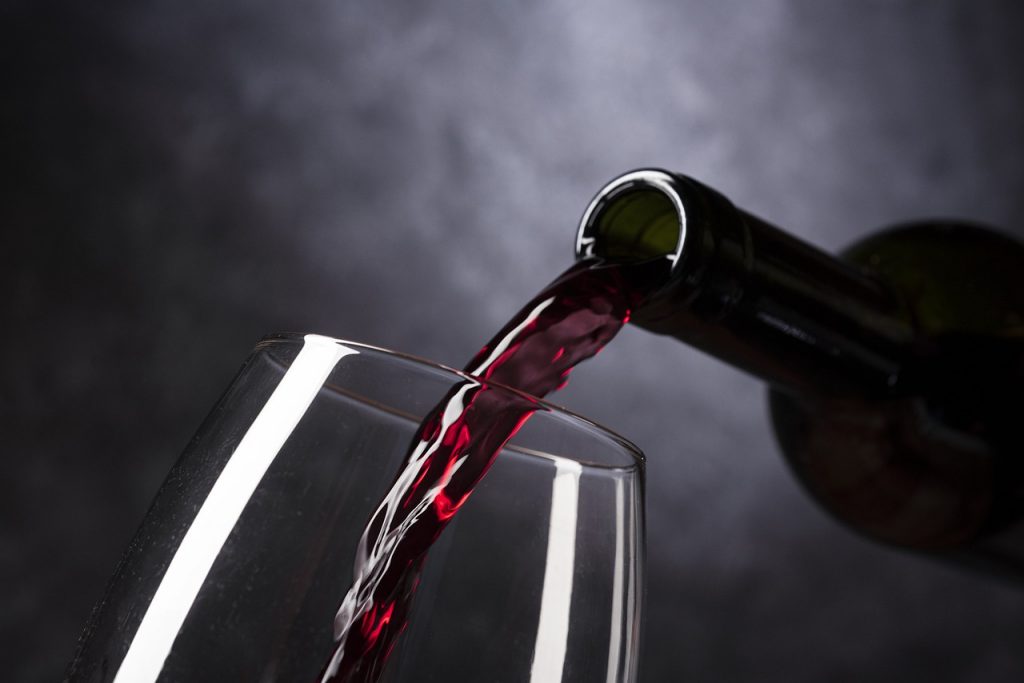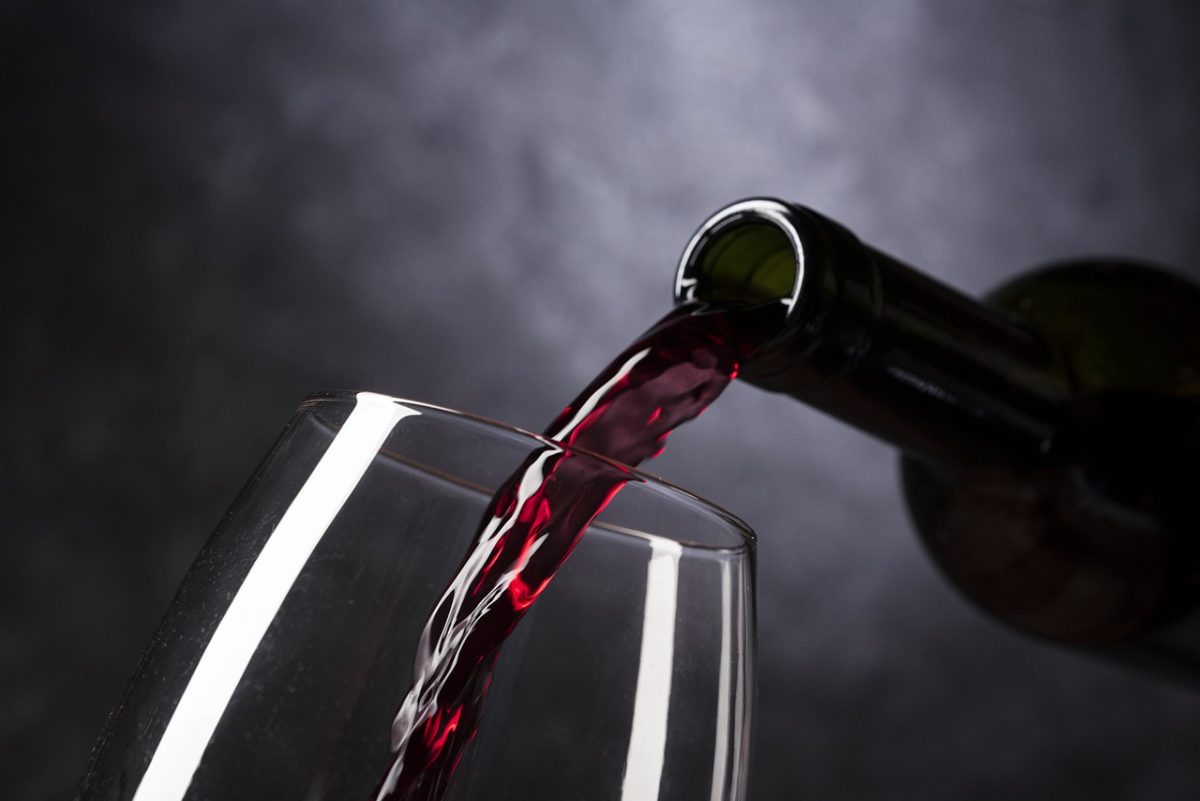 14 Types of Sweet Red Wine Perfect for Special Occasions
Nothing compares to a glass of sweet red wine! Some red sangria does wonders when you want to celebrate small victories of a day or when you're amidst a romantic banter. The pop of an uncorked bottle alone signals a joyous celebration! Truly, the sweet red wine is a dazzling drink that complements every mood and occasion.
Wine aficionados often categorize this type of red as a dessert wine as its enticing saccharine flavor perfectly matches desserts. This wine also exudes aromas that only add up to an already exquisite tasting experience.
With that said, we'll guide you through the world of sweet red wines to help you plan a classy evening. After reading this, you'll know the different types of this delightful drink, the perfect moments to indulge in their sweetness, and the things you need to consider when buying sweet wine.
What Is a Sweet Red Wine?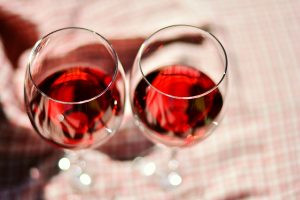 First off, what exactly is a sweet red wine, and what makes them sweeter than the other types?
Red wines are typically made from several grape varieties that are reddish or deep purple, hence its color. Reds can be either dry or sweet. Generally speaking, a wine with more than 30-gram per liter of residual sugar belongs to the sweet side of the wine world. Sweet red wines also tend to have lower alcohol and tannin content as opposed to dry red wine.
Learn more about sweet wines in this article: Sweet Wines: All About Its Types & Best Brands To Try. 
This wine's taste can be attributed to how it's made. Like the usual wine-making method, the making of sweet red wines comprises picked and crushed grapes that undergo fermentation. To give its signature sweet taste, fermentation is stopped even before the natural grape sugar is completely converted into alcohol. With the relatively high amount of sugar left, the wine ends up tasting a lot more sugary than most wines.
14 Different Types of Sweet Red Wine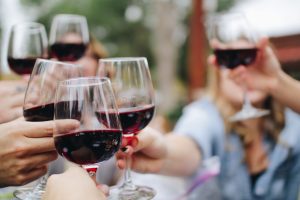 Special moments won't be as special without a bottle of good, sweet red wine. However, you shouldn't be careless when picking! You still need to have the best sweet red wine at hand fit for the occasion. It might be daunting, especially if you're not sure about the many kinds, but here is a rundown to help you!
The following is a curated list of types of sweet red wine. Here, you'll find the perfect variety for whether you just want a quiet time with your friends or you're raising a toast for a big celebration.
Sparkling Sweet Red Wine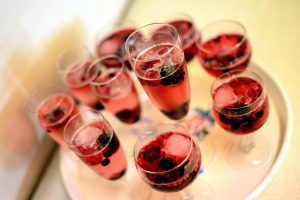 Sweet and frizzy, the sparkling kind make for the best drink when celebrating an equally bubbly event! Here are some of the most common types of sparkling red wine:
Brachetto d'Acqui
Brachetto d'Acqui is made with red Brachetto grapes, which is native to the Piedmont region in Italy. And that's where this sparkling sweet red wine got its name. This wine has an attractive ruby color and carries notes of strawberry candy, cherry jam, and rose. 
With more than 100 grams per liter residual sugar and 5.5 percent ABV, this semi-sparkling (frizzante) sweet wine is sure to delight your taste buds. Sip on this light-bodied sweet wine on a date night or during Valentine's Day. To complete your romantic evening, pair it with chocolate-based desserts like this brownie cake recipe.
Want more Valentine's day recipes to pair with your glass of sweet red wine? Here are 65 Easy Romantic Dinner Ideas For Two: Best Valentine's Day Recipes
Lambrusco
Lambrusco red wine, which is traditionally produced in Emilia Romagna, is yet another gem of Italy. It's a light to medium-bodied sweet wine made with Lambrusco grapes.
Lambrusco wines come in many forms from sweet to dry and light to bold, offering you a wide selection of flavors. Lambrusco sweet wine exudes a mixture of ripe berry and cream that will pop right on your tastebuds. This wine complements desserts, cakes, and pies such as this yummy open-faced apple pie. Bring a bottle of this sparkling sweet red on your next summer escapade!
Roscato
Three grape varieties—croatina, teroldego, and lagrein—from the Lombardy region in Italy are blended to create this delightfully sweet wine. In terms of aroma, Roscato wine gives off notes of blackberries and ripe wild berries. Made with only a bit of sparkle to balance out its sweetness, this light-bodied wine is fizzy, yet with an enticingly sweet finish. This is the ideal wine to pair with spicy flavors, so try it when you decide to make a spicy penne recipe.
Recioto della Valpolicella
The term recioto comes from the word recia which literally translates to "ear" in the dialect of Verona. This is referring to the upper part of a bunch (a group of grapes) which are picked and withered to make this saccharine wine. 
This Italian wine is considered a Denominazione di origine controllata (DOCG), which makes it a premium wine. It has a captivating deep ruby red color, but other colors may come out depending on the aging process. In terms of aroma, you'll get a whiff of fruity notes plum, cherry, and raspberry. As the wine ages, you'll also notice spicy notes of vanilla, licorice, and cocoa.
This full-bodied wine has a sweet finish but also has hints of a spicy aftertaste. Drink this wine along with a dark chocolate dessert like rich chocolate walnut fudge! It'll be a great way to end a special meal with some friends. 
Still Sweet Red Wine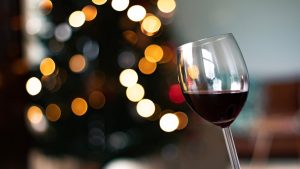 These wines lack carbon dioxide, the component which gives sparkling wines their signature fizz. Nevertheless, they're worth adding to your collection as well. Read on and learn about these still sweet red wines.
Dornfelder
Made with grapes of the same name, this sweet red originated in Germany. And because dornfelder grapes are native to Germany, this type of wine is rare in the U.S. It's available in different styles, from dry to sweet. 
And since it has relatively low alcohol content, this medium to full-bodied wine is bursting with aromas of cherries, fresh blackberry, and spiced herbs with notable floral characteristics. It's best served with veal and pork dishes like this delicious pork tenderloin recipe during a summertime escapade with friends.
Want to know more about the nutritious and tasty yet divisive veal meat? Read What Is Veal and Is It Good for You?
This light-bodied sweet red wine isn't made with cotton candy grapes, but it definitely tastes like one! In fact, this wine is made with an Italian grape called Schiava, which predominantly grows in Alto Adige, making it a rare sweet wine.
Schiava wine, or Trollinger in Germany, is mostly dry. However, it also brims with notes of sweets you'll typically find in a candy shop, such as strawberry, bubblegum, lemonhead candy, and cotton candy. The overwhelming sweet aromas are balanced out by its subtle flavor. With approximately 12 percent ABV, this sipper is slightly lighter compared to the others. This really works well paired with chicken and turkey dishes. Enjoy this sweet, refreshing wine in a family gathering or on a summer day with a cheesy ground turkey casserole.
Fortified Sweet Red Wine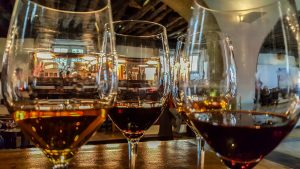 Fortified wines are types of wines that are "fortified" with a distilled spirit such as brandy. The added spirits enhance the wine's flavor to suit any palate. Here are four fortified wine for you to savor on special occasions:
Port sweet red wine, the most popular fortified wine in the world, hails from the Douro Valley of Portugal. Having around 100 grams of sugar per liter, port wine makes for a sweet sipper. This wine comes in several categories such as ruby and tawny port. 
These two styles are made with red grapes. When it comes to ruby port, expect hints of blackberries, raspberries, cherries, plums, and other notable sweet flavors. To savor its fruity characteristics, it's only aged for a short period of time. Tawny port, on the other hand, is aged for a longer time. In terms of flavor, tawny gives off nutty and caramel notes. Serve slightly chilled alongside a southern pecan pie or some chocolate truffles. Ruby and tawny port also make for a great wine choice during semi-formal occasions. 
Vin Santo
Vin santo, which means "holy wine" in Italian, is one of the finest sun-dried wines made in Tuscany, Italy. This wine can be made using either white or red grapes. To make this dessert wine, grapes are naturally dried before being pressed and fermented, giving it an exceptional taste. This sweet dessert wine oozes with hazelnut and caramel notes. Sip on a glass of vin santo red wine after dinner. For a delectable treat, pair it with this elegant chocolate cake. 
Madeira Wine
Madeira wine originates from a small island of the same name in the coast of Portugal. This sweet wine comes in various styles from dry to medium-dry and sweet to medium sweet.
Madeira wines are often made with varieties of grapes such as tinta negra (red grapes), malmsey, and bual (white grapes). These grapes undergo a maderization process where they're heated, resulting in a wine brimming with burnt caramel notes. This wine also exudes several flavor profiles such as honey, brown sugar, hazelnut, and orange peel. Sweet madeira wines are usually served after family dinners. It'll taste amazing with sweet desserts like this irresistible poke cake.
Marsala Wine
Marcela wines hail from Sicily, Italy. Generally, this wine is oozing with vanilla, brown sugar, stewed apricot, and tamarind flavors. It can be in the form of dry or sweet wine. 
This type of wine is widely used for cooking and baking. Of course, it makes for a great drink, especially after dinner! Though both styles are produced using the same process, the sweet style, obviously, has a higher amount of sugar. Its saccharine taste is suitable in sweet desserts such as this tiramisu recipe.
Dry Red Wines with Sweetness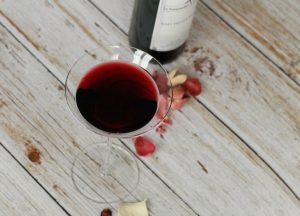 Dry red wines, sometimes, also brim with hints of sweetness. Below are the classic examples:
Amarone Della Valpolicella
Amarone Della Valpolicella, or plainly Amarone, is only produced in the Valpolicella region in Verona, Italy. Due to its unique production method where partially dried grapes are used, this wine is considered as one of the finest Italian wines out there. It undergoes slow fermentation for more than 45 days, resulting in a sweeter and richer wine.
This wine is a full-bodied, ruby red wine that imparts notes of raisins, black fruits, wild berries, cherries, nuts, and flowers. The more it ages, the more it develops other notable flavors such as cinnamon, cardamom, and tobacco.
Elevate your stay-at-home date night with a fancy bottle of Amarone wine. Serve this fine wine alongside creamy roast chicken or braised beef. 
Barbera Wine
This palatable wine is primarily produced in Piedmont, Italy. Barabara grapes, which are under one of the oldest grape varieties in Italy, give the wine an intense color. The resulting wine is juicy and light-bodied as well.
Young barbera wines carry strong aromas of blackberries. However, like most other wines, its flavor profile may vary depending on the aging process. If it's aged for a longer time, hints of strawberries and raspberries are noticeable. The flavors of barbera wines are perfect with rich and hearty food such as this filling potato risotto recipe. 
Dolcetto
Dolcetto, which literally translates to "little sweet one" in Italian, is a popular red wine in Piedmont, Italy. Most dolcetto wines are bone dry and contain moderate amounts of tannins. In terms of color, it has an intense ruby and purple color. You'll also be delighted with its licorice, blackberry, and almond flavors.
Dolcetto wines are often served in the middle of a meal. It'll surely taste fantastic when paired with a cheesy pasta bake. 
Beaujolais Nouveau
Lastly, this light wine is primarily made with Gamay Noir grapes which are usually grown in the Beaujolais region in France. It isn't aged like the other types of wines as it's best consumed immediately. 
This wine has a purple-pink hue. It's a sweet wine with notes of berries, which you can liken to grape juice. Its fruity aroma is also something you won't forget. This sweet wine is often served during Thanksgiving dinners. For an intensely delicious meal, serve it with a ham salad and some lobster mac and cheese. 
Wine Sweetness Chart
This handy wine chart shows how dry or sweet each sweet red wine tastes. Pick the ones that best match your taste buds!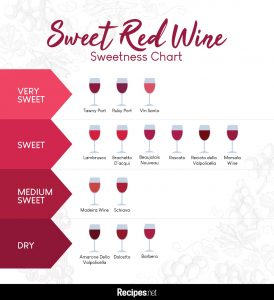 Red Wine Labels To Look Out For When Buying
If you're supposed to bring a bottle of sweet red wine on a date, it's essential that you avoid picking up the wrong bottle, unless you want it to be an unremarkable night. Here are the things to look out for when buying sweet reds:
Residual Sugar Level
The amount of residual sugar is actually the primary indicator to determine if red is sweet or dry. Sweet red wines, as we've mentioned earlier, have at least 30-gram RS per liter. On the other hand, dry red wines contain very little amount of RS.
Alcohol Content
When checking the label, always check alcohol by volume (ABV) or the wine's alcohol content. This will give you an idea about the amount of residual sugar level in a bottle of wine. Always keep this in mind: if a wine has a low ABV, or it ranges from eight to 11 percent, then its RS level is high. If the wine label indicates a low alcohol content, it's definitely a sweet red. Dry wines usually have a higher ABV.
Fruity or Sweet
Usually, a wine's sweetness is mistaken for fruitiness. If you're an aspiring wine enthusiast, you should know that the indicators of sweetness are your tastebuds, while fruitiness is a task meant for your nose.
Tannin compounds, especially in high amounts, tones down the fruitiness in wines, hence sweet wines contain lower levels of these compounds.
Sweet Red Wine Makes for the Best Drink for Special Moments
Most occasions call for a glass of wine! May it be a job promotion or a small victory over a food temptation, you need a sweet red wine to amplify the joy you're feeling. With these sweet wines in your cellar, any moment will be memorable!