These plum-colored sugar-coated gumdrops are just in time for Halloween. We've perfected this gumdrops recipe for you to try at home using real fruits. You read that right, our gumdrops are made with real fruit so you don't have to worry about what's in store-bought gum drops anymore. These purple gumdrops are naturally pretty without the use of food coloring.
Other fun easy candy recipes you can also try to make are these chocolate pudding gummies or these delicious but guiltless sugar-free gummy worms. 
Tips for Making Our Gumdrops Recipe
Here are a few other things you can do to elevate the taste and appearance of our sweet and sour gumdrops:
Spritz the gummy molds with cooking spray

before using them so that the gumdrops could easily come out. Do not use plastic molds, they might melt when you pour the hot mixture.

Make sure that the gummies are dry

before coating them with sugar and citric acid. This will prevent the gummies from turning sweaty.

You might need to use a dehydrator or leave the gumdrops to air dry overnight if the weather is humid.

Use different shapes of cookie cutters

and ask the kids to help.

Making gummy candy

is a great bonding activity for families.

Want to try them creamy?

Use milk instead of water.

This will give you creamy

sugar gummies

that are perfect if you're using strawberries.

For a gourmet flavor,

try adding a dash of cinnamon

and you'll have

spiced gumdrops

. They complement well with apple flavor.

Turn these into drunken gummies

by soaking them in vodka,

Tanqueray

,

maraschino liqueur

, or your preferred

flavored punch drink

. These gummies add flavor and look pretty in drinks, too. 
Simply blooming the gelatin, boiling the fruit, pouring on a baking sheet or into molds, and rolling the gummies in sugar and the citric acid mixture will give you your very own homemade gumdrop candies. Sounds fun? Let's hop right into making them!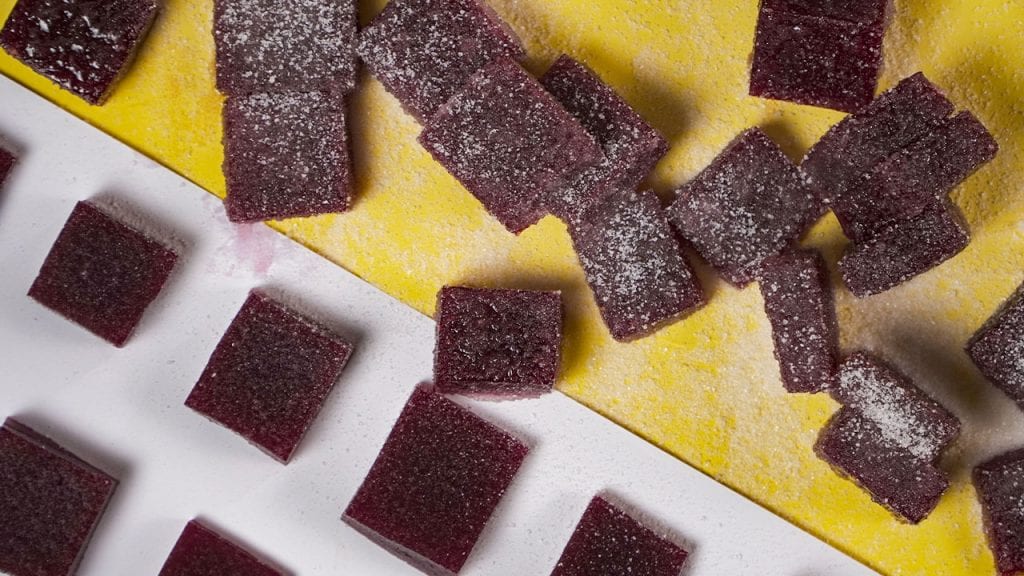 Homemade Sweet and Sour Gumdrops Recipe
How To Make Homemade Sweet and Sour Gumdrops
Satisfy your candy cravings by making this easy gumdrops recipe. These homemade gummies are fun and exciting with just a few ingredients and very easy steps!
Ingredients
For Sweet and Sour Gummy Candy:
2

cups

strawberries, raspberries, and blueberries

⅓

cup

water

1

tbsp

lemon juice,

or lime juice

2

tbsp

honey

4

tbsp

gelatin powder,

unflavored
For Sugar Coating:
½

cup

sugar

3

tbsp

citric acid
Instructions
Sweet and Sour Gumdrops:
Line a baking tray with cling film. Set aside.

Puree your chosen fruit until smooth.

Combine the pureed fruit, water, lemon or lime juice, and honey in a small saucepan. Bring to a simmer.

Remove from the heat. Add your gelatin gradually to avoid lumps while continuously mixing.

Return the mixture to the heat and bring it back to simmering temperature, until the gelatin has fully melted and the mixture turns glassy and smooth.

Strain the mixture through a sieve onto your lined baking tray. Remove any bubbles using either a toothpick or spoon.

Transfer to a chilled area and allow to set overnight, or for 8 to 12 hours.
Sugar Coating:
In a bowl, combine the sugar and citric acid.

Remove your candy from the fridge and cut into squares.

Toss your candy into the sugar coating. Make sure they are well dusted!

Serve and enjoy yummy Gumdrops!
Recipe Notes
Maple syrup or stevia are good alternatives for honey. Feel free to customize the sweetness to your liking. Ideally, adding 2 to 3 tablespoons of maple syrup or a few drops of stevia into the liquid mixture will make your gummies sweet enough.

It's best to store these gummies in an

airtight container

with a pack of silica gel to prevent moisture build-up.
Nutrition
Sugar:

4g

:

Calcium:

1mg

Calories:

23kcal

Carbohydrates:

4g

Fat:

1g

Fiber:

1g

Iron:

1mg

Potassium:

5mg

Protein:

1g

Saturated Fat:

1g

Sodium:

2mg

Vitamin A:

4IU

Vitamin C:

1mg
Nutrition Disclaimer
Frequently Asked Questions
Are gumdrops the same as jujubes?
Gumdrops and jujubes are different types of candies. Gumdrops are usually sugar-coated, jujubes are not and are smaller in size. Gumdrops are softer and squishier in texture, while jujubes are quite chewy and dense that they have the tendency to stick on the teeth when we bite into them. That's why although jujubes are chewy, it's better to eat them like you would a hard candy.
Do gumdrops have gelatin in them?
Gumdrops contain gelatin, which is obtained from cows and pigs. This means that this gumdrops recipe is not vegan. But you can easily make it vegan by using agar powder in replacement of unflavored gelatin. Dissolve 2 tablespoons of agar powder in the water on low heat first before mixing it into the simmering fruit mixture.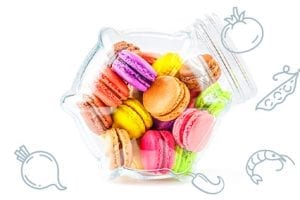 Conclusion
This gumdrops recipe promises an addicting sweet and sour treat that kids and adults will love. Rest assured, this homemade gummy candy is more delicious and satisfying to eat than the store-bought ones.
Topics: