Nothing compares to freshly-cooked chicken quesadillas made with warm and crispy tortilla bread and oozing melted cheese from the inside. They're delicious and filling, but making them can be pretty messy! If you're tired of drippings and food bits spilling everywhere, then it's time to get a quesadilla maker for yourself.
Not only is this piece of cookware useful for making quesadilla maker recipes, but it's also practical. It's inexpensive compared to other kitchen appliances, and it's convenient to use for quick meals. Not to mention, most units are compact and portable, so they won't take up precious space in your kitchen.
Continue reading to see our recommendations on the best brands of quesadilla models to try this year. You'll be making your best version of this Mexican cuisine staple in no time. 
Our Favorite Quesadilla Makers at a Glance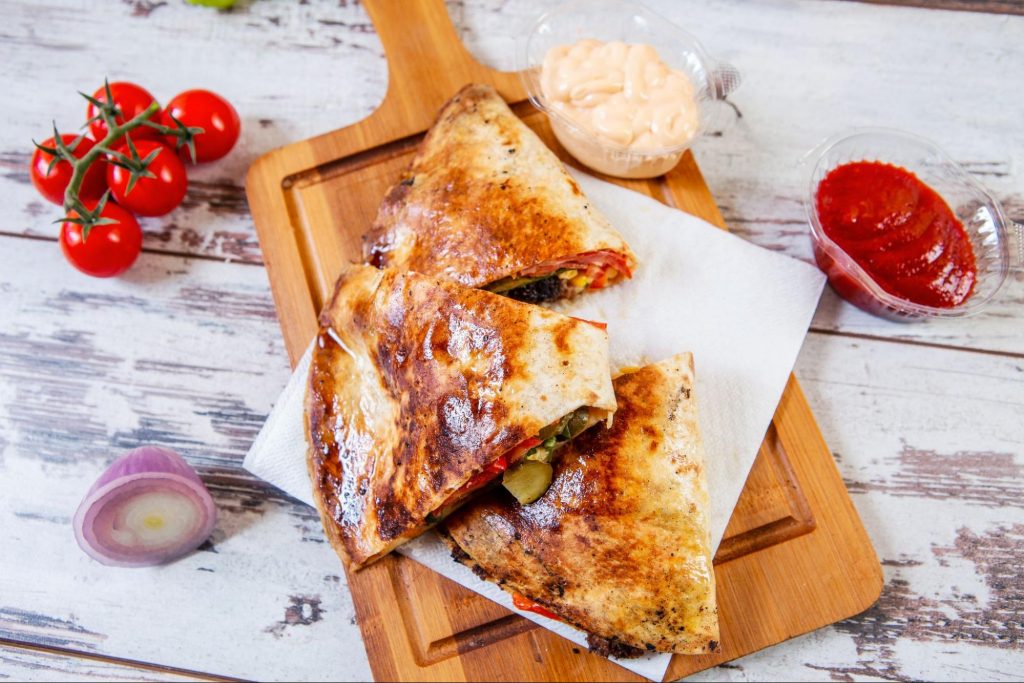 Best Overall: George Foreman Electric Quesadilla Maker
This best-selling quesadilla maker has a nonstick and deep-dish cooking surface which also cleans up well.
Best Budget-Friendly: Dash 8" Express Electric Round Griddle
A standard-sized, versatile quesadilla maker that's both effortless to clean and easy on the wallet.
Best Luxury: Yedi Total Package 6-in-1 Digital Grill
A sleek and modern piece of kitchen appliance with built-in temperature control and multiple features.
Best Compact: Nostalgia MWF5AQ MyMini Personal Electric Waffle Maker
A space-saving waffle maker that can be used for making personal-sized quesadillas and other breakfast items. 
Best Large: Elite Gourmet Mexican Taco Tuesday Quesadilla Maker
This is a spacious, nonstick kitchen appliance built with more room for bigger and better-tasting quesadillas.
Best For Thick Quesadillas: Nostalgia Taco Tuesday Deluxe 
A standard nonstick quesadilla maker with a unique adjustable latch to better fit generously stuffed food.
Most Durable: Hamilton Beach 25409 Quesadilla Maker
This is a high-quality quesadilla maker from a century-old company that's well-known for producing excellent kitchen appliances. 
Most Versatile: Betty Crocker BC-2958CR Pizza Maker
A standard-sized electric pizza maker that's also great for making large quesadillas and other snacks. 
Best For Grilling: AIZOAM Portable Stainless Steel Barbecue Grilling Basket
A stainless steel grilling basket with a lockable grate feature perfect for making fire-grilled quesadillas. 
9 Best Quesadilla Makers to Get In 2021
Here are the best and hottest quesadilla makers in the market right now. We know that everybody's quesadilla preferences are different, so we made sure that our selection will cater to different needs.
To pick the products on the list, we carefully factored in each unit's best features, brand reputation, and overall customer reviews. Rest assured that we're only featuring models of the highest quality. Feel free to browse our quesadilla maker review below:  
Best Overall
George Foreman Electric Quesadilla Maker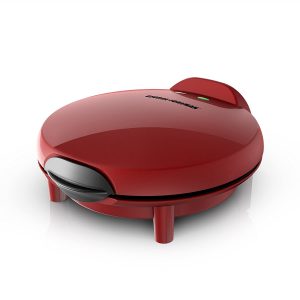 If you're looking for a kitchen appliance to ease your quesadilla-making woes, look no further! We highly recommend getting this electric quesadilla maker from George Foreman, as it's simply a cut above the rest. It offers high-end quality for a reasonable price, so it's no coincidence that it's a crowd favorite among buyers. We can safely say that this is the best quesadilla maker in the market right now. 
Off the bat, you'll love its nonstick interior. Say goodbye to long and tough cleanups forever, and hello to the gooey goodness of melted cheese with your pita bread quesadilla recipe. When you're done for the day, simply wipe away the bits and pieces of food that clung to the nonstick surface, and your appliance will be good as new in no time! 
We're also raving about this piece of cookware's spacious deep-dish pockets. Now, you can stuff your tortillas with as many fillings as you want! You'll save lots of time cooking more food since this quesadilla maker has six pockets in total. The ridge of this appliance also seals your flour tortilla wraps upon closing, so you don't have to worry about food spilling out.
Storing this product is a breeze too. It comes with an integrated cord wrap for tidier storage, and it stands up vertically so you can keep it in smaller spaces. If you're worried about another appliance taking up more space on your kitchen counter, then this is the perfect one to get.
What We Like:
Affordable

Easy to clean

Vertical Storage
What We Don't Like:
Get your hands on the George Foreman Electric Quesadilla Maker on Amazon.
Best Budget-Friendly
Dash 8" Express Electric Round Griddle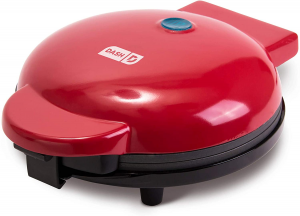 We suggest getting this Dash Express electric quesadilla maker if you want great value for money. We love that this model offers competitive features, despite being one of the cheapest finds online. 
The versatility of this quesadilla grill is very impressive. For days when you don't really feel like having tortilla wraps, you'll still have plenty of other uses for this kitchen appliance. It's suitable for making lots of other dishes that you'd normally cook on a griddle, like gratifyingly filling oatmeal pancakes. You can even use this Dash quesadilla maker to cook your favorite scrambled eggs recipe! Its flexibility and compact size make it a must-have for apartments and kitchens with limited space. 
Not to mention, this quesadilla grill is user-friendly and easy to clean! Simply plug it in and wait for it to heat up. You'll know when it's ready to use, thanks to its built-in indicator light. Another great feat is its ability to heat up evenly for a more consistent quesadilla quality. When you're done, cleaning up will be efficient because of its dual PFOA-free nonstick interior. You can also easily wipe down this appliance's non-electronic parts. 
Enjoy one year guaranteed warranty and free cookbooks upon every purchase of this item.
What We Like:
Versatile

Compact and Portable

Dual nonstick surface

One-year warranty
What We Don't Like:
Buy the Dash DMG8100RD 8" Express Electric Round Griddle on Amazon. 
Best Luxury
Yedi Total Package 6-in-1 Digital Grill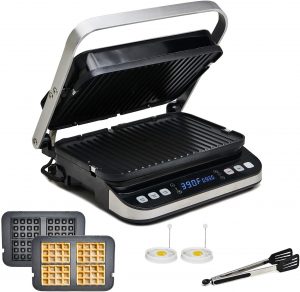 If you're planning on getting a high-end model, then the best one to get is this Yedi 6-in-1 Digital Grill. This compact kitchen appliance is capable of ideally cooking your quesadillas and other meals! Its price point is definitely worth it, considering that you'll be paying for several functionalities for the price of one. Its sleek and sophisticated stainless steel design alone will make you feel like you made the right choice.
We just can't get enough of the digital controls on this model. Unlike most quesadilla makers, you can control the temperature of this grill, both the top and bottom. You can adjust it to reach temperatures of 175 up to 450 degrees F. This ensures that food is evenly cooked throughout for better quality control. 
This is a quesadilla maker with removable plates too, so you can use it as a contact grill, full grill, full griddle, half griddle, panini press, and even a waffle maker. With this digital grill, not only will you be able to make the cheesiest quesadillas, but you can also easily whip up your prized Belgian waffle recipe.
Cleaning up won't be a worry as it has a drip tray, and the detachable plates are nonstick and dishwasher-safe. With every purchase, you'll get two silicone egg rings and a BPA-free and heat-resistant tong that doubles as a spatula for free! Lastly, you'll get to enjoy two years of money-back warranty to refund defective models. 
What We Like:
Temperature control

Multifunctional 

Detachable and dishwasher-safe plates

Money-back warranty good for 2 years
What We Don't Like:
Tendency to heat unevenly
Get cooking with the Yedi Total Package 6-in-1 Digital Grill, Waffle Maker, Panini Press, Griddle, with Deluxe Accessory Kit from Amazon.
Best Compact
Nostalgia MyMini Personal Electric Waffle Maker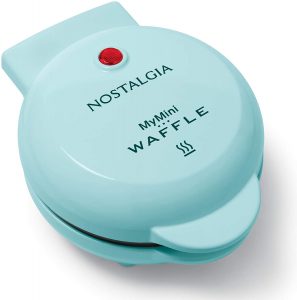 This personal waffle maker from Nostalgia is the perfect quesadilla maker for tight spaces. With a diameter of only five inches, this will easily fit into any small kitchen, apartment, office, dorm, or camper without a problem. Plus, this portion size is ideal for whipping up a quick meal for yourself. 
You can do lots of things with this model. Aside from making avocado and tomato-stuffed quesadillas, you can also put together lots of dishes like personal pizzas, French toast, hash browns, and vegan waffles. Cooking breakfast has never been easier! Just plug it in and preheat it for up to three minutes, or until the indicator light turns off. 
This Nostalgia quesadilla and waffle maker has a dual-sided cooking surface so that both sides of your food will be evenly cooked. You can safely touch it during the cooking process, as it's equipped with cool-touch handles. The entire cooking surface is also finished with a nonstick coating. This feat makes it easy to release cooked food, and cleaning up will be a cinch as well.
What We Like:
Affordable

Multifunctional

Portable
What We Don't Like:
Whip up personal-sized quesadillas with the Nostalgia MWF5AQ MyMini Personal Electric Waffle Maker from Amazon. 
Elite Gourmet Mexican Taco Tuesday Quesadilla Maker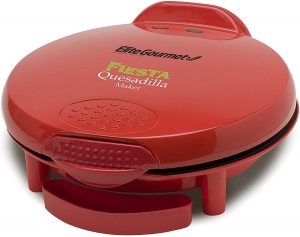 Can't get enough of quesadillas? Then the Elite Gourmet's large quesadilla maker might be the one for you! Make bigger and better snacks with this model's 11-inch cooking area. With its wide diameter, you'll be able to fit six wedges of your favorite Mexican dish hassle-free. Talk about a robust quesadilla maker for foodies with big appetites!
This kitchen appliance has built-in indicator lights, so you'll know when it's plugged in and when it's preheated. When it's time for cooking, your gooey cheese wraps will be ready in under five minutes thanks to its rapid heating system. You can lock the appliance to firmly squeeze your food in place as well. The inside of this unit is carefully designed so that the quesadillas will be cut into wedges upon locking the unit. 
READ ALSO: Top 10 Roasting Pan To Buy in 2021
Of course, cleaning this unit will be just as easy. Its hotplates are designed to be nonstick, so you can just simply wipe away the mess. After a day of preparing food, you can store this quesadilla maker upright so that it won't take up much space. With each unit, you'll also get a small tray to catch the drippings from your food. 
What We Like:
Vertical storage

Nonstick 

Cooking latch
What We Don't Like:
Purchase the Elite Gourmet Mexican Taco Tuesday Quesadilla Maker on Amazon.
Best For Thick Quesadillas
Nostalgia Taco Tuesday Deluxe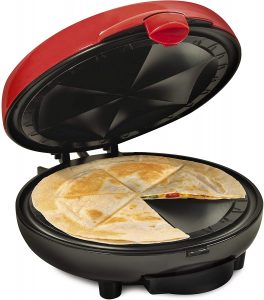 If you're a fan of thick quesadillas, then you'll surely enjoy having this Nostalgia Taco Tuesday Deluxe. This is your regular deep dish made better, as it's the only model in the market that comes with an adjustable latch. You can stuff your tortillas with as many fillings as they can handle, and the Nostalgia unit will take care of the rest!
This quesadilla maker also has so much more to offer. It's carefully designed to ease your cooking experience. Its diameter is eight inches, which is just right for an average portion of food. Also, this unit's plates are embossed so that your tortilla wrap will be cut into six equal sections and sealed whenever you close it. 
Nostalgia Taco Tuesday Deluxe is just as user-friendly as it is functional. You'll surely benefit from its indicator lights that signal you whenever it's plugged in and when it's ready to use. Cleanups will be a breeze because the cooking surface of this kitchen appliance is finished with a nonstick coating. And like most easy-to-clean quesadilla makers, you'll only need to wipe this down to clean it. You also don't have to worry about soggy food ever again, since this comes with a built-in drip tray to catch any excess liquid. When you're done, you can choose to either let this unit sit on your counter or stand it vertically to save space.
What We Like:
Adjustable latch

Nonstick

Embossed cooking surface
What We Don't Like:
Make perfect quesadilla with the Nostalgia Taco Tuesday Deluxe 8-Inch 6-Wedge Electric Quesadilla Maker with Extra Stuffing Latch from Amazon.
Most Durable
Hamilton Beach Quesadilla Maker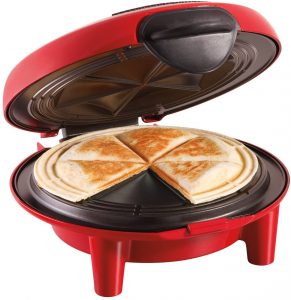 Since 1910, Hamilton Beach has been steadily producing high-quality home appliances. With their longstanding reputation, it's no surprise that their quesadilla makers are also bestsellers in the market. Most Amazon buyers agree that the Hamilton Beach quesadilla maker is functional, durable, and well worth their money.
This kitchen appliance has all the trappings of a good quesadilla maker. Its built-in indicator lights let you know if it's plugged in and when it's preheated. It comes in a standard size that lets you cook six quesadilla wedges at a time. So, you can guarantee that the amount of every dish will be just right. It heats up quickly, so your food will be ready in under five minutes. You can also lock the lid to seal the flavor within, and score the quesadillas as well.
Like most of its contemporaries, the cooking surface of this unit is made nonstick for easier cleaning. Just wipe the crumbs and drippings away with a damp cloth to keep the unit in pristine condition.
What We Like:
Nonstick

Locking lid

Upright storage 
What We Don't Like:
Buy the durable Hamilton Beach 25409 Quesadilla Maker on Amazon. 
Most Versatile
Betty Crocker Pizza Maker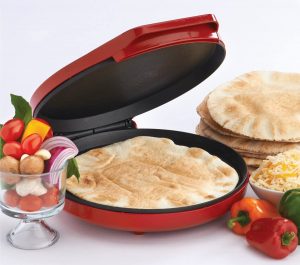 The Betty Crocker Pizza Maker is more than an energy-efficient way of cooking homemade pizza. With this single kitchen appliance, you'll also be able to make a handful of dishes, including your go-to chicken quesadillas recipe!
This piece of cookware has a dual-heat lid that is 12 inches in diameter. Enjoy a large batch of toasty tortillas dripping with melted cheese and other ingredients of your choice, all cooked in one go. As it's nonstick, you can clean up swiftly and efficiently too.
Not to mention, the Betty Crocker Pizza Maker comes with a built-in self-regulated thermostat so that you'll be able to cook your food at an optimal temperature. Similar to a standard quesadilla maker, you can just check the indicator lights to see if this appliance is plugged in or preheated already. This quesadilla and pizza maker is made with sturdy materials, and it has a floating hinge for safer handling.
What We Like:
Spacious

Heats up well

Multipurpose
What We Don't Like:
Cook large quesadillas with the Betty Crocker BC-2958CR Pizza Maker from Amazon.
Best For Grilling
AIZOAM Portable Stainless Steel Barbecue Grilling Basket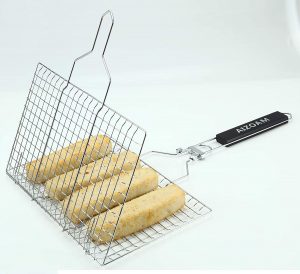 Not many people know this, but you can definitely make tasty quesadillas on the grill. This non-electric method is ideal for campouts and outdoor barbecues. Now, it can be quite tricky and messy if you aren't used to it. Still, it's not too late to open yourself to a world of possibilities! Discover more about the world of grilling. Use this stainless steel basket to effortlessly flip delicate dishes like quesadillas and so much more.
With its 12.6 x 8.6-inch measurements, you'll have lots of room to make a large quesadilla. And you can keep your food locked and intact with its lockable grate feature. You'll be surely flipping perfect quesadillas on the grill in no time! We also love that this tool is lightweight, both physically and for your wallets! Despite being capable of holding a large amount of food, it's way cheaper than most large electric quesadilla makers. 
This simple quesadilla maker is made of heavy-duty 430-grade stainless steel. Be confident that this piece of cookware will last you longer since the said material is known for being resistant to appliance trauma and corrosion. For further safety and comfort, this grilling basket comes with an elongated wooden handle, and is also very easy to clean!
The next time you fire up your grill, you'll have a wider selection of dishes to recreate. If you aren't satisfied with the product, rest assured that you're covered by a 30-day money-back guarantee. 
What We Like:
Lightweight

Easy to clean

Affordable
What We Don't Like:
Start grilling with the AIZOAM Portable Stainless Steel Barbecue Grilling Basket from Amazon. 
What to Look For in a Quesadilla Maker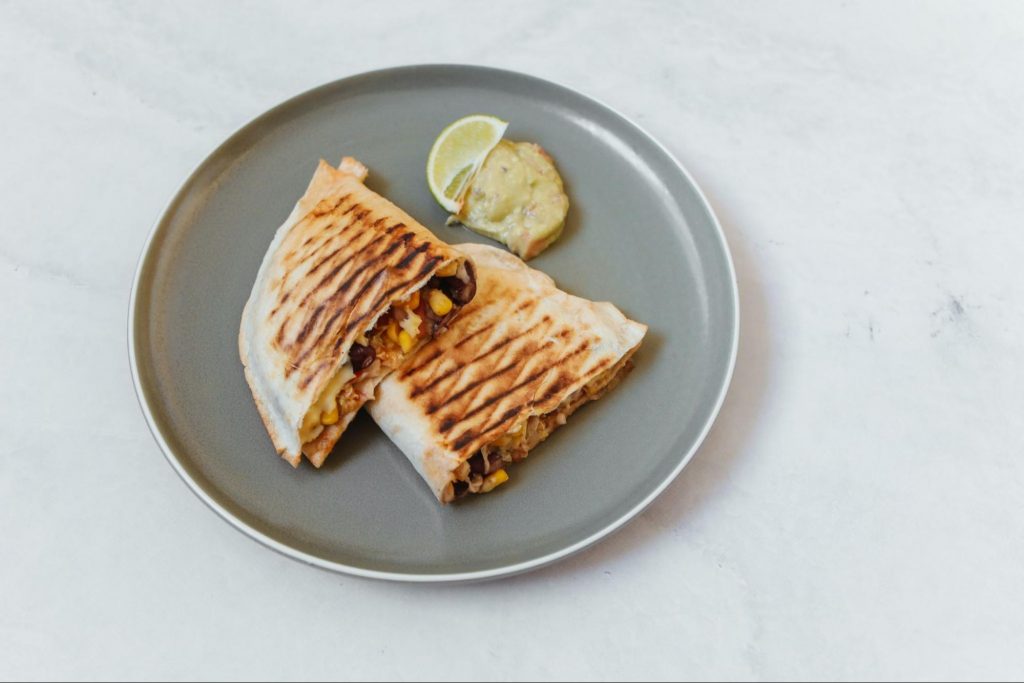 It can be daunting to choose only one appliance from the vast range of options available, especially if the choices are equally good. To resolve this dilemma, the first step is always to establish what you really need. Are you looking for a quesadilla maker that will save up space or do you want something that is capable of handling large portions of food? Here are the main factors that you should consider before making your final decision: 
Price
How much are you willing to spend on a quesadilla maker? Can you shell out a considerable amount of cash for a top-grade appliance? This may be ideal if you are investing in a commercial quesadilla maker, and if you'll be using it habitually to get your money's worth. 
Working with a budget? It's completely fine! Workaround how much you are ready to spend, and determine which quesadilla maker offers the best value for its price.
Size
So, does size matter? In terms of picking the right quesadilla maker for yourself, it definitely does. You wouldn't want to end up regretting not getting a larger or deeper unit to accommodate your overloaded tortilla wraps. 
Although the standard size for this appliance is eight to ten inches in diameter, you'll find some units that are only five inches in diameter and others that are large enough to fit a 12-inch pizza. It's diverse. At the end of the day, choose the size that is in line with your cooking habits.
You should also determine if you'd want cooking plates with shallow or deep pockets. Shallow pockets are ideal for making quesadillas with an average amount of filling. If you'd be making some that are stuffed with lots of meats and other ingredients, we highly recommend getting one with a deep dish or an adjustable latch.
Heating
Electric quesadilla makers have varying heating times. If you're particular about wanting to save time with this appliance, we recommend getting one that preheats and cooks food in a shorter period of time. Fast-heating units are ideal for people who are always on the go and don't have much time to spend prepping food in the kitchen. 
You can also take into consideration how hot each unit gets. Do you want your tortillas to achieve a crispy exterior? If yes, then we suggest getting a quesadilla maker that reaches higher temperatures. If you want to have more control over the cooking temperature, we recommend getting a unit with a built-in temperature control feature.
Cooking Surface
Technology has certainly improved our cooking experience for the better, and it's reflected by nonstick versions of many cooking appliances. In fact, most of the quesadilla makers featured in this article are designed with nonstick cooking plates of varying sizes.
We highly suggest choosing one with a nonstick coating, so cleaning would be easier and you won't have to bother using abrasive or damaging solutions.
Durability
Will you be using the quesadilla maker regularly? If so, it would be prone to wear and tear. In this case, we highly recommend getting a unit that could withstand heavy-duty cooking. More durable models tend to be a bit pricier than the regular kind, but we guarantee that the extra buck will be well worth it in the long run. 
Latch
We suggest going for a quesadilla maker with a built-in latch. This feature is helpful for keeping the food within the appliance at all times. You won't have to worry about potentially spilling pieces of scorching food on yourself and others. For a fact that you can smell, this feature helps to lock in the aroma and flavors of the food during the entire cooking process. How good would that be?