Most often, risotto is associated with fancy end-restaurants. However, did you know that it's an epitome of Italian home-cooking? In fact, knowing how to cook good risotto is something we think every cook should know. Perhaps because it's one of those dishes that is so comforting and so easy to prepare, it never fails to impress. 
Meanwhile, risotto is a northern Italian dish that uses small amounts of broth (preferably chicken or vegetable) until it reaches a thick and creamy consistency. Although originally cooked with rice, the dish has since diversified to include various ingredients and some that don't even include rice. Unlike other dishes, cooking risotto requires constant care and attention.
Properly cooked risotto is rich and creamy even if no cream is added, due to the starch in the grains. When choosing the potatoes, you want to select a potato that will cook fast and not keep you standing over the stove for a whole day trying to get them tender. For more wonderful Italian dishes, go ahead and try out our Italian Grilled Cheese and Tomato Recipe. It's perfect for a light and tasty snack!
Tip: Use Idaho potatoes if you can't get Yukon Gold potatoes.
 Potato Risotto Recipe Video
Ingredients
1 ½

pounds

potatoes

peeled and diced

⅛

cup

white onion

finely chopped

½

cup

parmesan cheese

grated

2

tablespoon

butter

2

tablespoon

olive oil

3

cups

chicken stock

½

teaspoon

italian seasoning

¼

cup

dry white wine

1

teaspoon

salt

or to taste

1

teaspoon

pepper

or to taste
Instructions
First, go ahead and use Yukon Gold potatoes for this recipe. They are creamier than other variants, and are perfect for a risotto recipe. Peel and dice the potatoes into ¼ inch cubes.

In a heated skillet, drizzle 1 ½ tablespoons of olive oil. Alternatively, you could also use butter if you're looking for richer flavors.

Add ⅛ cup of finely chopped white onion and sear.

Saute onions for 2-3 minutes or until soft and translucent.

Once the onions have caramelized, add 1 ½ cups of peeled and diced Yukon gold potatoes.

Saute the potatoes until they turn opaque and translucent around the edges.

Once the edges have turned a dark golden brown, pour in a few ladles of chicken stock.

On medium heat, stir your potatoes gently. When the liquid has reduced by half, add another few ladles of chicken stock and stir gradually.

Depending on the type and size of potatoes used, you may realize that you run out of chicken stock before the potatoes are thoroughly cooked. Allow to simmer gently.

At medium heat, add ¼ cup of white wine to your potato risotto and continue to stir. Season with salt and pepper.

Just before serving, add 2 tablespoons of butter and grated parmesan cheese. Stir until combined.

Serve on a plate and garnish with a sprinkling of parmesan cheese and chopped parsley.
Commonly Asked Questions
How to choose the best potatoes for cooking?
It's best to choose potatoes that feel firm to the touch with no bruises, bald spots, cuts, sprouts or green areas. You can try Yukon or Russet potatoes for a wonderfully creamy risotto.
What can I replace potato with?
If you and the family are not huge fans of potato, go ahead and make this risotto with any starchy vegetable, such as: pumpkin, sweet potato or squash. Not only will you be adding variety to your home dinners, but you will also introduce other healthy vegetables to the family.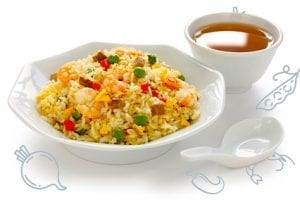 Conclusion
Any type of risotto is a wonderful, nutritious, and delicious dish. In fact, it takes a little over 20 minutes to create this humble yet rich dish. A burst of comforting flavors will take over your senses as the tender potatoes melt in your mouth. In the background, the taste of fruity white wine accentuates the delicate smoothness of the potatoes adding so much depth of flavor to the entire dish! It's a match made in heaven!