What's the best way to spread Christmas cheer this holiday?  It's by serving the best ever apple pie recipe on your Christmas eve dinner! This Open Face Apple Pie Recipe makes an easy apple pie filling perfect when you're caught between the Christmas rush and dinner preparations! This delicious apple pie with a hint of tangy lemon juice will definitely bring the warmth of summer to the cold breeze of Christmas eve!
And to put everyone into the holiday spirits, serve this open face pie with our delightful Christmas Poinsettia Punch Recipe! The sweet apple pie complemented with a fruity punch is a sure hit to your Christmas party!
Apple Pie Recipes For Various Seasons
There's nothing more satisfying than ending a scrumptious Christmas dinner with a slice of a delightful apple pie. It's also the perfect pie to wrap up any season; it's fitting for summer, spring, autumn, and most especially winter. That's why there are tons of apple pie recipes on the internet to satisfy anyone's taste buds!
A good sugarless apple pie recipe is a rare sight yet a true gem when you find one. Just like our No Sugar Apple Pie Recipe that's perfect for when you're searching for a guilt-free Christmas dessert recipe! Aside from the apple juice concentrate, this healthy apple pie recipe also uses green apples to make up for the no-sugar restriction. If you're looking for a dessert that everyone will surely enjoy at your Christmas dinner, you've found a match!
Aside from pumpkins, it's a mystery that apples also taste best during autumn! So, waste no more time and make this Apple Butter Pumpkin Pie Recipe! This velvety pumpkin pie is made even silkier with the juicy apple butter to complement your Thanksgiving table.
Looking for something different for your apple pie? This Fried Apple Pies Recipe adds the perfect crunch to your traditional apple pie recipe! Fried crust filled with tender apple filling, it's the perfect dessert when you're having a party for a huge garden party this spring!
You can also check out our Americana Apple Pie Recipe if you're craving the delights of summer! Aside from the juicy apples, this pie recipe is filled with delectable fruits that are in season during summer. The pie filling is a mixture of cranberries, blueberries, and refreshing flavors of lemon and orange zest. 
Our Open Face Apple Pie Recipe
Now, if you're looking for something easy to whip up and can be made a day before you serve it, then this Open Face Apple Pie is perfect for your Christmas eve dinner menu!
We know how crazy things can get when people are prepping for the most-awaited Christmas eve dinner. For this reason, we're making this recipe a lot easier since all efforts will be put into the homemade apple pie filling and not much on the crust!
Be sure to use the best type of apple in making your apple pie. We're using the all-time cooking friendly Granny Smith Apples. The tarty flavors of these apples blend best with our earthy cinnamon spice. 
It's also the perfect pair for zesty flavors as it's sweetness balances out the acidity of the lemon juice. Meanwhile, its crisp texture holds well even after baking it so you don't have to worry about your easy Christmas dessert crumbling.
The formula of the perfect pie is a crisp and firm crust but still has a juicy and caramelized filling. This is why we're first baking our pie at a high temperature to get that nice brown crust then turn down the heat to prevent our filling from drying out.
If this is your first time making a delectable Open Face Apple Pie, we've got a few tips to help you achieve the best Christmas dessert recipe!
Tips For Making Open Face Apple Pie
Now, when choosing your apples be sure to check if they are firm. Firm apples are better for baking since it holds our pie better while soft apples are best for making a crispy fried snack with apples like our Apple Berry Smoothie Recipe.
If you can't find any granny apples, you can also use Honeycrisp or Mutsu Apples. Just like Granny Smith apples, the Honeycrisp type has a sweet-tart flavor while the Mutsu type has a sweet-honey-like flavor. These types of apples also have a crisp texture that holds better even after a while of cooking or baking. 
You can also add half a teaspoon of almond extract to your best apple pie filling recipe. It doesn't taste like real almonds but it'll add another layer of fruity flavor with its cherry-like taste. If you're searching for more tanginess to your open face apple pie, you can add a cup of sour cream to your apple pie filling just like our Sour Cream Apple Pie Recipe.
Looking for more easy Christmas dessert ideas to add to your Christmas eve dinner menu? Try more of our Christmas dessert recipes below!
More Christmas Dessert Ideas
Make the Christmas eve menu even merrier by serving this Christmas Tree Rice Krispies Treats Recipe! This Christmas treat makes the perfect crispy dessert for your kids if they are not on the naughty list. If you're looking for something guilt-free, our low-fat Vanilla Snowman Cupcakes With Vanilla Icing Recipe is perfect for both the kids and kids-at-heart!
And what's a Christmas dessert spread without Christmas Cookies? Try our Christmas Wreath Cookies Recipe for an easy last-minute Christmas dessert recipe! It only takes 15 minutes to whip up and it's a no-bake recipe too! Lastly, for a luscious drink that'll warm you up during the holidays, make this Creamy Raspberry Hot Chocolate Recipe to go with your Christmas desserts!
Now, ready to make our tasty apple pie recipe?
Open Face Apple Pie Recipe Video
How To Make Open Face Apple Pie
Save time in making your Christmas dessert with our easy Open Face Apple Pie Recipe! Your guests will go crazy over this sweet and tart apple pie topped with vanilla ice cream and ground cinnamon!
Ingredients
5

Granny Smith apples,

peeled and sliced into ½ thickness

½

cup

brown sugar

1

tsp

cinnamon,

ground

2

tsp

lemon juice,

freshly squeezed

⅓

cup

all-purpose flour,

plus more for dusting

12

oz

pie crust,

ready-made

2

tbsp

unsalted butter,

cubed and chilled
To serve:
Vanilla ice cream

Ground cinnamon
Instructions
Preheat the oven to 450 degrees F.

Combine the sliced apples, lemon juice, brown sugar, and cinnamon. Mix until evenly incorporated.

Add the flour and butter cubes. Mix to combine evenly.

Dust your working area with flour and roll out your pie crust 2-inch wider than your pie plate.

Lift your pie crust with a rolling pin and transfer it into an 8-inch pie plate.

Spread it evenly in the pie pan up to the sides and trim the excess dough. Then crimp the edges.

Pour the apple mixture onto the crust

Bake for 10 minutes in the oven. Then turn down the temperature to 350 degrees F.

Bake for 35 to 40 minutes.

Transfer to cooling racks when done and allow to cool completely

Slice the apple pie into your preferred portions. Top them with a scoop of ice cream on each slice then sprinkle with ground cinnamon and enjoy.
Recipe Notes
We suggest topping your apple pie slice with a 1-ounce scoop of ice cream, but you can definitely add more if you prefer!
Nutrition
Calcium:

30mg

Calories:

307kcal

Carbohydrates:

50g

Fat:

11g

Fiber:

4g

Iron:

1mg

Potassium:

181mg

Protein:

3g

Saturated Fat:

4g

Sodium:

179mg

Sugar:

25g

Vitamin A:

61IU

Vitamin C:

6mg
Nutrition Disclaimer
Commonly Asked Questions
Can I make this pie ahead?
Of course! This will actually make your pie taste better, giving it time to set and have all the ingredients "mingle" with each other. So, if you're planning to serve your pie the next day, store your baked pie in the fridge by wrapping it loosely with aluminum foil or plastic wrap. Then reheat it the next day at 375 degrees F for 10 to 15 minutes.
How to store leftover apple pie?
Apple pie tastes best when it's fresh out of the oven. But if you have a portion left, slice it individually then wrap it with aluminum foil or plastic wrap. You can store them at room temperature for 2 days as fruit pies have enough sugar and acid to prevent them from spoiling. Then keep it in the fridge for another 2 days to help them last longer. You can also freeze your pie for up to 4 months but be sure to store it in a freezer-safe container.

How do you reheat apple pie?
To reheat your apple pie, transfer it to a pie dish then reheat it in your oven at 375 degrees F for 10 to 15 minutes or until fully warm. If your pie is frozen let it thaw in your fridge overnight before reheating.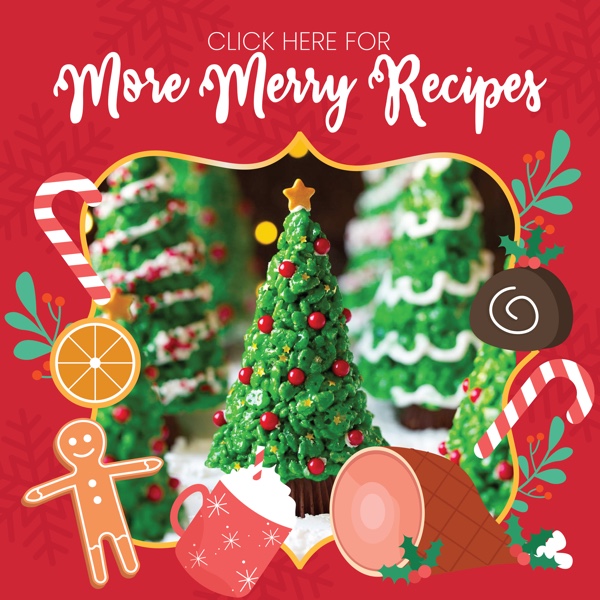 Conclusion
Planning your Christmas menu can be a bit stressful. To help you cross off a few things on your list, make this quick and refreshing Open Face Apple Pie Recipe! This sweet and tart dessert will be the buzz of your Christmas table! Enjoy it even more with a scoop of vanilla ice cream and a few dashes of cinnamon for a burst of flavor in just one bite!
Related Pies & Pastries Recipes