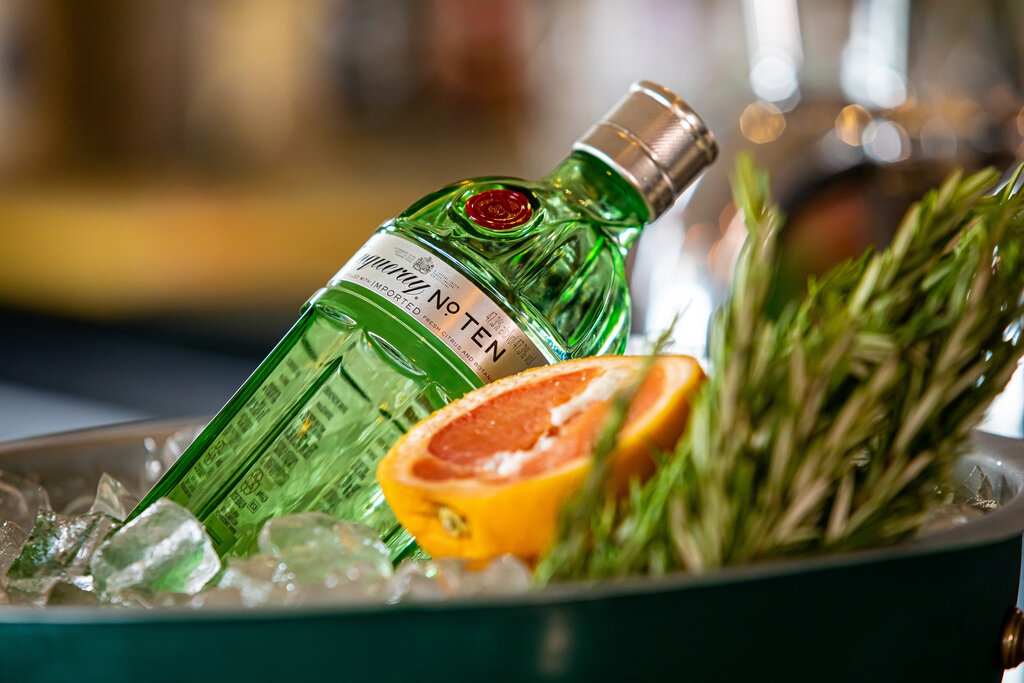 All You Need To Know About Tanqueray, The Iconic Dry Gin
Everyone deserves a little reward after a long day, and this treat could be in the form of a delightful drink to sip on. How about you reach for that beautiful green bottle of Tanqueray London dry gin from the liquor cabinet? You can mix up some dry gimlet cocktail for a premium taste of relaxation too!
There's a reason why Tanqueray gin is a popular gin of choice for most highball cocktails. With its botanical nature, each pour of this spirit steps up the drinking game.
It pays to know more about the very drink that soothes all your senses, so you can mix and drink it better in the future. With that said, read on and discover what Tanqueray is, its different types, and of course, some cocktail drinks for you to try.
What Is Tanqueray?
Tanqueray is a fine spirit that undergoes four distillations. And during these processes, four botanicals—juniper, coriander, angelica root, and licorice—are blended to create the smooth alcoholic drink that most casual drinkers love.
This iconic beverage has been around for almost 200 years, thanks to Charles Tanqueray who founded it in the 1830s. Today, you'll often find these familiar green bottles with a red wax seal in front of liquor stores or bars.
As it's been around for centuries and is a known drinking staple, filling up your home's bar with bottles of this refreshing gin won't cost you a fortune as most are only under $40. It's the popular go-to gin style for a spirit-based martini cocktail and the classic gin tonic. So, don't miss out on stocking them up.
Different Types of Tanqueray
The realm of flavored gins is ever-evolving, and Tanqueray ensures that its brand does not fall behind. To do this, they often release different types of Tanqueray gin in the market. Each variety is crafted with revolutionary and distinct botanical blends without compromising the stellar quality of the fantastic boozy drink.
Keep on reading to know more about these gin types and discover why they're all the rave among drinkers.
Tanqueray London Dry Gin
Tanqueray London Dry gin is the benchmark of the brand, and in the world of gin as well. It has a crisp and dry finish, which is the gold standard for a London dry gin, largely attributed to its botanical mix of juniper, coriander, angelica, and licorice.
Every gin drinker loves its juniper-dominant note, but on the other hand, this dry gin lacks the citrus tang that could be a dealbreaker for some. The reason is, juniper usually already lends citrus, floral, and spice notes to the mix. The addition of the other botanicals only makes this spirit more flavorful.
Bottled at 47.3 percent alcohol by volume (ABV), Tanqueray is a good gin for any cocktail drink.
Tanqueray No.10 Gin
To keep up with the New Western Style Gin, Tanqueray No.10 was released in 2000. And though this drink is based on a recipe from the 1830s, it still caught the attention of the new generation of drinkers.
This variety features the botanical blend of the original gin, with chamomile flowers and fresh citrus fruits such as grapefruit, lime, and orange added to the mystifying recipe. This fruity spirit is the perfect drink for juniper-averse gin drinkers.
With a 47.3 percent ABV, this gin type is the ideal spirit for gin-based martini cocktails like this orange martini.
Tanqueray Rangpur Gin
Gin lovers have been enjoying this flavored spirit since 2007. Bay leaf, ginger, juniper, and other botanicals are carefully mixed to create this winning flavor.
The most striking feature from this gin, however, is the refreshing taste brought by Rangpur limes. While they are called limes, the unique citrus fruit which is native to India is more similar to mandarin oranges. A cross between mandarin orange and citron, Rangpur limes are also juicier. This gin is definitely a must-try, especially if you have a love-hate relationship with juniper-heavy spirits.
Tanqueray Rangpur only has a 41.3 percent ABV, a little lower compared to the other gin types. Its complex flavor profile blends well with fantastic gin martinis such as in this bootlegger martini drink.
Tanqueray Malacca Gin
First distilled in the 1990s, Tanqueray Malacca surprised gin lovers because of its sweet and satisfying notes. It was short-lived, though, as the distillation and production of this spirit came to an end in 2001. But as it's loved by many, the Malacca Gin returned briefly in 2013, and for a short period of time, reclaimed its spot on the top shelves of every bar. 
This gin is crafted with juniper, peppercorn, rose, cloves, licorice, and other notable botanicals. There's only a tad bit of juniper to symphonize with the other botanicals, though. Malacca is also known to be a bit sweeter compared to other Tanqueray varieties. 
At 40 percent ABV, the Tanqueray Malacca makes for a contemporary substitute for Old Tom Gin. Hence, it's a good addition to this Tom Collins cocktail recipe. 
Tanqueray 0.0
Do you want to relax with a glass of booze but afraid of the tormenting hangover that comes after? Don't worry, here comes the Tanqueray 0.0! It's a gin variation that will surely alleviate your fears.
Following the rise of zero-alcohol spirits in the market, Tanqueray recently launched the alcohol-free version of its classic brand, the Tanqueray 0.0. This variant makes use of the botanical blend similar to that of the traditional Tanqueray and only differs from the others due to its reduced alcohol content or ABV. This booze-free spirit still epitomizes the signature taste that Tanqueray is known for, but without the added calories or pesky hangovers!
4 Tanqueray Gin Cocktails to Try
If you're looking for an impressive juniper-forward spirit for your favorite gin cocktails, look no further as here is Tanqueray. This incredible spirit meshes perfectly with tonic water, lemon, and a wide selection of cocktail drinks. To get you started with your Tanqueray journey, below are some Tanqueray drinks you ought to try one of these days.
Gin Negroni
What better way to start off a meal than with a glass of satisfying aperitif? This gin negroni recipe features equal parts of gin, sweet vermouth, and Campari. Opt for Tanqueray dry gin as it mellows the strong bittersweet flavors of Campari. For added feast to the eyes, garnish this sophisticated before-dinner drink with an orange peel. 
Give a delicious spin on the traditional tequila! In this boozy gin margarita, we make use of gin as its spirit base. And of course, what better to use than some Tanqueray? The result is sure to be one of the best tequila cocktails that will have you pouring for more. 
Classic Hot Toddy
If you wish to relish more of the calming effects of Tanqueray, try adding the dry gin in a hot toddy cocktail drink. Although a classic hot toddy often includes dark liquors, gin is also a great addition (if not a replacement for whiskey). Take a sip of this soothing drink whenever you feel under the weather or if you just want to get cozy!
When making a terrific gin and tonic, choose only quality gin to go with your equally premium tonic water. Tanqueray gin and Bombay Sapphire are often the best gins of choice for this refreshing drink. For the garnish, use lime as it's the citrus that perfectly complements Tanqueray.
Tanqueray Is the Best Gin of Choice for Mixed Drinks
This iconic gin brand offers diverse flavor profiles, making it a wonderful addition to any cocktail of your choice. With this optimum-quality beverage in your home bar, capping off your day with a gin cocktail drink couldn't be more pleasing!