Craving for the chilling but decadent goodness of icy Italian desserts like tiramisu? Not to worry! This copycat tiramisu recipe of ours is bringing the classic Olive Garden dessert into your home.
Popular American restaurant chain Olive Garden may be famous for its main course dishes, like their creamy shrimp pasta and succulent Meatballs. However, the Olive Garden dessert menu isn't one to miss out on either. Every now and again, many get a craving for Olive Garden desserts like the Apple Carmelina and, of course, delicious tiramisu.
That's why in what is arguably the best tiramisu recipe, we'll show you how to recreate Olive Garden's popular tiramisu dessert! Above all, you can make this indulgent icy Italian dessert all in the comfort of your own kitchen.
What Is Tiramisu?
Tiramisu (not tiramasu)  is a coffee and cocoa-flavored Italian dessert. If you're curious about what is in tiramisu, it has delectable layers of soft, coffee-dipped ladyfingers and whipped mixture of eggs, sugar, mascarpone cheese, and cocoa.
The name of this delicious dessert may confuse many, with a common question being: "what does tiramisu mean?" Tiramisu in Italian is often translated to as "pick me up". Many think this is because of tiramisu's coffee, sugar, and (sometimes) alcohol content, which, when eaten, can pick up the mood or boost one's energy levels.
But what used to be an obscure Italian dessert now has various versions flooding the culinary world. Aside from the classic, authentic tiramisu dessert, there are now all kinds of tiramisu recipes for tiramisu cake, tiramisu cheesecake, and even tiramisu ice cream.
Olive Garden Desserts: Classic, Italian-style Tiramisu
For this Olive Garden Tiramisu Recipe, we'll be making something closer to the classic, Italian-style version of tiramisu. Olive Garden's take on this icy Italian dessert is nothing short of delectable, with its layers of creamy-custard filling set on top of espresso-soaked ladyfingers.
And no need to worry about serving this delicious dessert to the kids. Olive Garden's version, as well as this recipe, uses zero alcohol in its ingredients. So, yes. This tiramisu recipe is completely booze-free and kid-friendly! You'll soon realize that making a delicious tiramisu dessert just like Olive Garden's is easy as pie. With our clear recipe instructions, you won't need to be a cooking expert to whip up your own scrumptious tiramisu.
Tips on How To Make Olive Garden Tiramisu
Eggs, sugar, milk, and heavy cream are basic ingredients you can easily find stocked in your pantry. And if you don't have these at hand, you can easily get them from any nearby store. In addition, don't forget the vanilla extract, coffee, ladyfingers, cocoa powder, and Mascarpone cheese!
We also have a couple of tips for you in making this recipe. First, you can avoid soggy ladyfingers by not soaking them in your coffee. Soggy ladyfingers will turn your tiramisu dessert messy, so just a quick dip will do the trick. You can also use fruit purees or juices to replace the classic, brewed coffee, for a different variation of this tiramisu recipe. Lastly, to make your tiramisu sturdier and easier to cut, you can layer the cookies in criss-cross patterns. 
Complete your Olive Garden eating experience by trying our other copycat recipes! For main dishes, we have recipes for heavy dishes like our Penne Pasta Recipe and Tuscan Sirloin Steak Recipe for instance. Meanwhile, for soup suggestions, we also have our creamy and warm Zuppa Toscana Recipe, as well as the soothing Italian Wedding Soup Recipe.
If you liked this easy tiramisu recipe, we also recommend you give our other layered desserts a try! We have an easy No-Bake New York-Style Cheesecake Recipe and a delectable Layered Pudding Dessert Recipe. So, what are we waiting for? Go ahead and make this Olive Garden tiramisu dessert is for the perfect ender to a satisfying meal!
How To Make Copycat Homemade Olive Garden Tiramisu
Decadent layers of creamy, custard-like filling set on top of coffee-soaked ladyfingers makes this one of the best tiramisu recipes you can try. Recreate Olive Garden's classic Italian dessert with this easy tiramisu recipe!
Ingredients
6

egg yolks

¾

cup

sugar

⅔

cup

milk

1 ¼

cups

heavy cream

½

tsp

vanilla extract

1

lb

Mascarpone cheese

¼

cup

coffee,

at room temperature

6

oz

ladyfinger cookies

1

tbsp

cocoa powder
Instructions
In a saucepan, whisk the egg yolks and sugar together. Then, add in the milk.

Cook and whisk until the mixture is bubbling.

Cook for 1 more minute, then let it cool slightly.

Refrigerate for 1 hour.

In a mixing bowl, beat the cream and vanilla with an electric mixer until peaks form.

Take out the egg mixture from the fridge and add in the Mascarpone cheese. Whisk until smooth.

Split the ladyfingers in half and dunk them into the coffee.

Layer half of the cookies in a 7x11-inch dish. Spread half the Mascarpone cheese and eggs mixture over the cookies. Then, spread half of the cream and vanilla mixture on top.

Repeat this layering with the remaining ingredients.

Dust with cocoa powder on top.

Refrigerate for 6 hours, or until it's set.

Serve to friends and family and enjoy!
Recipe Notes
If you want to add in some Marsala wine-like in traditional

tiramisu recipes

, you can follow our other

Tiramisu Recipe

for further instructions.

You can also substitute Marsala wine for other kinds of alcohol. We suggest using dark rum, brandy, or any coffee-flavored liquor at half the amount required for the Marsala wine since these suggested drinks are more potent.
Nutrition
Calcium:

154mg

Calories:

592kcal

Carbohydrates:

35g

Cholesterol:

303mg

Fat:

46g

Fiber:

1g

Iron:

1mg

Potassium:

104mg

Protein:

10g

Saturated Fat:

27g

Sodium:

92mg

Sugar:

20g

Vitamin A:

1686IU

Vitamin C:

1mg
Nutrition Disclaimer
Commonly Asked Questions
What is Mascarpone?
Mascarpone cheese is a traditional Italian cream cheese that's most famous for its use in making tiramisu. Although, it's also used to make both sweet and savory dishes. To make Mascarpone cheese, acidic substances like lemon juice, vinegar, or citric acid are added to the cream cheese. This allows the Mascarpone to coagulate, giving it its rich, creamy consistency.
What can I use as a Mascarpone substitute for this recipe?
If you can't find any Mascarpone cheese in your local grocery stores, you can always use whipped heavy cream or cream cheese instead. For both ingredients, you may use 1 cup of whipped heavy cream or cream cheese for every 1 cup of Mascarpone cheese.
Can I make tiramisu ahead of time?
Yes! You can make tiramisu 1 to 2 days ahead of time. Just don't forget to place it in an airtight container and to store it in the fridge.
How long does tiramisu last?
Tiramisu can last for up to 4 days in the fridge and up to 3 months when frozen. To store, wrap the tiramisu in a layer of plastic wrap and aluminum foil. Then, place it in an airtight container. If you're freezing this icy Italian dessert, allow it to thaw overnight in the refrigerator and add another layer of cocoa before serving.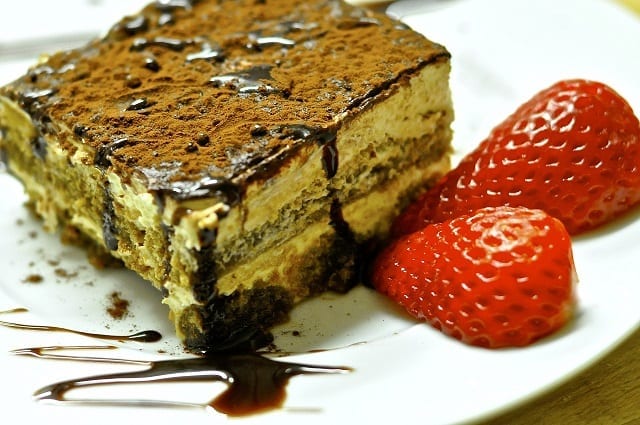 Conclusion
No need to crave for Olive Garden's delicious tiramisu! With this easy copycat recipe, you can serve delectable tiramisu as dessert to friends and family every day.
Topics: