Olive Garden may be famous for its main course dishes like their creamy shrimp pasta and succulent meatballs. But they also boast a crowd-favorite dessert that's usually served in Italian-American restaurants. Know what we're talking about? It's no other than the sweet and delectable Olive Garden Tiramisu. We have just the right mix for it so you get to enjoy decadent and luscious layers of coffee-doused ladyfingers and mascarpone cheese and satisfy your cravings. So read on as we guide you on how to make the best tiramisu cake ever!  
Tips on Making Olive Garden Tiramisu
Olive Garden's tiramisu recipe is close to the classic Italian-style version of tiramisu and that's what we're aiming for with this recipe. As a result, you'll be met with layers of creamy custard filling set on top of espresso-soaked ladyfingers that will satisfy your taste buds. Meanwhile, here are some tips to keep in mind when making the best Olive Garden tiramisu:
Do not soak your ladyfingers

in coffee. Doing so will turn them into a soggy mess, which we don't want. Therefore, remember that a quick dip will suffice.

Layer the cookies in criss-cross patterns. As a result, this will allow you to easily cut your

tiramisu and give it a sturdier build.

Do not beat the mascarpone too much or it will curdle. This is because separating the cheese from its water content will result in a runny mixture for your homemade Olive Garden tiramisu.
If you prefer a traditional tiramisu recipe,

you can add a bit of alcohol to the cream to highlight the coffee flavor, just like what we did in our

tiramisu recipe

. Usually, most of us use marsala wine. But in case you don't have one, you can use dark rum, brandy, or coffee-flavored liqueur too. Just make sure to only use half of the amount required for the Marsala wine because these suggested drinks are more potent.
How To Make Olive Garden Tiramisu (Copycat)
Our take on Olive Garden's tiramisu has decadent layers of creamy, custard-like filling set on top of coffee-soaked ladyfingers. The recreation of Olive Garden's classic Italian dessert is one of the best tiramisu recipes you will ever try!
Advertisement
Continue Reading Below
Ingredients
6

egg yolks

¾

cup

sugar

⅔

cup

milk

1¼

cups

heavy cream

½

tsp

vanilla extract

1

lb

Mascarpone cheese

¼

cup

coffee,

at room temperature

6

oz

ladyfinger cookies

1

tbsp

cocoa powder
Instructions
In a saucepan, whisk the egg yolks and sugar together, then add in the milk.

Cook and whisk until the mixture is bubbling.

Cook for 1 more minute, then let it cool slightly.

Refrigerate for 1 hour.

In a mixing bowl, beat the cream and vanilla with an electric mixer until peaks form.

Take out the egg mixture from the fridge and add in the Mascarpone cheese. Whisk until smooth.

Split the ladyfingers in half and dunk them into the coffee.

Layer half of the cookies in a 7x11-inch dish. Spread half the Mascarpone cheese and eggs mixture over the cookies. Then, spread half of the cream and vanilla mixture on top.

Repeat this layering with the remaining ingredients.

Dust with cocoa powder on top.

Refrigerate for 6 hours, or until it's set.

Serve to friends and family and enjoy!
Advertisement
Continue Reading Below
Advertisement
Continue Reading Below
Commonly Asked Questions
Does Olive Garden tiramisu contain alcohol?
You don't have to worry about serving this delicious dessert to the kids. Olive Garden's version, as well as our copycat recipe, uses non-alcohol ingredients. So, yes. This tiramisu recipe is completely booze-free and kid-friendly!
Can I put tiramisu in the freezer to set?
We recommend letting it set in the fridge for at least 6 hours so the flavors can incorporate well with each other. But if you're in a rush, have it set in the freezer for 30 to 40 minutes before serving.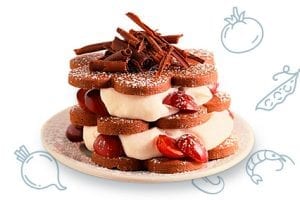 Conclusion
Gone are the days where you can't answer your cravings for Olive Garden's delicious tiramisu. With this easy copycat recipe, you can serve a fancy and yummy plate of tiramisu to friends and family at casual dinners and lunches. Bringing the flavors of the Olive Garden dessert menu into your home has never been this easy.
Advertisement
Continue Reading Below
Topics:
Advertisement
Continue Reading Below
Advertisement
Continue Reading Below