Twirling long strands of pasta around your fork seems like a prelude to a satisfying food experience. Now, you put your cooking hat on as you're about to make the best pasta sauce using a not-so-secret ingredient—tomato paste! Only, you suddenly realize that you've run out of stock.
Well, fret not! Because we'll share with you the best tomato paste substitute options that you can use instead. You no longer have to rush to the nearby farmers' market or grocery stores every time you run out of this pantry staple.
What Is Tomato Paste?
First, let's talk about what tomato paste is. This staple ingredient is the tasty result of simmering fresh tomatoes for several hours, effectively removing most of the vegetable's water content. As a result, it's made of concentrated tomatoes. It has a thick, paste-like consistency as well as a deep tomato and almost meaty flavor.
Tomato paste mainly acts as a thickening agent for pasta sauces and soups. On top of that, it also adds flavor and color to savory dishes, just like in this zucchini casserole.
5 Handy Substitutes for Tomato Paste
Tomato paste is very common in canned food aisles in grocery stores. But since a bit of this thickening foodstuff is enough to give any dish the consistency you're hoping for, most recipes call for just a small quantity. Chances are you'll soon forget about that half-opened can of tomato paste in your fridge. And when you finally need it, it's already gone to waste.
So, what's a great substitute for tomato paste then? If you're planning to whip up a yummy sloppy joes recipe and you don't have tomato paste on hand, then that's where these five best replacements come in.
Tomato Sauce or Tomato Puree
When it comes to the whole debate on tomato sauce vs tomato paste, the former is much thinner and less concentrated, just like tomato puree. You can substitute tomato sauce for tomato paste in dishes that are slightly watery like soups and stews.
If you're curious how to thicken tomato sauce to make it the perfect paste substitute, just simmer the sauce on the stovetop until its consistency is similar to that of tomato paste.
Now, when using this as a substitute, remember that two to three tablespoons of tomato sauce are equivalent to a tablespoon of tomato paste. That's enough to lend a tomato flavor to a creamy crab bisque.
Canned Tomatoes
When you want your tasty spaghetti sauce rich and thick, you can make use of canned tomatoes in lieu of the paste. And just like the tomato sauce, canned tomatoes need to be cooked as well until it's viscous enough. Then, strain out the excess liquids so your dish won't be juicy or watery.
Incorporate at least two tablespoons of strained canned tomatoes into the recipe that calls for a tablespoon of tomato paste. In that way, your dish will still have that deep tomato flavor.
Stewed Tomatoes
Stewed tomatoes are the closest to tomato paste in terms of flavor. Rest assured you'll be having a dish that's just as deliciously rich as when you use tomato paste. They're also simmered just like tomato paste, although they are seasoned first. It's cooked along with other ingredients such as onions, garlic, celery, and even red bell peppers.
When using stewed tomatoes instead of tomato paste, simmer properly and drain out the liquid to avoid watering down the dish. You need four tablespoons of drained stewed tomatoes for every one tablespoon of tomato paste. This makes for a great tomato paste substitute in chili recipes like this buffalo beer chili dish.
Ketchup
Can you use ketchup as a substitute for tomato paste? The answer is yes! Another incredible tomato paste substitute is ketchup, though it's not as thick as the paste. Using ketchup will also yield a slightly different flavor profile. Why? Because ketchup bursts with a party of flavors due to its vinegar, sugar, and spices content.
You can use this substitute measure for measure. So, if a recipe calls for one tablespoon of tomato paste, one tablespoon of ketchup will suffice. Substitute ketchup for tomato paste in recipes with sweet notes. It'll surely work well in this deliciously baked Italian sausage and carrots dish.
Pureed Red Peppers
Red bell peppers make for an incredible tomato paste substitute. All you have to do is roast the red peppers, peel off the skin, and extract the seeds. After that, puree the peppers using a food processor or a blender. Should you want a thicker finish, you can even simmer the pureed red peppers as well. The result is not as thick as tomato paste, but it'll give just the right amount of punch to your recipe.
Before adding them to recipes with tomato paste, remember the ratio of one tablespoon of red pepper puree for every tablespoon of tomato paste. Substitute tomato paste with pureed red peppers in this savory one-pot noodles with beans recipe.
Tomato-Free Substitutes for Thickening
Sometimes, some recipes only need a thickening agent and not the additional, deep flavors of tomatoes. If that's the case, you can use the following tomato paste-free substitutes for thickening your soups or sauces:
Flour

– This kitchen staple is actually a very common thickener. If you'll be using flour to thicken a soup, pour it into a small bowl of water first. Mix vigorously using a fork to avoid the formation of lumps. Then, pour the mixture into your soup. 

Cornstarch

– Like flour, carefully whisk together cornstarch and water first. Then, pour into your soup and proceed to cook until the soup is viscous enough.

Cream cheese – Cream cheese, in fact, is a natural thickener. It contains locust bean gum, a vegetable-based thickener. This substitute works best with cream-based soups or sauces. Some recipes may require you to use frozen cream cheese to thicken said dishes. 
Make Your Own Homemade Tomato Paste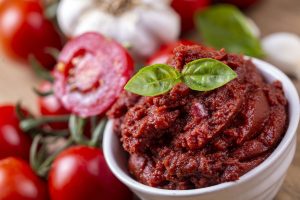 Though the tomato paste substitutes we've mentioned are equally rich and tasty, there's nothing like the original ingredient's thickening prowess. For instance, this marinara sauce recipe calls for a tomato paste to have just the right viscosity. And the trick to thickening this sauce is to add some tomato paste in.
Making tomato paste is incredibly easy but it takes a lot of time. Moreover, you'll be needing several pounds of tomatoes as well. Remember to pick only the ripe tomatoes as they give off a sweet flavor. When you cut up the tomatoes, remove the damaged parts as well.

Tip:
Squeezing out the watery juice from
the cut t
omatoes will help quicken the concentration process. 
As you simmer the chopped tomatoes on the stove, throw in some olive oil, basil, and other seasonings you prefer. Then, peel off the skin and get rid of the seeds using a food mill. 
For the reduction process, the best option is to thicken and intensify the flavor using the oven. Simply spread the tomato mixture on a baking tray, then pop it in the preheated 300-degree F oven. Don't forget to stir the pureed tomatoes every 30 minutes. Continue baking and stirring for around three to four hours, or until the mixture is reduced and has a paste-like consistency.
Now you can upgrade your pizza sauce with your homemade tomato paste for a much more satisfying dinner time!
Use These Tomato Paste Substitutes to Save Your Dishes
Now that you know the best alternatives for tomato paste, you never have to worry should you run out of stock. These tomato paste substitutes will give the right amount of tomato flavor, provided you use the proper ratio. So, elevate your eating experience with homemade tomato paste or its equally rich substitutes!