Recently, my relatives came to town for a visit, so I figured, what better way to impress them than with a homemade Spanish beef stew? Made with the use of an oven, this Spanish style beef stew is different from any regular traditional beef stew recipe I've cooked before. It has a distinct rustic and savory taste that only comes from the flavorful combination of herbs and spices. In other words, this Spanish stew doesn't just rely on the meat and tomato sauce for flavor, but also on the sofrito that enriches the whole Spanish stew dish.
The sofrito is one of the key ingredients to making this dish a hearty meal. Besides browning the meat and finishing it in the oven, this dish makes use of herbs and spices as well. Sofrito is basically a combination of aromatic vegetables and herbs that are sauteed in oil, and then used to flavor the stew. The diced onion, tomatoes, green bell peppers, and minced garlic cloves are mixed together with the Spanish paprika, oregano, and bay leaves to create a savory and slightly smoky flavored beef stew.
Other people would include white wine, red wine, or dry sherry wine, but I personally prefer the flavors that come with the herbs and seasonings. Moreover, these spices make for a more authentic Spanish beef stew. I also added diced potatoes into the stew so it's even heartier and delicious. It's best to use waxy, red-skinned, or fingerling potatoes that won't break down when cooked in the stew.
While the dish was baking in the oven, I also made an (or Puerto Rican rice with pigeon peas) to serve alongside this delicious Spanish beef stew. You can eat it with plain rice, but I wanted an authentic Latin American food experience so I made this famous Puerto Rican rice dish to pair. And, let me tell you, the Spanish beef stew tastes amazing with the earthy flavor of the rice dish. I had a delicious time eating this meal, and you can recreate it too even if you don't have an oven at hand. This Spanish beef stew recipe is also pressure cooker or instant pot friendly!
How To Make How To Make Spanish Beef Stew
Prepare a flavorful comfort meal with this Spanish beef stew made with chuck roast, then slow-cooked with tomatoes, bell pepper, and spices.
Cooking:
2 hours 45 minutes
Total:
3 hours 15 minutes
Ingredients
3

lbs

beef chuck roast,

cut into 2-inch cubes

3

tbsp

flour

1

tsp

kosher salt

½

tsp

coarse ground black pepper

3

tbsp

olive oil

1

yellow onion,

chopped

2

carrot,

peeled and cut into ½-inch thick coins

1

green bell pepper,

cut into ½-inch cubes

4

cloves

garlic,

minced

1

tbsp

Spanish paprika

1

tsp

dried oregano

2

bay leaves

3

medium-sized waxy potatoes,

diced or roughly chopped

28

oz

diced tomatoes

15

oz

crushed tomatoes

⅓

cup

tomato paste

½

cup

green olives,

sliced

1

cup

green peas
Instructions
Preheat oven to 325 degrees F and toss beef cubes with flour, salt, and pepper.

Heat oil in a large dutch oven on high heat and cook the beef on all sides until well browned, then remove from the pan.

Lower heat to medium, add in the onions and cook for about 5 to 6 minutes until translucent.

Add in the carrots, bell pepper, and garlic and stir well.

Add in the paprika, oregano, bay leaves, diced tomatoes, crushed tomato, tomato paste, and beef. Stir well.

Cook, covered in the oven, for 2 to 2½ hours.

Remove from the oven, add peas and olives, and stir well.

Place back in the oven for 15 minutes.

Remove from oven. Stir and serve.
Nutrition
Calories: 

431.81kcal

Protein: 

41.81g

Cholesterol: 

108.86mg
Topics:
Related Recipes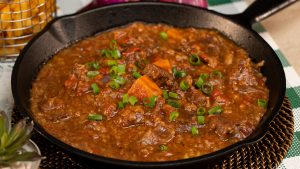 Crockpot
Easy Overnight Slow Cooker Beef Stew Recipe
This easy overnight beef stew recipe lets you wake to a delicious meal of tender beef, tomatoes, carrots, celery, and onions drenched in a rich thick broth. Serve alongside your favorite side dishes!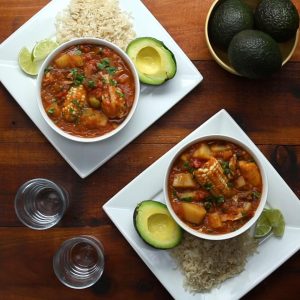 Soup
Get warm and comfy with a bowl of this sancocho loaded with chicken drumsticks, corn, and potatoes cooked in a flavorful broth.