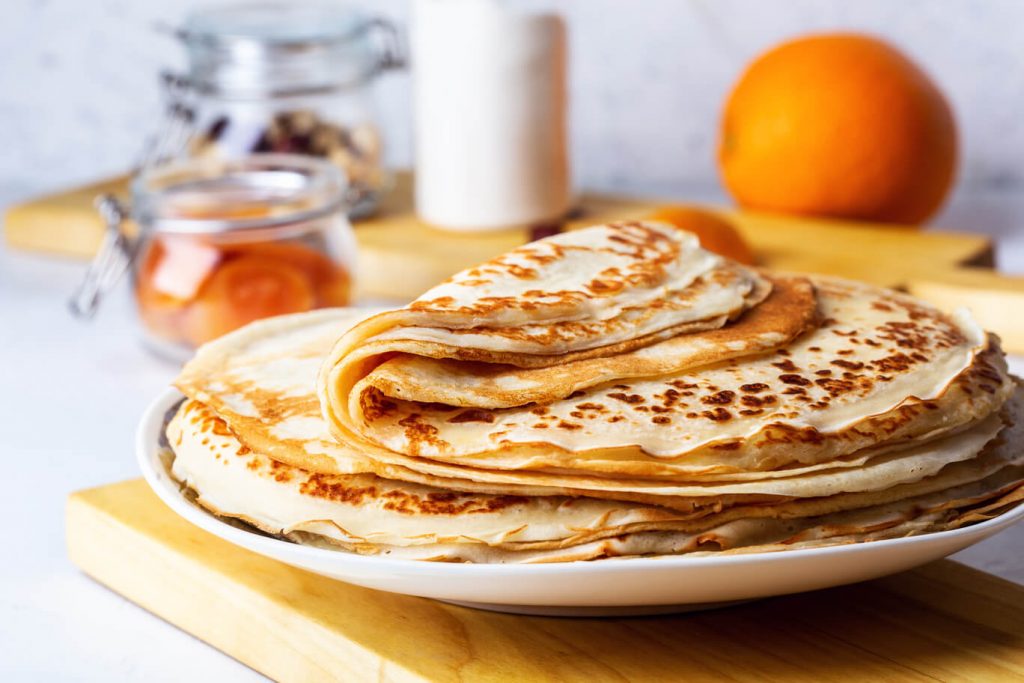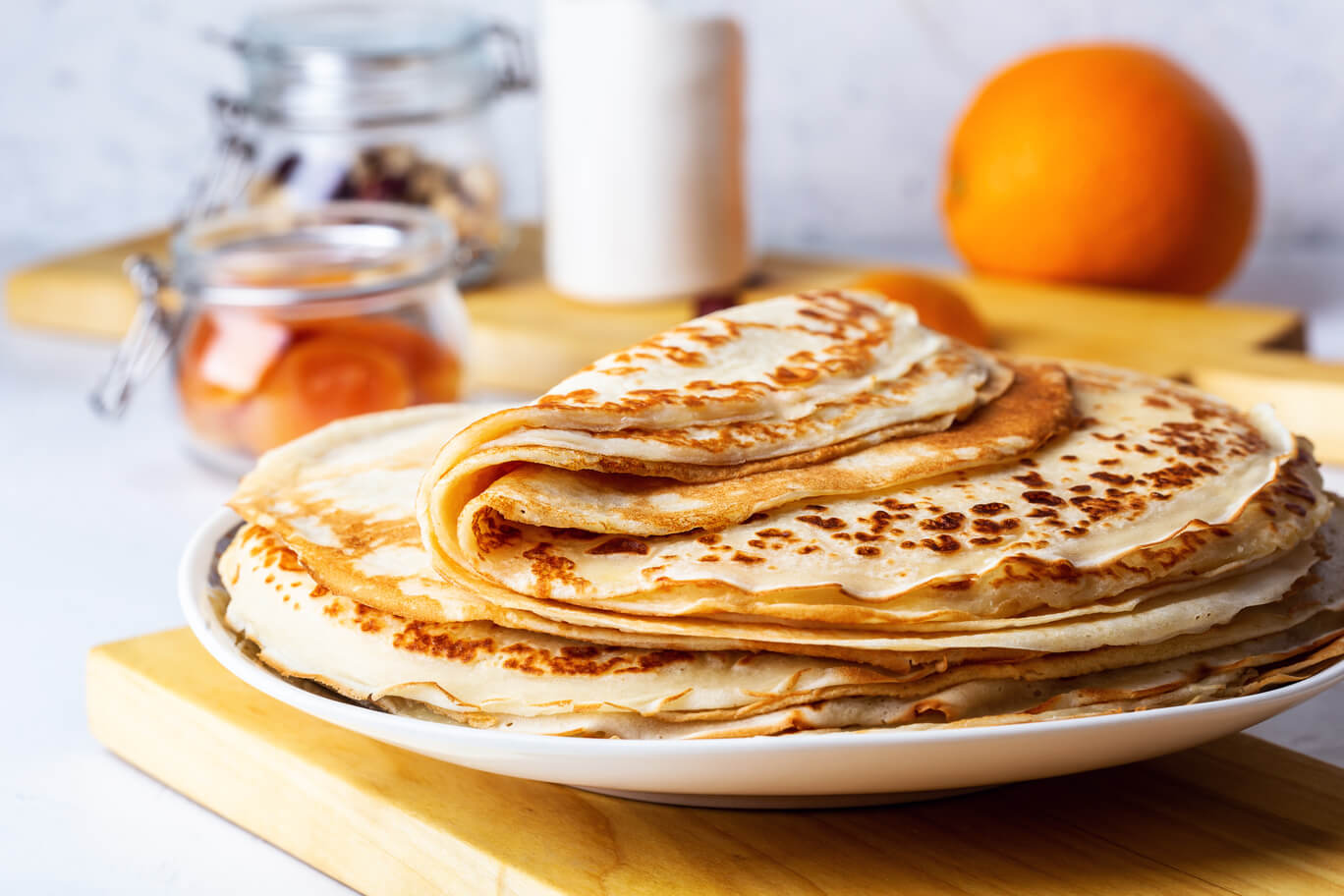 Easy To Make Crepes Recipe
How To Make Easy To Make Crepes
Our easy-to-make crepes recipe is fail-proof and done in just 5 minutes! Enjoy this soft and buttery treat made with flour, milk, eggs, butter, and vanilla!
Ingredients
5

oz

all-purpose flour,

1 cup

2

tbsp

sugar,

heaping

½

tsp

salt

1¼

cup

milk

2

large eggs

4

tbsp

butter,

melted, or oil

1

tsp

pure vanilla extract

1

tbsp

butter,

softened, for cooking
Instructions
Whisk together the flour, salt, and sugar in a large bowl.

Make a well in the center and pour in the milk, eggs, and slightly cooled melted butter. Whisk the wet ingredients first before folding into the dry ingredients.

Whisk until the batter is smooth. The batter should be runny or watery. Add in 1 to 2 tablespoons extra milk, if needed.
Blender Method:
Add all the ingredients into a blender. Blend for about 10 seconds until the batter is smooth.
Rest:
Let the batter rest for about 5 minutes while preheating a 10-inch nonstick pan over medium heat. Alternatively, cover the batter and refrigerate overnight.
Crepes:
Lightly grease a pan with a layer of butter, with a butter-soaked paper towel or silicone brush.

Give the batter a light mix to move the settled ingredients around before pouring out each crepe.

Pour about ¼ cup of the batter into the center of the hot pan. Swirl around in a circular motion to evenly coat the bottom of the pan, spreading the batter around the edges. Fill in any gaps with a little extra crepe batter, if needed.

Place the pan back on the heat.
Soft Crepes:
Let the crepe cook for about 1 minute. until the surface has set and the underside is slightly golden.

Gently flip the crepe and cook for about 30 seconds to 1 minute. until set.

Repeat until all the batter is used up, mixing the batter before pouring out each crepe.
Crepes with Crisp Edges:
Cook the crepes for about 1½ to 2 minutes until the edges are starting to brown and slightly crisp. Flip and cook for a further 30 seconds until the crepes develop browned spots.

Repeat until all the batter is used up, mixing batter before pouring out each crepe.

Stack the cooked crepes on a plate.

Serve warm.
Recipe Notes
To make crepes ahead,

store them layered with a sheet of parchment paper between each crepe. Wrap with cling wrap and store in an air-tight container. This prevents them from drying out. Refrigerate for up to 3 days, and warm (in batches) in the microwave before serving. They only about 10-15 seconds per batch of three crepes.

To freeze crepes, once they have cooled completely to room temperature, wrap in a freezer bag and store in an air-tight container. Freeze for up to 2 months. When ready to serve, defrost in the refrigerator or at room temperature, then warm them in the microwave.

For Lemon Sugar Crepes, place one crepe flat on a serving plate. On one half of crepe, sprinkle 1 teaspoon of vanilla or caster sugar, then fold over in half. Fold over one more time into quarters. Top with another teaspoon of sugar. Repeat with remaining crepes. Serve with fresh lemon wedges or thick slices to squeeze juice over crepes before eating, and whipped cream.

If serving crepes later, microwave the stack until warm, about 30 seconds.
Nutrition
Calories: 

146.29kcal

Fat: 

7.84g

Saturated Fat: 

4.55g

Trans Fat: 

0.24g

Monounsaturated Fat: 

2.12g

Polyunsaturated Fat: 

0.53g

Carbohydrates: 

14.91g

Fiber: 

0.38g

Sugar: 

4.17g

Protein: 

3.74g

Cholesterol: 

55.52mg

Sodium: 

144.72mg

Calcium: 

44.04mg

Potassium: 

71.63mg

Iron: 

0.85mg

Vitamin A: 

78.59µg