There are plenty of pumpkin dip recipes out there, but nothing beats our Terrific Pumpkin Dip! Fall season is exciting thanks to the many delicious pumpkin recipes you can make for Halloween and Thanksgiving. There's the classic Quick and Easy Pumpkin Pie and Simple Pumpkin Cake, which are both staple pumpkin desserts.
But if you're craving for that pumpkin flavor and just want a quick fix, then this recipe is right for you. Plus, it uses the leftover pumpkin puree and cream cheese sitting in your fridge. So, what are you waiting for? Let's get into making this Terrific Pumpkin Dip Recipe!
Easy Recipes With Pumpkin And Fall Flavors
Fall season is bursting with all kinds of pumpkin dishes, and we really can't complain. After all, who doesn't want a taste of the classic Creamy Pumpkin Soup and even a thirst-quenching Pumpkin Pie Smoothie. 
It's not surprising why most of the dishes served during this season are pumpkin-flavored since it's around this time that the orange plants are harvested. In America, pumpkin season is around September and October, making them a staple ingredient during those months.
Though they may not look it, pumpkins are a close relative of cucumbers and watermelons. A type of squash, pumpkins are popular for their orange color, versatile flavor, and hearty feel. They're great ingredients for lunch and dinner, and most especially dessert! 
When Halloween and Thanksgiving roll around, there's almost no part of the pumpkin that's left unused. Their bodies are either carved out to make jack-o-lanterns or filled in to make Herb Stuffed Pumpkins. 
Meanwhile, their seeds are used to make yummy snacks like Roasted Pumpkin Seeds and Sweet and Spicy Pumpkin Seeds. But perhaps the most loved part of the pumpkin is its flesh! The tasty orange pulp of pumpkin is pureed and used as a filling for delicious pumpkin pie, cheesecakes, and even dips! 
Pumpkin Dip, A Delicious Thanksgiving Treat 
Pumpkin dips are a wonderful Thanksgiving treat given how easy they are to make and how yummy they taste. You only need a few ingredients to make one, and it requires no cooking whatsoever. You just need to blend your ingredients, and you've got yourself a wonderful pumpkin dip!
Like other dips, this Terrific Pumpkin Dip gives your usual snacks an added pumpkin flavor and a creamy taste! So, if you're watching a movie with friends or have some guests coming over, then this sweet dip is perfect.
While it's great as an accompaniment to any snack, we highly recommend you make this dip for Thanksgiving dinner. We're sure that your loved ones will love the classic pumpkin desserts. But they'll even be more amazed when they see something new at the dinner table! So whip up a batch of this Terrific Pumpkin Dip and wow your friends and loved ones for Thanksgiving dinner.
How To Make Pumpkin Dip
There are many recipes for pumpkin dip out there. There's the savory pumpkin dip, which is a great dip for biscuits and a tasty addition to sandwiches and bagels. But other versions are closer to the dessert category since they're quite sweet. While other pumpkin dip recipes have yummy Cool Whip, ours is a pumpkin dip with cream cheese that makes the best sweet dips! This easy pumpkin dip recipe is just as scrumptious as any. Its creamy consistency is fluffy enough that no amount of whipped cream can make it any better than it already is!
So, if you've gone ahead and made your pumpkin pie and cheesecake for Thanksgiving dinner, then all the better. This recipe needs just the basic ingredients used when making those staple pumpkin desserts. Once you've got all the ingredients, you are ready to make this terrific dip! We simply mix all the ingredients and top it with crushed butter cookies to make one tasty side dish.
Tips for Making Terrific Pumpkin Dip
Before you go ahead and start making this recipe, we have a few tips for you to keep in mind. First, make sure your cream cheese is softened and at room temperature before using. Doing so makes it fluffy when mixed in for this recipe. If not at room temperature, you may end up with a lumpy dip, and not a creamy one. 

Tip:
If you have a small pumpkin lying around, you can hollow it out and use it to hold your dip for a more authentic Thanksgiving feel.
Second, make sure the powdered sugar is fresh and free from any clumps before mixing. And lastly, if you don't happen to have an electric mixer, you can always just mix it by hand. You can also save yourself the trouble by making it in advance. Just store it in an airtight container, covered, then place in the refrigerator the day or night before Thanksgiving dinner.
What To Serve With Pumpkin Dip
What to eat with pumpkin dip? There's plenty of food that goes well with this Terrific pumpkin dip. Cookies like gingersnaps, graham crackers, shortbread cookies, and even butter cookies taste amazing when paired with this dip. A snack of pumpkin dip with gingersnaps is the best way to savor the Fall season, after all.
Similar to cookies, pretzels and biscuits also taste great served with this side dish. Even fruits like apples and pears taste absolutely divine paired with this side dish. The creamy consistency goes well with the cut apple and pear texture, softening it and adding a sweet, pumpkin taste. Go ahead and try this delicious combo with our Pear and Apple Crisps Recipe!
You can even add in some nuts like pecans or walnuts, and even candies, to this dip. The salty taste of nuts can contrast well with the dip's sweet flavor, while the candies add more to it. Whichever way you enjoy your yummy dip, there's no denying that you're in for a treat this Thanksgiving! So go on ahead and make yourself a batch of this tasty dip.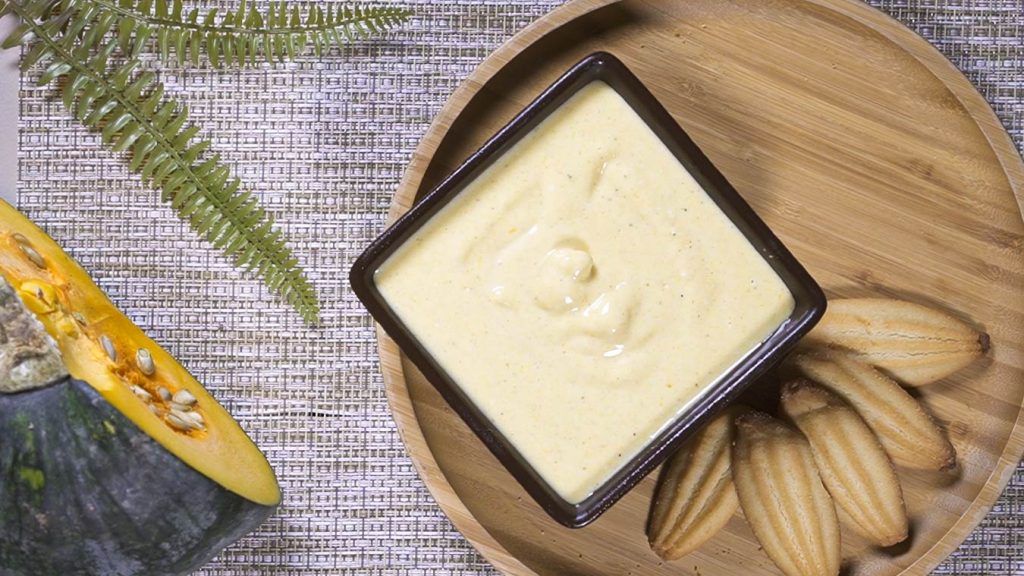 Terrific Pumpkin Dip Recipe
How To Make Terrific Pumpkin Dip
Make a creamy, pumpkin-flavored dip with hints of citrus orange using just a handful of ingredients! This Terrific Pumpkin Dip Recipe pairs deliciously with fruits, cookies, and biscuits.
Ingredients
8

oz

cream cheese

2

cups

powdered sugar

½

tbsp

cinnamon

14

oz

pumpkin puree

½

tbsp

orange extract

7

butter cookies
Instructions
In the bowl of an electric mixer, combine softened cream cheese and powdered sugar. Mix until smooth.

Add cinnamon and continue mixing.

Stop the beater from mixing, then add pumpkin puree.

Start the mixer once again, then add the orange extract. Mix all the ingredients until smooth and creamy.

In a food processor, grind butter cookies to a powder.

Sprinkle the crushed butter cookies over the pumpkin dip.

Serve and enjoy our Terrific Pumpkin Dip!
Recipe Notes
For this recipe, use pumpkin puree, not pumpkin pie filling. Pumpkin pie filling contains extra ingredients that may affect the consistency of the dip, giving you different results.
If you want to spice things up a bit, you can add in a dash of nutmeg and ground ginger along with the cinnamon.

In case you can't get your hands on any cinnamon, you can easily swap it with pumpkin pie spice.

Adjust the amount of pumpkin pie spice depending on preferred taste.
Nutrition
Sugar:

64g

:

Calcium:

91mg

Calories:

463kcal

Carbohydrates:

71g

Cholesterol:

62mg

Fat:

20g

Fiber:

3g

Iron:

2mg

Potassium:

283mg

Protein:

4g

Saturated Fat:

11g

Sodium:

188mg

Vitamin A:

16204IU

Vitamin C:

4mg
Nutrition Disclaimer
Frequently Asked Questions
How long does this Terrific Pumpkin Dip last?
This yummy dip will last for up to 3 days in the refrigerator as long as it's stored in an airtight container.
Is a pumpkin pie dip the same as a pumpkin dip?
There's not much of a difference between the recipe for a pumpkin pie dip and this recipe. It has almost the same ingredients and is made in the same way. It tastes just like the classic pumpkin pie dessert, just in dip form!
How to make pumpkin dip from a pumpkin?
You can make the pumpkin puree using a spare pumpkin you may have at home. To make homemade pumpkin puree, slice your pumpkin and remove its seeds. Place them cut-side down on an aluminum foil-lined baking sheet and roast them in a preheated 375 degrees F oven uncovered for 40 to 60 minutes. Let it cool, then once it's cool, scrape the flesh off and make it into a puree using a food processor or a blender. Make sure to blend or process until it's smooth!
What kind of pumpkin should I use for this dip?
If you're going to make the pumpkin puree needed for this recipe from scratch, then you will need to use a specific kind of pumpkin. When making homemade pumpkin puree, small baking pumpkins are the best kind of pumpkin to use. If you're looking for it in grocery stores, look for signs that say "pie pumpkin" or "sugar pumpkin". They will most likely also be available in your nearest farmers market!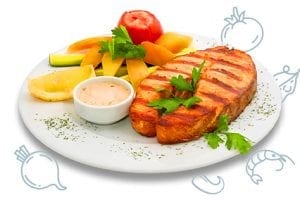 Conclusion
Make a Terrific Pumpkin Dip for this Thanksgiving dinner's desserts! It's great paired with cookies and sliced fruits. It's also incredibly easy to make.
Topics: