Got family coming over at the last minute and nothing to feed them? Wow your guests with this easy to make pumpkin dip, have it ready in just a matter of minutes. Indulge in this perfect tea-time companion.
Even if you don't love pumpkin, you've got to give this recipe a try. The best part about the recipe is it's a no-bake dessert that only uses 6 ingredients and only 10 minutes to make. Pair with sugar cookies or with ginger snap cookies for a Fall or Thanksgiving party.
Tip: You can use low-fat greek yogurt if you want to replicate the texture and flavor of cream cheese without the calories.
Terrific Pumpkin Dip Recipe
Ingredients
8

ounces

cream cheese

14

ounces

pumpkin puree

½

tablespoon

orange extract

2

cups

powdered sugar

½

tbsp

cinnamon

7

pcs

butter cookies
Instructions
You will need to prepare the following items for this super-easy pumpkin dip. Have ready, 2 cups of powdered sugar, 7 sugar cookies, 14 ounces of pumpkin puree, ½ a tablespoon each of orange extract and ground cinnamon.

In the bowl of your electric mixer, combine 8 ounces of softened cream cheese and 2 cups of powdered sugar. Mix until the ingredients become a smooth mixture.

Add ½ tablespoon of cinnamon into the bowl and continue mixing.

Before adding the pumpkin puree, stop the beater from mixing. Add 14 ounces of pumpkin puree. Start your beater and mix ingredients until the dip is silky smooth.

Add ½ tablespoon of orange extract to the mixture and beat on low speed for a few seconds.

In a food processor, grind 7 butter cookies to a powder. You can always place your butter cookies in a ziploc bag and seal, use a rolling pin to crush your cookies into crumbs.

Top with a sprinkle of crushed butter cookies over your pumpkin dip and serve with more butter cookies.

Dip and enjoy with family and friends!
Commonly Asked Questions
Can I substitute cream cheese with other cheeses?
Yes! You can use other soft and creamy cheeses, as well. Ricotta is a good substitute despite the firm and grainy texture. It is made from skimmed milk and is fat-free and protects you from cholesterol, which is a good way to turn this into a healthier option.

Is there low-fat alternative to cream cheese?
If you are conscious about the calories, you can use low-fat greek yogurt instead of cream cheese. It's great substitute because the yogurt lends itself well to replicating the texture and flavor of cream cheese. You can just drain the excess water for a thicker consistency.

Can I flavor this other than orange?
Switch it up with other flavors, try out apple puree or caramel sauce in your dips. Serve the apple puree dip with cold cut meat or slices of apple to go with the caramel sauce dip. So versatile and so easy to make, this recipe is sure to become a favorite at your home too!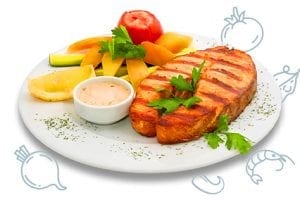 Conclusion
A quick and easy dip to accompany your tea-time favorites. It goes well with an English Breakfast with a dash of milk, and even infused teas.
A perfect way to heighten your afternoon snack, even if you don't particularly love pumpkin. Everyone could appreciate a creamy dip along with cookies. Pair it with ginger snaps, sugar cookies, or whatever your fancy.