Light and fluffy banana pancake with an incredibly delicious caramel syrup dripping on the edges sounds yummy, right? And it makes you think of the times you've spent breakfast at Denny's. Well, you no longer have to rush to the nearest Denny's to satiate your sweet tooth. With our easy banana pancake recipe, you can now recreate Denny's caramel banana pancake at home!
What Makes Denny's Pancakes Special?
Denny's is one of those breakfast restaurants that serve the best morning meals. And if you want waffles or pancakes for dinner, it's fine! Because you can order anything from Denny's breakfast menu at any time, every day! And not only that. Denny's menu also includes lunch, dinner, and dessert that are available 24 hours a day. Rest assured, you'll have a wide selection of delicious meals from yummy burgers to fluffy pancakes any time of the day.
Pancakes are your go-to breakfast when you're craving for something sweet. But sometimes, you're somehow getting used to the taste of the good ol' regular pancake. And it no longer excites your taste buds. So why not put another sugary twist to your favorite breakfast just like what Denny's did?
Denny's took pancakes to new heights. Their pancakes were previously made from a mix that included buttermilk solids and water. Now, Denny's pancakes are fluffier than ever thanks to the not-so-secret ingredients—eggs, flour, vanilla, and real buttermilk. With the use of buttermilk, their pancakes now are way more delicious than before. And of course, fluffier than the regular pancakes. 
And if you'd love to bite into another pancake inspired by Denny's, try our Denny's Inspired Fluffy Pancake Recipe. It's just as luscious as the banana pancake!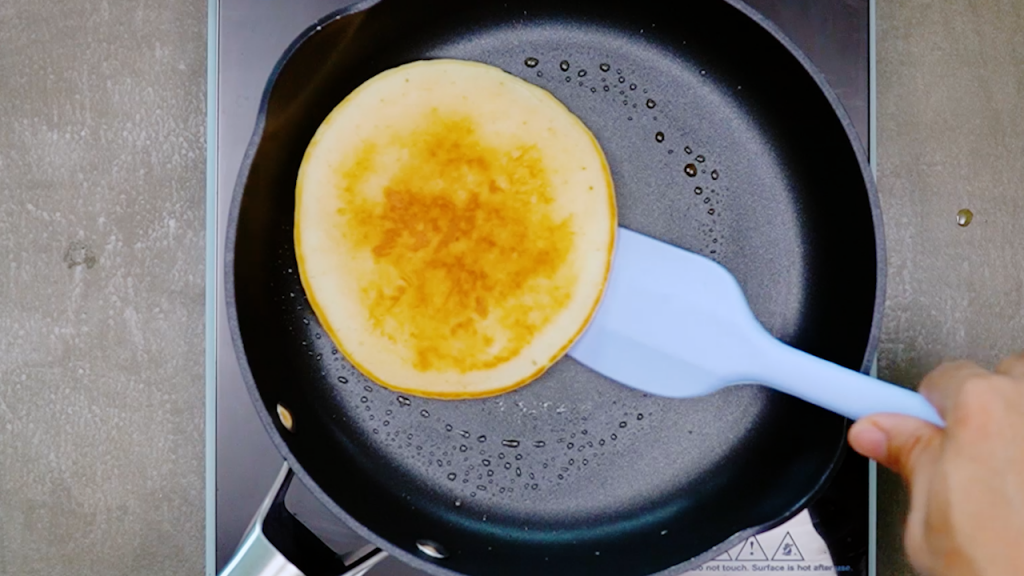 Tips in Making Copycat Denny's Caramel Banana Pancake
In this recipe, we'll teach you how to make pancake batter and cook it perfectly to serve  fluffy buttermilk pancakes topped with bananas and caramel syrup, who wouldn't love Denny's Caramel Banana Pancake, right? The sweetness of the pancake is doubled by the freshly sliced bananas and warm salted caramel drizzle. Indeed, it's a perfect fancy breakfast for the weekends.
We've got a few tricks that will ensure light and fluffy pancakes. The secret to soft, fluffy pancakes lies not just on the ingredients but also on how the pancake batter is prepared.  Many pancake recipes make use of milk. But in this recipe, we will be using buttermilk instead to make the pancakes extra rich and delicious.
Also remember to use the right amount of baking powder, because too much of it will create a puffy pancake with a dull taste, while too little will make a flat and floppy pancake.
For extra fluffy pancakes, you can also separate the egg yolks from the egg whites. Do this by mixing the yolks with the wet ingredients and beating the egg whites into stiff peaks until it turns into a thick, bubbly white consistency. Mix the batter as directed but fold in the egg whites just before pouring the batter onto the frying pan or griddle. 
We also added in banana slices and a sprinkle of salted caramel to give it some added flavor and texture. With caramel-soaked banana slices on top, these pancakes taste heavenly! You wouldn't be needing a maple syrup when you enjoy a mouthful of these caramel banana pancakes because they are already perfectly sweet. 
And since Denny's pancakes are sometimes served with hash browns, pair your pancakes with our crispy crunchy hash browns to complete your breakfast at Denny's experience at home. And if you'd like to wake up to heartier mornings, check out our other healthy pancakes recipes. Our Oatmeal Pancakes are delectable, and easy to make!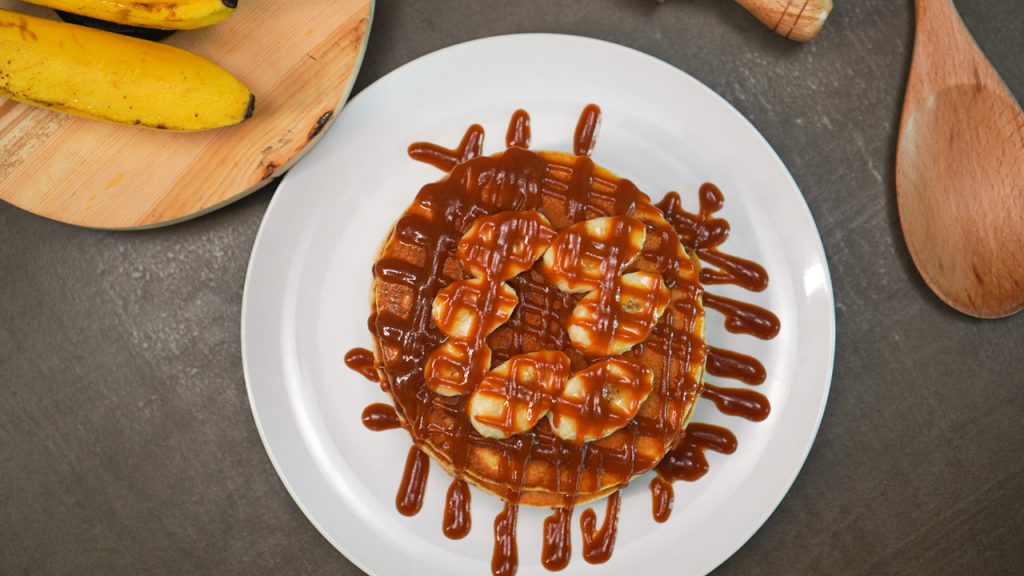 Copycat Denny's Caramel Banana Pancakes Recipe
How To Make Copycat Denny's Caramel Banana Pancakes
With our copycat recipe, you can now relish the sweetness of Denny's caramel banana pancake straight from your own kitchen!
Ingredients
1 ¼

cup

flour

1 ½

tsp

baking powder

2 ½

tsp

granulated sugar

½

tsp

salt

½

tsp

baking soda

½

cup

vegetable oil

1

egg,

beaten

1 ½

cup

buttermilk
For Serving:
2

bananas,

sliced

½

cup

caramel topping
Instructions
Sift together the flour, baking powder, sugar, salt, and baking soda; add the buttermilk, oil, and egg.

Mix all the ingredients and beat until smooth.

Heat a frying pan or a griddle to 375 degrees F.

Grease the cooking surface with non-stick spray.

Pour ½ cup of batter for each pancake. Cook until hot and bubbly on one side, then flip and cook until golden brown.

Remove from the cooking surface. Then, place the pancakes on a plate.
To Serve:
Top the pancakes with slices of fresh bananas and drizzle with caramel sauce. Enjoy a sweet, healthy breakfast!
Recipe Notes
Do not overmix the batter. Mix lightly to avoid

toughened gluten from forming

in the batter.  Too much mixing will

also

make your banana pancakes chewy instead of fluffy.

Allow the batter to rest for 5 to 10 minutes before cooking. This gives the batter a chance to hydrate evenly and allows the gluten to smooth out.
Nutrition
Sugar:

17g

:

Calcium:

313mg

Calories:

770kcal

Carbohydrates:

91g

Cholesterol:

68mg

Fat:

43g

Fiber:

4g

Iron:

3mg

Potassium:

551mg

Protein:

13g

Saturated Fat:

33g

Sodium:

1121mg

Vitamin A:

361IU

Vitamin C:

7mg
Nutrition Disclaimer
Commonly Asked Questions
Can I use overripe bananas for my banana pancake?
Yes, you can use overripe bananas for your banana pancake. They may not look as appetizing but they have several health benefits. Overripe bananas are rich in antioxidants that prevent or delay cell damage and they're also good for your cardiovascular health. Plus, they also make a hearty meal! We've got lots of  recipes with bananas that you can try at home. Check out our Baked Bananas Dessert With Orange Sauce Recipe. You'll surely fall in love with this banana dessert recipe!
Can I use other alternatives for caramel topping for my banana pancake?
If you only have hard caramels in your kitchen, just melt them in a pot and drizzle them on top of your banana pancake. Or you can also make your own easy caramel sauce with just a few ingredients that you probably have at home. Mix 1 cup of granulated sugar, 6 tablespoons of salted butter, ½ cup of heavy cream and 1 teaspoon of salt in a saucepan and let your mixture simmer over low heat. Whisk for 6 to 9 minutes or until thickened and no longer watery. And there, you can enjoy your fluffy pancakes with warm caramel trickling on top!
Can I refrigerate the pancake batter?
Yes, you can refrigerate pancake batter for two to four days. Store the batter in an airtight container or a liquid-safe Ziploc bag to keep it fresh before placing it in the refrigerator. When you're ready to use the batter, just cut off a corner of the bag and squeeze the batter directly onto your pan or griddle and proceed to cooking them based on our recipe instructions.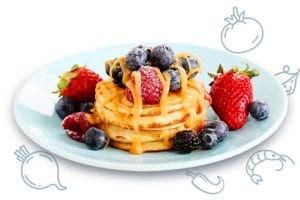 Conclusion
Double the sweetness of your pancake with freshly sliced bananas smothered in an incredibly delicious caramel. With our banana pancake recipe, you'll surely have a fancy and delish breakfast on weekends!
Comments
I do not even understand how I ended up here, but I assumed this publish used to be great

Comment is awaiting moderation.