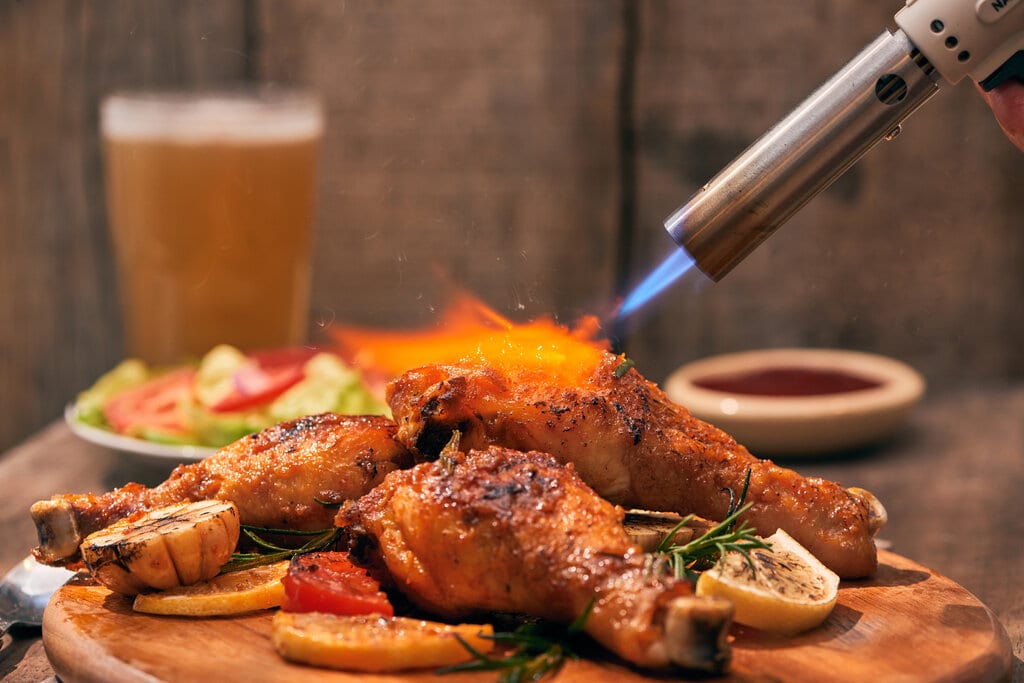 The Best Kitchen Torch To Buy In 2022: 10 Top Picks and A Buyer's Guide
There's nothing like the satisfying crack as your spoon breaks through the crisp and caramelized crust of a luscious crème brûlée. Synonymous with luxury, this elegant dessert is often served at fancy restaurants and never once has it failed to elicit oohs and aahs from diners. Fortunately, with the best kitchen torch at your disposal, you can create your own rendition of this stunning after-dinner treat and have a restaurant-like eating experience in your home!
Elegantly present your crème brûlée and other luxurious desserts using these 10 Best Ramekin and Souffle Dishes to Buy in 2022.
A high-quality kitchen torch is a must-have for professional chefs and home cooks alike. After all, this equipment can be a workhorse in the kitchen too. Though mistakenly considered as a one-trick pony, a culinary torch, in fact, has its fair share of purposes from roasting peppers to making tuna melts. You can even use it to achieve a crisp browned crust in this scrumptious potato gratin recipe. 
By now, you must have realized that a cooking torch can also be on par with other kitchen essentials for its many culinary uses. That said, we've already vetted the best kitchen torches for you in case you consider buying this equipment! This rundown includes options for every budget and cooking need as well as a few buying tips to help you make a final purchase decision. 
Our Favorite Kitchen Torches at a Glance
10 Kitchen Torches That'll Elevate Your Home Cooking
Choosing the best culinary torch is actually a bit challenging. That's why we've put together this list, plus detailed kitchen torch reviews. Whether you need a kitchen torch to brown a meringue or char veggies, there's definitely one on this list that best suits your culinary needs.
Zeroing in on the products' overall quality, functionalities, and customer reviews, here are our favorite kitchen torches out of all the ones available in the market. 
What To Look For In A Kitchen Torch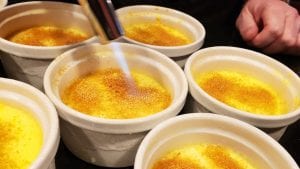 With the vast number of kitchen torches available in the market, be it online or in physical stores, cherry-picking the best one can be a bit difficult. And you have to consider a few things if you're looking into purchasing this reliable kitchen tool. Below are the determining factors that can help you single out the best cooking torch. 
Flame Adjustment
Most high-quality torches, including all the products on our list, feature adjustable flame settings. This particular characteristic is a critical component to take into consideration if you want to invest in a culinary torch. With this, you can conveniently heat up or down the flame intensity depending on your cooking needs.
Each recipe needs varying heat intensities or temperatures to achieve a delicious finish. And if you're an avid home cook, we suggest that you pick the product with an adjustable temperature or flame setting.
Fuel Source
Kitchen torches commonly use two fuel sources: butane or propane. Butane torches can heat only smaller areas, making them an excellent option when you need to torch with utmost precision. Propane torches, on the other hand, emit a wider and more consistent heat, ensuring even heat distribution. Make sure to hand-pick the one that best meets your culinary needs.
Ergonomic Handle
As you're dealing with flame and any lighting task is obviously risky, a good kitchen torch should have an ergonomic handle. This specific feature ensures that you have a good and comfortable grip while you create a glaze for this glazed salmon recipe. Plus, it also minimizes slipping and accidents. That being said, you should always opt for the ones that are easy to grasp.
Burn Time
Let's move on to another crucial factor when buying a kitchen torch. Burn time refers to the overall time or duration that the torch runs or the flames last. Each torch, in fact, has varied burn times. Some provide a flame that can last for half an hour while others have a maximum burn time of up to three hours!
You should consider how long you'll be needing a torch to operate. Go for the product with a longer burn time if you're a professional chef. On the other hand, if you just want to try your hand at this yummy campfire s'more cupcake recipe to share with your loved ones, then a torch with a lower or a shorter burn time will suffice.
Durability
When purchasing a cooking torch, you should also take into consideration its durability and the materials it's made with. For one, with a sturdy torch on hand, you won't have to keep on buying a new one. Make sure that you will only be getting a kitchen device that can stand the test of time. Hence, pick out the best ones that are made of high-quality materials.
Safety Features
Also, let's not forget about the safety features of a good kitchen torch. Being a tool that poses risks, it's vital to consider whether it promotes safety or not. With that said, here are some of the qualities that you should take note of: 
Safety lock –

A high-quality kitchen torch should have a child safety lock to prevent accidental ignitions. 

Heatshield –

With this feature, rest assured that your fingers are protected from burns. 

Flame guard –

 Since most kitchen torches have adjustable settings, you'll have to ensure that the flame will stop flaring, say when you turn it to a higher setting. And a flame guard is the solution to this dilemma.

Aluminum or stainless steel nozzle –

We recommend that you pick the kitchen torch with an aluminum or stainless steel nozzle to avoid overheating.