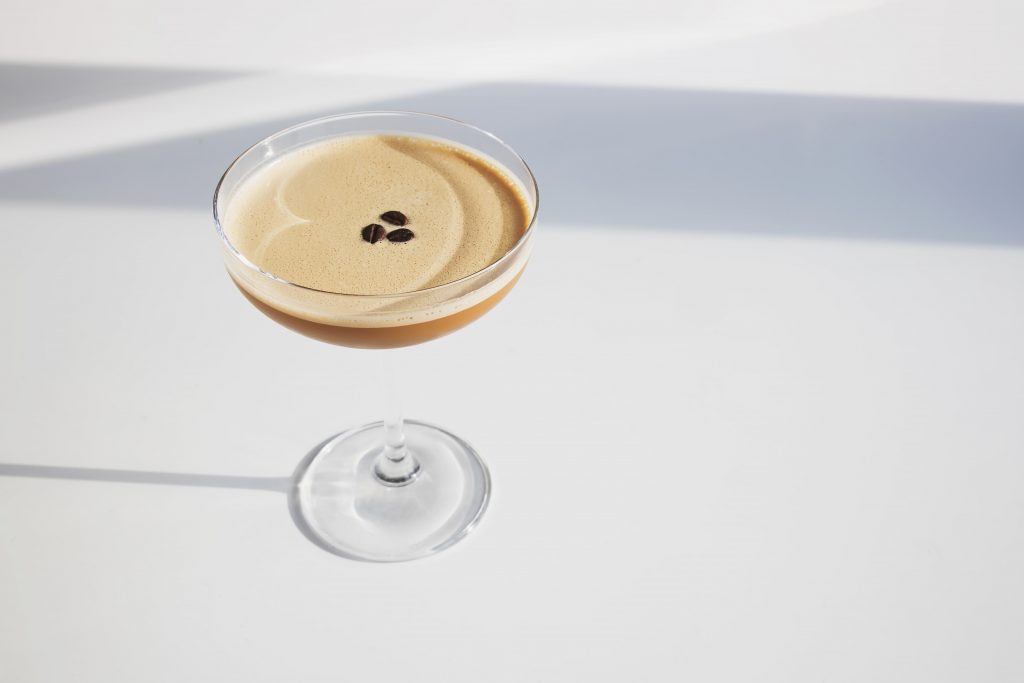 Baileys Espresso Martini Recipe
Any coffee and alcohol enthusiast would love this espresso martini with Baileys. It's one of those delightful coffee cocktails that'll give you an energy boost after just one sip. The espresso mixed with vodka and Irish cream liqueur makes a deliciously sweet and luscious mix. This espresso martini recipe with Baileys only takes 5 minutes to whip up. And you'll only need 3 ingredients to make it!
The mixture of flavors this espresso martini offers is unmatched. Bailey's Irish Cream with hints of vanilla balances the espresso's bitter taste and strong Smirnoff No. 21 Vodka. Curious yet? Read on to learn more on how to make the perfect coffee cocktail.
What's in This Espresso Martini with Baileys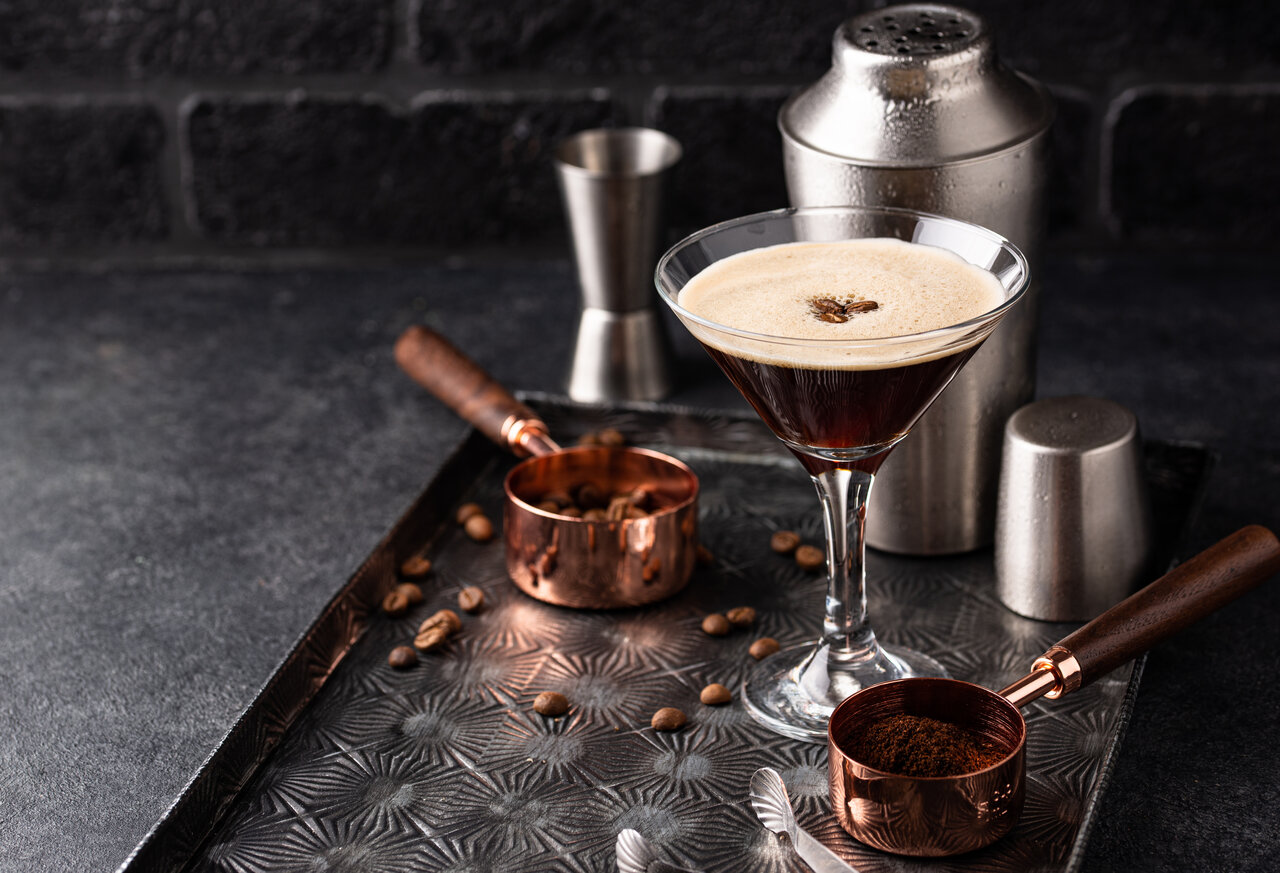 The espresso martini is exactly what it is: a vodka martini mixed with espresso. It was invented in 1983 by Dick Bradsell, a bartender at the famed Soho Brasserie in London, for a patron who needed a drink to wake her up. With a coffee machine right next to the bar, the bartender whipped up the drink that stays beloved to this day.
If you're only planning to drink a single glass, you don't have to worry about getting drunk. This recipe for making an espresso martini has a good balance between espresso, liqueur, and vodka. The caffeine will mask the effects of the alcohol and will still make you sober.
Here's what you'll need:
Vodka –

For this recipe, use Smirnoff No. 21 Vodka. But any brand of vodka will work. You can also try espresso vodka or vanilla vodka.

Espresso –

Fresh-brewed espresso made with the freshest

ground coffee

will give you a full-bodied coffee. If you don't have the time to brew, you can also go espresso-less and reach out for instant coffee. Alternatively, you can even use espresso vodka instead for that richer espresso flavor.

Baileys Irish Cream

–

Irish Cream is a liquor made with heavy cream and whiskey. It adds a level of sweetness to the rich espresso and complements the bitter taste of alcohol. It's best to use high-quality brands like Baileys, but feel free to use any brand of your choice.
Tips for Making Espresso Martini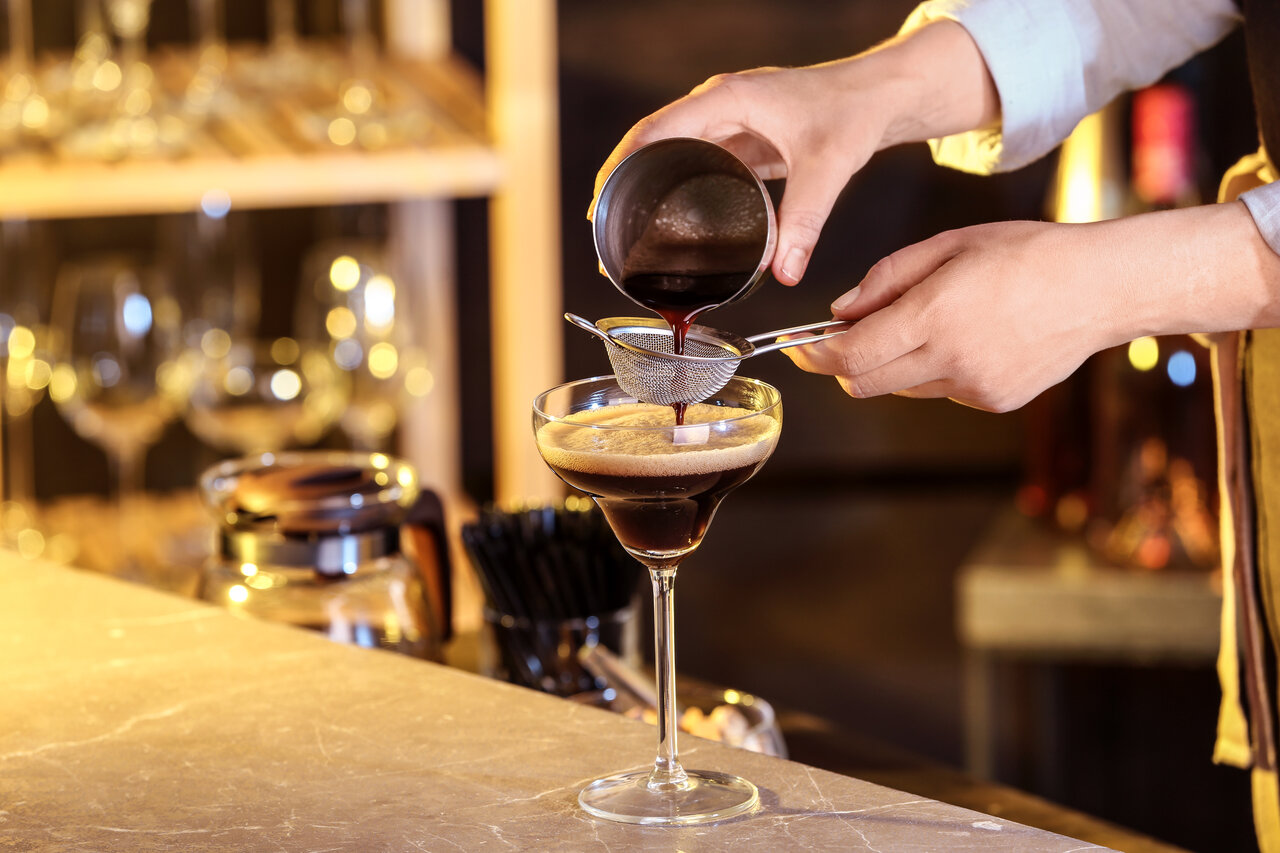 You can hardly go wrong with this recipe, but below are a few pointers on how to make the best espresso martini:
Clean your tools and equipment thoroughly.

This includes your cocktail shaker, measuring spoons, and glass. Irish Cream, in general, curdles easily when it comes into contact with acids such as lemon juice. So if you've been shaking up tangy cocktails in your shaker prior, it's best to clean them thoroughly before making this drink!

Use freshly brewed coffee when possible.

Add it to the shaker while it's warm for the best froth.

Chill your glass for 15 minutes before serving.

Ice is great for a perfectly chilled espresso martini. But if you don't have any ice on hand, you can simply chill your martini glasses beforehand for a cooler drink.
Espresso Martini Variations
Once you have mastered this basic recipe, feel free to experiment with different variations. While regular vodka is a standard in an espresso martini, you can also use flavored liqueurs to give it an edge.
Salted caramel

– Swap your regular Baileys Irish Cream with Salted Caramel Baileys for a salty-sweet drink.

Decaf

– Want less caffeine? Switch your espresso with your favorite

decaf coffee

. You will still get that coffee flavor but with less kick.

Gin espresso martini

– Use gin instead of vodka. Opt for a neutral-flavored gin — some can have fruity or floral notes.

Vegan

– Make it vegan by using Baileys Almande instead of the classic Salted Caramel Baileys.

Chocolate Baileys espresso martini

– A classic dessert meets an Irish favorite. Opt for a chocolate Bailey espresso martini using Baileys Chocolat Lux.

Tropical espresso martini

– Add in notes of coconut and vanilla for that tropical hint, reminiscent of summer vacations.
This Baileys Espresso Martini is pretty much like your after-dinner coffee, dessert, and liquor all in one. It is quick, easy to make, and all you need is three ingredients, glasses, and a cocktail shaker.
If you love martinis, you should also try this tangy chocolate orange martini. Looking for something fruity? Then this red apple martini might just be the boozy concoction you need! Whether for personal consumption or serving at your dinner party, they are sure to give you a kick!
Frequently Asked Questions
How do you make a foamy espresso martini?
It's the creme in a brewed coffee that makes the creamy and frothy top to the drink. To create this, shake your cocktail shaker vigorously for 15 to 30 seconds. Make sure as well that your mix is not too diluted. Otherwise, you will not have as beautiful of a foam.
Can you make Baileys espresso martini in advance?
What's great about espresso martini is that you can prepare it ahead and store it in the fridge. Mix a batch of ingredients and chill. When you're ready to serve it, just shake it with ice and serve it in martini glasses.
How To Make Baileys Espresso Martini
Make the perfect pick-me-up drink with this delicious espresso martini with Baileys! Vodka mixed with rich Baileys Irish cream and coffee makes a creamy and rich cocktail.
Ingredients
2

oz

Baileys Irish Cream

¼

oz

Smirnoff No. 21 Vodka

2

oz

cold espresso
Instructions
Add Baileys Irish Cream, Smirnoff No 21 Vodka, and shot of cold espresso.

Shake and pour into martini glass.

Garnish with a cherry or three coffee beans on top. Or serve as is, and enjoy!
Nutrition
Calories: 

206.88kcal

Fat: 

9.00g

Saturated Fat: 

5.53g

Monounsaturated Fat: 

2.53g

Polyunsaturated Fat: 

0.43g

Carbohydrates: 

12.80g

Sugar: 

11.20g

Protein: 

1.66g

Cholesterol: 

32.89mg

Sodium: 

60.17mg

Calcium: 

10.21mg

Potassium: 

83.42mg

Iron: 

0.15mg

Vitamin A: 

98.09µg

Vitamin C: 

0.23mg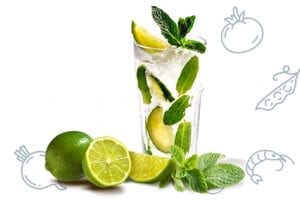 Conclusion
This Bailey espresso martini recipe is great if you're looking for a way to level up your caffeine game. It's also good for anyone who is just starting to try out easy cocktails. The taste and aroma of espresso martini are a delight to the palate!