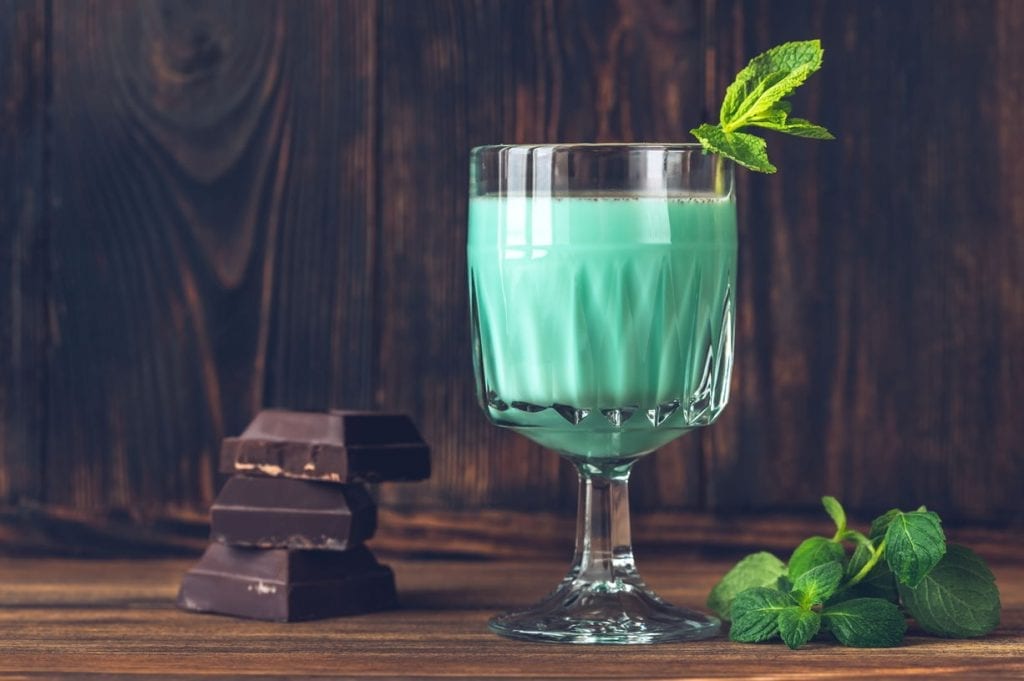 All You Need To Know About Crème De Cacao And How To Make It
In the wonderful world of cocktails, no two items go more perfectly together than a chocolate-flavored liqueur and a rich spirit. With that said, perhaps a glass of chocolate martini flashes into your mind. Great choice! But let's not forget what makes this sweet boozy drink oh-so-tempting. It's all thanks to creme de cacao liqueur!
Popular cocktail drinks such as the sophisticated Brandy Alexander, Grasshopper cocktail, and Golden Cadillac cocktail feature the chocolatey goodness of this liqueur.
This probably makes you want to get that bottle of chocolate liqueur long hidden in your home bar. But before you whip up a cocktail drink with this liqueur, let us first tell you everything you need to know about this decadent alcohol. Soon you'll know the art of making this sweet liqueur, how it has evolved over a period of time, and more!
What Is Creme de Cacao? 
Creme de cacao, pronounced as "krehm deuh kah-KAH-oh", is a chocolate-flavored liqueur primarily made of cocoa beans and vodka and often scented with vanilla. Contrary to popular belief, this liqueur doesn't contain cream or any dairy products. The "creme" is actually alluding to the liqueur's rich syrup-like consistency due to its high sugar content. 
This liqueur appears in two varieties: the white creme de cacao and the dark creme de cacao. Each kind is made using different methods and has a distinct taste.
When this liqueur is combined with any flavored spirits, you're sure to fall for the resulting finish at the very first sip! Not only is this chocolate-flavored liqueur an ingredient for cocktails, but you can also incorporate this sweet beverage into your favorite desserts, just like in this vanilla cake recipe.
The Rich and Creamy History of Creme de Cacao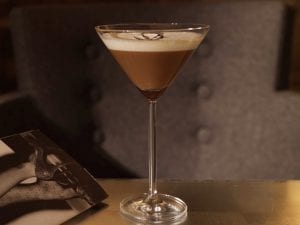 Creme de cacao is actually one of the oldest alcoholic drinks. This liqueur originated in France and it was French monks who put it on the map in the late 16th century. They concocted alcoholic beverages using cocoa beans to use as a cure for several ailments. This is how this sweet alcohol came into existence.
This chocolate drink was originally enjoyed on its own throughout the 1800s until the mid-19th century, much like the other liqueurs. Then, cocktail culture kicked off in the 20th century. Liqueurs were then used to add complex flavors to mixed drinks. However, many people back then deemed creme de cacao to be overly sweet and syrupy. Hence, it was considered unfit for quality cocktails. That's why it was kept hidden in the bottom shelves of liquor cabinets until recently. 
Nowadays, several bars are actually trying to put back the spotlight on this posh drink. In fact, many modern cocktail drinks feature the natural sweetness of this decadent drink, just like in this boozy Blue Jaffa martini.
Two Varieties of Creme de Cacao
As we've mentioned earlier, this chocolate-flavored liqueur has two types: the dark and the white variety. Each type is determined depending on the production process. This liqueur can be made using percolation or distillation methods. Read on and learn how each kind differs from one another in terms of appearance, taste, and more.
Dark Creme de Cacao
One way to make this amazing liqueur is similar to how you usually make coffee—through the percolation process. However, there is a slight difference between this liqueur and your favorite morning elixir. When you fill the filter with cacao beans, you drip alcohol into it rather than water. 
The resulting finish is the brown or dark variety. The percolated variety has a rich brown color. It also brims with rich, intense flavor. This variety works perfectly in dark drinks such as brandy and bourbon.
White Creme de Cacao
White crème de cacao, on the other hand, is the result when you use the distillation method. During this process, the cacao beans are soaked in a distillation still filled with water and alcohol. The cacao nibs are slightly crushed to help release their chocolatey flavor. The distillate is then macerated or infused in more cacao beans or crushed whole vanilla beans. This method gives the resulting finish a depth of flavors and rich, tempting vanilla aroma.
Since there's no added coloring, the distilled variety is clear in color. Compared to the dark variety, the white variety offers a lighter chocolate taste. It lends just a slight amount of chocolate flavor to any drink. Thus, it's a perfect addition to delicate cocktails.
How to Make Creme de Cacao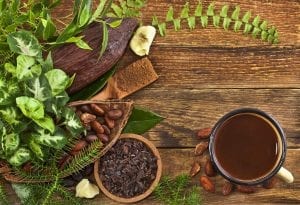 While it's easy to find several brands of this liqueur in stores, making your own creme de cacao is just as simple. 
First off, mix together vodka, cacao nibs, and vanilla beans in your liqueur vessel for storage. Then, place in a cool dark place and leave it to rest for at least two weeks. 

Tip:
Make sure to give the liqueur vessel a gentle shake every day.
After two weeks, strain the brown mixture using either a cheesecloth or a coffee filter. Afterwards, combine and boil together sugar and water to make a simple syrup, which you'll be adding to the mixture to sweeten it. The next step is the bottling process. After carefully putting the mixture in the bottle, make sure to let it rest for another two days. 
There, now you have your own homemade chocolate-flavored booze! It sure will come in handy when you want to make a whiskey cocktail for your guests!
Chocolate Cocktail Recipes to Make With Creme de Cacao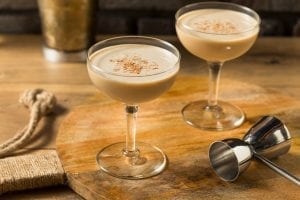 Got a bottle of creme de cacao in your liqueur cabinet? Now's the time to put it to delicious use. Here are all the best creme de cacao drinks that you should try:
Brandy Alexander Cocktail –

This cocktail has long enticed drinkers since the 20th century with its sweetness and creaminess. Serve this over ice and garnish with freshly grated nutmeg for added spice. While it's delicious on its own, you can also pair this indulgent drink with fresh fruit

desserts.

Grasshopper Drink –

Looking for a sweet yet minty way to end your meal? This

grasshopper cocktail will surely do the job. The creme de menthe and the chocolate liqueur blends wonderfully for a boozy and refreshing finish.
Chocolate Banana Martini

– Oozing with rich and smooth flavors of liqueur, cream, and chocolatey banana, you'll definitely love this cocktail drink. Once you take a sip, it's sure to be one of your favorite drinks. Serve in cocktail glass cold for a more enjoyable drinking experience.

Black Forest Cake Martini

– This cocktail recipe is truly an embodiment of a dessert cake in  liquid form. To achieve the flavors of the cake, make use of a raspberry and chocolate-flavored liqueur. Garnish with some whipped cream and grated chocolate for added sweetness.

Magic Potion Cocktail

–

Dark creme de cacao

, coffee liqueur, and amaretto come together deliciously to make this magical cocktail. It's a sweet drink with notes of nuttiness. To enjoy, simply shake all ingredients together with ice.
Creme de Cacao Substitutes
Because of its dominant chocolatey taste, creme de cacao has a range of excellent alternatives. When whipping up a refreshing drink or decadent dessert that call for this liqueur, you can use these alternatives should you ran out of stock:
Non-Alcoholic Chocolate Powder

– This is a perfect

substitute for the chocolate liqueur

. Simply mix together powdered white chocolate, water, powdered sugar, and non-alcoholic vanilla. To achieve the right consistency, add enough amount of the liquid ingredient until the mixture is viscous enough.

Non-Alcoholic Chocolate Flavoring

– When using this alternative, remember to add heavy cream to the chocolate flavoring until the consistency is akin to that of

liqueur

.

Chocolate Liqueur

– Many wonder if

creme de cacao is the same as chocolate liqueur.

Though

crème de cacao

is often mistaken for chocolate liqueur, the two have subtle differences in terms of flavor and consistency. Chocolate liqueur like

Godiva

is a bit sweeter and more syrupy because of its cream and chocolate ingredients. It also makes for a great substitute for

creme de cacao

in baked goods.

Kahlua

– Kahlua is sweet and scented with vanilla as well. However, this liqueur is made with coffee beans rather than cocoa beans. Though similar to

brown creme de cacao

, it has a much thicker consistency.
Creme de Cacao Is Filled With Chocolatey Goodness
Being an essential ingredient in indulgent drinks, creme de cacao truly deserves the spotlight. Whether percolated or distilled, this liqueur bursts with chocolate flavors with hints of vanilla. Thanks to the craft bartenders trying to revive this decadent liqueur, you'll find creme de cacao cocktails in several sophisticated bars today. Luckily, with the simple steps we've shared, you'll be able to whip up chocolate cocktails using this sweet liqueur at home!