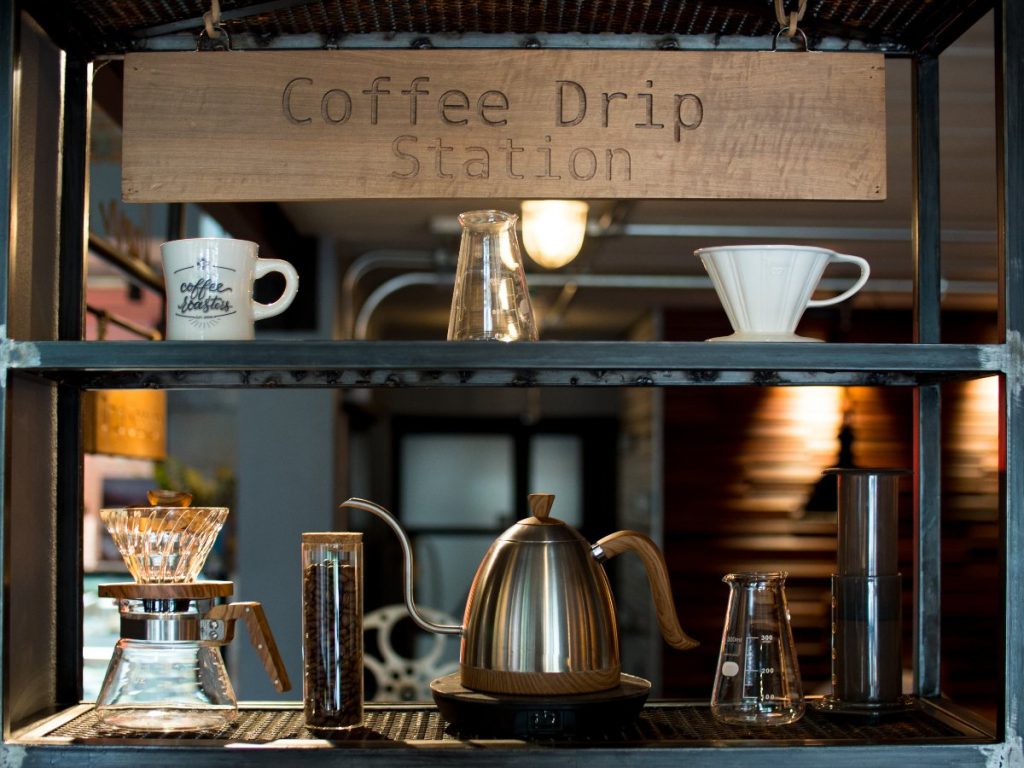 25 Amazing Coffee Bar Ideas For A Cozy Home Cafe This 2021
When it's early in the day and you want to sip freshly-brewed good morning coffee, you won't always have the patience to scour your entire kitchen for your tools. It's the same for when you're on a quick coffee break from working or studying at home. For this reason, it's really convenient to have a dedicated space for all your brewing needs. It's also good that there are lots of DIY coffee bar ideas that you can try to recreate for your kitchen! 
So, continue reading to discover some of the most popular styles for coffee stations right now. Discover which aesthetic fits your needs and personal preferences, or take inspiration from seasonal home bar décor ideas.
Aesthetic Coffee Bar Ideas
In this section, we've gathered some of the most popular aesthetic coffee bar ideas for your home. Get inspired from these images and recreate the ambience from the coffee shop photos and images that you're eyeing!
Modern Farmhouse Coffee Bar
Farmhouse coffee bar ideas
have a dainty charm to them that never seems to go out of style! To add a twist, you can incorporate a modern flair to your country-side chic by using furniture and décor with clean-cut lines. You can also use your fresh and sleek
espresso machine
as the centerpiece to give your
farmhouse style
a contemporary feel. To tie everything together, add an all-white ensemble and a raw
wooden sideboard
and mug rack.
Sleek Modern Home Bar Designs
Looking for contemporary
ideas for your coffee bar
? How about recreating
modern home bar design ideas
like this by using earthy tones such as brown, gray, and green in your choice of furniture! These colors are neutral and they perfectly complement each other, as showcased on the walls,
hanging shelves
, and countertop of this quaint station. For the display, white and
black canisters
, mugs, and
coffee bar décor
blends in really well with this overall aesthetic.
You can successfully recreate
rustic coffee bar ideas
by highlighting pieces made with raw, all-natural materials such as stone or wood in your station. Lean into the bareness of
wooden floating shelves
and sideboards, stacked with more wood or paper implements. To keep your goods tidy, clean white canisters and
fabric storage bins
work perfectly with this style. Finally, achieve the complete
rustic coffee shop
aesthetic by adorning your station with small potted plants here and there. 
READ ALSO: Keurig K Duo Review: The Dual Coffee Maker
If you don't like seeing a lot of clutter on your personal station, you might appreciate the minimalist
coffee shop aesthetic
that's been all the rave lately. Stripped back to the bare necessities, your
coffee bar at home
should have nothing but your trusty coffee equipment and clean
ceramic mugs
. As for your other items, you can tuck them away inside the counter cabinet or keep them in minimalist canisters to store overhead. It also doesn't hurt to have a potted plant around! 
READ ALSO: Coffee Maker With Grinder: 12 of the Best For Coffeeholics
For mornings that feel repetitive, sometimes you just
want coffee
to come help pick up your mood. It can also help to have a bright and colorful
home coffee station
to uplift your spirits. And out of all the
bar décor ideas
, you'll appreciate this style especially if you're not one to shy away from colors! 
READ ALSO: 15 Best Coffee Substitute Drinks to Switch up Your Daily Routine
Instead of going the traditional route with a white or bare wooden base, opt for fun colored ones like this mint green table. If the space isn't enough for all your equipment, you can hang some wall-mounted shelves for more storage. Display some bright yellow mugs, the perfect coffee décor to keep the vibe going!
Achieve the vintage
coffee shop décor
for your kitchen by using a contrasting combination of shapes and colors. A popular retro color combo is red and blue, as showcased by the bright
red Smeg coffee machine
at the forefront of this mini station's blue mug shelves and background. It pops out from the rest of the more neutral-toned cups, signs, and
wooden cake stand
. To finish the look, incorporate memorabilia and some vintage coffee bar signs from or inspired by this notable 80's aesthetic.
Inspirational Coffee Station
Wondering
what to put on your coffee bar
aside from your brewing equipment? Apart from plants, you can also consider putting a piece of inspirational coffee wall decor
 or bar sign
. Not only will it add an extra element to your chosen
home bar décor ideas
, but it will also be a good reminder for yourself to keep motivated.
To keep your style cohesive, always match the material of your signage with the aesthetic you're trying to achieve. For instance, if you want a more rustic feel, opt for ones made with wood. You can choose to hang the signs on the wall or display them on your sideboard with some flowers and a countryside-inspired rustic flower vase.
Your coffee bar furniture doesn't have to be brand new. Reuse and repurpose what you have at home by leaning into the "shabby chic" aesthetic. As a matter of fact, slightly run-down and worn-out pieces give this style movement its unique charm. An all-white ensemble will do the trick, paired with floral canisters and mugs. For more frills, flower wreaths and other floral arrangements will work well with this style. 
Industrial Coffee Bar
Bare and stripped back is the ultimate definition of industrial chic. With this aesthetic, you can embrace exposed pipes and other structural elements of your
coffee bar table
without a problem. To style your space, use more muted tones like gray, black, white, and brown. Open cabinets and shelving are also more than welcome. You can display your goods freely, or keep them organized in a brown
woven storage box
.
Rae Dunn-Inspired
Rae Dunn's products have captured the hearts of many clay pottery enthusiasts and coffee lovers alike. If you didn't already know, this brand is well-known for its cream-colored signature pieces, with hand-painted words written on each mug, canister, or plate. To complement this style in your
kitchen coffee bar
, we recommend using clean, white-colored
furniture
for the sideboard and
floating shelves
. White vases and other coffee organizers would also blend in really well.
Coffee Bar for the Plant Lover
This is
the coffee bar
for
coffee lovers
who also enjoy taking care of plants. Clean white pots and pieces of furniture with some wood elements like this
coffee sign
would work perfectly with this aesthetic. The former gives the lively green color of the plants the best opportunity to stand out, while the wooden pieces help continue the overall naturalistic vibe. You can even choose to hang the plants as a
coffee wall décor
if you're up for it.
Space-Saving Coffee Mini Bar Ideas
Have limited space in your home? Don't worry because your home bar design doesn't have to be expansive for you to serve good quality java! Check out this section for small coffee bar ideas that you can easily achieve for apartments, living rooms, and other small spaces.
If you have an unused bar cart lying around, you can definitely transform it into your own personal coffee space. This is also a relatively cheap bar set option since you won't have to spend money on brand new buffet tables or sideboards.
Aside from having all your essentials in one go, another benefit of having coffee bar carts is that you can move them virtually anywhere around the house. And at the bottom layer of the cart, you can have wire storage for all your favorite magazines. You can move it into the living room for guests to enjoy or your bedroom to have for your alone time.
Coffee Cabinet
For more unique coffee bar cabinet ideas, why not transform an old kitchen hutch into a reclaimed coffee spot? With all the built-in storage spaces of this piece of furniture, you'll have enough room for all your brewing essentials. You can decorate the background of the coffee station cabinet and add pendant lights to make the space more inviting.
Simple Coffee Corner
Not a fan of over-the-top kitchen coffee bar ideas? If that's the case, then you'll surely appreciate a simple yet fully functional corner coffee bar for your kitchen. Simply pick a dedicated space in your kitchen counter and build off from there. For starters, you can place your coffee machine and canisters on a slightly elevated surface like this Acacia serving platter. You can also install a floating corner shelf overhead for more storage. 
DIY Kitchen Cart
Make your own space-saving
DIY coffee bar or station
for your
home
using a
wooden kitchen cart
as the base. If you're going to purchase a new one, we recommend getting a three-tier model for extra storage. The top-most layer can hold bulkier coffee equipment, whereas the lower parts can serve as a good space for mugs, cutlery, and other DIY kitchen décors. This is one of the best
living room coffee bar ideas
to go for if you want something compact and mobile.
Storing items vertically is one of the most efficient ways of utilizing limited space. For home
coffee bars
, you can have a small sturdy table that is capable of holding your machine. Then, install a
floating coffee shelf
or two overhead to have more storage. You can keep and display your canisters, pods, and mugs in this dedicated space. This saves much more room compared to
coffee corner or bar shelf ideas
with layouts that are more spread out. 
READ ALSO: The Best Nespresso Machine of 2021: Our 12 Top Picks and A Buying Guide
Small Coffee Bar
Your extra kitchen counter space could be just the right spot for a quaint
home coffee bar
. Feel free to take inspiration from our
small coffee bar countertop ideas
to maximize your available space. You can place your brewing necessities on the countertop itself and hang your mugs on the cupboards using
mug hangers
. 
Kitchen Counter Coffee Bar
If you have a plethora of coffee-making tools in your arsenal, you'll definitely benefit from allotting countertop space for displaying each one. The good thing about
these coffee bar ideas for the kitchen counter
is that you don't have to provide a different table or sideboard that might take up more space in your home.
Proudly showcase your prized machine and coffee syrups in your kitchen coffee station by lining them up on the counter. And to keep things organized, you can store your cups on a mug rack or display them on floating shelves with other decorative pieces. 
Versatile Coffee Bar Ideas
For this section, explore home coffee bar ideas for your kitchen that can also house other types of beverages. If you love having home-brewed coffee in the morning but also delight in having afternoon tea, high tea in the evening, or wine at night, then keep on reading!
Dedicate a small space in your kitchen for your coffee and tea essentials. All you need is a counter space that's just right for your coffee percolators or machine and a cupboard directly above it to use as your coffee bar cabinet.
There, you can have canisters and wood storage bins to keep all your goods orderly. Label each coffee station organizer so that you know what to reach for when you want to brew some jasmine tea or a cup of joe. It's also convenient that you can close the DIY bar cabinet when it's not in use so that the space remains clutter-free at all times.
Bar Station for Coffee and Liquor
How convenient would it be to have all your coffee and booze favorites in one station? That's the perfect recipe for the best
coffee bar ideas for a party
! Apart from that, this is for all the coffee lovers who also enjoy a mug of the best decaf coffee or an exquisite glass of liquor to cap off the night. Achieve this and more with this
DIY home bar
for your
kitchen. 
Instead of having a regular buffet table with lots of storage, you can get one that fits a small wine cooler for your alcoholic drinks. Plus aside from installing regular floating shelves for your mugs, get a wine shelf that can also safely hold all your stemware. 
Seasonal Coffee Bar Ideas
Find the best coffee station ideas for different occasions in this section. Get inspired with ideas for festive holiday décor and more! 
Christmas Coffee Station
Bring out the holiday spirit by introducing pops of red in your coffee bar decoration ideas for Christmas. For instance, you can use a red table cloth to cover your table before reorganizing the items on your bar. White mugs and canisters, red ribbons, and holiday figurines scattered on the station will also help breathe life to your coffee corner's theme.
Easter Coffee Corner
C
For Easter gatherings, it's best if your
coffee décor
matches the jovial spirit of the holiday. To do this, try to incorporate more color into your station. If you prefer more muted tones, you can opt for pastel-colored pieces like these
banner flags
. 
Coffee Bar for Fall
Autumn is the season where a lot of people
need coffee
with some pumpkin spice. As such, why not also switch up your coffee station by incorporating time-honored fall pieces into your coffee nook ideas? For starters, some
fake pumpkin décor
would be a really fun addition to your coffee bar. Couple that with splashes of fall-colored items like yellow, red, and orange and you get a full-blown season celebration. 
Summertime Coffee Station
For summer kitchen bar ideas, vibrant colors are the way to go. This kitchen bar design, in particular, takes cues from the popular summer beverage: fresh and crisp homemade lemonade. The otherwise all-white station is brought to life by pops of bright yellow from the vase, fake plants, lemon wreath, and wall décor adorned with pictures of said citrus fruit.
Valentine's Coffee Bar
To celebrate the most romantic day of the year, incorporate all things symbolic of love into your
DIY coffee bar ideas
. Take inspiration from this coffee corner where
red mugs
and other decorative items are scattered throughout the white display. You can also showcase items with heart-shaped prints for continuity.