Add this delicious cornbread stuffing to your Thanksgiving menu and serve a scrumptious classic side on your dinner table, just in time for this festive season! It's time to impress guests and family with our traditional Cornbread Stuffing Recipe that's so quick and easy to do.
During festivities, we fill our holiday dinner tables with scrumptious and filling dishes to get ready for the celebration. Our cornbread stuffing is the perfect side to our roasted Brined Thanksgiving Turkey or Delicious Thanksgiving Turkey. You can also make it in advance to lessen your Thanksgiving prep, so make sure to check out our CAQ section down below to find out how to make bread stuffing ahead of time!
Whether you stuff it into a turkey or serve it on the side, you'll surely enjoy munching on our tender yet crunchy stuffing. Plus, you can easily customize it just the way you want it. Cornbread stuffing is one of the staple Thanksgiving side dishes that shouldn't be missing on your dinner table, so make sure to make it for the holidays!
Stuffing vs Dressing
Aside from our classic Cornbread Stuffing we also have recipes for other must-try Thanksgiving sides, like our meaty Sausage Stuffing Recipe and sweet and tangy Apple Cranberry Rosemary Stuffing Recipe. You can also try our Copycat Cracker Barrel Cornbread Dressing Recipe for a Cracker Barrel Thanksgiving feast!
You might be wondering about the difference between stuffing and dressing. Stuffings are usually stuffed and cooked inside the bird or turkey, while dressing is baked separately from the turkey, in a casserole or baking dish. However, the terms stuffing and dressing are now used interchangeably.
This iconic holiday dish is undeniably delicious and has been completing our turkey day tables ever since. So now let's head on making our Homemade Cornbread Stuffing in time for your Thanksgiving celebration!
Must-Try Homemade Cornbread Recipes
There are so many ways to have your cornbread stuffing, but in this recipe, we're keeping it plain, simple, and delicious! We all love a sweet, crunchy, and tender stuffing and it takes just a couple of ingredients to make it. You'll know you'll love it once you smell the delicious aroma from our cornbread cooking with herbs and buttery corn kernels.
In this homemade stuffing recipe, we'll be using prepared cornbread or corn muffins. Good thing is, we have a couple of recipe suggestions for your homemade cornbread recipe! You can make our traditional cornbread recipe, hot and savory Mexican Cornbread Recipe, or Easy Pressure Cooker Cornbread Recipe.
Bake your own cornbread the night before or up to two days ahead of time. In making stuffing, it's important to dry or stale your cornbread first. We want dry bread to let our flavorful stock and seasonings seep in. Besides making a delicious stuffing, dry or stale cornbread is actually perfect in making croutons and breadcrumbs or pairing with a plate of beef and bean chili. Wondering how to dry bread for stuffing? Our CAQ below will teach you exactly what to do.
Of course, though homemade cornbread would make a wonderful stuffing, store-bought ones or a cornbread stuffing mix will also work perfectly. So let's dive right into making this easy stuffing recipe!
Making Cornbread Stuffing 
We've got a couple of tips for making our Cornbread Stuffing Recipe. First, make sure to use stale bread to avoid having soggy stuffing and to achieve that super crispy top. However, if you want to make it moist, you can whisk in an extra cup of broth.
Mixing eggs into our stuffing mix helps keep the ingredients bonded together. In terms of flavor, our bread stuffing is loaded with herbs and spices for that simple yet soul-warming taste. Even more, we added corn kernels into our mix for a soft, sweet, and buttery flavor. If that's not mouthwatering enough for you, we have more flavor variations to suggest!
For a savory meaty touch, you can add in cooked ground sausages or bacon. Make a spicy sausage stuffing by adding in a pound of hot pork sausages. On the other hand, walnuts, pecans, and almonds can bring an amazing texture and earthy taste into our stuffing.
You can also add in chopped veggies like mushroom and fennel or tangy crisp fruits like cranberries, cherries, pears, or apple chunks. Feel free to mix in extra herbs like rosemary or marjoram. Go ahead and make our Cornbread Stuffing just the way you want it!
More Must-Try Thanksgiving Dishes
Aside from cornbread stuffing, complete your Thanksgiving menu with more of our must-try Thanksgiving recipes! Make our Turkey Wrap Recipe with amazing roast flavors and Roasted Pumpkin Seeds Recipe for fun and savory Thanksgiving appetizers. If you're after more Thanksgiving side dishes, try our Stuffed Thanksgiving Pumpkins Recipe.
For Thanksgiving cocktails, make our Wild Thanksgiving Recipe or lemon-flavored Thanksgiving Cocktail Recipe for a memorable boozy night. Finally, end the feast with sweet and delightful Thanksgiving desserts like our No-Bake Pumpkin Pie Recipe, Chocolate Pumpkin Cheesecake Recipe, and Candied Yams Recipe!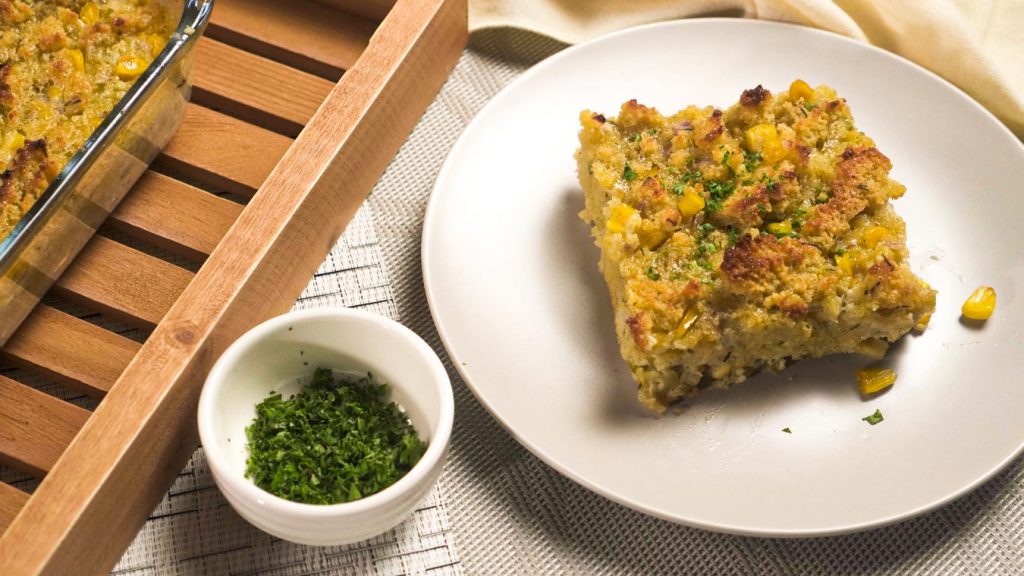 Cornbread Stuffing
How To Make Cornbread Stuffing
Make the easiest Cornbread Stuffing Recipe for your Thanksgiving feast! Serve herb-filled sweet, tender, and crunchy cornbread stuffing for your turkey or as a side.
Ingredients
5

cups

corn muffins or cornbread,

prepared, crumbled and preferably stale

½

cup

unsalted butter

2

cups

fresh corn kernels,

(about 2 cobs), canned and drained

1

cup

celery,

finely chopped

1

cup

red onion,

chopped

1½

cups

chicken stock

1½

cups

heavy cream

3

eggs

2

tsp

thyme leaves,

dried, or 2 tbsp fresh thyme

1

tsp

sage leaves,

dried, or 1 tbsp fresh sage

½

tsp

ground black pepper

2

tsp

salt
To Serve:
Instructions
Preheat your oven to 350 degrees F.

In a large mixing bowl, combine the chicken stock, heavy cream, eggs, black pepper, sage, thyme, and salt. Whisk until evenly incorporated. Set aside.

In a large skillet, melt the butter over medium heat. Saute the corn kernels, celery, and onion briefly until translucent.

Deglaze with wine and reduce briefly. Transfer into a large mixing bowl.

Add the cornbread and the egg mixture into the same bowl. Using either a spatula or gloved clean hands, gradually mix to combine. Set aside briefly for at least 20 minutes to have the bread soak up the liquids.

Transfer your mixture into a baking casserole and spread evenly. Bake for 40 minutes.

Once baked, transfer to cooling racks and allow to cool down.

Garnish your cornbread stuffing with parsley, portion accordingly, and serve warm! You can also use this mixture to stuff a 12 to 14-pound turkey, and roast as directed on the turkey packaging. Enjoy!
Recipe Notes
You can mix in 1 tablespoon of finely chopped fresh sage instead of a dried one into the batter.

Turn this into a Vegan Cornbread Stuffing by switching out the chicken broth for vegetable broth and using vegan-friendly cornbread.
Nutrition
Sugar:

28g

:

Calcium:

252mg

Calories:

827kcal

Carbohydrates:

93g

Cholesterol:

239mg

Fat:

45g

Fiber:

5g

Iron:

3mg

Potassium:

466mg

Protein:

16g

Saturated Fat:

24g

Sodium:

1590mg

Vitamin A:

1483IU

Vitamin C:

5mg
Nutrition Disclaimer
Frequently Asked Questions
How to dry bread for stuffing?
Stale your cornbread overnight by crumbling cooled cornbread into small pieces and placing them in an unsealed plastic bag. Leave it for a day at room temperature or toast the crumbles in the oven at 250 degrees F for 30 minutes. Let the crumbles cool and make your Thanksgiving stuffing!
Can I make this cornbread stuffing ahead of time?
Yes! You can make your cornbread up to 2 days ahead and the stuffing a day ahead. You can also prep your stuffing on the skillet, mix all the ingredients together, cover the mixture tightly in the fridge, store it for 1 to 3 days, and bake it before serving.
How do I freeze my cornbread stuffing?
You can cook your stuffing on a skillet, mix all the ingredients together, cover it tightly and freeze for 2 to 3 months. To serve, thaw overnight in the fridge, cool down to room temperature for 30 minutes and reheat.
How do I reheat my cornbread stuffing?
Reheat your cornbread stuffing in the oven by covering your baking casserole with foil and reheating it for 20 to 30 minutes or until warmed through at 350 degrees F. To get that crispy top that we all love in our stuffing, remove the foil on the last 10 minutes of baking. You can also reheat it in a skillet on the stove top to get those crunchy bits. If your stuffing ends up looking dry, you can add a splash of stock before rewarming.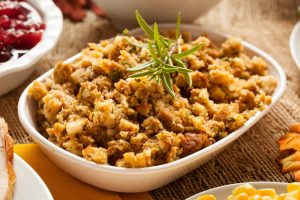 Conclusion
There's so much to love about Cornbread Stuffing recipes! The simple and comforting flavors of our Cornbread Stuffing coming from our herbs, spices, and corn kernels make it a memorable Thanksgiving side. Once you try this homemade Cornbread Stuffing Recipe, it'll be an instant favorite on your yearly Thanksgiving menu! Even more, you can use this stuffing mix to make this
Cornbread Meatloaf Recipe
or dip your excess or leftover cornbread in our
creamy Copycat Golden Corral Clam Chowder
. Go ahead and give them a try!