Cornbread dressing is a staple dish in Southern households along with a sweet and gooey pecan pie. It's usually present at dinner tables during holidays, particularly Thanksgiving. This classic Southern dish is perfectly moist and flavorful, making it a delicious side dish for your holiday dinner.
For most Southerners, Thanksgiving wouldn't be complete without cornbread dressing. Families have their own dressing recipes passed down to different generations. But you can definitely make your own version of a Southern cornbread dressing that you can share with friends and family. Read on and learn how to customize this cornbread dressing for your Thanksgiving celebration!
When it comes to Southern cornbread dressing, Cracker Barrel knows how to serve this comforting dish. In this recipe, we'll be making homemade cornbread dressing that captures the flavors of Cracker Barrel's delicious cornbread dressing.  Apart from this easy side, you can make our Copycat Cracker Barrel Biscuit Recipe and have a Cracker Barrel Thanksgiving feast at home! Read on as we guide you on how to make a traditional cornbread recipe for your next go-to side this Fall.
A Classic Thanksgiving Side: Stuffing Vs Dressing
The difference between dressing and stuffing is a constant topic of debate among foodies. The main difference between the two is the way they are cooked.  Stuffing is a mixture cooked inside of another ingredient, like poultry or your Thanksgiving turkey. Dressing, on the other hand, is cooked in a separate dish. In the South, they call it dressing regardless of the ingredients or preparation. But in most places, people use the terms stuffing and dressing interchangeably.
We got a couple of suggestions for you when it comes to this crunchy yet tender side dish mixed with different meat, vegetables, and spices! Serve our herb-filled Cornbread Stuffing made special with buttery corn kernels. For a hearty meaty side, make our Sausage Stuffings with Italian sausages. Enjoy a sweet and tangy stuffing with our easy Apple Cranberry Rosemary Stuffing Recipe.
There are many stuffing and dressing recipes that you can try, but Cracker Barrel's traditional cornbread dressing stands out among the rest! You'll certainly love the simple yet tasty flavors of this dish, made from ingredients that you can easily find in your kitchen. Read on as we give you tips in making this homemade cornbread dressing for a delectable Thanksgiving side!
Tips in Making Southern Cornbread Dressing
Take note that one secret to the making best cornbread dressing is using high-quality cornbread. Homemade cornbread is an ideal option, which is why we suggest baking your cornbread in advance. You can use classic cornbread recipes like our Homestyle Cornbread Recipe or Easy Buttermilk Cornbread Recipe. For something different, you can make our Cajun Crawfish Cornbread Recipe with crawfish, cheddar cheese, and jalapeño.
To use your homemade cornbread in this recipe, simply let it cool, cut it into tiny pieces, allow it dry overnight, and use it according to our recipe instructions. However, we know that Thanksgiving prep can be hectic. So if you're short on time, you can use pre-made cornbread which works wonderfully with this recipe too!
Another secret to whipping up a fantastic homemade dressing is getting the right blend of flavors with your mix-ins! An old fashioned cornbread dressing recipe has onion, celery, and herbs like sage and parsley. These aromatic herbs give the dish more flavor! Other than the usual turkey day spices feel free to add in your favorite herbs and spices and make it your own.
Some cornbread dressing recipes add meat into the mix-ins. For instance, you can make cornbread dressing with sausage, bacon, or oysters to add more flavor and texture to the dressing. You can also add in nuts, fruits, and veggies for added crunch and greater flavor.
Serve this Southern Cornbread Dressing with roasted chicken or turkey for a delightful Thanksgiving meal. Try this easy-to-make Cornbread Dressing Recipe inspired by Cracker Barrel's Thanksgiving Dressing and make it your Thanksgiving usual!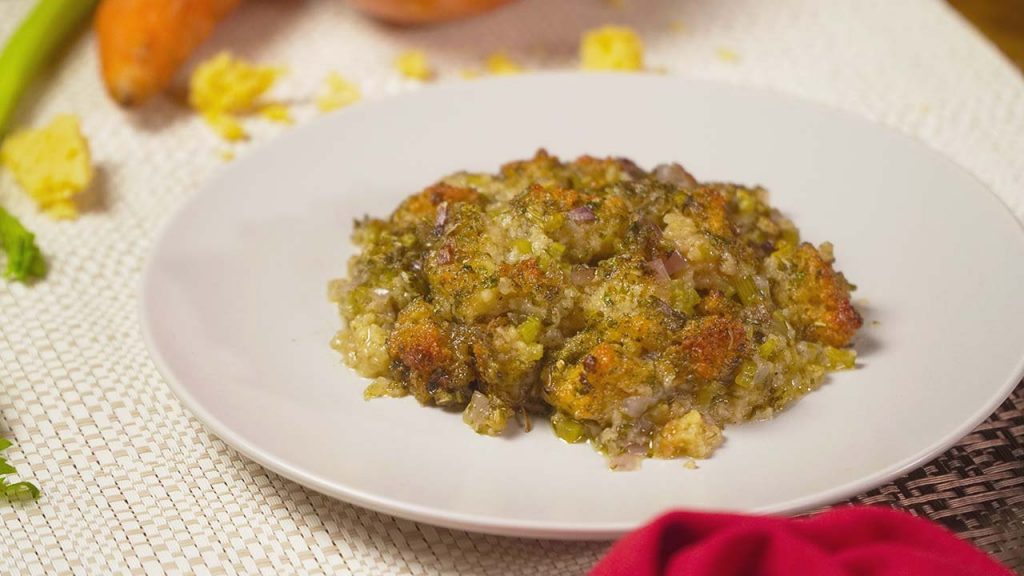 Copycat Cracker Barrel Cornbread Dressing Recipe
How To Make Copycat Cracker Barrel Cornbread Dressing
This Cornbread Dressing Just Like Cracker Barrel's bakes perfectly, being crispy on top yet moist in the center. It's the perfect side for your Thanksgiving dinner.
Ingredients
⅔

cup

onion,

chopped

2

cups

celery,

chopped

2

cups

cornbread,

prepared and chopped

¼

cup

fresh parsley,

minced

2

tsp

Italian seasoning

2

tsp

sage,

ground

1

tsp

black pepper

8

oz

chicken broth,

canned
Instructions
Preheat the oven to 400 degrees F.

In a bowl, mix the celery, onion, parsley, sage, Italian seasoning, black pepper, melted butter, and chicken broth. Stir until blended.

Add the grated cornbread and mix to combine.

Transfer to a greased casserole and spread the mixture evenly.

Bake it uncovered for 1 hour until it turns slightly brown at the top.

Serve and enjoy!
Recipe Notes
If the top is not crispy enough,

you can

broil the cornbread dressing for a few minutes. Make sure to keep an eye on it to prevent it from burning. 

Use smaller casseroles if you want to reduce the cooking time.
Nutrition
Sugar:

11g

:

Calcium:

107mg

Calories:

209kcal

Carbohydrates:

35g

Cholesterol:

34mg

Fat:

6g

Fiber:

2g

Iron:

2mg

Potassium:

203mg

Protein:

4g

Saturated Fat:

2g

Sodium:

480mg

Vitamin A:

377IU

Vitamin C:

6mg
Nutrition Disclaimer
Commonly Asked Questions
Can I bake my cornbread a day before making the cornbread dressing?
Cornbread can greatly affect the texture of your cornbread dressing. If you're planning to use homemade cornbread for this recipe, it's best to bake it a day before making the dressing. Using freshly baked bread would result in a soggy dressing. Dry or stale bread is the best option to achieve the right consistency we want for cornbread dressing.

Can I make the cornbread dressing in advance?
You can make your cornbread dressing ahead of time so you don't have to worry about it on the day of your Thanksgiving dinner. Prep your make-ahead dressing by covering it with plastic wrap and placing it in your fridge before baking. You can choose to refrigerate or freeze it and bake it on the day itself. On the day of serving, take it out of the fridge, let it rest for at least 30 minutes at room temperature then proceed to baking it according to the recipe instructions.

Why is my cornbread dressing dry or soggy?
Oversaturating the mixture is one of the mistakes people do when making their cornbread dressing. Using too much stock will lead to a mushy dressing while using too little will make dressing dry. Remember to use the right amount of liquid according to the recipe. If your dressing comes out dry, add more chicken broth, and bake it for a few more minutes. Repeat until you've achieved the right texture you want. For a gummy or wet dressing, on the other hand, you can save it by transferring it onto a cookie sheet. Make sure it is in an even layer, then bake it until it gets dry. Keep an eye on it so it won't get too dry.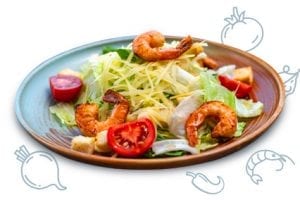 Conclusion
Make your Thanksgiving extra special by serving a comforting, perfectly moist, and well-seasoned homemade cornbread dressing. This Southern cornbread dressing recipe mimics Cracker Barrel's version of this holiday staple. It's full of flavors from the vegetables and herbs that will complement your delicious and tender turkey.
Topics: