Get your cozy home bar ready! We've got a boozy Thanksgiving recipe that will make your holiday evening more fun. This is one of those fruity cocktails that use well-branded alcohol.
You'll be surprised by this fun mix of Wild Turkey Bourbon, brandy, and fruity juices. And don't worry, no turkeys were harmed in the making of this tasty cocktail. This drink is the perfect after-meal drink to have with friends and family. Just remember to keep this off the kids' line of sight while you're at it!
A Boozy Thanksgiving Recipe
Thanksgiving is all about good food, great company, and tasty pick-me-up drinks! After all that good food, it's important to fill yourself up with some Thanksgiving drinks. When it comes to Thanksgiving beverages, there's always a little something from the Thanksgiving meal. It may come with cranberries, cinnamon, apple cider, and other festive flavors. There are plenty of kid-friendly recipes out there like our Golden Glow Fruit Punch. But you came here for some Thanksgiving alcoholic drinks and we promise to deliver!
We've got a ton of Thanksgiving cocktail ideas to share before we dive into our main recipe. This simple Thanksgiving Cocktail of gin, brandy, and fruity flavors will surely tickle your tastebuds. Looking to knock back a sweeter cocktail? Then this flavorful Skinny Cranberry Cocktail will delight anyone with a sweet tooth. And if you're serving a really big crowd, this Thanksgiving Punch Recipe will surely keep the festivities more interesting.
Now those sound like some really delicious drinks mixed with the best alcohol. But if you're up for something a little wild and you catch my drift, then keep reading to see how we make our best recipe for thanksgiving drinks!
How To Make Your Own Thanksgiving Cocktail
A delicious cocktail for thanksgiving can be difficult to come by. But you don't have to search far and wide for a quick Thanksgiving recipe with our Wild Turkey cocktail. It's a delicious combo of bourbon, apple brandy, lime juice, and cranberry juice. We used Wild Turkey bourbon because it works amazingly for Thanksgiving mixed drinks.
It's said to be an excellent choice mixing bourbon with a great price and above-average proof. So if you're looking to really turn up for the night, using this particular alcohol for our recipe and other bourbon cocktails will do wonders! For more bourbon recipes, give our Maple Old Fashioned Cocktail Recipe or a classic Sazerac a try.
Now when preparing your Thanksgiving cranberry cocktail, know that you can assemble it in two ways. You can pour everything in a classy highball glass with some ice as many cocktail recipes do. Or if you wanted to shake things up, combine everything in a cocktail shaker with some ice then shake before straining into your favorite glass. It's that easy to make and really takes no time to make.
You never have to worry about finding thanksgiving cocktail recipes when you have a drink like ours! If you don't have Wild Turkey bourbon, try it out with your other favorite bourbon brands. You can also switch up that apple brandy with other flavors.
Try cherry or apricot brandy for an extra sweet drink that you can also try in other brandy cocktails. And if you think you can still add more to fruit juices, try adding a wedge of lemon or lime with it to make it more fruity. Don't be afraid to mix and match to get the perfect wild drink!
What To Serve With Cocktails
Serve our drink up with a few more Thanksgiving recipe ideas. Heat things up with this Spicy Pumpkin Appetizer Soup. And to impress your guests with a filling centerpiece, whip up a Stuffed Thanksgiving Pumpkin. Finally, have a glass or two of it with this unique and sophisticated Alice Waters' Apple Tart.
There is no doubt that your guests will be pleased with this Thanksgiving recipe! It's easy-to-make and makes the best drink to finish off your big meal. So what are you waiting for? Grab a glass and stir up some trouble with this Wild Thanksgiving drink!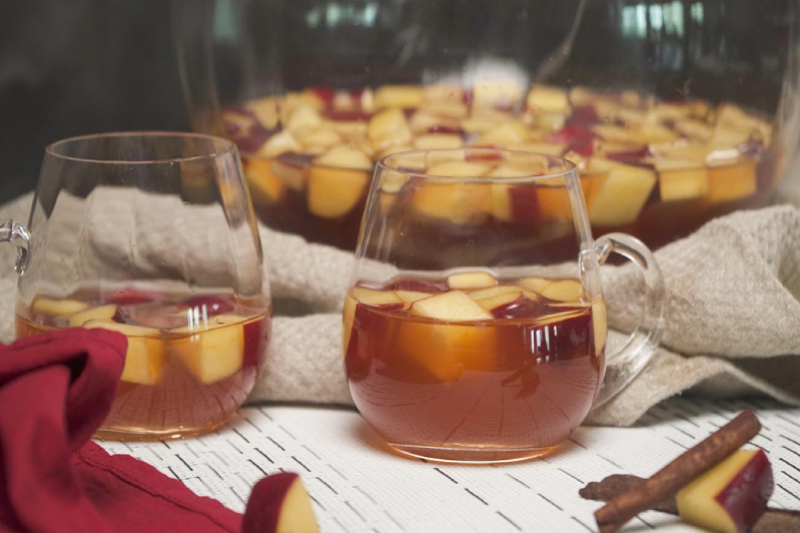 Wild Thanksgiving Recipe
How To Make Wild Thanksgiving
A festive Thanksgiving recipe drink of tangy juices, strong bourbon, plus sweet and tart apple cider Whip this up for the upcoming festivities for a holiday to remember!
Ingredients
2

cups

bourbon,

preferably Wild Turkey 81 or 101

3

cups

apple cider,

or brandy of choice

½

cup

lemon juice,

or lime juice

2

cups

cranberry juice

2

cinnamon sticks

3

red apples,

or green apples, chopped
Instructions
Combine the cinnamon sticks, red apples, lemon juice, apple cider, bourbon, and cranberry juice in a large punch bowl.

Stir to combine.

Keep the punch chilled for at least 2 hours.

Serve cold and enjoy!
Nutrition
Sugar:

19g

:

Calcium:

20mg

Calories:

200kcal

Carbohydrates:

23g

Fat:

1g

Fiber:

2g

Iron:

1mg

Potassium:

181mg

Protein:

1g

Saturated Fat:

1g

Sodium:

5mg

Vitamin A:

52IU

Vitamin C:

13mg
Nutrition Disclaimer
Commonly Asked Questions
How do I store my drinks?
While it's always better to serve this Wild Thanksgiving drink fresh, we know leftovers are unavoidable! To retain the best flavors of your drink, we recommend bottling the rest of the drink. Transfer the cocktail to 6 ounces clear, sterilized bottles. Cap them off with bottle caps using a bottle capper. Then finally, refrigerate to keep them cool. This will last for up to 1 week.
Which Wild Turkey Bourbon should I use?
We recommend using either Wild Turkey Bourbon 81 or 101. The 81 will has a spicy flavor with the clove and nutmeg complimenting a honeyed fruit taste. The 101, on the other hand, will have a more intense layer of flavors and is stronger than the 81. But they still contain some Thanksgiving flavors of cinnamon, cloves, hazelnuts, nutmeg, and mint.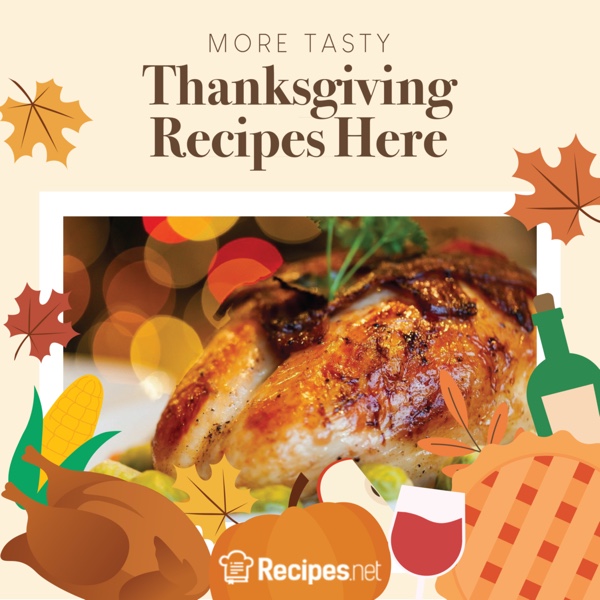 Conclusion
This Thanksgiving recipe is perfect for all your guests looking for a stronger drink. Serve this up right after a big meal, or sneak a few sips before the party starts. If you're serving this at the start of the party, don't forget to match with tasty finger foods!