Fond memories at Thanksgiving celebrations will come rushing back once you have a taste of our Homemade Old Fashioned Stuffing Recipe! This stuffing recipe will bring back the taste of traditional, homemade stuffing your grandma used to make for Thanksgiving with family. It might take some time and effort, but just one bite of this delicious stuffing and all your hard work will be rewarded!
Simply follow the steps in this recipe and you'll be tasting delicious homemade stuffing in no time. Learn how to stuff and cook your turkey with this homemade stuffing by reading on the Recipe Notes just after the recipe instructions!

Various food, from chicken to empanadas, can be stuffed with a delicious mixture of bread, onion, celery, and other starchy ingredients. But probably the most popular is the stuffed turkey. During Thanksgiving and other special celebrations, stuffed turkey is usually the main dish, with stuffing being the side dish. But stuffing is delicious even if it isn't packed into a rich, baked turkey!
This tasty mixture is definitely a comfort food to many. Most people enjoy a side of stuffing during seasonal occasions. But you can still make this dish even if you're just missing grandma's home cooking. With simple ingredients like bread, onions, celery, and butter, you can make a satisfying dish that's both rich and comforting.
Other than flavor, the charm of stuffing is how filling it is to the tummy. The nostalgic feeling of eating such a staple dish during Thanksgiving is also a plus. Once you master cooking this dish, you can even serve it yourself when the seasons come around!
For more stuffed dishes that you can make, try out our Crockpot Spinach-Stuffed Chicken Breasts and Cranberry and Brie Stuffed Chicken Breast for another must-try Thanksgiving dinner idea!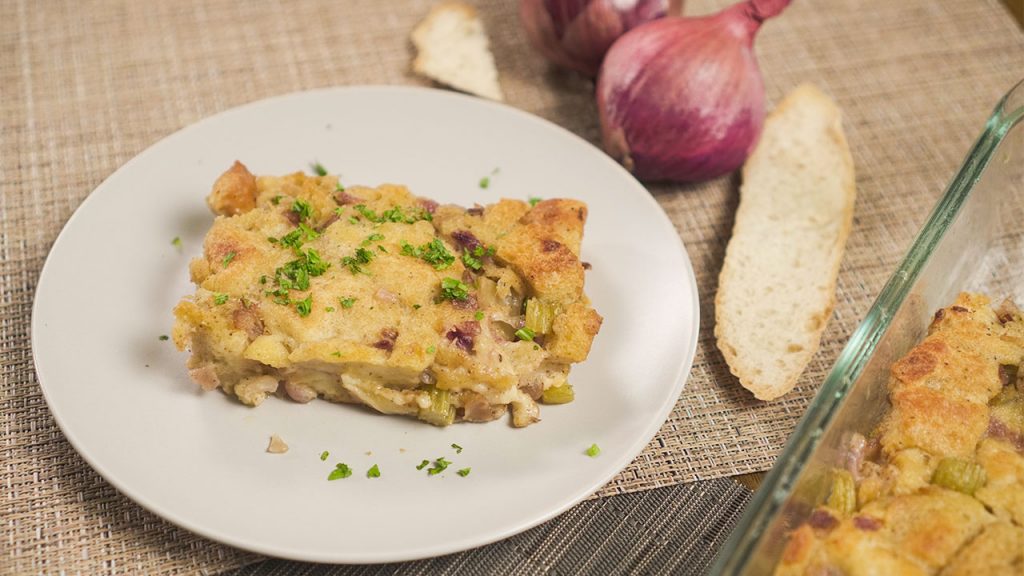 Homemade Old-Fashioned Stuffing Recipe
How To Make Homemade Old-Fashioned Stuffing
This delicious homemade mix of baked bread, onions, celery, and chicken broth is a filling comfort food! All your happy childhood memories will surely come flooding back with our Homemade Old Fashioned Stuffing Recipe.
Ingredients
1

lb

stale breads of your choice,

crusts trimmed & cubed

1 ½

cups

unsalted butter

3 ½

cups

chicken broth

1

cup

white wine

3

eggs

1

tsp

ground celery seeds

2

tsps

dried sage

2

cups

red onions,

chopped

2

cups

celery,

chopped

salt and ground black pepper ,

to taste

cooking spray
To Serve:
1

tsp

celery leaves,

chopped or torn
Instructions
In a large skillet, melt the butter over medium heat.

Add the celery and onion. Saute briefly

Cook, stirring occasionally, for about 8 minutes, until the vegetables soften.

Add the sage and celery seed. Saute briefly.

Deglaze with white wine and reduce briefly

Season with salt and pepper.

Transfer the cooked vegetables into a mixing bowl with the stale bread. Set aside.

In a separate bowl, whisk together the eggs and broth.

Add the egg mixture into the vegetables and bread, then season with salt and pepper. Toss to combine.

Set aside for roughly 20 minutes to allow the bread to soak the moisture up.

While waiting, preheat your oven to 350 degrees F and grease a 9x13-inch baking pan.

Transfer your bread mixture into the baking pan, cover it with foil, and bake for about 25 minutes, until warmed through.

Transfer to a cooling rack to cool down after baking.

Portion accordingly and reserve some for stuffing your turkey. Garnish with celery leaves and serve!
Recipe Notes
You can bake your stuffing in an 8-inches square pan, instead of a 2-quart casserole dish.

We recommend using this stuffing in

an 18-pound turkey. Although, be careful not to put too much stuffing! Fill the turkey loosely, to make sure its inside cooks evenly. Bake the turkey at 325 degrees F for 3 to 4 hours and 30 minutes, or until the center of the turkey reaches 165 degrees F.
Nutrition
Sugar:

11g

:

Calcium:

104mg

Calories:

1127kcal

Carbohydrates:

59g

Cholesterol:

306mg

Fat:

91g

Fiber:

4g

Iron:

2mg

Potassium:

521mg

Protein:

13g

Saturated Fat:

52g

Sodium:

1959mg

Vitamin A:

2532IU

Vitamin C:

22mg
Nutrition Disclaimer
Frequently Asked Questions
What's the difference between stuffing and dressing?
Stuffing usually refers to the mixture stuffed inside a turkey, or other kind of poultry. Meanwhile, dressing refers to the mixture that's cooked in a casserole or dish. It's not stuffed, but is outside of the poultry. However, the two terms are often used interchangeably, depending on which region of a country you are in.
Can I freeze my turkey stuffing?
Yes, you can! Leftover stuffings should be stored in either the refrigerator or freezer in a safe storage container. When stored in the refrigerator, the stuffing is good to eat for the next 3 to 4 days. Meanwhile, storing it in the freezer can extend its life to about 1 month. To reheat, place the stuffing in a baking dish and cover with aluminum foil. Heat the stuffing in a preheated oven at 350 degrees F for about 30 minutes. Then, remove the aluminum foil and heat for 10 to 15 minutes more.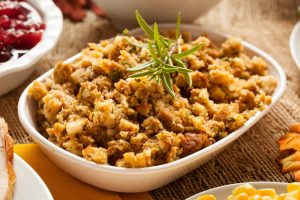 Conclusion
Relive all your nostalgic childhood memories with our Homemade Old Fashioned Stuffing Recipe. This delicious dish is great for both special occasions and for times when you're just craving for the comforting taste of homestyle cooking.