Mardi Gras, voodoo, and jazz music reflect the beautiful state of Louisiana. Apart from being the birthplace of Louis Armstrong, the most influential Jazz performer of all time, it also houses mouth-watering southern cuisine. Jambalaya is made up of various broths and vegetables depending on which version you plan to make. For this recipe, we'll be introducing a Jambalaya recipe from a well-known fast-food chain. Popeye's Jambalaya captures the essence of its Louisiana roots. A flavorful dish filled with spices, vegetables, and meat, it's a hearty bowl of rice you shouldn't miss out on. 
Jambalaya is a truly diverse dish with influences from the Spanish, French, and even Germans. And, with it, comes two types of dishes; Creole and Cajun. To tell which is which by appearance alone, the Creole Jambalaya appears orange or reddish. If it's brown, most probably it's Cajun. When it comes to making it, some would stick to the Creole version, where it includes the red, juicy tomatoes, hence the color. The Cajun version chooses to leave out the tomatoes and cooks the meat first to allow it to brown. Regardless of which version you choose, this recipe is a scrumptious dish to get a taste of New Orleans. 
Typically served with Southern cornbread, you can pair this copycat dish with our Cajun Crawfish Cornbread recipe. The wonders of the deep south lie in delicious food and good music. Not everyone has the luxury to visit the French Quarter but whipping up a part of their culture is as close as we can get.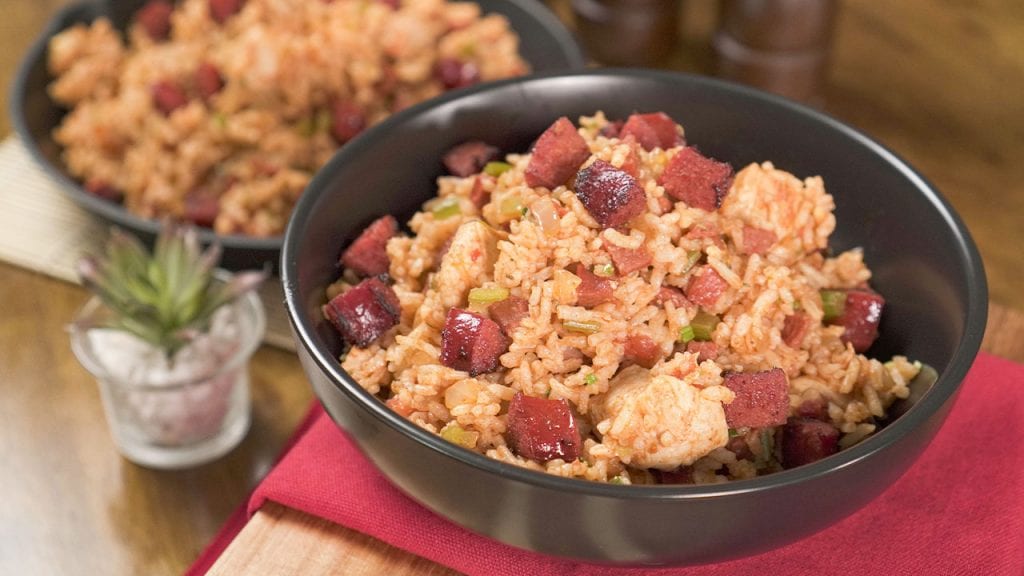 Popeye's Jambalaya Recipe
How To Make Popeye's Jambalaya
A mouth-watering dish to cook in the kitchen, it's a hassle-free dish made up of various spices, fresh vegetables, and the rich culture of the South.
Ingredients
3

cups

white rice,

cooked

2

tsp

olive oil

7

oz

boneless chicken breasts,

cut into bite-sized pieces

3

spicy sausages,

diced

3

oz

yellow onion,

chopped

½

cup

celery,

chopped

½

tsp

cayenne pepper

1

tbsp

all-purpose flour

1

can

crushed tomatoes,

7 oz

¼

cup

chicken broth

1

tsp

cumin

½

tsp

chili powder

1

tsp

paprika

1

tbsp

Worcestershire sauce

¼

cup

scallions,

chopped

1

tsp

dried thyme

salt & ground black pepper,

to taste
Instructions
In a deep skillet, heat oil and cook chicken until cooked through.

Add sausages, onion, celery, cumin, chili powder, paprika, thyme, & cayenne. Sauté for a few minutes.

Add flour and stir until thickened.

Add tomatoes, broth, and Worcestershire and bring mixture to a boil.

Reduce briefly until flavors intensify.

Remove pot from heat and stir in rice and scallions.

Season to taste with salt & pepper. Adjust accordingly. Mix together.

Serve immediately.
Nutrition
Sugar:

1g

:

Calcium:

32mg

Calories:

206kcal

Carbohydrates:

12g

Cholesterol:

39mg

Fat:

12g

Fiber:

1g

Iron:

2mg

Potassium:

234mg

Protein:

11g

Saturated Fat:

4g

Sodium:

281mg

Vitamin A:

373IU

Vitamin C:

3mg
Nutrition Disclaimer
Frequently Asked Questions
What can I serve with Jambalaya?
Apart from the classic cornbread, zucchini and okras are great pairs with Jambalaya. You can cook, fry, or sautee them and adjust the taste to your liking. You can also try our Grilled Okra recipe for a smokey flavor with a savory Jambalaya.
What is the difference between gumbo and jambalaya?
It's not a surprise that gumbo and jambalaya can be mistaken for each other. However, they contrast in a handful of ways. Gumbo is a thickened stew that uses thickening agents like roux, flour cooked in fat, and file, which also gives flavor to the dish. Gumbo is served over rice while Jambalaya is a one-pot dish where the rice is cooked together with the ingredients. If you're curious to try a gumbo recipe, you can refer to our Chicken and Seafood Gumbo recipe and give it a go.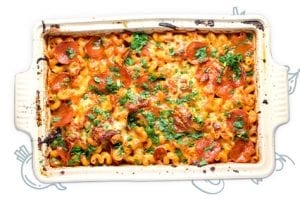 Conclusion
A true Popeye's Copycat, it's the same rich and hearty flavors of a jambalaya. Throwing in shrimps or bell pepper would add a Southern touch. It's a great recipe to prepare for Mardi Gras or something to impress your family.