So here's a knockout nachos recipe you can try at home that's totally a knockout. It's no other than the staple Tex-Mex snack that's so easy to make and we all love—nachos. Nachos are perfect for parties, casual dinners and of course snack times! This addicting snack is high in protein and carbs with tortilla chips topped with veggies and cheese all over.
In preparing the best nachos recipe, you should think of two things: your tortilla chips and toppings. Making your own tortilla chips could give you the perfect chip, but we all know it takes a lot of time to prepare. The next best thing to making your own chips is looking for bagged tortilla chips that are preferably fried locally.
The fun in preparing nachos at home is that you can switch up and experiment with your toppings. For the toppings, if you want an easy prep, you can top your nachos with store-bought ingredients like ground and shredded beef, ground turkey, shredded pork or chicken, tomatoes, black olives, beans, corn, onions, jalepeños, sour cream, salsa, guacamole and avocados. Besides our Better-Than Taco Bell's Famous Nachos Recipe, there are many Mexican recipes that you'd love to try cooking at home.
Here's our entry on the best nachos recipe that you can easily throw together at home. This Better-Than Taco Bell's Famous Nachos Recipe is the perfect appetizer at your next tailgate or party and your next go-to food for home snacking.
How To Make Better-Than Taco Bell's Famous Nachos
Snack on our quick and easy to make version of Taco Bell's Nacho Supreme, serving tortilla chips topped with seasoned beef, cheese sauce and freshly chopped veggies, that's definitely a knockout!
Ingredients
1

bag

tortilla chips

1

lb.

ground beef cooked and seasoned with taco seasoning

1

can

refried beans

1

jar

nacho cheese or salsa con queso of your choice

1

jar

taco sauce

1

medium

tomato

diced

1

green onion

diced

1

light sour cream

1

lettuce

shredded, to taste
Instructions
Brown ground beef and prepare following taco seasoning packet directions.

In a small saucepan, warm the refried beans over medium heat, stirring occasionally.

Add water to thin the sauce to a "pourable" state.

Place the nacho cheese or salsa con queso in a microwave safe bowl or jar and heat it in the microwave.

Place the shredded lettuce on a serving plate.

Top it with tortilla chips, covering the lettuce.

Add desired amount of nacho ingredients to preference.

Top with the more chips, and repeat with the rest of ingredients.

Add your desired amount of nacho ingredients.

Top it more tortilla chips, and repeat with the rest of the ingredients.

Sprinkle diced tomato and green onions on your nachos.

Top it with sour cream and your knockout nachos is ready to serve.
Nutrition Facts
Calories:
648
kcal
|
Carbohydrates:
63
g
|
Protein:
17
g
|
Fat:
25
g
|
Saturated Fat:
2
g
|
Cholesterol:
1
mg
|
Sodium:
702
mg
|
Potassium:
430
mg
|
Fiber:
9
g
|
Sugar:
6
g
|
Vitamin A:
1014
IU
|
Vitamin C:
9
mg
|
Calcium:
183
mg
|
Iron:
3
mg
Commonly Asked Questions
How do you prevent your nachos from getting soggy?
The secret to preventing your chips in getting soggy is using good quality tortilla chips. Warming up the chips also prevents them from being soggy so we suggest baking the nachos before and after assembling.
How do you store and reheat nachos?
Place the nachos in an airtight plastic bag and store it in the fridge. Remember to remove the toppings of your nachos before reheating them. Reheat the nachos depending on your preferred crispness or crunchiness.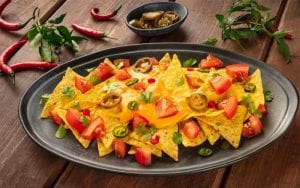 Conclusion
This nachos recipe is surely a reliable one for when you're out of snack or dinner ideas or you're just randomly craving for Tex-Mex. Hopefully after making it, you would want to get creative in adding your own twist to this Better-Than Taco Bell's Famous Nacho Recipe in your next one. It's up to you how you mix and play with the ingredients to create that perfect mix of flavor in this binge-worthy dish.