Remember those long and tiring days where you know that what you need is to sit, relax, and cool down a bit. Imagine being under a comfy blanket together with a large tub of ice cream with flavors that are addicting and comforting. 
The satisfaction we get from eating ice cream will forever be unrivaled, especially with mint chocolate flavors. You'll be surprised by how easy it is to make your own homemade mint chocolate chip ice cream with an added cool and minty flavor. Who can resist a luscious dessert with interesting soothing flavors?
Apart from our Baskin Robbins copycat mint ice cream recipe, you can serve more luscious ice cream desserts, like Warm Brownie Sundae and delicious ice cream cake with chocolate and vanilla flavors, which are also Baskin Robbins favorites.
What's In Our Mint Chocolate Chip Ice Cream?
Mint not only gives a cool sensation and a mouthful of flavor into desserts and other dishes, but it has a couple of health benefits too. Peppermint extract not only gives a minty taste to this Baskin Robbins ice cream but has also been relieving stress on the sidelines. 
Peppermint extract also helps relieve menstrual cramps, helps with concentration, and may help improve digestion. It also has natural anti-bacterial properties that may also help improve allergy symptoms. Wouldn't you say that mint chocolate chip ice cream is one of the best ice cream flavors there is?
Scoops of our mint chocolate chip ice cream are already comforting and delicious as is, but you can play with the toppings and syrups that you can add to it. Read on and discover how to customize your mint chocolate chip ice cream.
The Best Chocolate Chip For A Mint Ice Cream Recipe
Chocolate chips are our tiny drops of happiness and are like yummy chocolate raindrops. But did you know that apart from your usual milk chocolate chips, they have different flavors that can match your preferred sweetness and taste? Choose among the following and mix those that best suit your taste and them into your mint ice cream.
Semi-sweet Chocolate Chip – This is a non-dairy type of chocolate chip that is like dark chocolate. They're made from cocoa solids, cocoa butter, and sugar. It has a bitter-sweet combination, just like dark chocolates, and a good option if you want to cut down on the sugar. 
Butterscotch Chips –

These are butterscotch drops shaped like a chocolate chip. The tiny pieces of it are as tasty as the piece of butterscotch you always have for dessert.

Sweetened Carob Chips – This might be your next favorite dessert topping. While this chip might exactly taste like a chocolate chip, it is not chocolate. They make these chips from carob powder, sweeteners, and vegetable oil. Even more, carob chips are free from caffeine, so no need to worry about being sensitive or allergic to them.
Cocoa Nibs – Cocoa nibs are roast cocoa beans and smashed into tiny bits. This is also a good option if you don't want your dessert to be too sweet.
Tips In Making Homemade Mint Chocolate Chip Ice Cream And Serving
Now that we've suggested a couple of chocolate chip flavors, we're giving you some tips on making this recipe and other must-try-toppings. 
Store your ice cream at the most hidden part of your freezer to keep it from sweating every time the fridge door opens. This will keep your ice cream from getting hard and forming ice crystals.
Cover your ice cream container with a cling-wrap before putting the ice cream inside to prevent it from getting a freeze burn. You can do this or invest in an insulated ice cream tub if you're really into making homemade ice cream.
Top your mint chocolate chip ice cream with sprinkles, marshmallow bits, nuts, and even fruits. For a fancy dessert try making

Banana Split Ice Cream

and replace one flavor with our homemade mint chocolate chip ice cream. A drizzle of chocolate fudge before serving sounds yummy too.
Aside from this mint-flavored ice cream, we have more must-try homemade ice cream recipes to choose from. For more delicious ice cream flavors, try making:
Chai Coconut Ice Cream

– Complete your summer with this richly spiced ice cream with a tropical taste of coconut.

Avocado Strawberry Ice Cream

– Be amazed by how well the sweet and juicy strawberry compliments the fresh earthy flavor of avocado.

Blueberry Crumble Ice Cream

– Sweet, fruity, and soft. What more can you ask for? Enjoy its sweet blueberry sauce and drizzles of brown sugar crumble.
The best tip and advice to make this mint chocolate ice cream recipe is how creative you can be. You can definitely stick with the classic or try out these various options and make this delicious ice cream your own.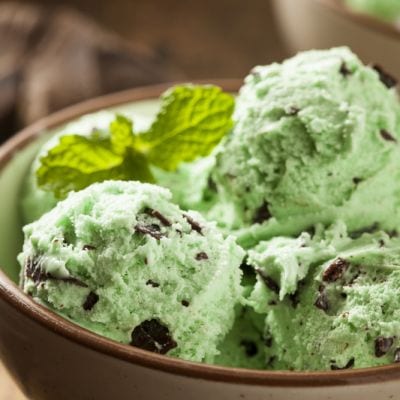 Cool Baskin-Robbins Mint Chocolate Chip Ice Cream Recipe
How To Make Cool Baskin-Robbins Mint Chocolate Chip Ice Cream
Cool down and satisfy your dessert cravings with this mint chocolate chip recipe just like Baskin-Robbins'. Enjoy sweet and refreshing flavors in each delicious scoop of this homemade mint cream anytime you want.
Freeze Time:
2

hrs
30

mins
Ingredients
2

cups

whole milk

2

cups

heavy cream

1

cup

sugar

½

tsp

salt

1

tsp

vanilla extract

1

tsp

peppermint extract

3

drops

food coloring,

green

1

cup

chocolate chips
Instructions
Mix the cream, milk, sugar, salt, peppermint extract, and vanilla extract in a bowl until the sugar has completely dissolved.

As you are mixing, add the green food coloring to create the ice cream's green color.

Pour the mixture into an ice cream maker and freeze according to instructions.

Add the chocolate chips 10 minutes into the freezing.

After freezing for about 30 minutes until your ice cream has thickened, spoon it into a container, and allow it to freeze for 2 hours.

Serve and enjoy!
Nutrition
Sugar:

28g

:

Calcium:

108mg

Calories:

342kcal

Carbohydrates:

30g

Cholesterol:

88mg

Fat:

24g

Potassium:

125mg

Protein:

3g

Saturated Fat:

15g

Sodium:

195mg

Vitamin A:

973IU

Vitamin C:

1mg
Nutrition Disclaimer
Commonly Asked Questions
Is Peppermint Extract the same as peppermint oil?
No. Peppermint extract is what you get from a peppermint herb. We used peppermint extract instead of spearmint to get extra coolness from the menthol it gives. In case you don't have peppermint extract, you can replace it with spearmint extract, which has less menthol than peppermint.
How long do I store this mint chocolate chip ice cream?
The quality of your mint chocolate chip ice cream is at its best for at least 2 weeks from the cook date. From 2 weeks onwards, it will easily develop those icy crystals fast. So we suggest that you enjoy your mint chocolate chip ice cream while it still has that amazing creamy consistency. But we doubt that a batch of this delicious cold treat will last a week in your fridge because of how great it tastes!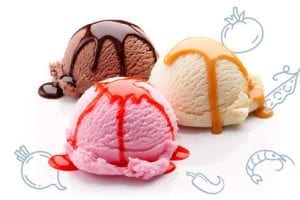 Conclusion
This recipe is quick to prep, but it makes a delicious tub of one of the best comfort foods out there and we assure you it's satisfying. Make this delicious ice cream recipe with a hint of mint and a lot of chocolate chips. It's easy and fun to make with the family, especially the kids. Make this easy recipe with the kids and give them sweet memories of making their latest favorite ice cream flavor.