If you have a sweet tooth then these homemade caramel brownies will be treats of pure bliss to you! Indulge in layers of chewy chocolate brownies with caramel sauce in the middle for double the sweetness. In addition, the walnuts and chocolate chips inside add some extra bite and chocolatey goodness to this dessert. Make these gorgeous and delicious sweet treats from scratch in under an hour using this recipe. It's best enjoyed with a hot cup of french press coffee on the side!
Tips on Making Caramel Brownies
This easy recipe is conveniently made using caramel candies that are melted and mixed with evaporated milk. Aside from that, we are using German chocolate to get that deep chocolatey taste and chewy texture. But first, here are a couple of helpful tips on making these luscious brownies:
Melt the caramel candy and German chocolate over low heat

as we did in this recipe to prevent them from burning. Alternatively, you can also melt them in the microwave. Blast them on High for 30 seconds, followed by 15-second intervals until fully melted.
Remember to sift the cocoa powder because

 tends to clump up in storage. So in order to make sure that you don't get tiny bitter balls of cocoa in your brownies, we recommend using a sieve.
Keep an eye on the oven

to avoid ending up with dry, over-baked brownies. Moreover, you should take them out of the oven when a toothpick inserted comes out moist with brownie crumbs but with no wet

brownie batter

.
Cool them for a few minutes before slicing

so they can hold their shape better.
Lastly, load them up and top them with other delicious ingredients such as chunks of dark, semi-sweet, white, or milk chocolate, for instance. On the other hand, peanut butter chips will also work well with these brownies along with your choice of nuts. Don't forget to finish it with a sprinkle of sea salt to get that salted caramel flavor.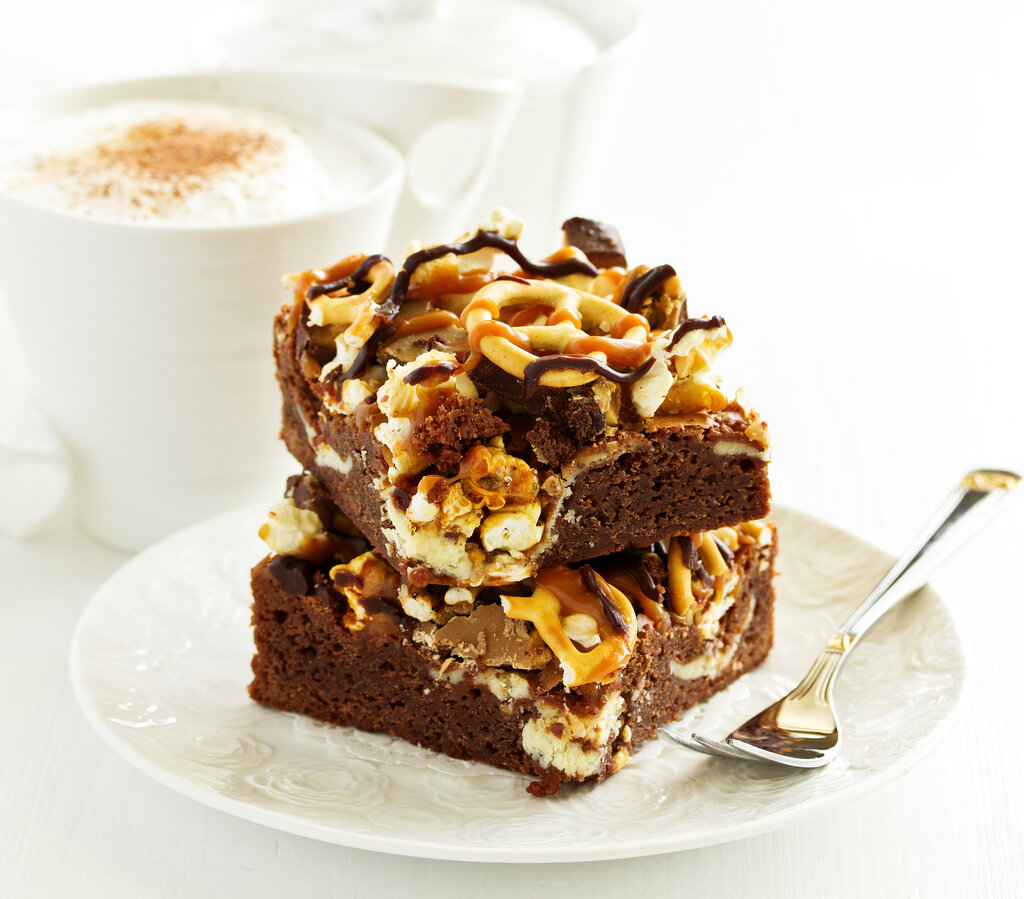 Caramel Brownies Recipe
How To Make Caramel Brownies
German chocolate, chopped walnuts, chocolate chips, and a smooth caramel sauce make these caramel brownies a satisfying treat. Make a batch of this mouthwatering dessert in less than an hour!
Ingredients
14

oz

caramels

⅓

cup

evaporated milk

8

oz

German sweet chocolate

6

tbsp

butter

2

eggs

1

cup

sugar

¾

cup

flour

1

tsp

baking powder

½

tsp

salt

½

cup

unsweetened cocoa powder

2

tsp

vanilla extract

6

oz

chocolate chips

1

cup

chopped walnuts
Instructions
Preheat the oven to 350 degrees F.

Line a 9x13-inch pan with parchment paper and set it aside.

In a saucepan, plate the German chocolate and butter. Melt them together over low heat, stirring and scraping the bottom constantly to make sure it doesn't burn.

Remove from heat and set aside to cool to room temperature.

In a clean saucepan over low heat, melt the caramels and evaporated milk together, stirring and scraping the bottom constantly to make sure it doesn't burn.

Once smooth, remove from the heat and set aside.

Sift together the flour, baking powder, cocoa powder, and salt.

In a big mixing bowl and using an electric mixer, whip the eggs until foamy.

Add the sugar 1 tablespoon at a time and continue whipping until the mixture is thick and pale in color.

Fold in the cooled chocolate and butter mixture.

Fold in the dry ingredients. Scrape the sides and the bottom of the bowl to make sure that everything is well incorporated.

Spread half of the brownie batter into the baking dish. Bake it for 7 minutes to set.

Take it out of the oven. Spread the caramel filling over. Sprinkle chocolate chips and walnuts.

Using a spoon, spread the remaining brownie batter on top of the caramel. Top with nuts if desired.

Bake it for another 18 to 20 minutes or until a toothpick inserted at the top brownie layer comes out moist but with no wet batter anymore.

Remove from the oven and let cool for 10 minutes before slicing. Serve and enjoy!
Nutrition
Sugar:

53g

:

Calcium:

105mg

Calories:

490kcal

Carbohydrates:

66g

Cholesterol:

34mg

Fat:

24g

Fiber:

2g

Iron:

3mg

Monounsaturated Fat:

5g

Polyunsaturated Fat:

7g

Potassium:

208mg

Protein:

6g

Saturated Fat:

8g

Sodium:

301mg

Trans Fat:

1g

Vitamin A:

323IU

Vitamin C:

1mg
Nutrition Disclaimer
Frequently Asked Questions
What type of caramel should I use for caramel brownies?
It's best to use store-bought caramel candies because they're easy to find, easy to melt, and they hold their shape well. However, if you like your brownies cold, you might find the caramel hardening up too much. Keep them chewy and give them extra flavor by mixing in 2 tablespoons of golden syrup or maple syrup once they're melted.

What can you put on top of brownies?
Vanilla ice cream and nuts always make a good topping combination. Coffee ice cream will work too! Other great choices are mini marshmallows, pretzel sticks, and roasted salted nuts, for instance.

What is the secret to chewy brownies?
Chewy brownies are extra moist. To achieve this, we need to use less flour and more eggs, chocolate, and butter. Melting the chocolate and butter and creaming the eggs and granulated sugar also contribute to its chewy texture. Furthermore, if you choose to make caramel brownies with cake mix, we recommend replacing water with evaporated milk or heavy cream and adding an extra yolk to make them chewy.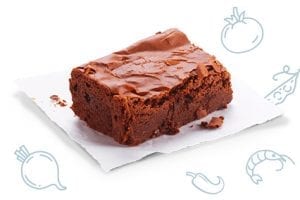 Conclusion
Double the satisfaction by serving caramel and chocolate together for dessert. Have caramel brownies for a special brunch date or box them as a gift.