Make an extra room for dessert as we recreate TGI Friday's Brownie Obsession. It's chewy, moist, bittersweet, and made even flavorful with pecan toppings. We assure you, this brownie cake recipe is going to be your official dessert go-to as soon as you've made your first batch.
Our version of Brownie Obsession would definitely call for a tall drink of TGI Friday's Mudslide.
What's In Our Brownie Cake?
There are tons of brownie mix recipes out there, and you might find these ingredients simple, and easy to get at the nearest grocery stores, but it's the flavor that these simple ingredients add to our brownie that actually does magic. 
But since baking requires the right amounts of these ingredients to get the right texture, we want to make sure we're adding it accordingly.
Butter

– Butter not only binds the ingredients together but also adds a creamy consistency and

sweet flavor to the brownies. Adding more for a creamier consistency wouldn't hurt. However, adding too much may result in a greasy texture.

Milk

– Milk provides moisture and a delicious mild flavor to the brownie mix.

This helps the cake get a dense and moist texture.

Chocolate

–

We used unsweetened chocolate in this recipe for a mild chocolatey taste. Adjusting its sweetness level would be easier too with your choice of any grated chocolate.

Eggs

– Eggs act as a leavening agent to baked goods.

It also gives the brownie a rich taste and thick texture. If you want a cakey texture, you can add another one, so it will be less dense and soft.

Baking soda

– Another leavening agent for the cake that will give

an airy texture to the brownie leaving it cakey on the outside but soft on the inside.

Cocoa

– You can use any organic or unsweetened cocoa powder.

Add this to the batter and it will give you a chewier brownie. Use as a dusting for garnish for a great deal of bittersweet flavor and presentation too. 
5 Must Do's In Making Brownie Cake Just Like TGI Friday's
Have you figured if you want a gooey, soft brownie? Whatever texture that may be, these tips will help you get there. We'll make sure you could personalize and adjust your brownie's taste and texture just the way you like your homemade brownie cake to be.
Just like TGI Friday's, we're going to use chocolate chips, cocoa powder, and roasted pecans for our main ingredients.
Use high-quality chocolate chips

. We recommend using unsweetened so that its sweetness level could be easily adjusted.

A bittersweet tasting chocolate such as dark chocolate works great for this recipe. It's not too sweet so you can adjust its flavor easier.

 

Cocoa powder makes the difference.

Cocoa gives off the velvety texture and taste of the brownie. Its bitter flavor balances the sweetness of the chocolate and butter.

Be wary of baking time.

The recommended baking time of 20 mins

will give you that soft and slightly moist brownie texture. If you are going for something firm and cakey, you might want to cook it a bit longer in the oven. 

Let it cool.

We know it's hard not to take a bite right after you removed your aromatic brownies from the oven. But, if you want that gooey middle, let it cool to room temperature first for another 2 hours.

Upon cooling the brownie cake, a wire rack could do so much help to prevent the pan from overcooking the cake.
Top your brownie cake with something else. To add flavor to your brownie mix, add some roasted pecans, just like what we did in this recipe. You can also add the ever classic TGI's trademark, vanilla ice cream. Maybe some marshmallows, nuts, dried fruit, or your favorite candy bits can even make it extra fun.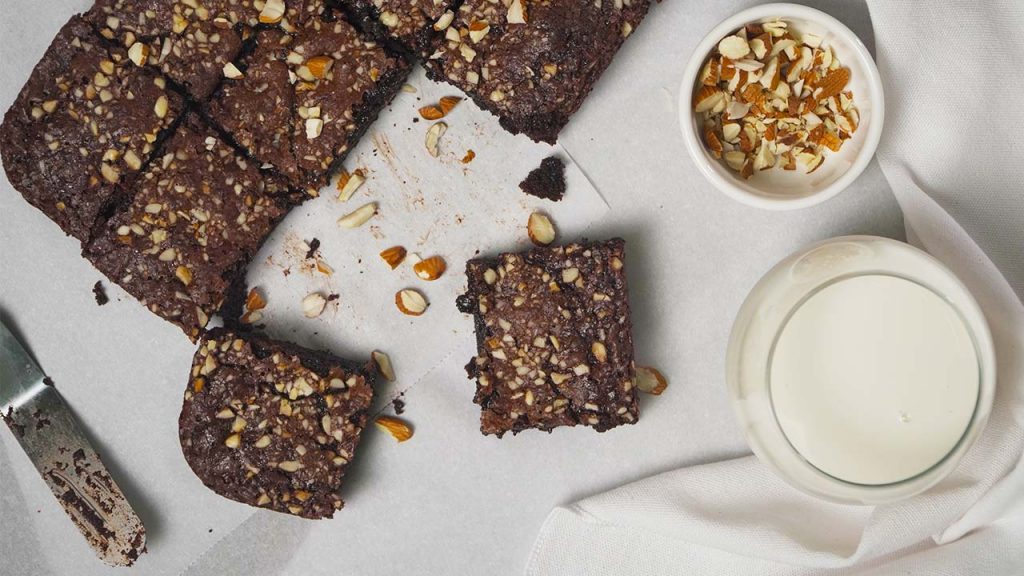 Brownie Cake (TGIF's Brownie Obsession Copycat)
How To Make Copycat Brownie Obsession
Indulge on a moist, gooey, and bittersweet brownie cake, topped with roasted crunchy pecans in this easy-to-bake TGIF copycat recipe.
Ingredients
⅔

cup

brown sugar

½

cup

unsalted butter

¼

cup

milk

6

oz

unsweetened chocolate,

broken into pieces

2

eggs,

large

1

tsp

vanilla extract

⅓

cup

cake flour

¼

tsp

baking soda

½

tsp

salt

cocoa powder,

for dusting

cooking spray
To Serve:
Instructions
Preheat the oven to 350 degrees F. Grease your baking pan with cooking spray and dust with cocoa powder.

Sift together the flour, salt, and baking soda then set aside.

Combine and microwave the sugar, butter, and milk on High for 5 minutes and stir.

Add the chocolate and stir until melted.

Add the eggs and vanilla. Mix until well incorporated.

Fold in your sifted flour into the chocolate mixture until well incorporated.

Pour into your baking pan and add pecans on top.

Bake for 20 minutes until a toothpick comes out cleanly.

Transfer to a baking rack and allow to cool down.

Cut into squares and serve.
Nutrition
Sugar:

10g

:

Calcium:

13mg

Calories:

107kcal

Carbohydrates:

12g

Cholesterol:

24mg

Fat:

7g

Fiber:

1g

Iron:

1mg

Potassium:

40mg

Protein:

1g

Saturated Fat:

4g

Sodium:

71mg

Trans Fat:

1g

Vitamin A:

142IU
Nutrition Disclaimer
Commonly Asked Questions
How to store brownie cake?
Put your baked brownie cake in a container and place it inside the fridge for 3 to 5 days.
Can baking soda be replaced with baking powder?
Yes, you can, but you must adjust the amounts of your baking powder. If the recipe requires you to put a teaspoon of baking soda, simply make it 3 teaspoons of baking powder.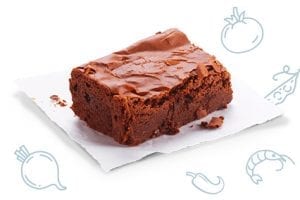 Conclusion
This copycat version of TGI Friday's Brownie Obsession has a velvety and thick chocolatey insides that taste even more incredible with a pecan-covered exterior. It won't be the last time you're going to make this brownie cake.