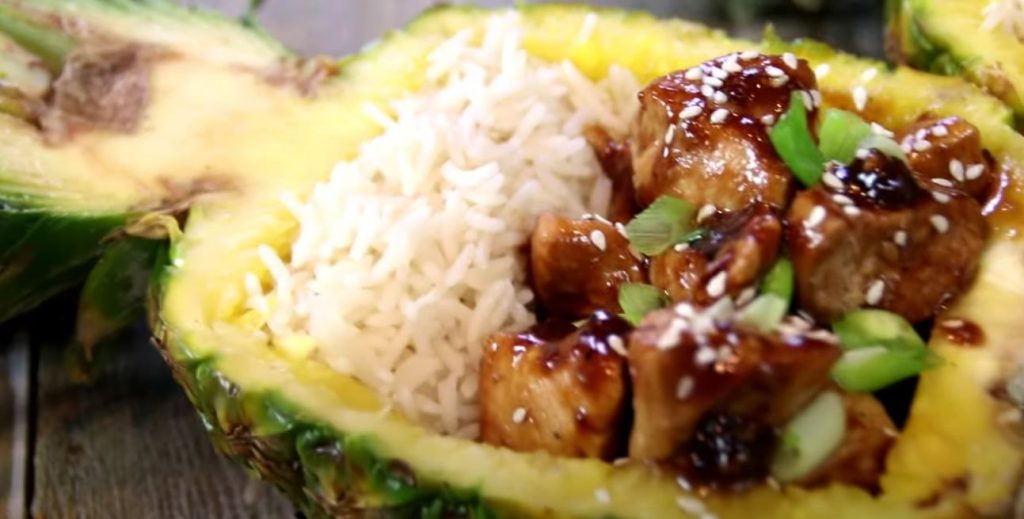 Pineapple Bowl Recipe
How To Make Pineapple Bowl
Savor a sweet and salty bite with this easy and hearty recipe. Shrimp fried rice is made festive by serving it in a pineapple bowl.
Ingredients
10

oz

jumbo shrimp,

peeled and deveined

1

tsp

soy sauce,

plus 2 tbsp soy sauce

¼

tsp

white pepper,

divided half

1

tbsp

fish sauce

1

tbsp

oyster sauce

1

tbsp

palm sugar ,

or honey

½

tsp

curry powder

1

pineapple

5

tbsp

cooking oil

3

eggs,

beaten with 1 pinch of salt and white pepper

5

cloves

garlic,

chopped

½

tsp

ginger,

chopped

3

Thai chili,

chopped, optional

2

oz

carrot and green bean ,

or frozen veggie, diced

¼

cup

raw cashews

4

cups

jasmine rice,

cooked and cold

2

green onions,

chopped
Instructions
Combine shrimp, 1 teaspoon of soy sauce, and ⅛ teaspoon of white pepper in a medium mixing bowl and let it marinate while prepping other ingredients.

Combine remaining white pepper, soy sauce, fish sauce, oyster sauce, palm sugar and curry powder in a small mixing bowl. Set aside.

Cut pineapple in half, lengthwise, leaving the stem intact. Give slits around perimeters. Score flesh of pineapple without cutting through skin. Scoop chunks out with a spoon and reserve 1 cup of pineapple and cut them into smaller chunks.

Heat a large skillet or a wok over high heat and add cooking oil. Pour beaten eggs into smoking hot wok and scramble the egg to cook evenly. Don't scramble too much. Remove egg from wok and set aside.

Heat now-empty-wok over high heat, add 1 tablespoon of oil, and marinated shrimp. Sear and cook shrimp ¾ way, about 2 to 3 minutes. Adjust cooking time depending on size of shrimp. Remove shrimp from wok and set aside.

Heat now-empty-wok over high heat, add remaining oil, garlic, ginger and Thai chili. Stir fry for about 30 to 45 seconds or until it produces an aroma. Now add diced carrot, green beans and cashews. Stir fry for 30 seconds to 1 minute, then add rice and sauce mixture. Stir fry everything together for about 1 to 2 minutes until every single grain of rice is coated with sauce.

Add reserved pineapple chunks and mix them together. Finally, add shrimp, egg, and green onions. Break down egg into rice and keep stir fry for about 1 to 2 minutes until shrimp is fully cooked and reheated again.

Transfer pineapple fried rice into pineapple bowl and garnish with chopped cilantro. Enjoy!