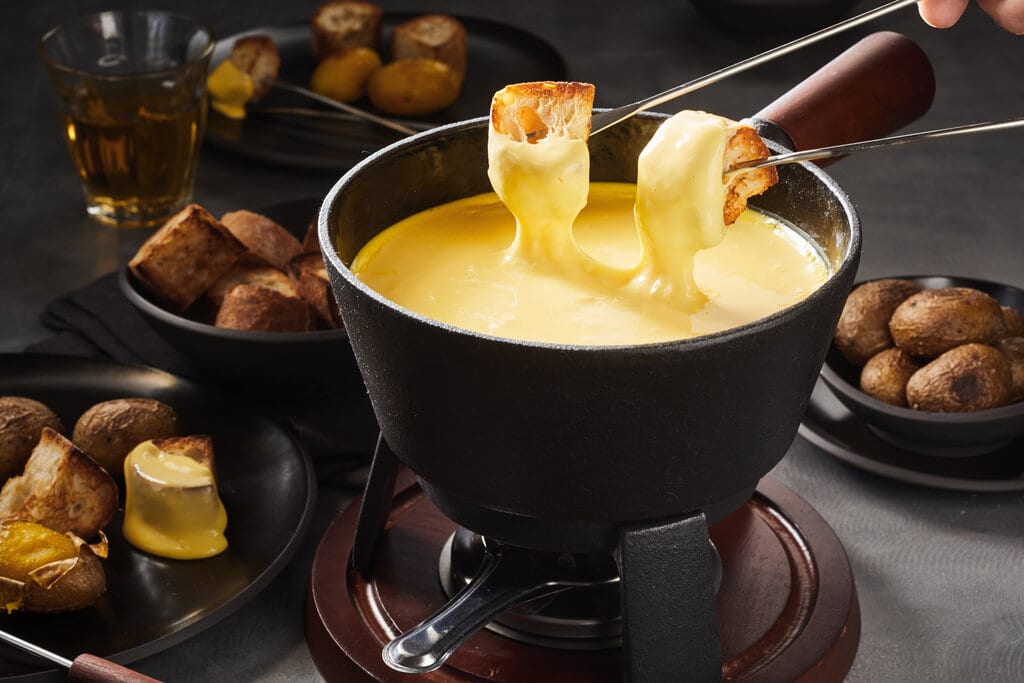 12 Best Fondue Pot Sets To Get In 2022
Picture this: your favorite cheese, seasoned with spices and mixed with a splash of wine, melting deliciously. Seems like a delightful eating experience, right? Such restaurant-level meals like this mouthwatering mozzarella fondue recipe truly liven up dinner time with your loved ones. Luckily, with a high-quality fondue pot at your disposal, you'll get to have a fine-dining experience in the comfort of your own home.
What's even better is fondue pots can do more than keeping melted cheese at a perfect consistency. They also let you enjoy a steaming bowl of broth and can keep delish appetizers warm for hours. 
If you wish to elevate your weeknight dinners with fondue recipes and flavorsome dips, then it's time to invest in the best fondue pot there is out in the market. Here's a list of the best-selling and quality fondue sets for you to choose from, as well as some key factors to consider when buying this cooking equipment.
Our Favorite Fondue Pots At a Glance
12 Best Fondue Pots (A Closer Look)
Whether you want to savor some cheese, chocolate, or meat fondue, there's a fondue pot available for you. However, trying to decide which is best can be pretty difficult as there is a myriad of options available on the market today. So to help you narrow down your choices, we've put together a list of the best fondue pot sets in terms of functionality and overall quality.
What To Look For in a Fondue Pot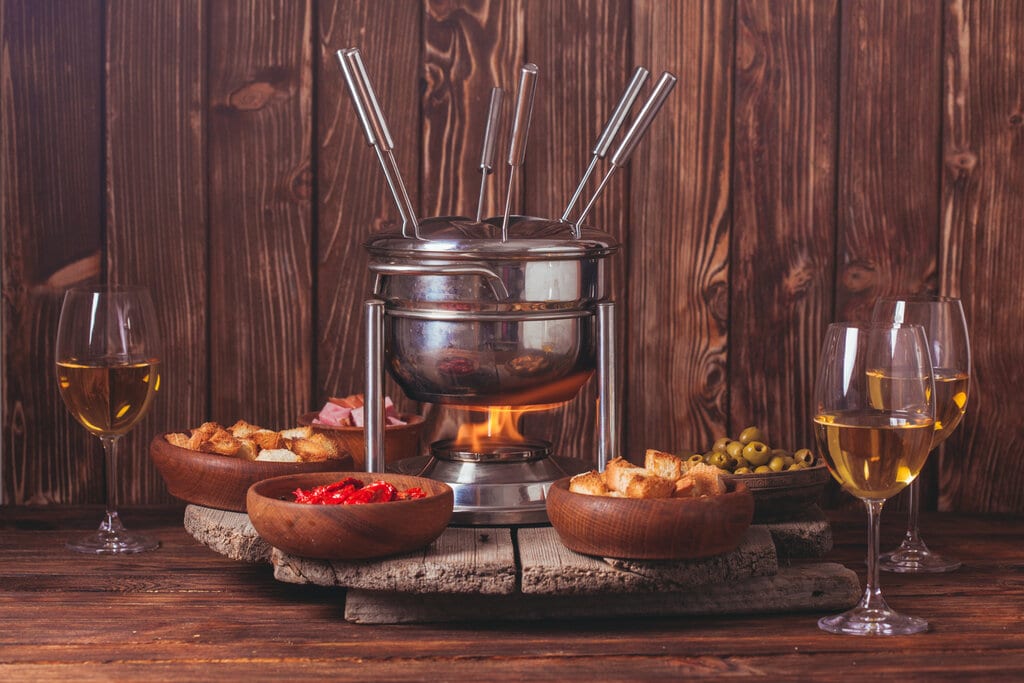 To ensure that you get the best fondue pot to elevate your eating experience, here are some of the factors that you should take into consideration:
Types of Fondue Pots
Basically, fondue pots come in either manual or electric models. 
Some manual fondue pots are set over an open flame and some operate using candles. Newer models have a bottom that uses cooking fuel for heat. Manual pot sets can work anywhere but you'll have to purchase the fuel separately. 
Electric fondue pots, with their automatic features, are also efficient in keeping delicious dips warm for several hours. Most models also allow you to adjust the heat setting depending on the fondue type you're serving. However, you'll be needing an outlet near your dinner tables for this type of pot to operate.
Material 
Some fondue pots are made from ceramic, while some are from metal or stainless steel. Ceramic pots heat slowly but they can efficiently hold heat for hours. Cleaning them is easy, too. Enamel cast iron, on the other hand, hits the spot in terms of durability. They can heat a lot faster than ceramic pots and can also conduct heat extremely well. Pots made from stainless steel heat up easily as well. However, some are thin and your cheese or chocolate might burn.
Capacity
One crucial factor you should also consider is the fondue pot's holding capacity. Always go for the one that perfectly suits your needs. If you're serving any type of fondue for tasty dippers and appetizers, small fondue pots fit the bill. Large pots with at least two to three-quart capacity, on the other hand, are meant for parties and big gatherings.
Safety Measures
If you want pot sets that can allow you to control the heat setting, opt for modern electric pot sets with adjustable temperature control. Also, you should check if the pot includes an ergonomic or cool-touch handle for easy handling and lifting.