If you're hosting a big casual party with friends, you're going to need an appetizer that will wow them. Take a chance on our mozzarella fondue recipe! With this cheese fondue only made in five minutes, you don't have to worry about being pressed for time. Fondue isn't always easy to make, so you can definitely impress your friends with this recipe. So read on as we teach you how to make cheese fondue using mozzarella with this easy fondue recipe!
Fondues have been a great appetizer to bring a whole group of people together. It's essentially a fondue pot filled with swiss cheese mixture served on top of a stove with the heat on. The continuous heat will keep the cheese fondue warm and creamy. You then use long-stemmed forks and dip bread and other sides into the mixture. But fondues aren't just catered to cheese these days. There are also sweet fondues, particularly chocolate, to quench any sweet cravings. The use of fondue certainly comes as a pretty fun appetizer to have with party guests.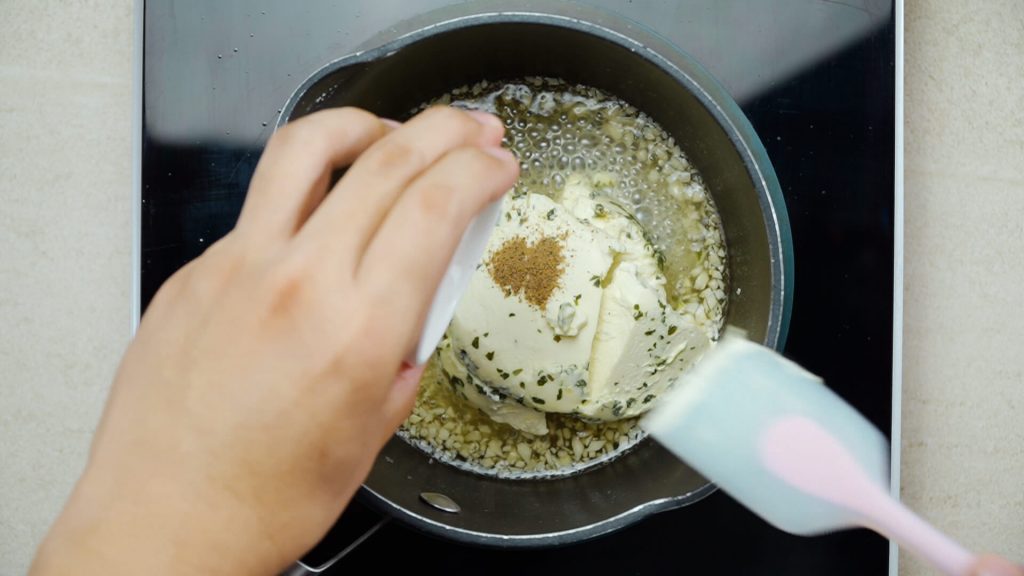 How to Make Mozzarella Fondue
Mozzarella fondue recipes vary depending on the maker's preference. Our take on the cheese fondue is sure to be the simplest and most delightful one out there.
Without the extra effort of mixing in herbs and spices, we're using a simple garlic and herb cheese spread for this recipe. This quick cheat is also another way to keep you from grating cheeses into your pot! But our fondue is quite versatile, so you can definitely switch things up by adding some of your favorite cheeses into the mix if you wanted. And speaking of cheeses, this fondue is made unique with its component of mozzarella cheese. It gives it that satisfying cheese-pull factor you won't often get from other cheese fondues. Plus, it provides a light sprinkling of flavor and texture to enhance the cheese spread. But mozzarella isn't the only one that will bring character to this pot.
Many cheese fondue recipes require wine or any acidic liquid. This ingredient will help smoothen your fondue and give it an even texture. For that, we've used white wine. But if you're not fond of alcoholic drinks, worry not! We've got a few alternatives in our CAQ section down below that will help you with that. Keeping in mind all of these little tricks, you're sure to get the best fondue pot to serve!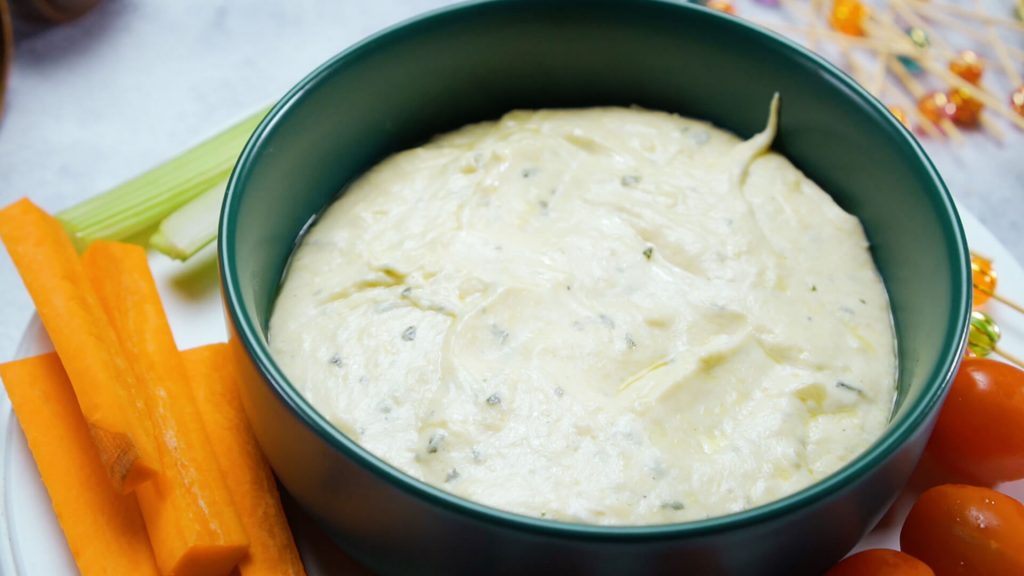 What to Dip in Cheese Fondue
Everyone has their preferred cheese fondue dippers. But for this light cheese fondue recipe, we recommend a few selections. You can try dipping bread, boiled potatoes, carrots, and even apples or pears. For more filling accompaniments, try dipping some bite-sized roasted lamb shoulders or pretzels. There is no rule to what you should or shouldn't dip in a mozzarella fondue. At the end of the day, whatever helps you enjoy your food matters most.
We can't wait to see you try out our take on the best fondue recipe! If you're looking for more cheese fondue recipes, try our Copycat Gouda Cheese Fondue. For the best multi-purpose side to dip in your fondue, try out our Juicy Crockpot Steak recipe. Cook them by the batches and cut them up into bite-sized pieces for your fondue, or as your upcoming main meal. And we did say that not all fondues are savory these days. So for a sweeter version, indulge your guests in some Chocolate-Raspberry Fondue paired with fudgy brownie dippers.
This fondue recipe is one appetizer that will please guests and friends alike! Try it out for your next dinner, fondue party, or casual night in with friends.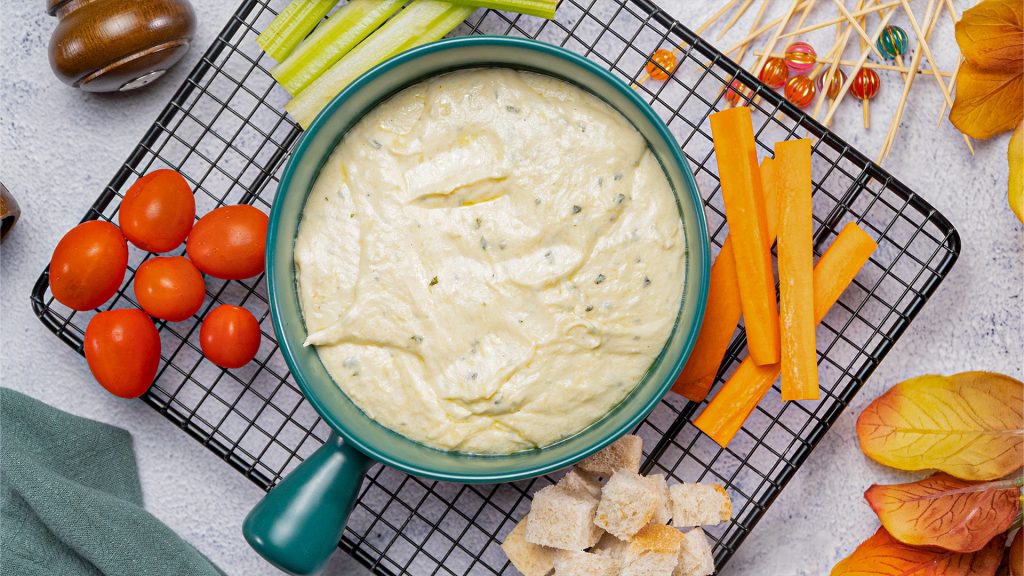 5-Minute Mozzarella Fondue Recipe
How To Make 5-Minute Mozzarella Fondue
A mozzarella fondue recipe that's light, delicious, and quick to make! It's made flavorful and easy with a garlic and herb cheese spread, mixed in with some wine for added umami.
Ingredients
1

clove

garlic,

minced

¼

cup

white wine

1

pinch

nutmeg

½

cup

garlic and herb cheese spread

½

cup

mozzarella cheese,

grated
Instructions
Heat a small deep pot. Then, add in the garlic and white wine.

Bring them to a simmer over medium heat.

When it begins to bubble, whisk in the nutmeg and cheese spread.

Let the cheese mixture melt before adding in the mozzarella.

Keep stirring for an additional 1 minute, or until the mozzarella has melted.

Serve with sides of bread, carrots, celery stalks for dipping, and enjoy!
Recipe Notes
If the fondue is too thick, add 1 tablespoon of milk at a time, whisking constantly, until desired consistency is reached.

Fon-Do:

Prep your ingredients for dipping ahead of time! This is especially helpful for when the last thing you need to do is make your fondue.

Fon-Don't: Remember not to o

vercook the cheese by making sure to keep your heat on low at all times. This will gradually cook the cheese and at the same time keep them smooth and stretchy for dipping.
Nutrition
Sugar:

1g

:

Calcium:

148mg

Calories:

310kcal

Carbohydrates:

7g

Cholesterol:

84mg

Fat:

26g

Fiber:

1g

Iron:

1mg

Monounsaturated Fat:

2g

Polyunsaturated Fat:

1g

Potassium:

50mg

Protein:

9g

Saturated Fat:

15g

Sodium:

484mg

Vitamin A:

190IU

Vitamin C:

1mg
Nutrition Disclaimer
Commonly Asked Questions
What other cheese can I use if I don't have cheese spread?
The cheese spread for this scrumptious cheese fondue recipe comes as the base flavor. However, if you're looking for other cheeses – we recommend a few combinations. For the classic swiss cheese mix, try a mixture of gruyere, emmentaler, and appenzeller. For a simpler mix, try combining cream cheese and cheddar. For our vegan friends, you can try to make a dairy-free bechamel sauce using coconut or soy milk to get that same cheesy texture and flavor. But there are more cheeses you can use in place, so feel free to experiment to your liking!
What kid-friendly alternative is there for the white wine?
The white wine used for this fondue recipe will have cooked out before mixing in the cheese. But for a truly kid-friendly version, try using milk instead or a 50-50 combination of milk and chicken or vegetable broth. Make sure to simmer this gently so as to avoid the milk from burning.

Can I make this fondue recipe ahead of time?
You definitely can! To simply reheat your pot of mozzarella fondue, cook over low heat for five minutes or until the cheese starts to smoothen into your desired consistency. You can also try to reheat this in the microwave in 30-second intervals, making sure to stir the mixture after every interval.

Why is my cheese not melting?
It is likely because you did not heat your wine and garlic mixture long enough. To avoid having clumpy and unmelted cheese, let the wine heat on low for a few more minutes. The heat from the wine will help the cheese and then, the mozzarella, melt in the process.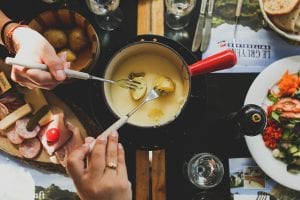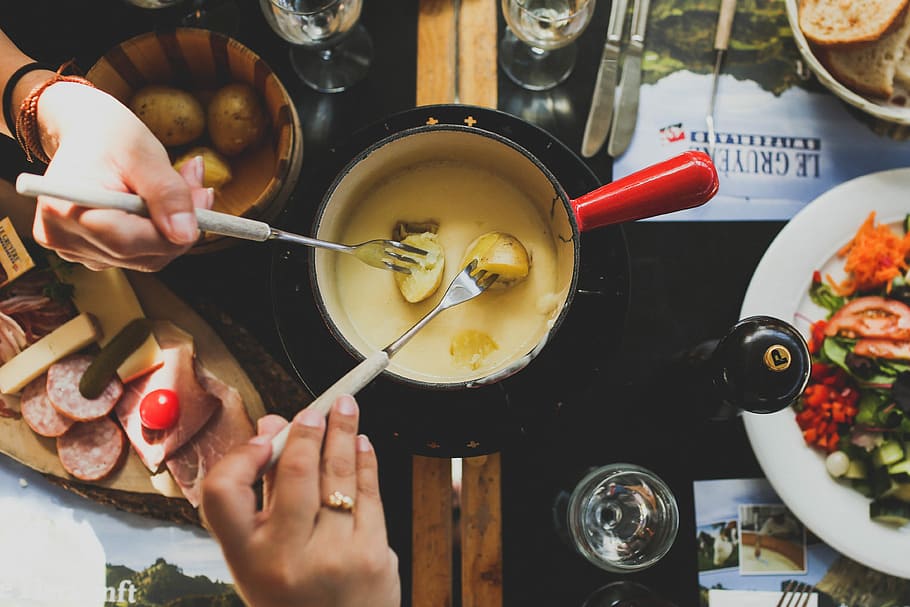 Conclusion
Nothing will satisfy your cheese cravings like a good cheese fondue recipe! This stretchy mozzarella fondue guarantees that satisfying cheese pulls with exquisite flavors. Let your friends or guests dip anything that tickles their fancy into this fondue.