Enjoy the delicious combination of seafood and protein-rich meat with our copycat recipe of Applebee's Bourbon Street Chicken & Shrimp. This soulful, Cajun-seasoned dish is a fan-favorite at popular American restaurant Applebee's. On top of being deliciously marinated and exploding with flavors, this dish can actually be quite a healthy recipe as it is keto-friendly and also gluten-free.
Bourbon Street Chicken and Shrimp
The Bourbon Street Chicken & Shrimp dish was added to Applebee's menu along with the Cajun Shrimp Pasta, as part of the restaurant's "Bourbon Street-inspired menu".
For those who don't know, Bourbon Street is a popular tourist destination in New Orleans. Many love and visit it for its rich history, with attractions like the iconic Bourbon street bars and restaurants. Many know it to be a festive "life of the party" town for its neon lights, music-filled alleyways, and beautiful balconies.
Bourbon Street is also known for its impressive culinary scene! This street is home to the South's bayou-style of cooking, most popular for bold, well-spiced, and flavorful dishes like chicken and shrimp gumbo as well as jambalaya.
The recipes for these dishes cook seafood and meats like chicken in the most riveting and tasteful way! This is why it's not surprising that something as delicious as this chicken and shrimp meal came from the same place.
Applebee's Bourbon Street Chicken and Shrimp
Applebee's prides itself on serving authentic, bayou-style dishes with their Bourbon Street-inspired menu. And in this copycat recipe, we try to stick to the original version as faithfully as possible. The original dish comes with appetizers like a spinach and artichoke dip, boneless wings, and mozzarella sticks. And with our recipes, you can now easily make these appetizers too!

Tip: The original Applebee's dish is served along with fried red potatoes and sauteed onions and mushrooms. Our version of this recipe doesn't include these sides, but you can still include them if you want! Pair this chicken and shrimp meal with our
rosemary red potatoes
and
sauteed mushrooms
.
How To Make Applebee's Bourbon Street Chicken And Shrimp
In this recipe, we'll show you how to make an Applebee's-inspired soulful Bourbon Street Chicken and Shrimp dish!
For this recipe, we're using some bourbon whiskey to add a strong, bold taste to the delicious marinade, which tops even the best seasoning for shrimp and chicken. So, do remember that this meal has alcohol content (albeit small) before serving it to the kids and elderly.
Granted, this may not be an everyday type of cuisine, but this delicious dish spices up the dinner table in ways you can't imagine! So, it's a useful recipe to have around if you want to try something new. This street chicken and shrimp dish is the perfect dinner or lunch meal. It's great for days when you're just craving for something really rich and flavorful. Even more, it's incredibly easy to make!
After the marinade sits for an hour, the actual cooking takes just around 20 minutes. So, it's a quick and easy recipe that's perfect for busy working parents that have little time to spare for whipping up meals for loved ones. If you liked the delicious combination of seafood and meat in this recipe, you can check out our other chicken and shrimp recipes. You can make Cajun chicken and shrimp alfredo and even chicken and shrimp jambalaya!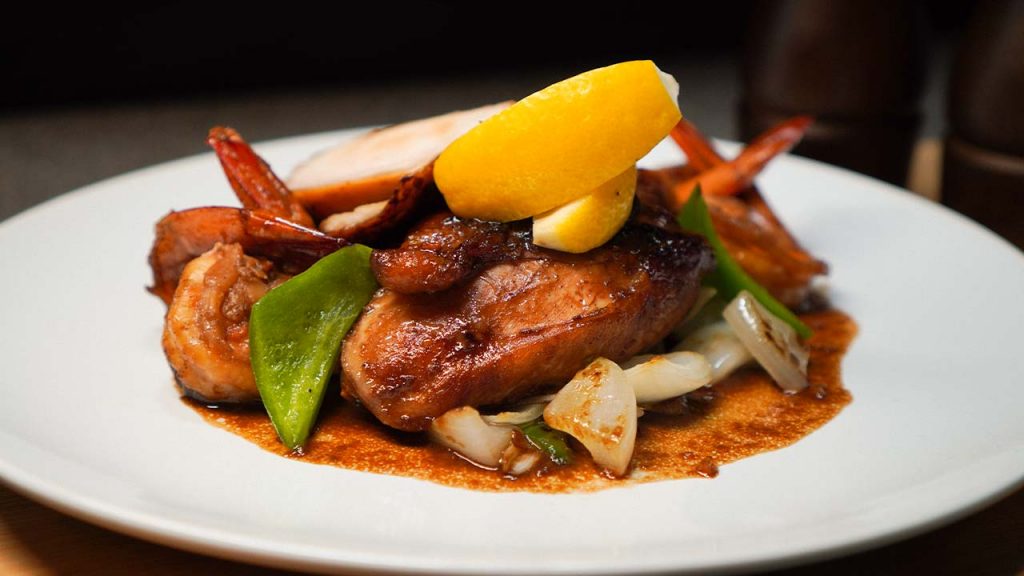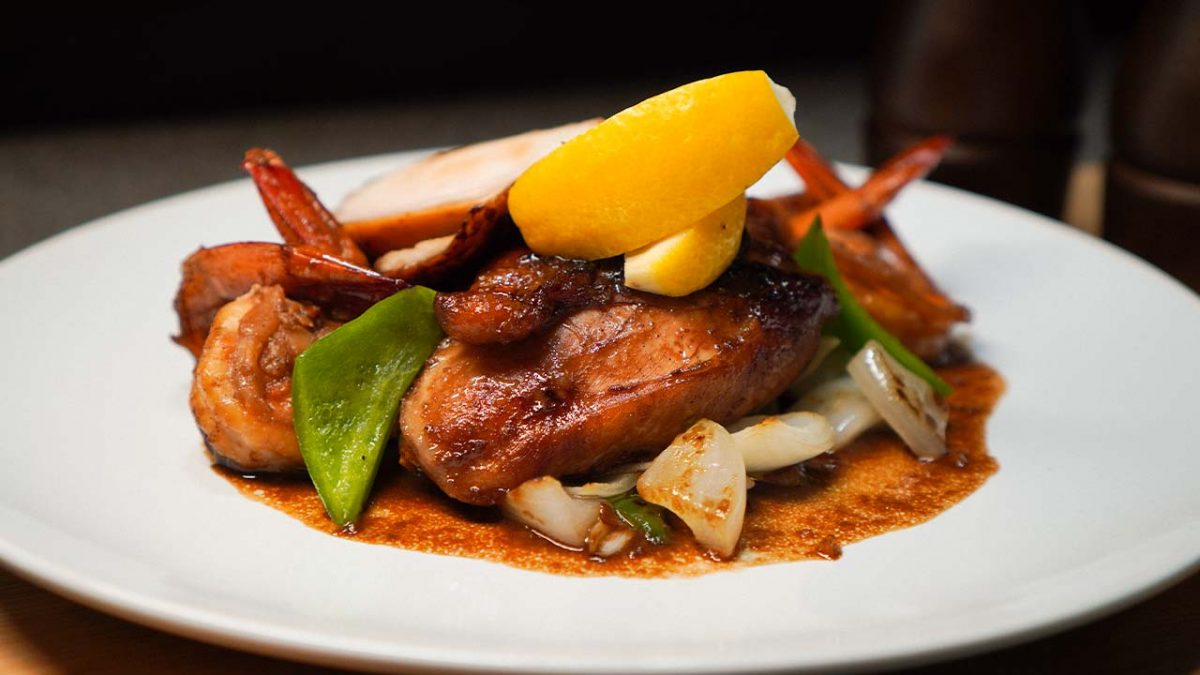 Bourbon Street Chicken & Shrimp Recipe
How To Make Bourbon Street Chicken & Shrimp
Cajun-seasoned Chicken and shrimp are marinated to soulful perfection in this copycat Bourbon Street Chicken & Shrimp Recipe. This Applebee's menu favorite shows off the South's flavorful, bayou-style cooking!
Ingredients
For Chicken and Shrimp Marinade:
¼

cup

bourbon whiskey

2

cloves

fresh garlic,

minced

¼

cup

soy sauce

¼

cup

olive oil

½

cup

brown sugar
For Bourbon Street Chicken & Shrimp:
1

lb

shrimp,

frozen or fresh, peeled with tail-on

1

lb

chicken breast,

boneless and skin-on

2

tbsp

olive oil,

for searing chicken

2

tbsp

olive oil,

for searing shrimp
For Onion and Pepper Sauce:
2

tbsp

olive oil

1

yellow onion,

thickly sliced

1

green bell pepper,

thickly sliced
For Garnish:
Instructions
Chicken and Shrimp Marinade:
Add the bourbon whiskey, fresh garlic, soy sauce, olive oil, and brown sugar in a bowl. Whisk well to combine.

Add the shrimp and chicken and use tongs to coat evenly.

Chill the marinated meat in the refrigerator for 1 hour.
Bourbon Street Chicken and Shrimp:
Warm 2 tablespoons of olive oil in a large skillet over medium heat.

Place the chicken on the skillet and sear evenly on both sides until brown.

Warm 2 tablespoons of olive oil on a separate pan and evenly sear the shrimp. Save the marinade for later use.

Transfer both the chicken and shrimp to a foil-covered baking pan and layer the meat.

Season with a pinch of salt and pepper to taste.

Preheat the oven to 360 degrees F.

Roast the meat for 8 minutes.
Onion and Pepper Sauce:
Saute the yellow onion and green bell pepper in olive oil until tender. Set aside.

Add the leftover marinade and bring it to a boil. Allow the sauce to reduce briefly for around 5 minutes. Whisk the sauce occasionally.

Layer the meat over the onion and pepper sauce. Serve with lemon wedges and enjoy!
Nutrition
Sugar:

29g

:

Calcium:

208mg

Calories:

715kcal

Carbohydrates:

32g

Cholesterol:

358mg

Fat:

39g

Fiber:

1g

Iron:

4mg

Potassium:

670mg

Protein:

49g

Saturated Fat:

6g

Sodium:

1833mg

Vitamin A:

144IU

Vitamin C:

32mg
Nutrition Disclaimer
Frequently Asked Questions
What is Bourbon Street?
Bourbon Street is a famous, historically-significant area in New Orleans. Some of New Orleans' most famous restaurants like Galatoires first started out in Bourbon Street. Asides from main dishes like Chicken and Shrimp, many popular cocktail drinks like the hurricane and resurrection cocktail, as well as the hand grenade, first originated in Bourbon Street.
Is Bourbon Street Chicken and Shrimp healthy?
This Applebee's-inspired dish is popular for being keto-friendly and gluten-free. Its main ingredients, chicken and shrimp, are also low-fat and low-calorie foods that are rich in protein. And in this recipe, even the method of cooking the meats is healthier. Many studies point out that baking food is a lot healthier compared to grilling or frying. There are lesser chances of losing the foods' nutrients when baking or roasting meat. On the other hand, grilling can produce potentially harmful chemicals that may interact with your food. In conclusion, health-conscious individuals have nothing to worry about when eating this good 'ol South-style roasted dish of ours.
How long will this meal last?
Cooked shrimp and chicken can last for 3 to 4 more days when stored in the fridge. On the other hand, storing cooked chicken in the freezer using an airtight container can extend its shelf life to about 4 months. Meanwhile, frozen shrimp can last for 9 to 12 months in the freezer. To be on the safe side, eat your leftovers at most 3 to 4 days after cooking this meal.
How to reheat Bourbon Street Chicken & Shrimp dish?
We suggest reheating the shrimps not more than once.  So, only reheat the amount of shrimp you're going to eat for now, and save the rest for later. You can use an oven, microwave, or skillet to reheat your meal. Reheat it in the microwave by warming it for 1 to 2 minutes while placed in a microwave-safe dish. Reheat it in a skillet by warming it up in preheated oil over medium heat. Cook your dish for 2 to 3 minutes, or until it's properly heated through. You can also reheat it in a 300 degrees F oven by baking it for 20 minutes, or until the chicken's center reaches 165 degrees F in temperature.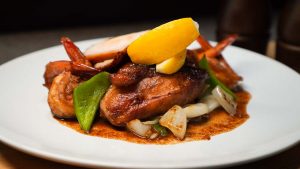 Conclusion
This flavorful copycat meal is one you shouldn't miss! Applebee's rich, soulful Bourbon street-inspired Chicken and Shrimp Recipe is perfect for serving at celebrations, or for simple days when you're craving for bold and rich tastes. It's also quick to prepare and easy to make!