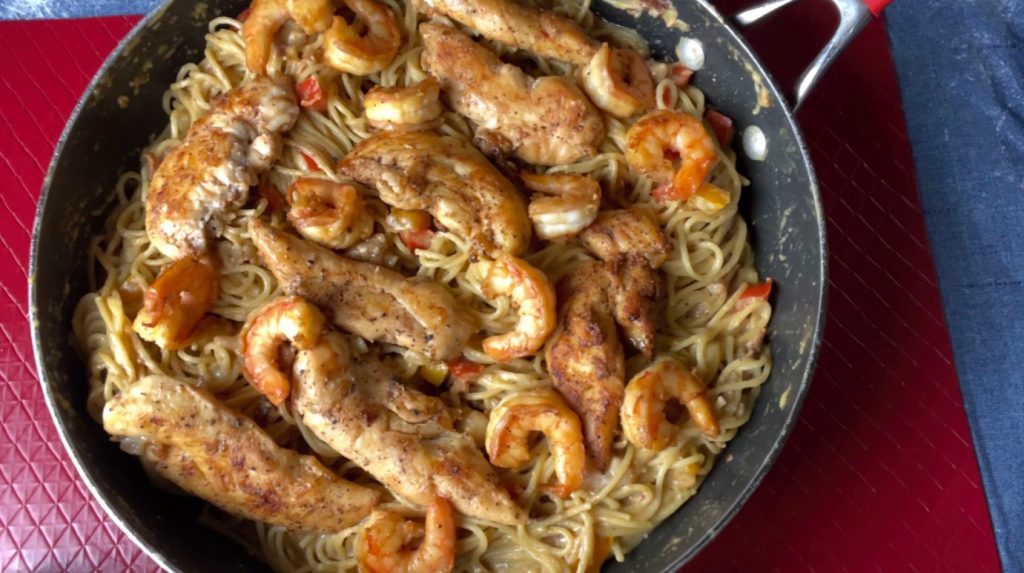 Chicken And Shrimp Carbonara Recipe
My family consists of big pasta lovers so whenever my birthday or any holiday comes, my mom always asks me what pasta she should cook for us and I would always answer chicken and shrimp carbonara. After trying it at Olive Garden, I knew my mom could easily recreate the chicken and shrimp pasta, so I requested for it. Being the best mom that she is, she came up with this perfect homemade Olive Garden carbonara recipe. The carbonara sauce is absolutely smooth and creamy and the dish itself is savory with a hint of spice from the red peppers.
Chicken and shrimp is such a good combination of protein. You get the meaty flavor from the chicken while having that distinct seafood taste from the shrimp. The white sauce is made extra creamy with milk, heavy cream, and parmesan cheese. For the pasta, my mom used bucatini pasta noodles. But since this is a baked recipe, penne might also work. This pasta dish has a simple carbonara sauce that makes it smooth and creamy and the dish itself tastes savory with a kick from the roasted red peppers.
Other ingredients that make this chicken shrimp carbonara special are bacon bits, roasted red pepper, and cheeses like parmesan and mozzarella. This chicken and shrimp carbonara Olive Garden-style is definitely one of the most filling and loaded pasta recipes I ever tried! Serve it for a restaurant-quality, quick, and easy lunch or dinner.
How To Make Chicken And Shrimp Carbonara
You can't go wrong with this savory and creamy baked chicken and shrimp carbonara. The meaty and seafood flavor is a loaded combination, made better with tons of cheese, bacon, and milk, just like Olive Garden.
Ingredients
1

cup

extra virgin olive oil

1

cup

hot water

1

tbsp

Italian seasoning

1

tbsp

garlic,

chopped, plus 3 tsp more

3

lbs

chicken strips,

or 1 large shrimp

1

cup

butter,

plus 1½ tbsp more

3

tbsp

bacon bits,

plus ¼ cup more

3

tbsp

all-purpose flour

1

cup

parmesan cheese,

grated, plus 3 tbsp more

4

cups

heavy cream

4

cups

milk

½

tsp

black pepper

¼

tsp

salt

10

oz

bucatini, fettuccine, spaghetti, linguine, or any long strand pasta,

cooked

3

tbsp

romano cheese,

grated

1¾

cups

mozzarella cheese,

shredded

½

cup

panko breadcrumbs

2

tbsp

parsley,

chopped

1½

cups

roasted red peppers,

cut into small strips
Instructions
Preheat the oven to 350 degrees F.

Whisk extra virgin olive oil together with hot water, seasoning, and 1 tablespoon of chopped garlic. Add the chicken strips. Cover and refrigerate for at least 30 minutes.

Melt 1 cup of butter in a large saucepan over medium heat. Add 1½ teaspoons of garlic and 3 tablespoons of bacon bits. Sauté for 5 minutes, stirring frequently.

Add flour, 1 cup of Parmesan cheese, heavy cream, milk, pepper and salt to your bacon/butter base. Use a wire whisk to whip all ingredients together. Bring to a boil. Reduce heat and allow to simmer.

Combine Romano, remaining Parmesan, mozzarella, panko, remaining chopped garlic, remaining melted butter and chopped parsley in a mixing bowl. Stir until well blended. Set aside.

Preheat a large skillet. Add chicken to pan. Add red peppers and remaining bacon bits. Cook for 3 more minutes or until cooked on both sides and internal temperatures reach 165 degrees F for chicken and 155 degrees F for shrimp.

Add sauce. Stir until well blended.

Place hot, precooked pasta on a larger serving platter. Top with chicken and sauce. Evenly distribute topping over top of chicken. Place in the oven until the top is golden brown.

Serve immediately and enjoy.
Nutrition
Calories: 

1833.85kcal

Fat: 

143.30g

Saturated Fat: 

65.15g

Trans Fat: 

1.02g

Monounsaturated Fat: 

53.80g

Polyunsaturated Fat: 

16.36g

Carbohydrates: 

74.45g

Fiber: 

3.90g

Sugar: 

13.13g

Protein: 

65.73g

Cholesterol: 

387.17mg

Sodium: 

2181.37mg

Calcium: 

859.98mg

Potassium: 

1107.36mg

Iron: 

3.07mg

Vitamin A: 

940.03µg

Vitamin C: 

47.63mg