If you happen to miss the crispy and flavorful, Southern-style popcorn shrimp from Popeyes, then you're in luck! The Popeyes menu may be known for its addicting Popeye's chicken dishes like their classic Crispy Fried Chicken. But their seafood meals are not one to miss out on either!
In this recipe, we'll show you how to cook popcorn shrimp and serve it just like Popeyes! This popular seafood dish of theirs is a menu-favorite among foodies. That's because it's as delicious as it is filling, with the popular American food chain making sure to serve it in huge servings! Who wouldn't love real shrimp loaded with herbs and spices and crispy-fried in Southern-style breading?
So don't worry if you're craving for some well-spiced crispy and tender shrimp, but don't have the time or will to drop by the nearest Popeyes. Because we've made this easy copycat recipe especially for you!
What Is Popcorn Shrimp?
What is popcorn shrimp, to begin with? Also, why is it called popcorn shrimp?
To keep the long story short, popcorn shrimp is a type of breaded shrimp that's seasoned with spices, then deep-fried until crispy, golden-brown. It's served along with all kinds of delicious dipping sauces, from ranch to spicy chili.
The story behind its name is unclear. Although, the dish itself looks similar to popcorn since the shrimp are small and bite-sized pieces. De-shelling or peeling small shrimp also became a famous culinary practice because it makes shrimp easy to be eaten by the handfuls. Now, different restaurants offer their own versions of this tasty and addicting seafood appetizer!
Like many delicious meals today, popcorn shrimp can be traced back to Cajun southern cuisine, just like the well-loved gumbo dish. However, the popular American restaurant, Red Lobster, also claims to have first invented popcorn shrimp. At the very least, we're grateful to whoever did invent this crispy seafood dish. It may seem simple and is easy to cook. However, nothing beats the joy of eating crunchy and well-seasoned popcorn shrimp! 
Popeye's Trademark Crunchy Popcorn Shrimp
Although Popeyes is known for its chicken dishes, it also does seafood quite well. And some would say that they do their shrimp meals as good as seafood restaurants! They make sure to cook the shrimp until it's tender, but crispy to the bite.
Each plateful is also served with one of Popeyes sauces, a delicious Creole cocktail dipping sauce inspired by New Orleans and Louisiana cooking. If you're wondering what type of coating is on Popeyes Popcorn Shrimp, it sure is perfectly seasoned for a delicious flavor that compliments the sea flavors of the shrimp.
True to the dish's Southern-cuisine roots, this Popeyes seafood meal is well-seasoned with Louisiana herbs and spices. These spices are also what make the shrimp turn to a beautiful, golden brown color when deep-fried to perfection. You won't have to miss this Popeye's staple because you can easily make it any time you want with our copycat recipe!
How To Make Popcorn Shrimp Like Popeyes
If you want to faithfully recreate the Popeyes eating experience, then you're in luck! This copycat recipe of ours makes sure of that by using the best, quality ingredients and the clearest cooking instructions. We'll show you how to make popcorn shrimp, just like Popeyes does! Just follow our simple instructions and your version of this dish might even turn out better than Popeyes'.
Here's a handy tip to keep in mind when cooking popcorn shrimp! Be sure to have a frying thermometer with you. This makes sure that the oil is at the right temperature because having too hot oil can burn your shrimp. On the other hand, when your oil is too cold, the shrimp tends to turn out greasy as it absorbs too much oil. 
While this seafood meal is quick and easy to do, its flavors are beyond ordinary. If you need a heavy snack or a quick, scrumptious lunch or dinner meal, then this seafood dish is perfect.

Once paired with the right sides, like crunchy french fries and healthy green and vegetable salads, the eating experience is made a whole lot better. Don't forget to check out or CAQ section down below for more pairing suggestions and tips in making this recipe! So what are you waiting for? Go ahead and try our Popeyes Copycat Popcorn Shrimp Recipe!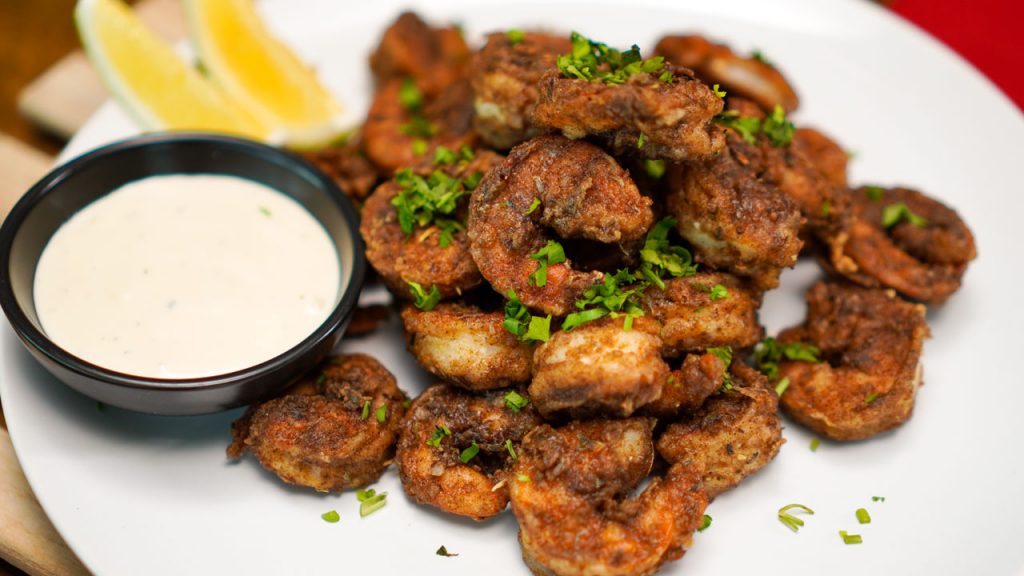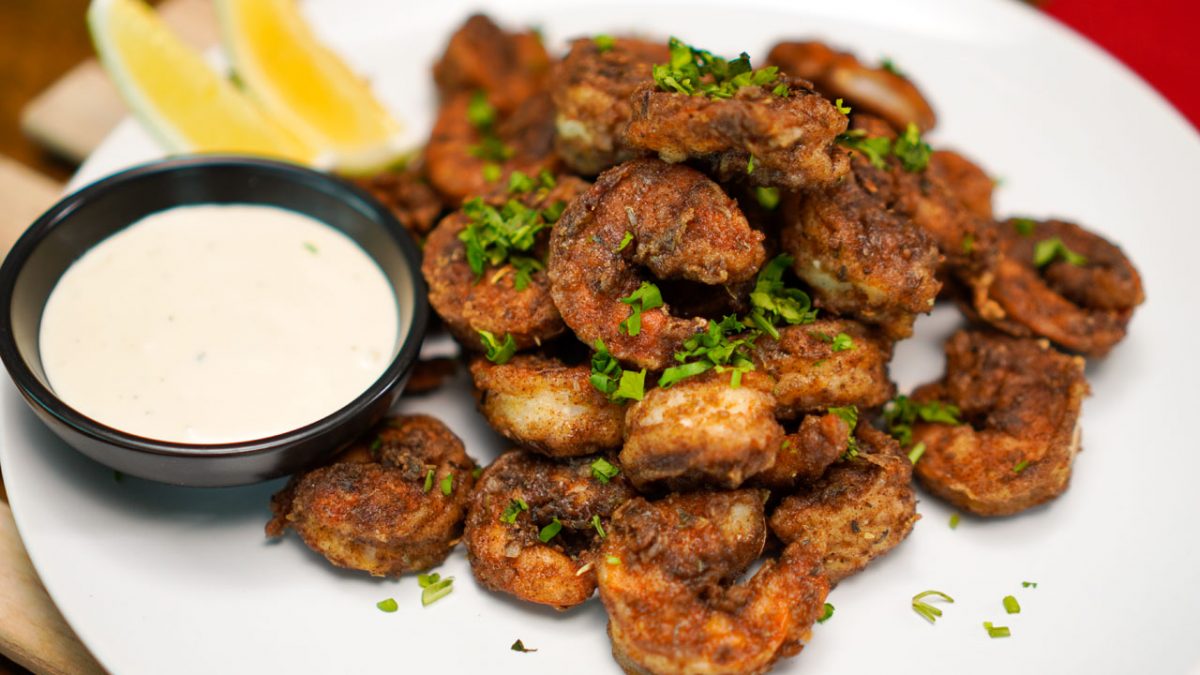 Popeye's Copycat Popcorn Shrimp Recipe
How To Make Popeye's Copycat Popcorn Shrimp
Crispy, tender shrimp seasoned with spices reminiscent of Southern-style cooking, this scrumptious popcorn shrimp dish from Popeyes is the perfect seafood meal. Recreate it in this easy recipe!
Ingredients
1

lb

shrimp,

peeled and deveined

2

eggs

vegetable oil,

for frying

⅓

cup

all-purpose flour

1

tbsp

onion powder

1

tbsp

garlic powder

2

tsp

sea salt

1

tbsp

black pepper

1

tbsp

white pepper

2

tsp

cayenne pepper

2

tsp

paprika

1

tbsp

Italian Seasoning

salt and ground black pepper,

to taste
For Serving:
any sauce of your choice,

preferably Creole cocktail sauce

1

tbsp

cilantro,

chopped
Instructions
Sift together all of your dry ingredients in a large bowl, then mix your Italian Seasoning & sea salt.

In another bowl, whisk the eggs.

Dip the shrimp in egg, then coat using the flour mixture.

Heat up your oil, & deep fat fry the shrimp in small batches until crispy & golden brown, roughly 3 to 5 minutes each batch.

Once the shrimp are a dark golden brown, transfer to a paper towel covered plate and allow to cool.

Garnish with cilantro & a sauce of your choice. Serve immediately.
Recipe Notes
We cook the shrimp in batches to make sure that the seafood gets cooked all the way through. 

Crowding the frying pan with too much food can have an impact on the heat since it can lower the temperature. If this happens, the oil won't be hot enough to cook the seafood properly. So, it's better to be patient and to fry in batches than to do so all at the same time.
Nutrition
Sugar:

1g

:

Calcium:

429mg

Calories:

484kcal

Carbohydrates:

30g

Cholesterol:

735mg

Fat:

15g

Fiber:

5g

Iron:

9mg

Potassium:

464mg

Protein:

56g

Saturated Fat:

8g

Sodium:

4158mg

Vitamin A:

1183IU

Vitamin C:

19mg
Nutrition Disclaimer
Frequently Asked Questions
What kind of shrimp should I use for popcorn shrimp?
You should make this dish with very small, bite-sized shrimp. In determining shrimp size, the larger the count size the smaller the shrimp, which is what we prefer for this recipe. While you can use just about any kind you prefer, we suggest using rock shrimp or shrimps with a count size of 61/70, 51/60, or 41/50. Just remember that different types of shrimp vary in cooking time. So, it will be best to watch them carefully as they fry!
What sauce is good with Popeyes popcorn shrimp?
The original Popeyes dish is served with Creole cocktail dipping sauce. However, if you don't have any available, you can also settle with some ranch sauce, sweet chili sauce, or spicy honey sauce.
How long do I have to cook popcorn shrimp in the air fryer?
If you want to make this seafood dish healthier, you can cook them in the air fryer instead of deep-frying them in vegetable oil. To air fry your popcorn shrimp, preheat the air fryer to 400 degrees F for 5 minutes. Then, spritz the basket surface with cooking spray.  Cook the shrimp in small batches, just like you do when deep-frying. Cook each batch of shrimp for 4 minutes. Don't forget to spritz cooking spray on top of the battered shrimp as well. Let them cool then garnish as in our recipe instructions.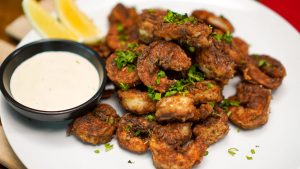 Conclusion
Make your own Popeyes popcorn shrimp with our quick and easy copycat recipe! Recreate the crunchy and flavorful, Southern-style shrimp all in the comfort of your own kitchen.