Craving for some Louisiana classic? Well, you no longer have to drive all the way to the Pelican State to have their famous popcorn shrimp. After all, even fast-food restaurants like Popeye now serve popcorn shrimp. 
But what if we tell you no longer have to call for Popeye's delivery or wait in line for a plate of fresh popcorn shrimp? Yes, you read that right. Now, you can prepare this Popeye's-inspired popcorn shrimp dish in the comfort of your own home.
This delicious popcorn shrimp dish is absolutely perfect for lunch. Follow these simple steps and we can guarantee that you'll have a memorable gastronomic experience.
Popeye's Copycat Popcorn Shrimp Recipe
Ingredients
1

lb

shrimp

peeled and deveined

1/3

cup

flour

1

tbsp.

onion powder

1

tbsp.

garlic powder

2

tsp.

sea salt

2

tbsp.

black pepper

2

tbsp.

white pepper

2

tsp.

cayenne pepper

2

tsp.

paprika

2

tsp.

oregano

2

tsp.

thyme

6

eggs

1

tbsp.

Vegetable oil

for frying
Instructions
Sift together all of your dry ingredients in a large bowl. In another bowl, whisk together your eggs.

Heat about 1-2 inches of oil in a frying pan to 350 degrees.

Dip each shrimp in the egg, then coat in the flour mixture.

Fry the shrimp in small batches for 20-25 minutes each.

Once the shrimp are a dark golden brown, transfer to a paper towel covered plate and allow to cool.
Commonly Asked Questions
What Goes Best With Popcorn Shrimp?
Popcorn shrimp is such an amazing appetizer that you can serve it with various dishes. Our personal favorites are any type of pasta and soup. You can also serve it with a cheesy dip for added saltiness.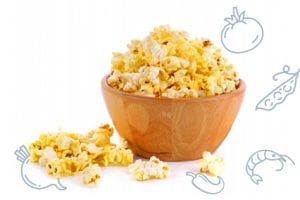 Conclusion
Everyone loves popcorn shrimp! Serve this during snacks, picnics, and parties and we guarantee that you will be the star of the celebration. Don't be afraid to experiment with the perfect condiment that will come with the popcorn shrimp.