Whether you're a fan of a traditional Christmas dinner or any fun-filled celebration, this delightful fruit pudding recipe will surely be a hit with the whole family! The blend of your favorite Christmas sweets and refreshing sherry will definitely put everyone in joyous spirits!
Serve this Easy Christmas Pudding Recipe with our Classic Cooked Eggnog Recipe to make the evening merrier for both the kids and kids-at-heart! Aside from these classic Christmas must-haves, we have tons of Christmas eve dinner ideas that will be your lifeline for the festivities!
What's On An English Christmas Dinner Menu?
If the family loves dressing up and fancying up for Christmas Eve, one fun concept is an English Christmas eve dinner! Aside from the fun games and traditions, there are tons of English Christmas dinner ideas that you could try!
Before we dive into our main dish, we've got lots of traditional English Christmas dinner ideas hidden in our stockings! Start the fun evening with a fragrant and warming Potato Leek Soup Recipe. Flavored with cream, chicken stock, and potatoes, this hearty creamy soup will surely impress your guests with a good start.
Of course, a fancy Christmas dinner won't be complete without the show-stealing Christmas Beef Roast Recipe. Slowly cooked to perfection, this elegant beef roast recipe calls for a sweet and tangy red wine sauce. And what's an English Christmas dinner without pigs in a blanket? 
Our Pigs in a Phyllo Blanket Recipe uses phyllo dough instead of the traditional bacon wrapped around the sausage. In addition, this chewy phyllo covered sausage makes the perfect Christmas dinner recipe for a crowd!
Your Christmas dinner side dishes aren't complete without our Butter Mashed Potatoes with Garlic Parmesan Recipe! This mashed potato recipe adds a garlicky and cheesy twist to the already creamy mashed potatoes. For more English Christmas dinner sides, try this healthy and easy Brussel Sprouts with Cream Cheese, Toasted Almonds, and Nutmeg Recipe! These two side dishes perfectly pair with our roast beef recipe!
Now that we've got your Christmas spread covered, let's head to our quick Christmas pudding recipe!
What Is English Pudding?
English pudding goes way back to 1305. And with its long history, we don't have to wonder why the form and ingredients used in making a pudding vary depending on where you are. Puddings in the US and Canada are mainly sweet recipes while British puddings can either be made of meat or sweets.
Just like our Copycat Golden Corral Banana Pudding Recipe, puddings in the US is a milk-based dessert similar to custard. Although commonly known as a dessert, in the UK, English pudding is not limited to one flavor. Savory pudding includes Yorkshire pudding, black pudding, and suet pudding. While sweet puddings are known as fruit cake puddings, plum puddings, or Christmas puddings.
Our English Christmas pudding recipe sits perfectly in the traditional English category. Mixed with suet fat and dried Christmas sweets, it falls between savory and sweet puddings. But don't be confused! It's definitely made as a perfect dessert for an easy Christmas dinner. If you're ready to make the best Christmas pudding recipe, we're heading right to it!
How To Make Christmas Fruit Pudding
If you have never heard of this Baked English Style Fruit Pudding, it is a fruit pudding cake that contains suet instead of butter. It is only slightly sweet and flavored delicately with candied peel. In fact, it is a great fruit pudding recipe to fix within a limited time.
Furthermore, the spots on the spotted pudding come from currants. Currants make the perfect addition to our easy Christmas pudding recipe with its earthy and berry-like taste. Apart from the sweetness coming from the candied peel, there are additional dried fruits such as sultanas, dates, and cherries that make our English Pudding Recipe a healthy one. 
To make things even better, we're adding a dash of cognac and sherry to our recipe for Christmas pudding. The slightly spicy fruity cognac and the added sweet acidity of the sherry bring the best out of our dried fruits while adding a layer of flavors to the pudding. 
To prepare this scrumptious comfort dish, you are welcome to experiment with some ingredients differing from the traditional suet pudding.
Tips in Making Christmas Pudding And More Christmas Recipes To Try
If you're wondering what suet is, it is a solid white animal fat with a high melting point that is used in old British recipes. Using suet in our fruit pudding recipe helps in giving our pudding a light texture. It also contributes to having a stable form.
You can also try using butter if you're looking for suet alternatives. But be warned that using butter can be a bit risky. It melts faster than suet which might make your pudding greasy and heavy. For vegan alternatives, you can use a butter-flavored vegetable shortening. It has a milder taste and has lower fat content as compared to suet itself. 
Before using suet, freeze the shortening until it is very firm. Once frozen, grate on a large-holed grater. Then, freeze again and only use it when you are ready to mix it into your recipe. 
Traditionally, in order to intensify the scents and flavor profile of the pudding, you can add star anise and cardamom. The star anise adds a sweet and licorice-like flavor to the pudding. While the cardamom balances the sweet flavor with its piney and minty-flavor. For more pudding recipes, you might want to try our Caramel Apple Bread Pudding Recipe! 
Go ahead and pair our decadent Peppermint Hot Chocolate Recipe to accompany your fruity Baked English Style Fruit Pudding and it'll definitely be the buzz of your Christmas dinners! You can also serve this fruity pudding with another Christmas staple. Pair it with our delectable White Chocolate Gingerbread Star Cookies Recipe with a hearty Creamy Eggnog Recipe and it'll be the joy of the evening!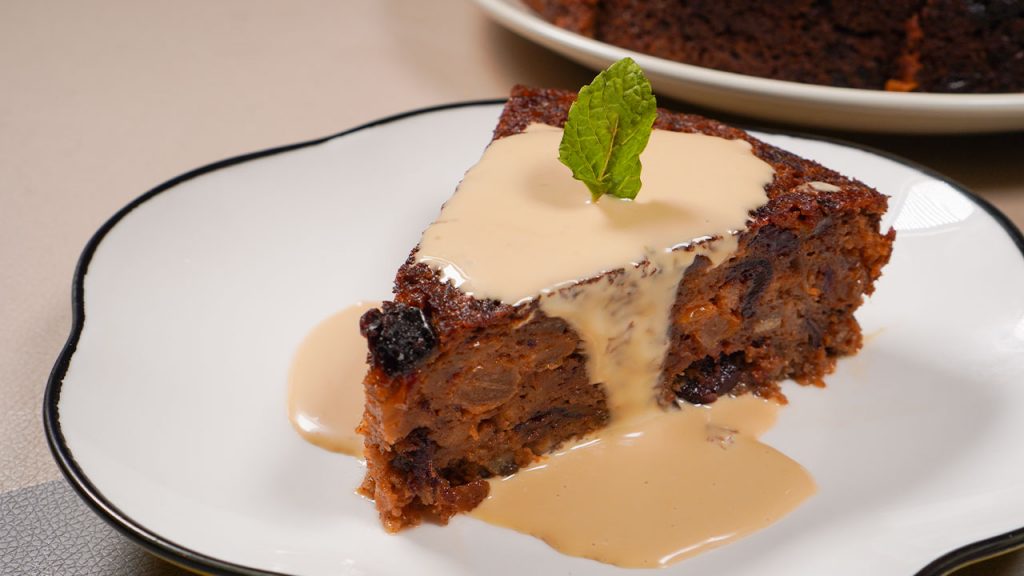 Easy Christmas Pudding Recipe
Commonly Asked Questions
Can this dish be made without alcohol products?
Certainly! Instead of sherry or brandy opt to use any liquid that will amp up the flavor profile of your dish. The juice from freshly squeezed orange or lemon is also a great substitute for alcohol products. Don't worry about messing up the flavors, because these fruit juices have enough acidity to replace white wine.
How do I store Christmas Pudding?
Store your Christmas Pudding in the fridge by wrapping it tightly in aluminum foil to keep it moist when you reheat it. Keeping it in the fridge will help it last for 5 to 7 days. If you're planning to keep it in the freezer, cut it into individual portions then wrap each piece with aluminum foil. Put it in a freezer-safe bag and it will last for 3 months.
How do I reheat Christmas Pudding?
Reheat your leftover Christmas pudding, wrapped in foil, in the oven over 300 degrees F for 45 minutes to an hour or until fully warm. You can also reheat it by steaming it on the stove on medium heat for an hour. If frozen, let it thaw overnight in your fridge before reheating.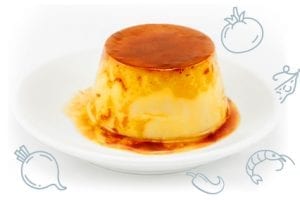 Conclusion
If you're looking for an easy dessert that will feed a crowd, then this baked English style fruit pudding dessert is the best option to try. This recipe uses conventional ingredients but you can still tweak a few things to suit your taste buds! So, what are you waiting for? Try this sweet and decadent holiday dessert that doesn't require much prep work for your Christmas dinners!