Whether it's for a new fitness diet or you are just craving a healthy snack, this easy fruit salad recipe will surely satisfy you without loading up on carbs and fat. Skip the store-bought fruit cocktail and make this all-natural salad tossed in a healthy fruit salad dressing at home with your summer fruits. Pair it best with this delicious vegan cheeseburger and oven fries for an indulgent but guiltless meal. Yum! 
Tips on Making Healthy Fruit Salad
Fruit salads are a versatile dish. You can toss in any of your favorite fruits to your heart's content. Some fruits fair better than others, though. To ensure that you always come up with the best fruit salad every time, we collected these expert tips that you definitely should know.
Pick different colored fruits.

Different colors indicate the different nutrients the fruits contain. Therefore, the more colors of the

rainbow fruit salad

, the better! The black-speckled white flesh of dragon fruits stands out in a bowl, as well as

mandarin oranges

,

strawberries

, and pomegranate seeds.

Use ripe fresh fruits, not frozen

. While frozen fruits are great for

smoothies

, they're not really ideal for salads as they become limp and watery when thawed. On the other hand, you can find the best perfectly ripe fruits when they're in season. Use ones that have clear skin and are firm but soft enough to slightly push back when pressed.

Cut your fruits into uniform medium to large bite-sized pieces. The fruit salad looks best when you really see the different shapes, colors, and textures all combined. Cutting the fruits too small could make it look like salsa. Plus, it makes the fruits release more juice resulting in a soggy, watery salad. Tiny fruits like blueberries and blackberries do not need to be sliced.

The

orange juice

dressing doesn't only add a zesty tanginess to this

healthy fruit salad recipe

but also prevents the fruit from browning. Alternatively, you can dress this

fruit salad with yogurt, lemon juice, stevia, maple syrup,

sugar-free

vanilla pudding mix,

or

honey-lime

dressing.

For

other delicious toppings

, you can put

cottage cheese, lime zest, walnuts

, or this

vegan banana ice cream

.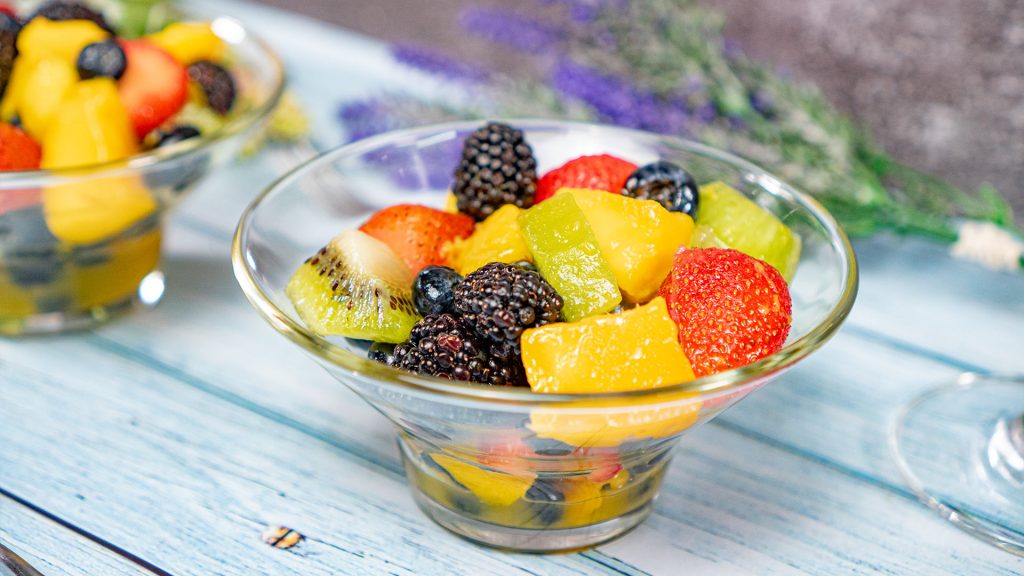 Five Fruit Salad Recipe
How To Make Five Fruit Salad
A sweet healthy fruit salad recipe that requires minimal preparation. Filled with a vibrant combination of fruits, this bowl of summer snacks will brighten your day in every bite!
Ingredients
½

cup

orange juice

1

cup

mango,

sliced

1

cup

blueberries

1

cup

strawberries

½

cup

blackberries

1

kiwi,

or peach, pitted and cubed
Instructions
Slice the mango, blueberries, strawberries, blackberries, and kiwi to your desired size. Place all the fruits in a mixing bowl.

Pour the orange juice over the fruit mix and refrigerate for at least 1 hour.

Serve in wine goblets and enjoy a fresh and vibrant glass of healthy fruit salad!
Nutrition
Sugar:

17g

:

Calcium:

29mg

Calories:

92kcal

Carbohydrates:

22g

Fat:

1g

Fiber:

4g

Iron:

1mg

Monounsaturated Fat:

1g

Polyunsaturated Fat:

1g

Potassium:

289mg

Protein:

2g

Saturated Fat:

1g

Sodium:

3mg

Vitamin A:

591IU

Vitamin C:

76mg
Nutrition Disclaimer
Commonly Asked Questions
Is fruit salad good for weight loss?
Yes! Fruit is incredibly dense in nutrients and antioxidants, high in fiber, but low in calories. However, this applies only if you use fresh fruits and healthy fruit salad dressing. A canned fruit cocktail has less nutritional value and is loaded with added sugar. If you are on a weight loss journey, this healthy fruit salad recipe is best for you.
What fruits should not be mixed together?
Guavas mixed with bananas could cause painful gas and headaches. Papaya with lemon or lemon juice and pineapple combined with milk could cause anemia problems. As a general caution, acidic and citrus fruits should not be mixed with milk because milk will curdle either right at the point of mixing them together or in the stomach when consumed. This could result in an upset stomach.
How long does fruit salad last in a freezer?
This healthy fruit salad is best eaten the day it is made! We do not recommend freezing as it might change in texture and consistency once it is thawed. However, you can freeze your leftover fruit salad and they will work for other fruit recipe ideas such as smoothies and homemade fruit juices.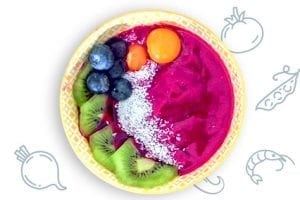 Conclusion
This healthy fruit salad recipe requires minimal preparation yet serves a burst of flavor with each bite. It's perfect for snacks or dessert! You can throw in your desired mix like nuts, yogurt, and even sour cream. It promotes a healthy lifestyle and it fuels your body to help you get through your day!