If you're looking to serve a sophisticated dessert this Thanksgiving, our apple tart recipe is just what you're looking for! This divine-tasting recipe for apple tart comes from the great Alice Waters herself. We trust her implicitly to give us and you the best apple tart recipe out there. It takes a bit of effort to make, but your guests will thank you for it.
What Is Apple Tart?
Tart, in itself, is an open-faced version of a pie. It is filled with any desired fruit filling, or in the case of the apple tart, seasoned apple slices. The apple slices are often arranged in a circular manner onto the dough for presentation. Apple tart is similar to an apple galette, but galettes are more rustic and don't require tart pans.
Regardless of how they're baked, they will still look aesthetically pleasing. You can try out our colorful Fruit Tart after recreating our easy apple tart recipe. That sounds like a sweet dessert full of flavors, doesn't it? If we've piqued your interest, stick around as we show you how to make an apple tart that's just like Alice Water's!
The Best Apple Tart Recipe Just Like Alice Water's
Alice Waters is a renowned chef, restaurateur, and cookbook author. She's known for running the Chez Panisse restaurant, which uses organic, locally grown ingredients. But what makes an Alice Waters Apple Tart different from any other apple tart recipe? This apple tart recipe assembles fresh apples on the dough, then sprinkle it with flavorings all over. This makes the free form apple tart more tender and less mushy compared to using a pre-cooked apple mix.
This apple tart is also set apart from others because of the apple tart dough and how it's formed. It uses a technique that's worked with pizza doughs. The method allows your fingers to fall through the middle of the dough to naturally stretch it out. It's also a great way to keep your dough pliable until such time that you need to roll it out for baking.
Another little secret that makes this rustic apple tart unique is how our glaze is made. Remember how you just throw away the apple peels and cores after cutting your apples into slices?
Well, this apple tart recipe makes use of those ingredients that are often looked over. We cook the sugar in a pot together with the cores and peels to get an even more concentrated sweet apple flavor. Once thickened, it's used as the perfect glaze over that open face apple tart. Now that's a no-waste dish we can get behind!
Following our apple tart recipe can take up time, but it's significantly easier to make than your regular pie. Serve these up with a dollop of ice cream for a sweeter taste. And for more tart recipes, try your hand on our Lemon Tart or our Blueberry Tart recipes for zesty and tangy flavors infused into this sweet treat!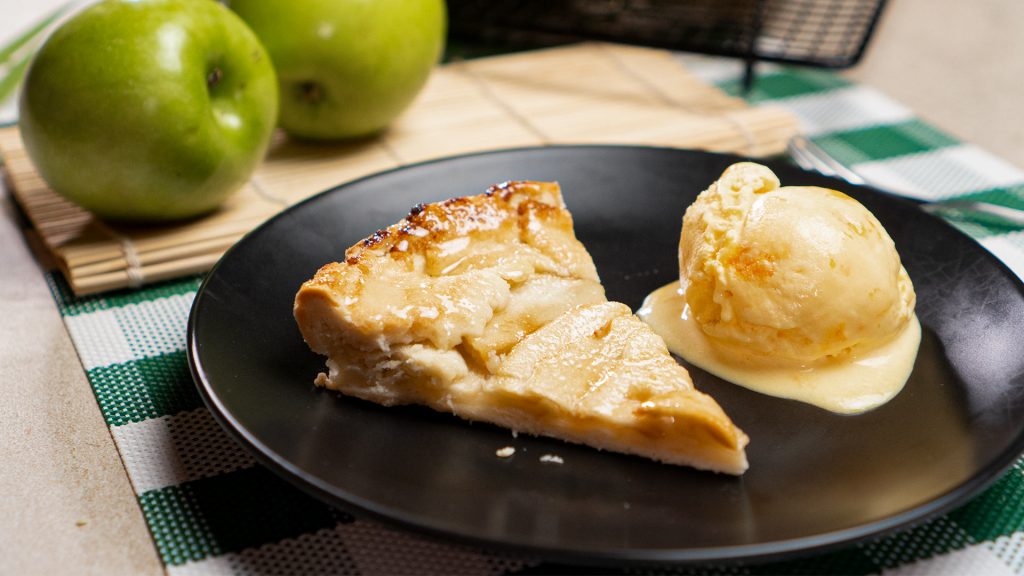 Alice Waters' Apple Tart Recipe
How To Make Alice Waters' Apple Tart
An easy apple tart recipe to follow for your upcoming Thanksgiving gathering! It's glazed over with a special apple-flavored sugar glaze for a uniquely sweet topping to your usual tarts.
Ingredients
For Dough:
1

cup

all-purpose flour,

sifted, plus more for dusting

6

tbsp

unsalted butter,

cubed and chilled

3½

tbsp

water,

chilled

½

tsp

granulated sugar

⅛

tsp

salt
For Filling:
2

lb

baking apples,

of your choice, preferably Golden Delicious, peeled, cored, and sliced. 

5

tbsp

granulated sugar,

divided

2

tbsp

unsalted butter,

melted
For Glaze:
½

cup

granulated sugar

apple peels and cores,

from 2 lb baking apples

water,

for boiling, roughly 2 cups
To serve:
ice cream ,

of your choice, preferably vanilla flavored
Instructions
For the dough:
In a food processor, add flour, sugar, and salt. Pulse until just blended.

Add the chilled butter. Pulse in 5-second bursts until it resembles coarse cornmeal.

Gradually add chilled water, pulsing in between, until it forms a dough.

Dust your working area with flour, then transfer your dough onto it.

Knead for roughly 10 minutes until it turns smooth. You may need to add more chilled water, about 1 tablespoon at a time.

Once smooth, form the dough into a ball, then flatten it into a roughly 4-inch disk.

Cover it with plastic wrap then set aside in a chilled area and allow to rest for 30 minutes.

Take out the dough and let it soften so it's malleable but still cold. Smooth down the cracks at the edges.

On a lightly floured surface, roll it into a 14-inch circle with ⅛-inch thickness. Dust the excess flour from both sides.

You have the option to either roll this onto a greased 9-inch pie tin or onto a lined baking sheet with parchment paper.

Preheat the oven to 400 degrees F.
For the filling:
Overlap the apples on the dough in a ring, 2 inches from the edge if you're going galette-style, or up to the sides if using the tart pan. Continue inward until you reach the center.

Fold any dough hanging over the pan back onto itself then crimp edges at 1-inch intervals.

Brush the melted butter over the apples and onto the dough edge.

Sprinkle 2 tablespoons of sugar over the dough edge and the other 3 tablespoons over the apples.

Bake the tarts in the center of the oven for 35 minutes or until they become soft, with browned edges, and the crust caramelized into a dark golden brown color. Make sure to rotate the tart every 15 minutes.
For the glaze:
Put the reserved apple peels and cores in a large saucepan, along with the sugar.

Pour in just enough water to cover the mixture and let it simmer on low for 30 minutes.

Strain the syrup and discard any solids.

Remove the tarts from the oven or slide the parchment onto a cooling rack. Let it cool for at least 15 minutes.

Brush the glaze over the tarts, slice, and serve with a scoop of ice cream. Enjoy!
Nutrition
Sugar:

32g

:

Calcium:

13mg

Calories:

295kcal

Carbohydrates:

48g

Cholesterol:

30mg

Fat:

12g

Fiber:

3g

Iron:

1mg

Monounsaturated Fat:

3g

Polyunsaturated Fat:

1g

Potassium:

142mg

Protein:

2g

Saturated Fat:

7g

Sodium:

40mg

Trans Fat:

1g

Vitamin A:

411IU

Vitamin C:

5mg
Nutrition Disclaimer
Frequently Asked Questions
What are the best apples to use for this apple tart recipe?
We highly recommend using Golden Delicious yellow apples as they have a sweet, mellow flavor that isn't too overpowering. They also maintain their shape well after baking so you can still have big bites of apple pieces. For other firm and tart apples, Granny Smith, Honey Crisp and Pink Lady works just as wonderfully.
How do I store my apple tart?
Storing them in the refrigerator in the same pan you used to bake it with works fine. Simply cover it with plastic wrap to keep the tart from drying out. If you tried the free form apple tart on a baking tray, you can cut them into individual pieces and place them in an air-tight container to store. This apple tart will last in the fridge for up to two days, and four months in the freezer.
How do I reheat apple tart?
If they are fresh out of the freezer, let them cool to room temperature at first before heating in the oven at 350 degrees F for up to 30 minutes. If you're taking them out of the fridge, you can immediately heat them in the oven at the same temperature and time.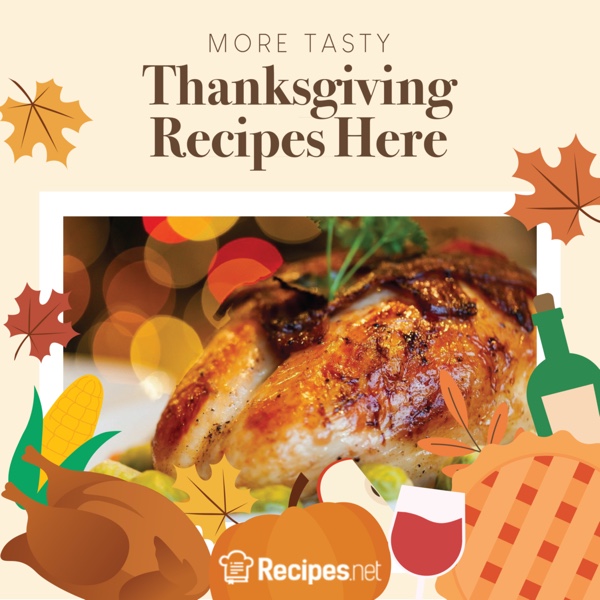 Conclusion
This apple tart recipe is sure to impress any crowd you're serving over Thanksgiving! It's luscious, aesthetically pleasing, and will easily be devoured in minutes. You can even enjoy it with a dollop of ice cream for extra sweetness and you'll love it even more!