Stuck on what to make for your next bake sale? These pistachio muffins will make the perfect little treats to sell off! They're different from your usual peanut or almond muffins that give off the same flavor, if not better. This pistachio muffin recipe is so easy to make and is great to bake in batches!
The Famous Pistachio Dessert
Muffins tend to be one of the easiest go-to's for any bake sale product. They're more filling than the usual cupcakes, and they come with so much flavor. These bakery style pistachio muffins are wonderfully tasteful. This is our best muffin recipe just right next to our banana muffins and chocolate chip muffins. And they're so good, you're never going to look at store-bought muffins the same way again. 
And the secret to these scrumptious muffins is, of course, the pistachio nuts!
Are Pistachio Nuts Good For You?
Pistachio nuts are often eaten as tasty, healthy treats. They're rich in fiber and protein, which makes them a filling ingredient in any recipe. These versatile nuts are also high in antioxidants and contain more than most nuts. That's why pistachio nuts help to reduce your risk of diseases, including cancer. So don't be put off by the odd, greenish color those nuts give off. They're quite delectable and work wonderfully in a lot of other recipes and the timeless pistachio ice cream. But best of all, they're good for your health, so munching on these is rather guilt-free!
Now that you know more about pistachio nuts, let us show you how to make our bakery style pistachio muffins!
How to Make Pistachio Muffins
The brilliant part of our easy muffin recipe is that we don't use pistachio pudding. Most recipes use pistachio pudding to get that classic, green-like flavor. But our pistachio muffins call for a more authentic taste by using real pistachio nuts. This will give your muffins added crunch, and not to mention deep flavors you don't usually get in the store-bought ones.
To get just the right clumpy consistency on the batter, we sift all of our dry ingredients. It's very important to do this extra step to avoid any flour bits on your finished product. Muffins tend to be less smooth than cupcakes, but that doesn't mean you should have uncooked flour in there! Gently fold in any flour bits, if you ever find any, to avoid overmixing.
But let's talk about avoiding overmixing. Overmixing will give you a very tough muffin batter and will result in a dry and less than flavorful treat. When it comes to mixing your pistachio muffins batter, it's alright if you don't have an electric mixer on hand. Using a baking spatula or a mixing spoon works just as great, if not better for making muffins so you can better control how you mix them.
Once you manage to try out those little tricks, you can never go wrong with a simple muffins recipe like this! Especially a versatile ingredient such as pistachio nuts. And there's definitely more to be made apart from our bakery style pistachio muffins. Try baking with pistachio nuts in a Baklava or a Pistachio Coconut Cookie. The sky is the limit! Make them with our pistachio muffins for a sweet, successful bake sale.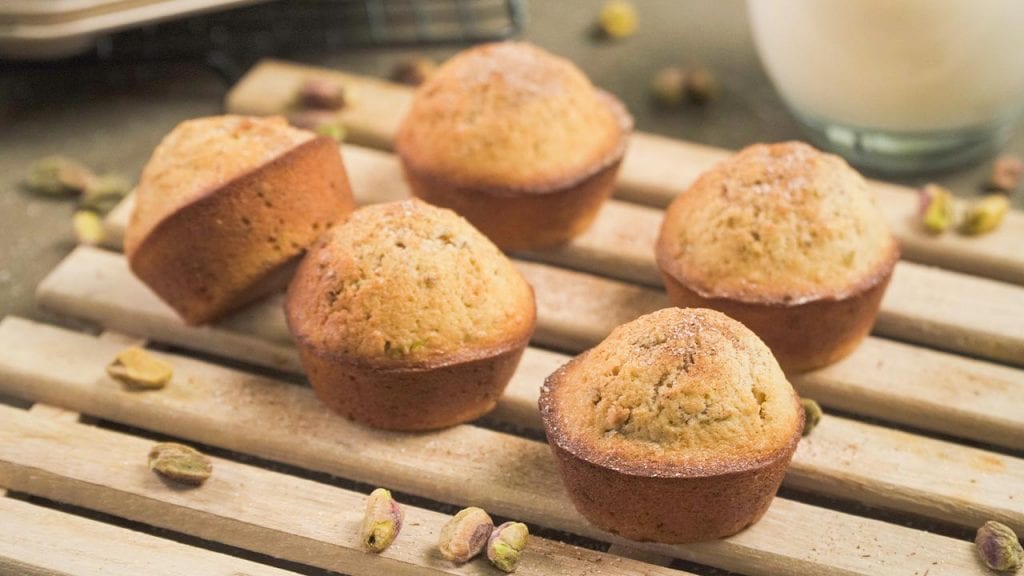 Fantastic Pistachio Muffins Recipe
How To Make Fantastic Pistachio Muffins
A toothsome pistachio muffins treat that is sure to delight any crowd. They're baked with real pistachio nuts and topped with more nuts for extra crunch. Serve warm with some coffee or tea, and enjoy!
Ingredients
½

cup

unsalted butter

½

tsp

salt

½

tsp

ground cinnamon

1

tsp

lemon zest,

of 1 lemon

2

tsp

baking powder

½

cup

milk

½

cup

pistachios,

chopped

⅔

cup

granulated sugar

1⅓

cups

all-purpose flour

1

tbsp

rum

1

tsp

vanilla extract

2

eggs

cinnamon sugar,

to serve
Instructions
Preheat the oven to 425 degrees F.

Grease 10- to 12-muffin tins with non-stick cooking spray.

Sift the flour, salt, and baking powder in a bowl. Set aside.

Cream the butter and sugar together using a whisk or hand-mixer until pale and it has doubled in volume.

Add in the ground cinnamon, lemon zest, and milk. Mix well.

Add in the chopped pistachios, rum, vanilla extract, and one egg at a time. Mix until evenly incorporated.

Gently fold the sifted flour mixture into your butter mixture to create the batter.

Scoop batter into each prepared muffin tin.

Bake for 15 to 20 minutes.

Sprinkle cinnamon sugar over the top and enjoy!
Recipe Notes
You can help the ground pistachios stick as a topping on your muffins by making an easy sugar glaze. Simply combine 1 ½ cups of powdered sugar, 3 tbsp of milk or water, and 2 tsp of vanilla.
If you want to cut down on the sugar, you can simply top your delicious muffins with a generous coating of ground pistachios to really bring everything together.
Nutrition
Sugar:

15g

:

Calcium:

86mg

Calories:

254kcal

Carbohydrates:

29g

Cholesterol:

58mg

Fat:

13g

Fiber:

1g

Iron:

1mg

Potassium:

109mg

Protein:

5g

Saturated Fat:

7g

Sodium:

233mg

Vitamin A:

376IU

Vitamin C:

1mg
Nutrition Disclaimer
Frequently Asked Questions
How do I prevent my pistachio muffins from being underbaked?
The most common problem for an underbaked muffin is cooking it in the oven with a temperature that is too high. Make sure that you follow through with our suggested temperature of 425 degrees F. Another suggestion is to bake your pistachio muffins in the middle rack instead of the top rack of your oven. This will keep your muffins from being underbaked and burnt at the top.
Why won't my muffins rise?
This is likely due to your using expired or old baking powder. Always ensure you are using quality baking powder. Another tip to help your muffins rise is to not open the oven door every now and then. This will release some of the heat that your pistachio muffins need to avoid having flat muffins,which we don't want! Make sure to open them only after 15 minutes or simply to check if they're baked using a toothpick.
How do I keep my pistachio muffins from being dry?
After baking your muffins, let them cool for five minutes before taking them off the muffin tin and transferring them onto a cooling rack. Keeping your baked muffins in the tin for too long will continue the cooking process due to the hot tin, resulting in a dry texture.
How do I store pistachio muffins?
Line an air-tight container with a piece of paper towel. Place your muffins onto the container then arrange them in a single layer. Cover the top with another paper towel before sealing them. This method will help absorb any excess moisture and keep you from having soggy muffins.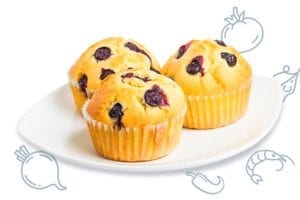 Conclusion
These pistachio muffins are sure to become an instant favorite in your recipe book. Not only are they incredibly delectable—from the bits of lemon zest and real pistachio nuts—they're also aesthetically pleasing thanks to their soft green color. You don't have to worry about what to make for your tea party or bake sale. Our pistachio muffin recipe is sure to satisfy your needs. Serve them warm with some tea or coffee for the perfect snack.
Topics: