These homemade pigs in a blanket is the perfect appetizer to serve at parties. What makes this recipe different from the rest is that the cocktail hot dogs are wrapped using phyllo dough. This type of dough adds a delicious extra layer of crisp to the usual mini pigs in a blanket appetizer. When baked, the crunchy texture pairs well with the wonderful meaty flavor of the cocktail hot dogs. It's the perfect combination that makes this appetizer so addicting to eat! Serve these tasty pigs in a blanket alongside some delicious deviled eggs with bacon bits.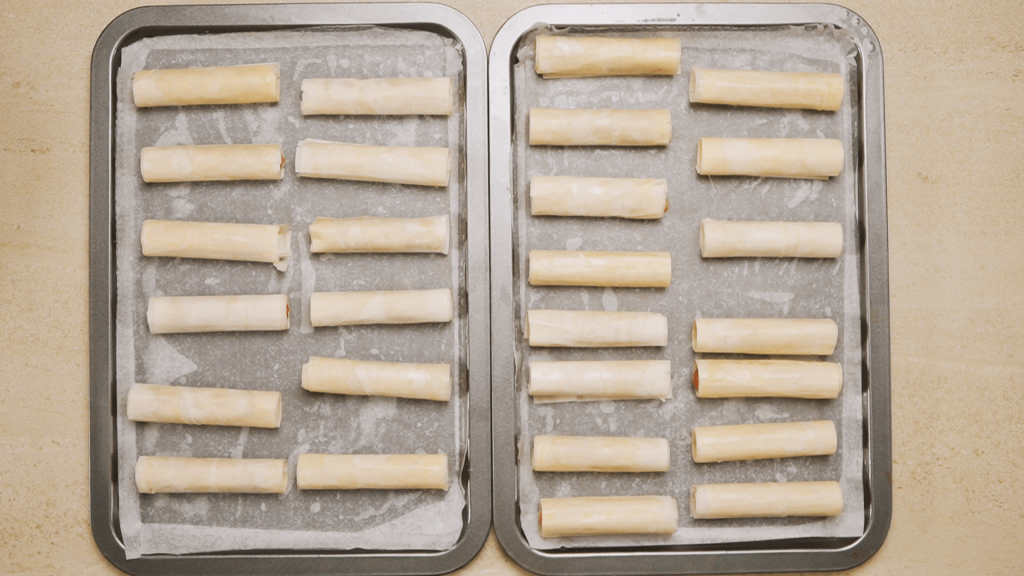 Types of Dough for Homemade Pigs in a Blanket
Classic homemade pigs in a blanket are usually made using puff pastry dough. This type of dough is made from only three ingredients: butter, flour, and salt. It doesn't have any leavening agents yet it rises and puffs up. The key to making this pastry dough is to repeatedly roll and fold the dough so that the heat and steam from the oven lifts through the thin dough. As a result, you'll get a light, buttery, and slightly flaky texture.
For its substitutes, other people would use crescent dough (or crescent rolls) which contains yeast, and has a flakier texture than a puff pastry. Biscuit dough is also a good substitute since it's also buttery and flaky, and requires less time to prepare. It means that you don't need to let it chill or rest before baking it. If you're planning to use these doughs, then you would need a bit of egg wash or coconut oil to brush on top so it browns perfectly.
Lastly, another dough variation that is also used is phyllo dough. This dough is comparatively low in fat since it doesn't use butter as its main ingredients. It's mostly made with flour and water with a bit of oil. Nevertheless, phyllo dough makes for a great recipe variation when making homemade pigs in a blanket. When baked, phyllo dough becomes crispy and doesn't become airy or puffy. We suggested phyllo dough since the added crunch makes it tastier and unique.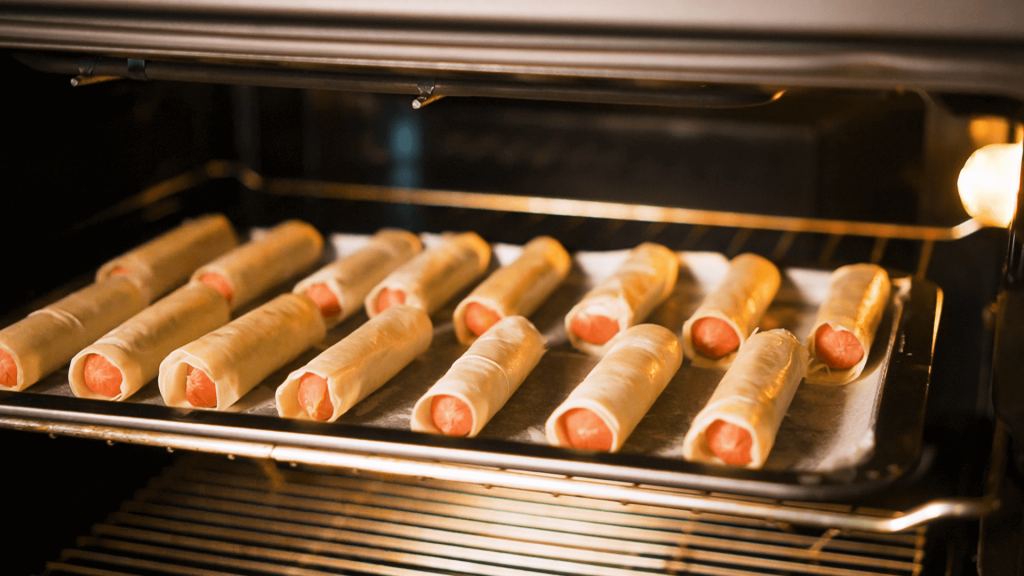 Tips on Making Your Own Homemade Pigs in a Blanket 
Now that you have phyllo dough as your choice of dough, it's time to think about the inside of the wrap! You can try adding in or changing some of the ingredients so it's tastier. Or, try switching up your dipping sauces for more fun and appetizing variety. Learn how to make pigs in a blanket taste even more delicious and crispy with our helpful tips below: 
Use different types of hot dogs.

You can also use regular hot dogs for this recipe, if you don't have any

cocktail sausage

. Simply slice into quarters, and you're good. Or, you can also switch it up by using spicy andouille, cheese-filled hot dogs, or an herb chicken sausage. These flavored

cocktail sausages

will definitely enhance the taste of the dish.
Try adding a bit of seasoning.

If you prefer a bit more flavor, then sprinkle a bit of

coarse salt

or

everything

bagel

seasoning

on top.

You can even add a bit of

sesame seeds

as well.

These are especially important if you're going to substitute phyllo dough with another type of dough to make it extra flavorful.
Add in cheese.

You can also wrap the hot dogs with cheese like cheddar cheese, provolone, or pepper jack cheese before wrapping them in phyllo. This is perfect for cheese lovers who want each mini pig in a blanket to be extra cheesy! 
Serve with a dipping sauce.

Aside from the classic mustard and ketchup combo dip, you can also try other flavorful dips. Try out this simple

aioli recipe

if you like a fiery and intense garlic flavor mixed with lemon juice for your

homemade pigs in a blanket

. Or, go with the classic homemade

bbq sauce

or a

ranch dressing

dip.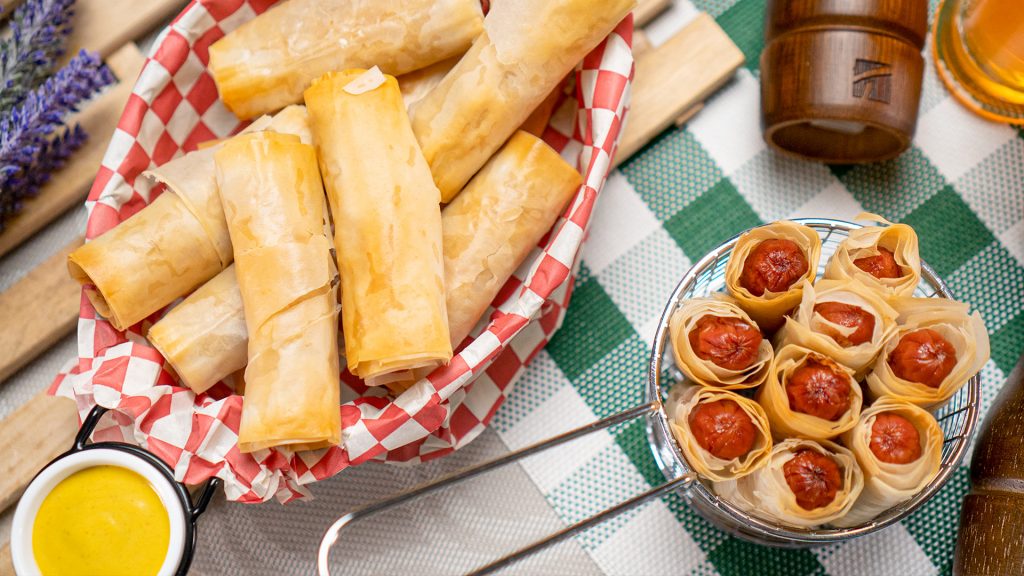 Pigs in a Phyllo Blanket Recipe
How To Make Pigs in a Phyllo Blanket
These homemade pigs in a blanket are juicy hot dogs wrapped in a butter phyllo dough, and then deep-fried until crisp and golden brown. All the flavorful ingredients come together to make a crispy and meaty appetizer. Serve them warmed or at room temperature, and enjoy every flavorful crunch!
Ingredients
9

sheets

phyllo dough,

thawed

27

pcs

cocktail hot dogs,

or sausages

½

cup

unsalted butter,

melted
For Serving:
¼

cup

mustard,

per serving

¼

cup

ketchup,

per serving
Instructions
Preheat oven to 375 degrees F and line a baking sheet or cookie sheet with parchment paper.

Brush a sheet of phyllo dough with the melted butter and then layer the next sheet on top. Put the third layer and repeat until you have 3 stacks of 3-layered dough.

Divide each stack into three parts then cut each part into three strips.

Roll up each hot dog in a strip of dough.

Transfer the hot dogs to a parchment-lined baking sheet and bake for 17 to 18 minutes.

Allow to cool for 1 to 2 minutes and then serve with your favorite condiments.
Nutrition
Sugar:

1g

:

Calcium:

3mg

Calories:

53kcal

Carbohydrates:

4g

Cholesterol:

9mg

Fat:

4g

Fiber:

1g

Iron:

1mg

Monounsaturated Fat:

1g

Polyunsaturated Fat:

1g

Potassium:

16mg

Protein:

1g

Saturated Fat:

2g

Sodium:

77mg

Trans Fat:

1g

Vitamin A:

118IU

Vitamin C:

1mg
Nutrition Disclaimer
Frequently Asked Questions
Can pizza dough be used for pigs in a blanket?
Yes, you can use pizza dough for these homemade pigs in a blanket recipe. Just remember to cut the dough into equal sizes. A bigger piece of pizza dough would need less hot dogs. Also, pizza doughs puff up more so make sure you keep your slices small and even. After wrapping each cocktail hot dog, add seasonings, if desired, and then place in the oven. When it's golden brown and crispy, try serving it alongside a tasty marinara sauce.
How do you keep pigs in a blanket warm without getting soggy?
Serving these up for a party? Eating them warm is the best way to enjoy these classic appetizers! We recommend keeping them warm inside a low-heat oven. When inside the oven, keep the heat around 225 degrees F and then serve one full plate at a time. You can also use a slow cooker, but this can make the mini pigs in blankets a bit soggy.

Can you freeze pigs in a blanket?
Yes, you can. These homemade pigs in a blanket are a great recipe to make ahead of time or the night before. They freeze and reheat well so you can enjoy them any time! If you're planning to freeze the pre-made mini pigs, then keep them inside a zip top freezer bag or airtight container where they can last for up to 2 months. Make sure to thaw them first inside the fridge or at room temperature before reheating in the oven. To reheat, bake at 350 degrees F for 20 to 25 minutes until it's crisp and golden.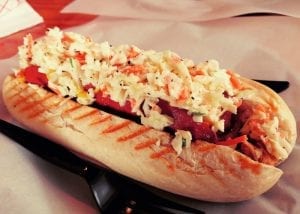 Conclusion
Add an extra crunch to your classic pigs in a blanket appetizer! This homemade pigs in a blanket recipe uses phyllo dough instead of the usual puff pastry. It's crispier, flakier, and more flavorful. Serve alongside your favorite dips, and share with your friends!