Golden Corral is famous for its eat-all-you-can buffet, and the best part is its banana pudding recipe. People who were able to have a taste of this delectable dessert love its rich and creamy taste. And now we're now sharing with you the secrets to Golden Corral's velvety banana pudding!
Since it is a no-bake recipe, it is very simple to make. Rather than the steps here, what's important are the ingredients used. Vanilla pudding and condensed milk combined together will give you an absolutely creamy sweetness. Then whipping cream to add a light fluffiness at the top. And of course, for the crunchy texture on top, wafers are a must. We went with vanilla wafers to add even more fragrant vanilla notes to this dessert.
Finally, we can't forget about the star of this recipe. It is vital to choose bananas that are just ripe for this recipe. Don't choose the overripe ones with dark spots on the skin! We recommend those that are bright yellow in color and firm when held. Then observe if there are tinges of green at its end. Usually, the green tinge means that there are a few days left before the banana is fully ripe. If you are going to make this dish the same day you are going to buy bananas, pick the ones without the green tinge.
This copycat no-bake Golden Corral dessert is perfect for summer picnics. It will also go well with cold coffee drinks like the Cinnamon-Caramel Iced Coffee. Try it and have a refreshing snack!
Copycat Golden Corral Banana Pudding Recipe
How To Make Copycat Golden Corral Banana Pudding
It's hard to resist a rich and creamy pudding with crunchy wafers. This copycat banana pudding recipe from Golden Corral is quick and easy. Simply follow this recipe and enjoy!
Ingredients
⅛

cup

condensed milk

2

cups

cold milk

3.5

oz

vanilla pudding,

(1 package)

2

cups

whipping cream,

chilled, whipped to medium peaks

1

pkg

vanilla wafers

3

bananas,

sliced
Instructions
Whisk together cold and condensed milk in a large bowl.

Add the instant pudding and continue to whisk to combine. Then place in the refrigerator for 5 minutes until the mixture becomes firm.

In a glass dish, spread ⅓ of the whipping cream and layer ⅓ of the wafers over the cream.

Spread the vanilla pudding mixture and layer the bananas.

Continue to layer the pudding accordingly. Place the pudding back in the refrigerator until the mixture is set.

Sprinkle with crushed wafers. Serve with sliced banana and wafers on top.
Recipe Notes
We recommend adding toppings to the banana pudding. For instance, macadamia nuts --or any type of nut -- will provide additional texture to the desert.
Nutrition
Sugar:

42g

:

Calcium:

247mg

Calories:

690kcal

Carbohydrates:

58g

Cholesterol:

178mg

Fat:

49g

Fiber:

2g

Iron:

1mg

Potassium:

603mg

Protein:

8g

Saturated Fat:

30g

Sodium:

269mg

Vitamin A:

2029IU

Vitamin C:

9mg
Nutrition Disclaimer
Frequently Asked Questions
How to keep bananas from turning brown in my banana pudding?
To answer this question, we must fully understand enzymatic browning or the phenomenon that commonly occurs in bananas. Browning occurs when the banana is exposed to oxygen in the air and this triggers the production of melanin within the banana. Melanin, as you might know, is the pigment that produces a dark color. Using browned bananas will not, in any way, make your pudding unsafe. It will only make your pudding sweeter. But if you dislike the unappetizing color, simply make sure to fully coat the bananas with the vanilla pudding mixture. Preparing the dish a few moments before eating it will also help prevent browning.
What can I use instead of vanilla pudding in my banana pudding recipe?
If this is your first time to encounter vanilla pudding, you'll be surprised at how easy it is to make one. Vanilla pudding is just cornstarch, sweetener, and vanilla flavor. So if you cannot find vanilla pudding in your supermarket, we recommend making one instead. The ratio of the cornstarch to your sweetener should be 2:1. Read our Vanilla Cornstarch Pudding Recipe for more information on making your own vanilla pudding.
How to ripen bananas for banana pudding?
You've bought bananas because you plan on making this recipe. However, you realized that the ones you've bought are still unripe? What can you do? Easy. To speed up the ripening process, we suggest putting those bananas inside a brown paper bag. The ripening will occur within 24 hours so gradually check on the banana so it will ripen according to your taste. If you want a faster ripening process, heating up your banana in the microwave or the oven will also work. Placing bananas in the microwave will soften them in just 30 seconds, though they won't be as sweet.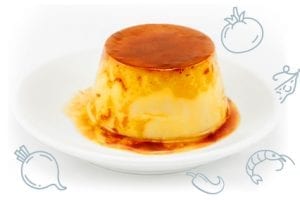 Conclusion
One of the key characteristics of this banana pudding is its rich creaminess. You'd definitely go bananas over this easy copycat recipe! Serve this delightfully sweet banana pudding with tea or coffee for an elegant afternoon tea treat.
Topics: