Got some leftover Stove Top stuffing from last night's happy Thanksgiving dinner? Don't worry! In this scramble recipe, we'll show you how to make leftover Stove Top stuffing better by turning it into a scrumptious breakfast meal!
We'll take leftover Thanksgiving side dishes and use it to make one of the best scrambled eggs recipes ever. With this scramble recipe around, you won't have to worry about what to do with leftover Thanksgiving dishes anymore. 
Even though we use Stove Top stuffing to make your breakfast-after-Thanksgiving meal, you can also make other festive Thanksgiving dishes. Aside from stuffing, you can add leftover mashed potatoes, sausages, and even turkey to make the best scrambled eggs ever! For similar Thanksgiving leftover recipes, try our Hearty Thanksgiving Leftover Bake.
So, what are we waiting for? Grab your eggs and leftover Thanksgiving stuffing and let's get cooking!
Stuffing: the Perfect Side Dish for Thanksgiving
No Thanksgiving dinner is complete without stuffing, one of the annual holiday's signature dishes. Although most know stuffing as the filling found inside the Thanksgiving turkey, stuffing also tastes great on its own! When not used to fill poultry like turkey, vegetables, or even eggs, stuffing is commonly served as a side dish.
Delicious, homemade stuffing is usually made from a mixture of breadcrumbs, eggs, butter, and vegetables like onions and celery. Spices and herbs are also added for more flavor. Although, some variations of stuffing also have sausages and other meats. You can even throw in some tofu and make it a vegetarian-friendly dish! If you're curious about what vegetarian-friendly stuffing tastes like, we have a Grand Cheese Stuffed Mushrooms Recipe you might like to try.
To many, stuffing is the ultimate comfort side that cannot be found missing from the dining table during Thanksgiving dinner. Not only does it taste scrumptious, it's also incredibly hearty and filling as well. Its savory flavors as well as the heaviness of the breadcrumbs make it a go-to Thanksgiving meal. If you're interested in making traditional homemade stuffing, we have the perfect easy stuffing recipes for you. Check out our Homemade Old-Fashioned Stuffing or Stuffed Thanksgiving Pumpkins for the most satisfying Thanksgiving dinner celebration!
Using Stove Top Stuffing for Your Breakfast Scramble Recipe
There's no doubt about it; stuffing is a signature Thanksgiving side dish for its delicious taste! Which is why it isn't surprising to see instant, quick-cooking stuffing like Stove Top to be a popular option nowadays. Unlike the traditional homemade stuffing recipe that takes time and effort to make, anyone can make Stove Top stuffing!
How to Make Stove Top Stuffing
You won't need advanced cooking skills to whip up a delicious stuffing side dish with Kraft's Stove Top stuffing around. Just let a pot of water and butter come to a boil, then add the bread pieces. In just a minute, your stuffing is ready for serving! Want to know how to make it in an oven instead of on the pot? Check out our CAQ section down below for instructions! 
Despite how easy Stove Top stuffing is to make, it's one of the best-tasting instant stuffing around. The flavor is incredibly buttery and savory, thanks to its dried herbs and spices. So if your household didn't have time to make homemade stuffing for this year's Thanksgiving dinner, it's the perfect choice. And if you happen to have some leftovers from last night's celebration, then fear not! There are plenty of ways to make use of leftover stuffing. 
In case some loved ones slept overnight, then this scramble recipe is perfect for the morning. You can surprise them with a mouthwatering breakfast meal by mixing in delicious Stove Top stuffing to your scrambled eggs!
Handy Tips in Making the Best Scrambled Eggs
If you want your scrambled eggs soft and fluffy, first and foremost, remember to use a nonstick pan. Eggs have a tendency to stick to cast-iron pans. So, to avoid wasting eggs and time scrubbing them off the pan, use your trusty non-stick skillet pan. 

Tip:
Use a non-stick skillet to save your eggs and your time from having to scrape them off the pan. Don't use milk and cream, since fresh eggs, olive oil, and butter is enough to make your eggs soft and fluffy. Always cook your eggs slowly in low heat to avoid dry eggs!
The next tip is to skip the milk and cream. These ingredients won't necessarily make your scrambled eggs fluffy or creamy. Using fresh, good quality eggs, olive oil and some butter will do the job just fine.
And last but not the least, always cook your eggs slowly in low heat. Make sure to preheat your non-skillet over medium-high heat first. Turn the heat down to low once the beaten egg mixture has been poured to make sure the eggs don't dry out when cooking. 
One technique you can try is to remove the pan from the heat while stirring the eggs until curds form. The eggs will continue to cook even when the pan is removed. That's because eggs, like other protein-rich foods, continue cooking in their own heat.
If you're interested in trying other egg dishes, we have some easy egg recipes you can try. We have a Poached Eggs with Sautéed Spinach and Yogurt Sauce Recipe as well as Mom's Scrumptious Egg Casserole Recipe.
How to Make Stove Top Stuffing Scrambled Eggs Recipe
We'll show you how to dress up Stove Top stuffing by adding them in eggs with this scramble recipe. It's easy and quick to whip up in the kitchen, tasty to eat, and convenient as well! Where else would you see a scramble recipe that helps you declutter your refrigerator?
In this recipe, you can add more than just your leftover Stove Top stuffing to your scrambled eggs. You can also make use of leftover sausages, delectable cheddar cheese, as well as mashed potatoes! Eggs and potatoes go well together, so we advise that you don't skip out on this ingredient. In case you don't have any, we've included mashed potato recipes you can try in the Recipe Notes down below!
In making this scramble recipe, you'll just have to heat the leftover ingredients in a pan. And in another pan, you'll just have to scramble your eggs like normal. We'll skip instructions on how to make scrambled eggs since they're quite easy to do. But we will share with you some tips on how to scramble eggs perfectly. 
Now that we've shared tips on cooking the best scrambled eggs and in making this recipe, let's proceed to making it!
Stovetop Stuffing Scramble Recipe Video
How To Make Stovetop Stuffing Scramble
Whip up some savory, stuffing-filled soft scrambled eggs with a top layer of browned mashed potato for the morning after Thanksgiving dinner! Make the most out of your Thanksgiving leftovers by mixing them in with your breakfast meal.
Ingredients
3

cups

stuffing

3

eggs

1

cup

mashed potatoes

½

cup

sausage,

of your choice, crumbled

⅓

cup

cheddar cheese,

grated

4

tbsp

olive oil,

divided

4

tbsp

unsalted butter,

divided
For Garnish:
Instructions
Over medium heat, combine half of the butter and half of the olive oil in a large skillet.

Add the mashed potatoes and cook until they're brown on each side.

Add in the stuffing and start sautéing until the mixture turns crisp. Then, set the pan aside.

In a different skillet, heat up the remaining half of the butter and olive oil.

Add the crumbled sausages and saute briefly.

Add the eggs and grated cheddar. Cook until the eggs are no longer runny.

Transfer the sausage and egg mixture to a serving dish, then cover it with the mashed potato mixture.

Garnish with chopped parsley if desired. Serve warm and enjoy your Stovetop Stuffing Scramble for a delicious breakfast!
Nutrition
Calcium:

144mg

Calories:

719kcal

Carbohydrates:

45g

Cholesterol:

184mg

Fat:

53g

Fiber:

5g

Iron:

3mg

Potassium:

404mg

Protein:

17g

Saturated Fat:

17g

Sodium:

1029mg

Sugar:

4g

Vitamin A:

1119IU

Vitamin C:

12mg
Nutrition Disclaimer
Commonly Asked Questions
How to make Stovetop stuffing in the oven?
Make your Stove Top stuffing in the oven by first melting 4 tablespoons of butter in a pan, and adding in the bread pieces. Let the bread soak up the butter. Once it's heated through, transfer the mixture into a large baking dish and pour over with 1¼ cups of water. Level out the top using a spatula, and pop it into a preheated 375 degrees F oven. Let it bake for about 30 to 35 minutes until the top becomes crisp.
What other ingredients can you add to your Stove Top Stuffing scramble?
Aside from mashed potatoes, and sausages, you can also add bits of shredded turkey to this scramble recipe. You can also top your mashed potatoes with some delicious, leftover cranberry sauce for extra flavor.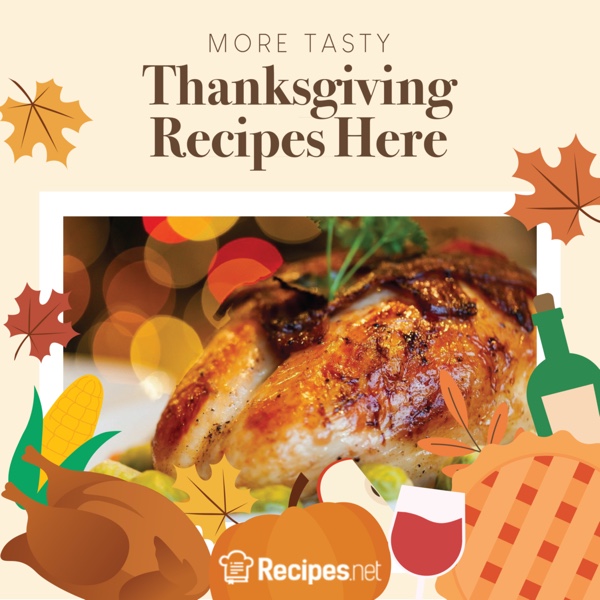 Conclusion
This Stove Top Stuffing Scramble Recipe is perfect for sorting out leftover meals from last night's Thanksgiving dinner. It's easy to make and definitely filling as well! We're sure your loved ones won't even notice that it's made with leftovers from last night's celebration, anyway.