Got some leftover Thanksgiving cornbread stuffing? In this breakfast scramble recipe, we'll show you how to make your leftover stuffing better by turning it into a scrumptious breakfast meal.
Now, this is one of many delicious egg recipes that you can enjoy first thing in the morning. Our take on a breakfast scramble is a great way to enjoy leftovers and turn them into another mouth-watering dish. For another protein-packed dish for breakfast check out this egg bhurji recipe.
What Goes In Our Stove Top Stuffing Breakfast Scramble
If you're wondering how to make a breakfast scramble, it simply consists of eggs, another protein of your choice, vegetables, and cheese. It's a one-pan dish that makes an enjoyable and hearty first meal of the day for the family. And what makes our recipe great is that you can make it with leftovers.
In this recipe, you can use leftover stuffing or easily make instant Stove Top stuffing as we did. Instant stuffing still has that incredibly buttery and savory flavor that we love, thanks to its dried herbs and spices. It certainly makes our breakfast scramble more flavorful and savory along with sausages, cheddar cheese, and mashed potatoes. 

Tip:
Aside from mashed potatoes and sausages, you can also add bits of shredded turkey to this scramble recipe. You can also top your mashed potatoes with
orange cranberry sauce
for extra flavor.
This recipe is the easiest breakfast skillet you can ever make with ingredients that you can easily make or find at home. It's a delicious combination of your classic breakfast favorites, all in one dish!
Tips on Making the Best Scrambled Eggs For Your Breakfast Scramble
Aside from the delicious ingredients that we're adding into this dish, another secret to making the best breakfast scramble would be making perfect scrambled eggs, just how you want it. We've got a couple of tips for making it:
Use a non-stick pan

to make them soft and fluffy. Eggs have a tendency to stick to cast-iron pans. So, to avoid wasting eggs and time scrubbing them off the pan, use your trusty non-stick skillet pan. 

Preheat your pan then cook your eggs in low heat

. Make sure to preheat your pan over medium-high heat first. Then turn the heat down to low once the beaten egg mixture has been poured to make sure the eggs don't dry out when cooking. 

Whisk or mix your scrambled eggs fast enough

to form curdles if you want them soft and moist. This is so that they won't brown and dry out.

Remove the pan from the heat while stirring

the eggs until curds form. Don't worry about not cooking your eggs enough because they will continue to cook even when the pan is removed.
Now, you're ready to make this quick and easy breakfast skillet! Discover more delicious recipes that you can make with scrambled eggs by checking out our CAQ section down below.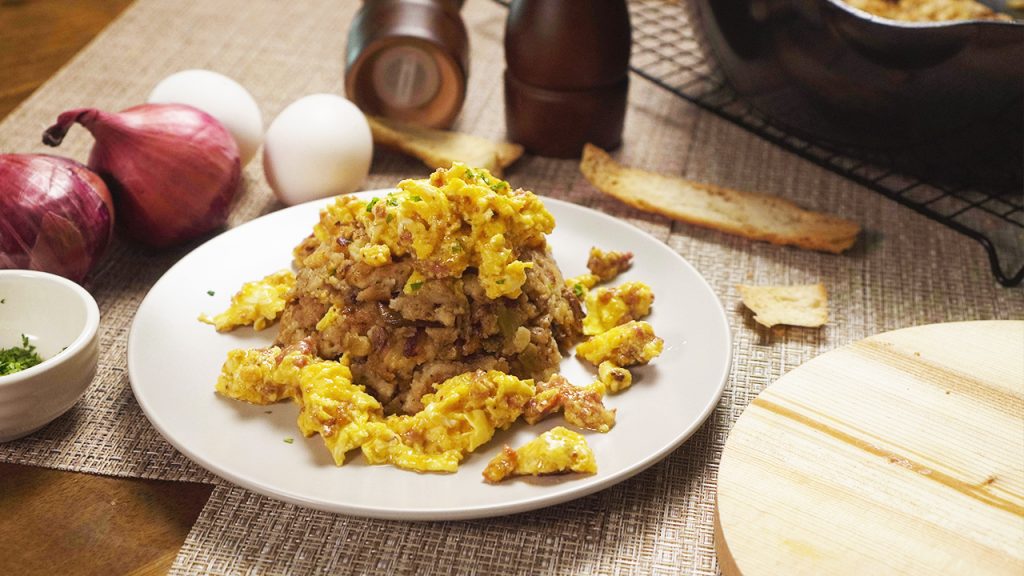 Stove Top Stuffing Breakfast Scramble Recipe
Frequently Asked Questions
What goes with scrambled eggs for breakfast?
Aside from our tasty breakfast scramble, you can also easily give your scrambled eggs an upgrade with these recipes. You can add crunch into it by making our Mexican scrambled eggs or Colombian huevos pericos. Or you can make savory herb crepes for a new morning meal favorite.

Is it good to add milk to scrambled eggs?
Skip adding milk and cream to your scrambled eggs because they won't necessarily make them fluffy or creamy. In addition, it can also take away the savory flavor of eggs and make your scrambled eggs rubbery. Using fresh, good quality eggs, olive oil and some butter will do the job just fine.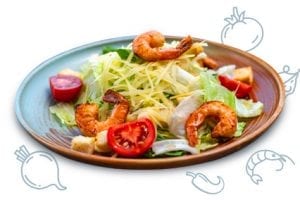 Conclusion
This breakfast scramble is perfect for sorting out leftover meals from your Thanksgiving dinner. We're sure your loved ones won't even notice that it's made with leftovers from the previous night's celebration, anyway.
Topics: