Eggs are superior to any breakfast meal. A versatile ingredient that you can fry, boil, scramble, and poach. In this recipe, we're bringing back a morning classic with a flavorful touch. Omelette or omelet is a dish widely known for its folded appearance with fillings like ham, onions, chives, spring onion, and many more. However, this egg-based dish also has its own culinary variations. Japan prefers Omurice, an omelette perfectly balanced on a bed of fried rice topped with ketchup. The Italian Frittata deviated from the fold and, instead, mixes their fillings with the egg to be cooked in an iron skillet. For this chicken omelette recipe, we're starting with a western-style base filled with chicken shreds and fresh vegetables for an added texture.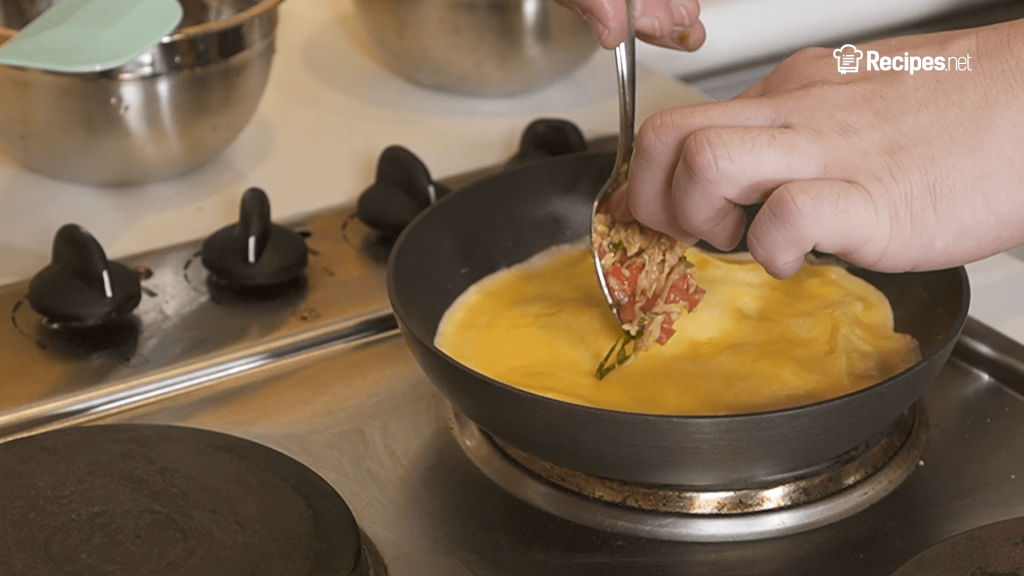 A nutritious and high-protein dish, it will definitely keep you sustained throughout the day. The tomatoes and spinach contribute a mildly sweet and juicy addition to the salted meal. This omelette comes in quick and easy steps that do not require a complicated fold. It's best to leave that to the professionals. In this recipe, you can throw in your own toppings like herbs, cheese, cilantro, and whatever else you desire. 
Omelette is a fun dish to make where you might even have a recipe of your own by the end of it. If you want to try other egg-based dishes for a different occasion, we have a recipe for Poached Eggs with Sauteed Spinach and Yogurt sauce you can try. So, grab your eggs, and let's start frying!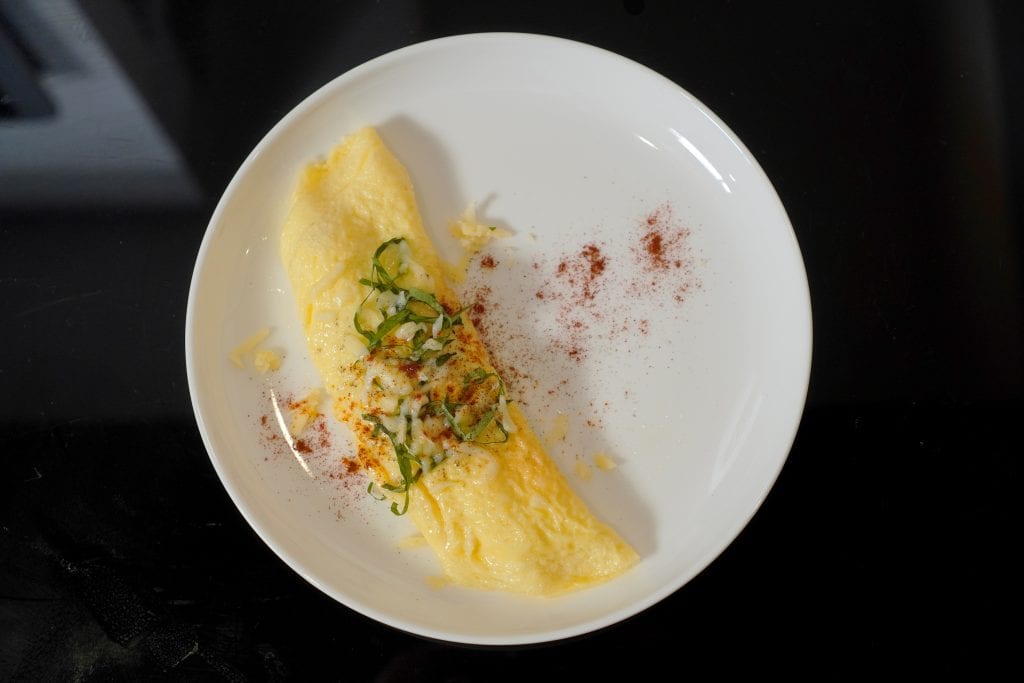 Chicken Omelette Recipe
How to Make Chicken Omelette
This chicken omelette recipe is a savory dish you can have for any time of the day. It's a simple and fun recipe you should try.
Ingredients
4

eggs,

beaten

salt and pepper,

to taste

⅛

cup

spinach,

chopped

¼

cup

tomato,

chopped

shredded cheese,

as desired

⅓

cup

chicken,

shredded (fried, grilled, or roasted)

1

tbsp

butter
Instructions
In a separate bowl, lightly beat the eggs.

In a small bowl, combine the shredded chicken, cheese, chopped spinach, and tomatoes.

In a non-stick round iron skillet over high heat, add the butter. Let it melt and coat the entire pan completely before adding your eggs.

Cook for about 2 to 3 minutes over high heat.

Fill half of the omelette with the prepared mixture. Fold the other half of the omelette over the top of the filling.

Cook for another minute until the ingredients are heated up and lightly cooked.

Serve with shredded cheese and chopped spinach for garnish. Serve and enjoy!
Recipe Notes
Pair with warm, toasted bread, or with a healthy dose of cheese.
Nutrition
Sugar:

1g

:

Calcium:

49mg

Calories:

199kcal

Carbohydrates:

1g

Cholesterol:

334mg

Fat:

15g

Fiber:

1g

Iron:

2mg

Potassium:

166mg

Protein:

13g

Saturated Fat:

4g

Sodium:

200mg

Vitamin A:

1057IU

Vitamin C:

3mg
Nutrition Disclaimer
Frequently Asked Questions
How to make fluffy omelette?
To make it fluffier, you can add one egg white to two whole eggs. Whip it well for an airy and fluffier result.
How do you flip an omelette without it falling apart?
What you can do is use a plate to cover the pan, flip it over, and place the uncooked part back to the pan. Or, use a big spatula (or two) to gently flip it over. But, before flipping your omelette, you need to make sure that the eggs aren't stuck to the bottom. If they are, they definitely wouldn't flip and you'd make a bigger mess. So, shake the pan slightly to see if it moves, then flip.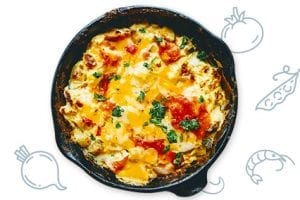 Conclusion
This chicken omelette recipe is a great dish to master. It's quick and easy to make, perfect when you're running late or out of supplies. You can personalize this dish to your heart's content plus the health-boost you get can keep you going for the rest of the morning. All you need are eggs and whatever you have in the kitchen.