Spice up your morning routine with this egg bhurji recipe – quite literally. In fact, eggs are a great source of protein and are especially good if you've been working out. Also, there are so many ways to cook eggs, you will never get bored. For instance, poached eggs lovers should give our Poached Eggs with Sauteed Spinach and Yogurt Sauce a try. It's perfect for brunch in the backyard.                        
Firstly, when choosing the right ingredients to accompany eggs, you want to choose vegetables that don't produce too much liquid when you add salt. If not, you will end up cooking scrambled eggs that are too soggy. So use vegetables that have a low water content such as grated and drained zucchini, spinach, mushrooms, diced tomatoes, and fried potatoes. Moreover, not only do these vegetables add a pop of color to your egg bhurji recipe but it's a great way to get your daily vitamins and nutrients to start a great morning!
In addition, the caramelized onions, bell peppers, and juicy tomatoes give this egg bhurji a rich interplay of flavors and textures. Not your traditional scrambled eggs, why not try out this colorful recipe and spice things up for breakfast tomorrow?

Tip: These colorful scrambled eggs with veggies go perfectly well with sausages, toasted bagels or English muffins, and fresh fruit.
How to Make Egg Bhurji Recipe
Fall in love with this Indian-style scrambled eggs with sauteed chopped onions, chilies, and fragrant spices!
Ingredients
5

eggs

3 ½

oz

red onion

diced

3 ½

oz

tomato

diced

9

oz

yellow, green, red bell peppers

diced

1

tbsp

garlic

minced

1

tbsp

coriander leaves

chopped

1

tbsp

coriander powder

1

tbsp

paprika

1

tsp

cumin powder

1

tbsp

chili powder

or curry powder

2

tbsp

vegetable oil

1

tbsp

butter

salt

to taste

freshly ground black pepper

to taste
Instructions
Firstly, whisk the eggs and set aside for later. Whisk until air bubbles form, this will add a lightness to the eggs.

In a pan, add vegetable oil and butter.

Once the pan is heated, add the diced onions and tomatoes. After a quick stir, add the bell pepper mix.

Add minced garlic to the pan and cook until ingredients are translucent. Stir the mixture until the tomatoes turn slightly mushy.

Next, add a tablespoon each of coriander, paprika, cumin, and chili powder to the mixture and stir well. Mix in salt and pepper to taste, and stir gently.

Now, stir in the beaten eggs, making sure to whisk them one last time before pouring the mix into the pan.

Consistently stir in your ingredients to create silky scrambled eggs.

Garnish finished dish with chopped coriander leaves. Serve egg bhurji dish with wedges of pita bread and enjoy your meal!
Recipe Notes
Adding the tablespoon of butter will give an element of richness to your Indian-styled scrambled eggs.

If you are running late and need to prepare a quick sandwich for work, mix egg, vegetables, and spices in a bowl before cooking in a hot pan as needed. 

Always add coriander to a dish lastly to ensure the freshness of the leaves. Cooking coriander with the rest of the ingredients can change the flavor of your egg bhurji. 
Nutrition Facts
Calories:
292
kcal
|
Carbohydrates:
15
g
|
Protein:
12
g
|
Fat:
22
g
|
Saturated Fat:
5
g
|
Cholesterol:
273
mg
|
Sodium:
202
mg
|
Potassium:
544
mg
|
Fiber:
5
g
|
Sugar:
7
g
|
Vitamin A:
5408
IU
|
Vitamin C:
117
mg
|
Calcium:
91
mg
|
Iron:
3
mg
Commonly Asked Questions
What can I do if the egg bhurji is too spicy?
Reduce the spice level according to your taste. Remove or reduce paprika from the dish and serve with toast and fruits for a kid's lunch box. You can still retain the flavors from the original recipe without killing yourself from the spice! Play around with the amounts and figure out what works best for you.
What can we eat with egg bhurji?
The dish is easy to prepare and goes well with a toasted bread or even chapati. To reduce the calories in your egg bhurji, you can cook it in coconut oil instead of vegetable oil and add any vegetables you prefer to make it more filling.
What other vegetables can I add to my egg bhurji?
Pretty much any vegetable would work just fine with eggs. So if you don't have bell peppers at home, go ahead and substitute them for anything you have laying in your fridge, from chopped mushrooms to spinach, or even carrot slices.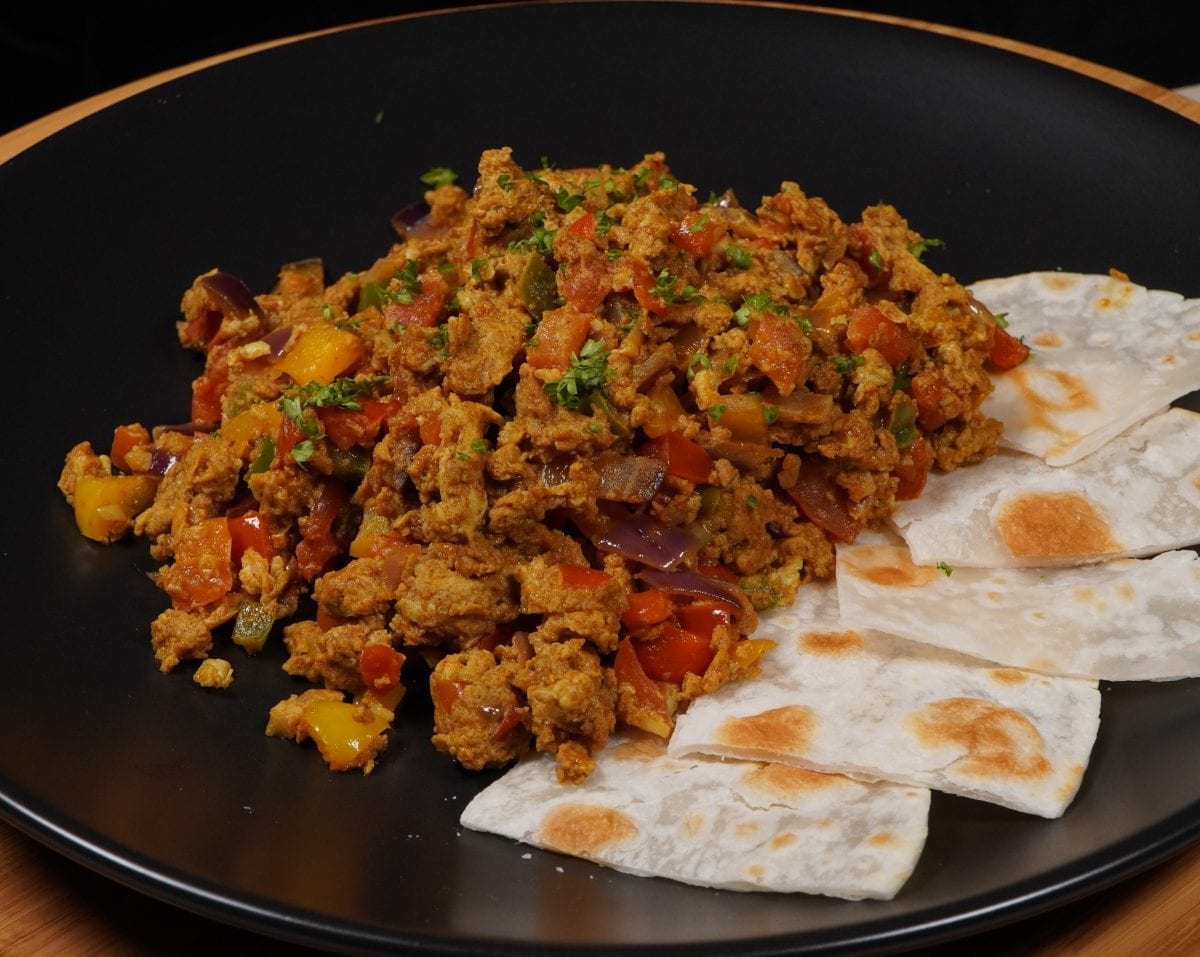 Conclusion
You can also enjoy it Indian street food-style! Serve these unique scrambled eggs with bread, naan, chapati, puri, paratha or any Indian flat bread for that matter.
If you're busy at work and want a quick and healthy lunch, it also tastes scrumptious sandwiched between slices of fresh onion and tomato.