Pumpkin works well with almost everything. For instance, you can enjoy a no bake pumpkin pie for dessert. Or have a pumpkin pie smoothie drink! But nothing is more comforting than a bowl of spicy pumpkin soup on a cold day. It's the perfect appetizer for a holiday feast. 
What Goes in Our Spicy Pumpkin Soup?
One of the easiest Thanksgiving recipes out there, this healthy pumpkin soup recipe only takes 20 minutes to make. But before we go into how to make this autumn soup, you need to know the star ingredients in this dairy-free spicy pumpkin soup.
Canned pumpkin puree – With the canned pumpkin puree, you won't be needing soup thickeners like cornstarch or flour. But if you prefer, you can still use fresh pumpkin puree. In fact, you can even make it at home. Learn to make homemade pumpkin puree by checking out our CAQ section below!
Chicken broth – It not only adds to the taste. It also helps to thin out the puree, giving us the perfect consistency.
Warm spices – For the ultimate spicy flavor, we're combining garlic, curry powder, and black pepper to amp up the soup. The sweetness of the pumpkin is then balanced perfectly with the inclusion of the spices. 
Toasted pumpkin seeds – They are optional but we highly recommend adding them for a smoky hint to the soup.
Tips on Making Spicy Pumpkin Soup 
This 20-minute recipe is already easy as it is, but we've got some tips and variations to try in making this recipe so you can enjoy it even more: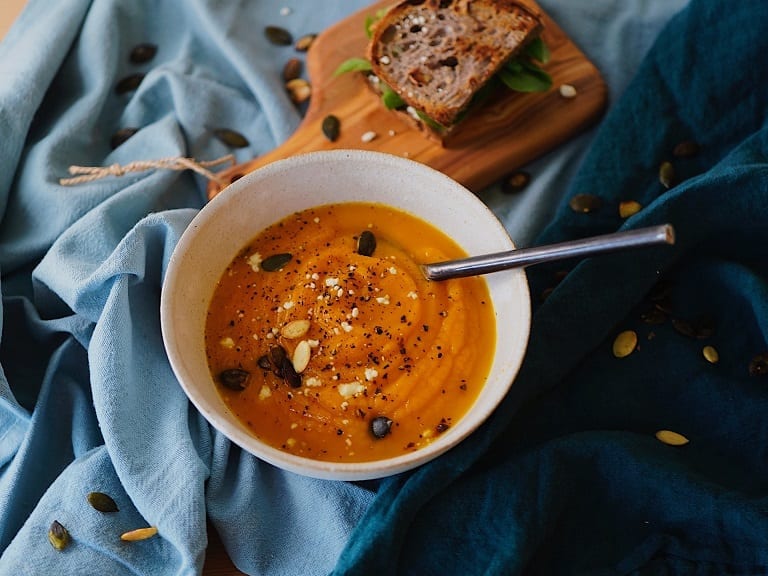 Spicy Pumpkin Appetizer Soup Recipe
How To Make Spicy Pumpkin Appetizer Soup
This easy-to-make spicy pumpkin soup is the perfect appetizer to start the holiday feast. Spiced up with curry powder and fresh garlic, this soup is filled with robust flavors to start special occasions that will surely be a blast.
Ingredients
2

cups

chicken broth

1

tbsp

thyme,

dried

½

tsp

black pepper,

freshly ground

1

tsp

butter,

or olive oil

½

cup

yellow onions

3½

cups

pumpkin puree,

canned

½

cup

fresh garlic,

chopped

1

tbsp

curry powder
Instructions
In a heated pot, saute ½ cup each of chopped yellow onions and garlic in olive oil or butter.

Pour in 3½ cups of canned pumpkin puree into your mixture. Scrape off the yummy brown bits from the pot and stir your ingredients until fully combined.

Next, add 1 tablespoon each of curry powder and thyme. Throw in ½ teaspoon of freshly ground pepper. Stir the mixture until completely combined.

Pour in 2 cups of chicken broth. Simmer until liquid is soup consistency.

Remove the pot from the stove and set aside to cool. Next, pour your soup mixture into a blender and puree until smooth.

Pour your spicy pumpkin soup into a bowl. Garnish with a sprinkle of chopped parsley and serve. Season with salt to taste and enjoy!
Recipe Notes
Top your pumpkin soup with a dollop of sour cream. This will add a tangy touch to the spicy-sweet flavors of your pumpkin soup.

Garnish with pumpkin seeds for more nutrients. Did you know that pumpkin seeds are rich in antioxidants? Antioxidants help fight against diseases and reduce inflammation. 
Nutrition
Sugar:

8g

:

Calcium:

124mg

Calories:

130kcal

Carbohydrates:

27g

Fat:

2g

Fiber:

8g

Iron:

5mg

Potassium:

656mg

Protein:

4g

Saturated Fat:

1g

Sodium:

446mg

Vitamin A:

33416IU

Vitamin C:

25mg
Nutrition Disclaimer
Frequently Asked Questions
How can I make pumpkin puree?
You will need 2 pounds of fresh pumpkin or 2 small sugar pumpkins. First, cut off the top stem of the pumpkin and place it in an oven-safe dish. Bake at 400 degrees F for 1 hour. Then remove it from the oven and cut it in half. Using an ice cream scoop, remove the seeds. Then, scoop out the flesh with the same ice cream scoop. Afterwards, place your pumpkin mash into a food processor and puree until smooth. You can always add a tablespoon of water to create a silkier consistency.

How do I store pumpkin soup?
To store your leftover pumpkin soup, transfer it to an airtight container, and keep it in the fridge for up to 3 to 4 days. You can also freeze it in the freezer and keep it for up to 2 to 3 months. Be sure to transfer it into a freezer-safe container.
How do I reheat pumpkin soup?
There are two ways to do so. To reheat your pumpkin soup on the stove, simply place it for 10 to 15 minutes over medium heat. Make sure to stir it occasionally to prevent it from burning. If you prefer to reheat it in the microwave, transfer it first to a microwave-safe container. Cover your soup loosely using a microwave-safe lid or plastic wrap, making sure to leave a small opening at the side of your container. Heat it on high for 20 to 30 seconds and stir. Then, heat again for another 30 seconds.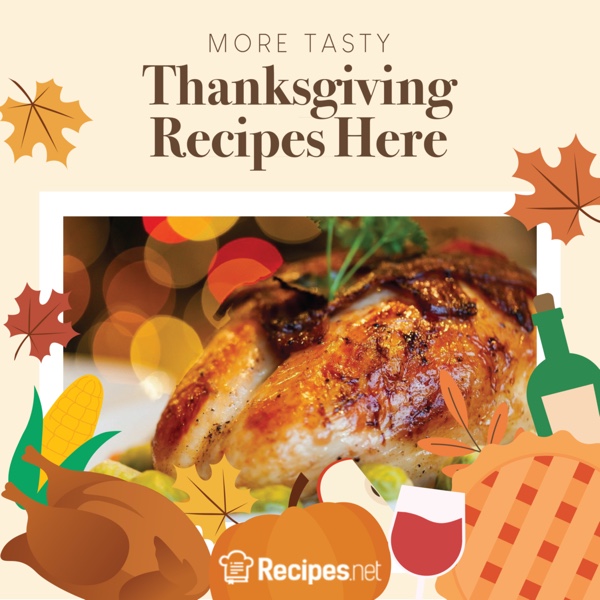 Conclusion
A fall feast isn't complete without a soul food pumpkin-filled dish. This creamy spicy pumpkin soup is the perfect way to start your holiday dinner. And you can whip it up in just 20 minutes for guests who came in early!