Aside from a mouthwatering turkey, one of the faces of Thanksgiving dinners is the pumpkin pie. No Thanksgiving menu is complete without pumpkin pies on their dessert list. This classic American holiday dessert is a crowd-pleaser because of its sweet, rich, and smooth layers. But if you're looking for a way to keep your sugar levels at bay, this sugar free pumpkin recipe is the one for you! We also have a list of our top sugar-free dessert recipes you can try in your home.
We know preparations can take much of your time. Hence, with steps similar to making the Impossible Pumpkin Pie, we'll also be mixing, assembling, and baking – but with an ingredient that's a healthier alternative to sugar. Let the light and natural sweetness of this pumpkin pie take away the guilt out of your guilty-pleasure.
Sugar Free Pumpkin Pie Filling
If you've been making pumpkin desserts for a while, the use of canned pumpkin puree or fresh pumpkin puree might've crossed your mind. Producing your own pumpkin puree creates different results depending on the type of pumpkin you use. Baking pumpkins or sugar pie pumpkins are the recommended types of pumpkin to use when making pumpkin puree. 
Pumpkins are naturally starchy and sweet. If you love thick and velvety pumpkin pies, using fresh pumpkin puree would be the better option. If you also prefer subtle sweetness in your desserts, fresh pumpkins work great as they tend to have little sweetness. But using canned pumpkin purees for our pie works great too, and is exactly what we've used in this recipe!
In this diabetic pumpkin pie recipe, we're using canned pumpkin puree for added flavor. Aside from the classic color that canned pumpkin purees give, it also helps us achieve the silky texture for our pumpkin pie. 
Besides being diabetic-friendly, this pumpkin pie is also low in carbs. If you're looking for more diabetic desserts, try this decadent Healthy Butternut Squash Muffin recipe. To cap off, pair the traditional desserts with a wholesome pumpkin chai latte that aids with digestion too!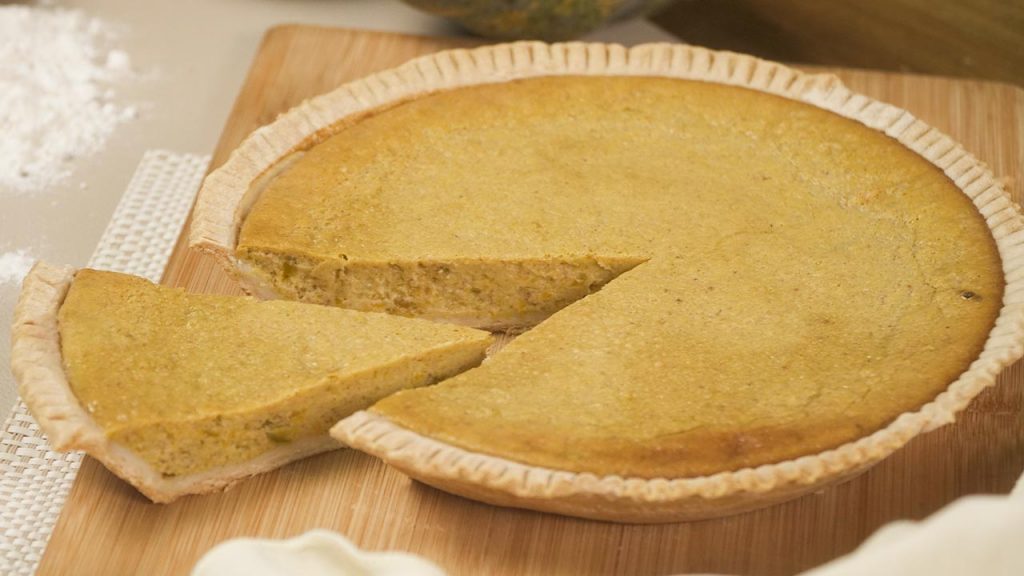 Sugar Free Pumpkin Pie Recipe
How To Make Sugar Free Pumpkin Pie
Get a sweet fix with this guilt-free sugarless pumpkin pie and enjoy a rich and smooth filling in bright pumpkin flavor on a crisp and tender pie crust.
Ingredients
10

oz

pie crust,

prepared

3

eggs,

beaten

6

oz

coconut milk

1

tsp

ground cinnamon

¼

tsp

ginger,

ground

½

tsp

cloves,

ground

¼

tsp

salt

16

oz

pumpkin puree,

canned

¾

cup

sugar substitute of your choice,

preferably erythritol

all-purpose flour,

for dusting

cooking spray
Instructions
Preheat the oven at 350 degrees F. Grease your preferred pie tin with cooking spray, preferably a 9-inch springform tin.

Dust your working area with flour and roll out your pie crust.

Lift the pie crust with your rolling pin and place it into your pie tin. Gently press down to stick into the pie tin. Trim any excess as necessary and store it for future use. Set aside your pie crust in a chilled area.

Combine the pumpkin puree, sugar substitute, cinnamon, ginger cloves, and salt. Gradually stir in the coconut milk and eggs.

Pour your mixture into the chilled pie shell and transfer to the oven. Bake your pie for 40 minutes or until your cake tester comes out clean.

Once done, transfer to cooling racks and allow to cool down completely.

Portion your pie based on your preference. Serve immediately or chill until serving.
Recipe Notes
Don't confuse canned pumpkin puree with pumpkin pie mix. The latter is already sweetened and flavored.
Nutrition
Sugar:

6g

:

Calcium:

141mg

Calories:

226kcal

Carbohydrates:

23g

Cholesterol:

53mg

Fat:

13g

Fiber:

2g

Iron:

2mg

Potassium:

287mg

Protein:

6g

Saturated Fat:

5g

Sodium:

236mg

Vitamin A:

8985IU

Vitamin C:

3mg
Nutrition Disclaimer
Frequently Asked Questions
Why is my pie's color different even when I've followed your recipe?
This would depend on the pumpkin puree that was used. Pies using canned puree tend to have darker orange hues than those made with fresh purees. The use of different brands of canned pumpkin purees will also affect the color of your pie, differing from golden brown to orange hues. However, you can expect that your pies will taste as good as ours!
How long does pumpkin pie last?
Since most homemade pumpkin pies have little to no preservatives (yay!), it is advised by the FDA that after it has cooled, it should not be in room temperature for longer than 2 hours. Hence, be sure to keep any leftovers as soon as your guests have taken their slice. If stored in the fridge, your homemade pumpkin pie can last for 2 to 4 days. To keep it a little longer, store your pumpkin pie in the freezer and it'll last for 2 months.
How to reheat pumpkin pie?
You can reheat pumpkin pie in the microwave oven for 10 to 30 seconds. Make sure not to use metal tins when reheating the pie. Also, only reheat the slices of pie that will be immediately eaten. If you had stored it in the freezer, thaw the frozen pumpkin pie in the fridge uncovered for 12 hours before reheating. We don't recommend thawing it at room temperature to avoid making it soggy.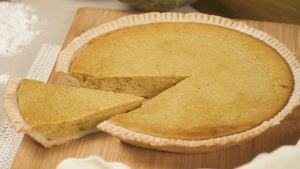 Conclusion
It won't take you much effort to recreate and enjoy a guilt-free dessert with this quick and easy sugar free pumpkin pie recipe! This will surely change the way you enjoy sweet and tasty desserts. Try out this sugarless classic pumpkin pie and be surprised by how much you'll savor this guilty craving with less sugar!