Sugarless Pumpkin Pie Recipe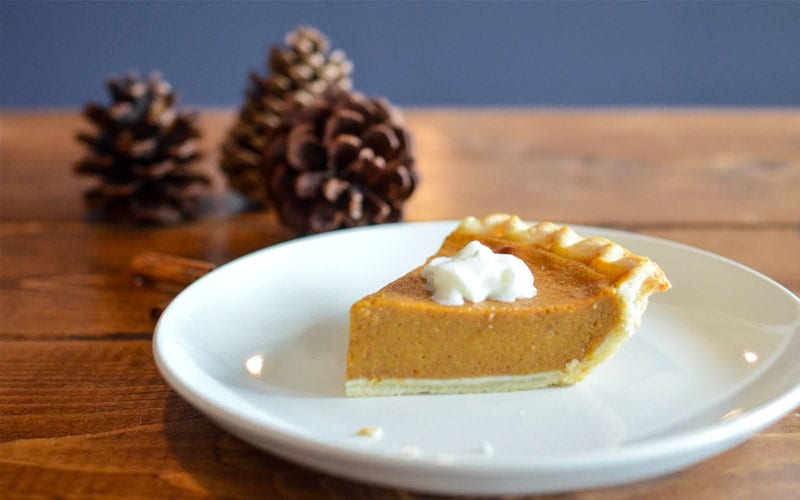 Enjoy a guilt-free dessert with this quick and easy sugarless pumpkin pie recipe! If you're after healthy desserts, sugar-free treats should be your go-to. This recipe is just one of many fun and tasty desserts that are cut down on sugar. Most of them use natural and artificial sweeteners and sweetened milk to replace sugar. For our special pumpkin pie, we're using stevia which is a natural sweetener.
This Sugarless Pumpkin Pie Recipe won't disappoint with its flavorful filling on baked crust. In this recipe, we're giving you the easiest holiday dessert that can be enjoyed by everyone. Our canned pumpkin gives our pie filling consistent flavor and texture for this perfect Thanksgiving classic. Don't worry about running out of holiday dessert ideas! You can fill up your recipe book with sugarless dessert recipes and enjoy healthier sweets that are incredibly tasty. For more sugarless dessert ideas read our list of must-try sugar-free dessert recipes! 
Make the easiest pumpkin pie recipe and enjoy a delightful dessert that's not plainly sweet but highlights the flavor of spices. The secret to its balanced flavor is having enough sweetness to blend with the spices. In this effortless pumpkin pie recipe, we're just mixing, assembling and baking. That's all it takes to make a classic holiday dessert that you'll surely enjoy!
How To Make Sugarless Pumpkin Pie
Get your sweet fix without regrets in this sugarless pumpkin pie recipe and enjoy a rich and smooth filling in bright pumpkin flavor on a baked pie crust.
Ingredients
1

deep-dish pie shell

9-inch, unbaked

2

eggs

1

tsp

ground cinnamon

¼

tsp

ground ginger

½

tsp

ground nutmeg

¼

tsp

salt

12

oz

evaporated milk

16

oz

canned pumpkin puree

¾

cup

natural or artificial sweetener

whipped cream

for garnishing
Instructions
Preheat the oven at 425 degrees F.

Beat the eggs in a large bowl.

Stir in the pumpkin puree then add in the sweetener, cinnamon, nutmeg, and salt. Gradually stir in the evaporated milk.

Pour your mixture into the pie shell.

Reduce the temperature of the oven to 350 degrees F, then bake your pie for 40 minutes.

Top it with whipped cream and serve immediately or chill until serving.
Recipe Notes
If you want to make pie crust from scratch, you can use amaranth, buckwheat, and ragi flour as an alternative flour. These are found to be low in carbohydrate content which is good for diabetics.
Don't confuse canned pumpkin puree with pumpkin pie mix. The latter is already sweetened and flavored.
You can use honey or maple syrup as natural sweeteners.
Nutrition
Calcium:

141mg

Calories:

226kcal

Carbohydrates:

23g

Cholesterol:

53mg

Fat:

13g

Fiber:

2g

Iron:

2mg

Potassium:

287mg

Protein:

6g

Saturated Fat:

5g

Sodium:

236mg

Sugar:

6g

Vitamin A:

8985IU

Vitamin C:

3mg
Commonly Asked Questions
Why are my pies different in color even when I'm using the same recipe?
The color of your pumpkin pie will differ depending on the canned pumpkin puree that you're using. It can go from golden to orange and brown. But it should taste the same. Pumpkin pies using canned pumpkin puree usually have darker orange hues while using fresh pumpkin would make lighter pies.
Can I replace evaporated milk with any kind of milk?
For this sugar free pumpkin pie recipe we're using evaporated milk for the perfect consistency. However, you can also use fresh milk and almond milk or cream which are thinner compared to evaporated milk but would still work with this recipe. When using milk with thinner consistency, just remember to use half milk and half cream or add a tablespoon of cornstarch to your sugar to thicken your filling.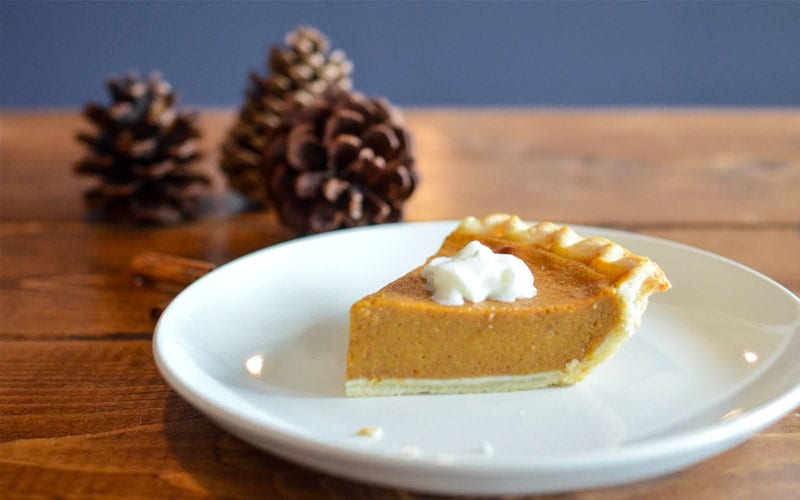 Conclusion
Go for a unique holiday dessert that's perfect for special occasions. It's a great family dessert that's meant to be shared! This pumpkin pie will surely change the way you enjoy sweet and tasty desserts. Try out this sugar-free classic pumpkin pie recipe and be surprised by how much you'll enjoy your guilty craving with less sugar!
Related Pies & Pastries Recipes