Are you thinking of having homemade spaghetti for tonight? Recreate Olive Garden's best pasta sauce! Trust us, these pasta dinner recipes we're about to give you won't disappoint.
Behind every appetizing plate of pasta is a great spaghetti sauce, and that's where the magic happens. Olive Garden Three Meat Sauce is the ultimate hearty combination of ground beef, Italian sausage, and pepperoni making a meat sauce recipe perfect for any spaghetti dishes.
Pour it over your favorite pasta, and you'll have a dinner that will fill even the biggest appetite. Sprinkle your favorite cheese on the top and voila! You have the perfect spaghetti recipe. Serving pasta with our Three Meat Sauce surely tops the best easy spaghetti recipes, along with our Spaghetti and Meatballs Recipe.
So, get yourself a saucepan 'cause you'll be savoring a delicious pasta sauce to enjoy with different sides and mains in just 35 minutes!
Best Pasta Noodles For Your Three Meat Sauce
We want you to enjoy tender pasta as much as you'd be savoring our meat sauce. A great pasta should be paired with the right sauce, too. Besides the usual strand pasta like spaghetti, we have a couple more pasta noodles suggestions for tomato-based sauces like our Three Meat Sauce.
If you're having a meaty sauce like in this recipe, we suggest that you use wide-sized pasta noodles like lagane or pappardelle. You can enjoy this amazing pasta and sauce combination with our Three Meat Sauce or our Homemade Bolognese Sauce which is as rich and meaty! For a similar pasta dish with succulent delicious beef, go ahead and try our Slow Cooker Beef Ragu Recipe.
You can also use long ribbon-shaped pasta like tagliatelle, fettuccine, and mafaldine which also go perfectly with a rich and meaty sauce. For other pasta dishes that you can try, we have our Lemon Fettuccine Alfredo Recipe and Creamy Butternut Squash Linguine Fried Sage Recipe which both make use of longer style noodles like fettuccine.
Tips In Making Three Meat Sauce Just Like Olive Garden's
Whether you're making a meat sauce for spaghetti, a white pasta sauce, or any pasta dish there is, opt for virgin olive oil when it comes to cooking your pasta. You'll be surprised when you taste the end result! Plus, olive oil prevents the pasta from sticking together, so win-win!
Nothing beats a classic tomato sauce so always opt for fresh tomatoes for your spaghetti with meat sauce. You could do so much on your tomato sauce, you can spread a thin layer of sauce on a slice of grilled garlic bread which is just a perfect combination for your pasta! Add some chili into your Three Meat Sauce,  and turn your marinara into a hot sauce to pair with some milky, crunchy mozzarella sticks. You can also steam some clams or shellfish in your tomato sauce until they pop open, its salty taste will surprise you.
Last but definitely not the least, make sure to try topping your Three Meat Sauce with a very good choice of cheese. To add a final blast of flavor, you may grate some parmesan, romano, or ricotta salata on your pasta.
All you need are some fresh tomatoes, garlic, onions, and herbs to create a good homemade marinara sauce. Ladle some delicious sauce to your hearty meatballs made from scratch and this big dish will surely comfort you in your own home. Marinara sauce is also so perfect in making cheesy Lasagna Stuffed Burritos, so you can put as much or as little sauce as you want.
Must-Try Olive Garden Pasta Recipes
We may not be able to dine directly in Olive Garden and choose from their menu, but that doesn't mean we can't recreate the Olive Garden Menu at home. Bring the Olive Garden spaghetti dishes and Olive Garden appetizers at your own kitchen by trying out these Italian pasta recipes like their Capellini Pasta Pomodoro and Five Cheese Marinara Penne.
If you're cutting down on red meat, you might want to go on something leaner, so we suggest that you go for our healthy pasta recipes like the Chicken Spaghetti, and if you're going for something plant-based, we also have Pasta Con Zucchini, Creamy Tomato Pasta Sauce and Pesto Sauce recipes! You'll never run out of pasta sauce ideas on our site!
Just-Like Olive Garden's Three Meat Sauce Recipe
How To Make Just-Like Olive Garden's Three Meat Sauce
This Olive Garden-inspired Three Meat Sauce Recipe will be your next favorite dinner idea. Pair this delectable tomato sauce mixed with ground beef, sausage, and pepperoni with any of your favorite dishes!
Ingredients
2

tbsp

olive oil

1

cup

onions,

chopped

24

oz

spaghetti sauce,

(2 jars), preferably Marinara sauce

8

oz

tomatoes,

(1 can), crushed

½

lb

ground beef

½

lb

Italian sausage,

chopped

¼

cup

pepperoni,

chopped

1

tsp

Italian seasonings
Instructions
Heat the olive oil in a large saucepan and cook the onions until they become tender.

Add the tomato sauce and crushed tomatoes then lower the temperature to simmer.

In a large skillet, brown the beef and sausages until they are well-cooked.

Drain the fat from the meat then add them to the sauce.

Now, add the pepperoni and seasonings then simmer for 20 to 25 minutes.

After simmering, season the sauce with salt and pepper to taste. Serve hot, and enjoy!
Recipe Notes
Don't forget to add that pasta water! Not only it binds the noodles and sauce together well but it also adds flavor to the whole dish. 

The easiest way to peel your fresh tomatoes without crushing them down too much is to give them a quick steam or blanch for 1 minute.
Nutrition
Sugar:

7g

:

Calcium:

55mg

Calories:

268kcal

Carbohydrates:

11g

Cholesterol:

45mg

Fat:

20g

Fiber:

3g

Iron:

3mg

Potassium:

643mg

Protein:

12g

Saturated Fat:

6g

Sodium:

810mg

Vitamin A:

501IU

Vitamin C:

13mg
Nutrition Disclaimer
Frequently Asked Questions
Is there a right way to sauce your pasta?
There's no right way of adding sauce into your pasta, but we suggest that you transfer your cooked pasta to the pan with your freshly cooked three meat sauce before mixing.
Can I make my meat sauce in a crockpot?
Absolutely! Just brown your ground beef and cook for 3 minutes. Add the onion and bell pepper and cook for another 3 minutes until the onion softens. Stir in the garlic, tomato paste, Italian seasoning, sugar, salt, and pepper. Add the meat mixture along with the rest of the ingredients to your slow cooker. Mix everything together and cook for 6 to 8 hours. Garnish with parsley and serve hot.
How do I freeze meat sauce?
First, let your sauce cool down to room temperature. Freeze it in serving-sized portions in freezer containers. To use your sauce, thaw it in the refrigerator overnight. Place it in a saucepan and heat through. Serve over spaghetti and sprinkle with parmesan cheese.
How do I store and reheat my meat sauce?
Once fully cooled down to room temperature, transfer your leftovers to an airtight container. They will last in the fridge for 3 to 4 days. You can reheat it in the microwave, just make sure to stir every 30 seconds. You can also reheat it in a saucepan over medium heat. Make sure to stir it often so that the sauce reheats evenly.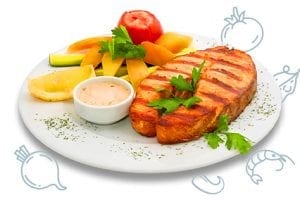 Conclusion
This Olive Garden inspired hearty and mouthwatering meat sauce works well with so many dishes! So versatile yet so easy-to-make! Perfect with any pasta dish, lasagna, appetizers, bread, and many more!