Galbi jjim (갈비찜 or braised short ribs) is one of my favorite Korean dishes. I learned this recipe from one of my friends who would almost always invite me to celebrate Korean festival days such as Chuseok (Korean Thanksgiving) or Seollal (Lunar New Year) with her. She would always serve delicious Korean braised beef. It's a dish that consists of tender meat drenched in a sweet and savory sauce. This dish is even more delightful to eat with steamed white rice on the side.
Everything about this Korean braised short ribs or galbi jjim is so good that I asked for her homemade recipe. I've been making it for a while now, and it tastes just as perfect and wonderful. Galbi jjim is usually served during special occasions in Korea, but now I can make it whenever I'm craving for a filling, meaty dish. This is probably the best galbi jjim recipe that I've ever tried, and I'm happy to be sharing it with all of you! 
Galbi jjim is the romanized name of the dish. It's also sometimes spelled as galbi-jjim or kalbijjim. In Korean, galbi means "rib" and jjim refers to dishes that have been steamed or boiled. Combine these two together, and you get this delicious Korean short rib special. It's an appetizing dish that takes a long while to cook because the meat has to be perfectly tender. Many Koreans usually make galbi jjim using a pressure cooker or slow cooker. For this Korean beef short ribs recipe, I'm using a Dutch oven since it's good for braising and slow cooking the bone-in beef short ribs that I bought. 
Speaking of ribs, I chose the one with the most meat and less fat so the dish would be extra flavorful. You can also use boneless meat as an alternative, but I prefer the taste of bone-in beef. 
Koreans don't usually sear the meat before braising them in the savory sauce. Instead, they parboil the meat in water. Soaking and parboiling the meat beforehand helps remove some of the fat from the short ribs. It also produces a better-tasting galbi jjim overall. That said, I soaked the beef ribs first for about 10 to 20 minutes. I prepared the braising liquid using a food processor next. 
The flavorful sauce is mostly a mixture of rice wine, honey, and soy sauce. A splash of sesame oil then gives it a subtle nutty flavor. I even added red apples for extra sweetness. You can also use Asian pears, a common Asian fruit, as an alternative for a more authentic flavor. I blended all of the ingredients together until the sauce was smooth and liquid in appearance. Afterwards, I drained and rinsed the meat, and then placed it inside the Dutch oven with water and ⅔ of the sauce. 
I added the carrots, Korean radish, and the remaining sauce after about 40 minutes of cooking the meat. You can also stir in other traditional galbi jjim ingredients like jujube, gingko nuts, or fresh chestnuts so the flavor is more authentic. I've tried including them before and they really made the dish even better and fuller. And if you like your galbi jjim spicy, you can also mix in two tablespoons of gochugaru (Korean chili powder) in your sauce. 
When the sauce turns a bit thick, you're ready to serve. I love pairing my galbi jjim with steamed rice, but you can also try serving it with other delicious Korean side dishes like gimbap (seaweed rice rolls) or japchae (stir-fried glass noodles with vegetables).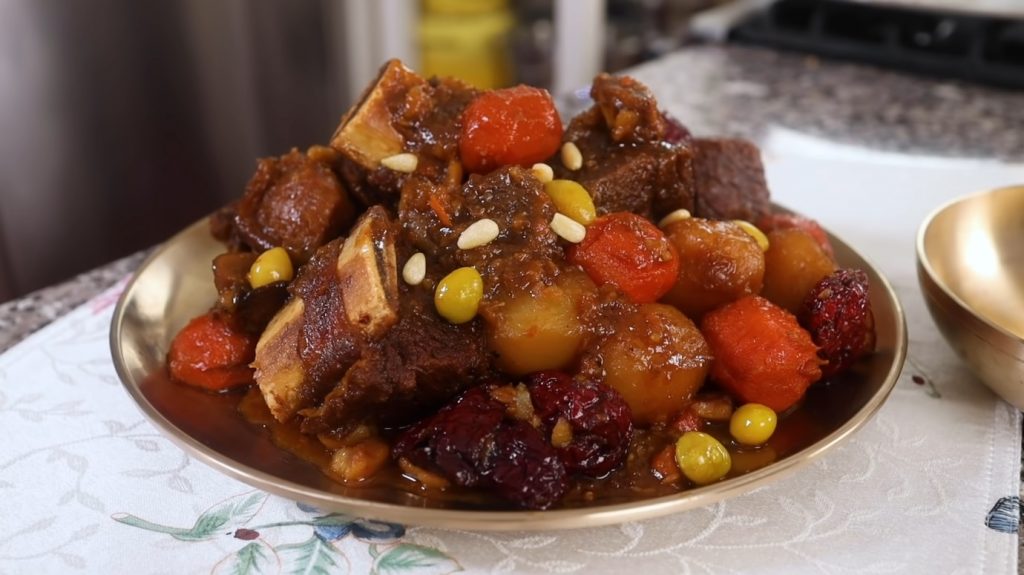 Galbi Jjim (Korean Braised Short Ribs) Recipe
How To Make Galbi Jjim (Korean Braised Short Ribs)
Satisfy your Korean food craving with galbi jjim, a nourishing dish of tender short ribs slowly braised in a savory, sweet, and nutty sauce.
Ingredients
For Braised Short Ribs:
4

lbs

beef short ribs,

bone-in

1½

cups

water

2

carrots,

cut into medium-sized pieces

1

Korean radish,

(daikon), peeled and cut into 1-inch chunks

8

dried jujube,

optional

10

gingko nuts,

peeled, optional

10

fresh chestnuts,

peeled, optional
For Sauce:
6

oz

red apple,

cored and chopped, (or Asian pear)

2

oz

onion,

peeled and chopped

6

tbsp

soy sauce

2

tbsp

brown sugar

2

tbsp

honey

2

tbsp

rice wine,

(mirin)

1

tbsp

garlic,

minced

1

tsp

sesame oil

5

black peppers,

whole
Optional Garnish:
12

pine nuts,

tips removed
Instructions
Soak the beef ribs in cold water for 10 to 20 mins. This is to draw out the red liquid from the meat. Change the water a few times during this time.

Blend the sauce ingredients in a food processor or mixer. Set it aside until needed.

In a large pot with water at a rolling boil, cook the ribs for 6 to 8 minutes over medium high heat. Drain the water and rinse the ribs in cold running water. Cut off any obvious excess fat from the ribs.

Place the ribs in a Dutch oven and pour the water in. Add ⅔ of the sauce. Boil them over medium heat for about 30 mins, covered. Stir gently and change the position of the ribs. Reduce the heat to medium-low and continue to simmer for about 10 minutes, covered.

Add the remaining ingredients (carrots, Korean radish, and the remaining seasoning sauce). If using, add in the jujube, gingko nuts, and fresh chestnuts as well. Continue to simmer it over medium-low heat for about 20 mins, covered.

By now the ribs should be fully cooked, but they may not be tender. Continue to simmer them over medium-low heat until desired tenderness is achieved.

Depending on how long the dish is simmered, it may still have a reasonable amount of sauce/liquid left in the pot.

To boil it off, heat up the stove to medium-high heat and boil it for 10 to 12 minutes, covered. This should thicken and reduce the sauce into just the right amount.

Serve galbi jjim hot with steamed rice and other Korean side dishes. If desired, garnish with pine nuts. Enjoy!
Recipe Notes
To reheat galbi jjim, add ⅓ cup of water in the Dutch oven. Then, boil it for 5 to 7 minutes over medium-high heat, covered.
Nutrition
Sugar:

24g

:

Calcium:

91mg

Calories:

803kcal

Carbohydrates:

43g

Cholesterol:

195mg

Fat:

39g

Fiber:

4g

Iron:

9mg

Monounsaturated Fat:

16g

Polyunsaturated Fat:

3g

Potassium:

1765mg

Protein:

68g

Saturated Fat:

15g

Sodium:

1771mg

Vitamin A:

5126IU

Vitamin C:

33mg
Nutrition Disclaimer