Stuck on an elegant dish to serve for your next dinner party? We've got the right recipe to wow your guests. Our version of the chicken limone is a tangy dish with a savory, cream-like sauce, capers and lemons. It's made with chicken breasts that are perfectly browned and tossed in the sauce. When properly assembled on a plate, it can be an appetizing dish that will impress any crowd.
What is Chicken Limone?
Chicken Limone is an Italian dish of lemon-infused chicken with a savory sauce. The word limone is an Italian word meaning lemon. The most common term for this dish world-wide, is lemon chicken. But in Italy, it's also known as pollo al limone or chicken piccata. This meal comes with its mixture of white wine, lemon, and chicken broth, known as the chicken limone sauce. The chicken pieces or breasts are then coated in a flour mixture and browned for crispiness. Once the chicken and sauce are combined, it makes one amazing dish worth serving.
While the name sounds like it's a complicated dish, this pollo al limone is incredibly easy to make. You likely already have the ingredients at home, and it only takes less than an hour to cook! Intrigued yet? Stick around as we show you how to make chicken limone at home.
Our Take On The Pollo Al Limone
Our lemon caper chicken has robust flavors that's different from all the others. It might also remind you of how Buca di Beppo makes their chicken limone, with the ingredients we have on hand. But we're here to give you an original taste that you will surely enjoy with a few hints on how to get it right.
A great tip-off is to pound your chicken flat. Doing so will help your chicken to cook faster and have a bigger surface area for the chicken limone sauce to cling to. Make sure to flatten your chicken with a mallet to ¼ inch thickness for the best results.
Now that you have flattened your chicken, browning them is important to get a good char and flavor on them. But what happens to the brown bits left at the bottom of your pan, you may ask? Make a delicious roux out of them to start off a great lemon sauce for chicken! Scraping off the brown bits at the bottom adds more flavor and a bit of leftover crunch to the sauce. This is a great tip to keep in mind that you can also use in other recipes!

Tip: After browning your chicken, use the brown bits at the bottom of your pan to make the most flavorsome roux.
Now that you've got these pointers, go ahead and serve this dish up with some lemon wedges to add a more elegant touch to it. So there you have it! A simple, yet sumptuous dish that's bound to be finished within the evening.
For more refined dishes like our Chicken Limone recipe, try out our Broiled Lemon Fish Fillets. If you're seeking a sweeter plate, our tart Lemon Pie will be the best finish to your meal.
How To Make Chicken Limone
This chicken limone, also known as pollo al limone, is the perfect debonair plate to serve at a refined dinner party. Serve with a touch of elegantly cut lemon wedges and a sprinkling of parsley for additional aesthetic.
Ingredients
For Chicken:
4

boneless skinless chicken breasts,

halved

¼

tsp

salt

⅛

tsp

pepper

2

tbsp

flour

1

tbsp

butter

1

tbsp

olive oil
For Roux:
½

cup

white wine

½

cup

chicken broth

1

egg

½

cup

lemon juice

¼

cup

capers,

brined
For Garnish:
¼

cup

fresh parsley,

chopped
Instructions
Chicken:
Flatten each chicken breast by pounding gently with a flat meat mallet.

Sprinkle flattened breasts with salt and pepper then dredge the chicken in flour. Shake off any excess flour after dredging.

Heat the butter and olive oil over high heat.

Just before the butter and oil mixture starts to brown, add the chicken then sautee quickly to brown for about 3 minutes.

Flip and brown the other side of the chicken before transferring them onto a plate. Make sure to leave all browned bits in the skillet.
Roux:
Add white wine to the browned bits on the skillet then boil to reduce wine by almost half for 3 minutes.

Add the chicken broth then bring to a boil.

Meanwhile, whisk the egg thoroughly into the lemon juice in a separate bowl.

Turn down the heat of the saute pan to low, then stir in the egg-lemon mixture and the capers into the simmering wine and broth.

Whisk constantly until sauce is smooth and slightly thickened for about 2 minutes.

Stir chopped parsley into the sauce.

Add the chicken and any juices back into the sauce then allow it to simmer for 5 minutes.

Place the chicken on a platter and pour the sauce over top then garnish with lemon and parsley sprigs. Enjoy!
Recipe Notes
Chicken limone is also commonly served with cooked spaghetti. For a more filling dish, top your cooked chicken limone on some spaghetti, linguine, or your preferred type of pasta.
Nutrition
Calcium:

24mg

Calories:

251kcal

Carbohydrates:

7g

Cholesterol:

113mg

Fat:

11g

Fiber:

1g

Iron:

1mg

Potassium:

530mg

Protein:

26g

Saturated Fat:

2g

Sodium:

739mg

Sugar:

1g

Vitamin A:

549IU

Vitamin C:

21mg
Nutrition Disclaimer
Commonly Asked Questions
What can I substitute for lemon?
While our chicken limone recipe strongly recommends using lemon, there are still a couple of alternatives you can turn to. A great substitute is lime juice with a one-to-one ratio. You may also use cream of tartar, with a ratio of ½ teaspoon of cream of tartar to one teaspoon of lemon juice.
Can I use other chicken parts for chicken limone?
You definitely can! A popular alternative to this recipe is bone-in or boneless chicken thighs. They're especially great since chicken thighs absorb a lot more flavor compared to other chicken parts.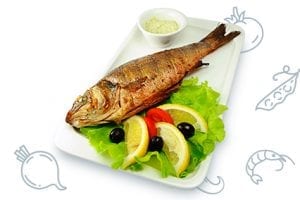 Conclusion
There is nothing quite as unique as the chicken limone. It's perfectly tender and comes with that lip-smacking flavor of tangy lemon. You never have to worry about what to serve at your next refined dinner party. This chicken limone recipe will be the talk of your guests for days afterward. Serve these on its own or with cooked spaghetti for a more belly-filling meal.
Topics:
Related Pan-Fry & Skillet Recipes